No shoes, no shirt, no problem! Enjoy a refreshing dip in the pool with some fantastic Disney Resort food just steps away. Stroll those bare feet right up to these poolside restaurants and select a great meal, snack, or beverage. Plus, don't let the words "Pool Bar" scare you off. These quick-service restaurants have some of the tastiest meals and great selections. Countdown with us through our top ten poolside restaurants. Will your favorite make the list?
10 – Courtyard Pool Bar
Location: Grand Floridian Resort @ the Courtyard Pool
Grand Floridian's Courtyard Pool is the perfect place to relax while being surrounded by the elegant architecture of the Grand Floridian. Make your relaxation time even better with a meal from the delicious Courtyard Pool Bar, which includes a few sandwich entrees and salads. 
9 – Maji Pool Bar
Location: Animal Kingdom Resort – Kidani Village @ the Samawati Springs Pool
"Maji" is Swahili for "water," so there is no way you'll go thirsty while spending time at the Samawati Springs Pool with the Maji Pool Bar just steps away! Arguably, the most beautiful poolside restaurant on the list, guests can enjoy great beverages but also wonderful entrees such as Multigrain Tabbouleh, Short Rib Grilled Cheese, and Shrimp Bakuli.
8 – Sand Bar
Location: Contemporary Resort @ the Feature Pool and Water Play Area
No need to leave the pool to please several different taste buds with a meal at the Sand Bar. Picnic poolside with selections from this large menu! Entrees such as a cheeseburger or hot dog. Looking for a lighter snack? Try the nachos, French Fries, or many other snacks and beverages.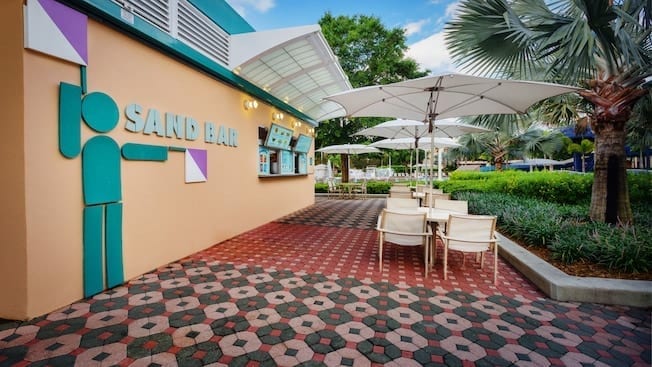 6 – Hurricane Hanna's Waterside Bar & Grill 
Location: Beach Club Resort @ Stormalong Bay Pool
Not only is this restaurant a beautiful location next to the Stormalong Bay, but the food here is also great! The Seafood Roll entrée is completely unexpected for a poolside spot. While the list of entrees and yummy taste mimics some of the above restaurants, we place Hurricane Hanna's in the middle of our countdown for its gorgeous and convenient location.
5 – Bar Riva
Location: Disney's Riviera Resort @ Riviera Pool
Get a taste of the Riviera at the Bar Riva at Disney's Riviera Resort. A few menu items that stand out are the Spicy Italian Sandwich, Grilled Chicken Sandwich, or a Grilled Vegetable Skewer. There are also four different salads to choose from, along with a lot of fantastic beverages, cocktails, and beer options.
4 – Meadow Snack Bar
Location: Fort Wilderness Resort @ Meadow Area Pool
Slightly rustic in appearance, the Meadow Snack Bar is a hidden gem! This place has a spectacular and unique menu, which includes entrees such as Meadow's Loaded Chips, Barbecued Pulled Pork Sandwich, and Wilderness Dog. Salads, pizzas, snacks, desserts, beverages… it's all here!
3 – Siestas Cantina
Location: Coronado Springs Resort @ Lost City of Cibola Pool
Siestas Cantina next to the Lost City of Cibola Pool serves up some favorite food selections for lunch and dinner! Small bites such as Pretzel Bites are available or go with an entrée such as Grilled Chicken Sandwich and Chili-Cheese Hot Dog. Basic burgers and other American food is available. Siestas Cantina offers excellent variety and an excellent central location while staying at Coronado Springs.
2 – Good's Food to Go
Location: Old Key West Resort @ the Main Pool
Good is in the name – and good (GREAT!) is exactly what you will get. Sit at a picnic table next to the water or take your food out to the pool deck and enjoy a meal. Since Good's Food to Go shares a kitchen with Olivia's Café (a table service restaurant), the entrée selection is great. Plus – breakfast, lunch, and dinner are served for whatever fits your schedule! 
1 – Oasis Bar & Grill 
Location: Polynesian Resort @ Oasis Pool
The keyword here – AMAZING! This is poolside dining at its very best. Not only does the Oasis Bar & Grill feel as if it's surrounded by a tropical paradise, but the food matches the incredible draw this place has! We especially love the huge menu that has food options unique to the Polynesian Resort. Black Pepper-Parmesan Chicken Wings, Fried Wonton Chips, Grilled Chicken Avacado Wrap, and Grilled Sustainable Fish Tacos… we could go on and on. You might as well purchase a bathing suit one size too big because this is an easy place to get your fill while your taste buds keep asking for more!
Did your favorite make the list? We'd love to hear your poolside restaurant favorite at the Disney World Resorts!
For a no obligation, FREE Quote on a Disney vacation package, please contact our travel partner Magical Vacation Planner at 407-442-0227 (407-442-0215 for Spanish). You can also request a FREE quote online by Clicking HERE.