If you have children ages 5-9, then traveling to Disney World should be on the top of your priority list. Why? We believe that children in this age range will most fully enjoy all that Disney has to offer. Gone are the diapers, bottles, and naps and finally tall enough to conquer the thrill rides. These young kids are eager to ride the "big" rides, yet still young enough these kids believe in the magic all around them. They get it! They soak it in. It will be a few more years until the eye-rolling, and desire for independence so enjoy this time. Here are our top eight attractions for children ages 5-9.
8 – Remy's Ratatouille Adventure, EPCOT
Over in the newly expanded France pavilion, you'll find Remy's Ratatouille Adventure, a new family-friendly attraction where guests feel as if they shrink to the size of a rat and race through Gusteau's restaurant. Gusteau has invited guests to join Remy for a special meal the "Little Chef" is creating. Kids will love wearing their 3D glasses and scurrying around in colorful rat-shaped vehicles seeing everything from a "rat's-eye view." Imagineers worked with Pixar artists to create animated 3D scenes that feel as if the film has come to life right before guests' eyes, blending with oversized sets to provide an immersive environment full of sights, sounds, smells, and other effects celebrating "Ratatouille." This one is a lot of fun, especially for this age group!
7 – Mickey and Minnie's Runaway Railway, Hollywood Studios
In this bold and innovative family adventure, you'll go through the movie screen inside the park's re-creation of the Chinese Theatre and into the whimsical world of Disney Television Animation's Emmy Award-winning "Mickey Mouse" cartoon shorts. There you'll discover why "mouse rules apply" and anything can – and does – happen! With an original "Mickey Mouse" story by Walt Disney Imagineering featuring the new song "Nothing Can Stop Us Now," Mickey & Minnie's Runaway Railway is a celebration of Disney heritage and a showcase for state-of-the-art storytelling and attraction design. The attraction is full of surprises and pure, joyous fun befitting those true originals, Mickey Mouse and Minnie Mouse. You and your kids will love it!
6 – Pirates of the Caribbean, Magic Kingdom
"Yo ho, yo ho, a pirate's life for me!" Have a pirate-loving kid in your family? Then you won't want to miss this Disney classic. Updated to include sneaky Captain Jack Sparrow from the Pirates of the Caribbean film series, this ride will have you cruising through a Spanish fortress, the rowdy town of Tortuga, and a Dungeon. Dead men tell no tales so I won't spoil anymore! This ride has sections of darkness and canons exploding, but overall this is a fun ride that will thrill this age group.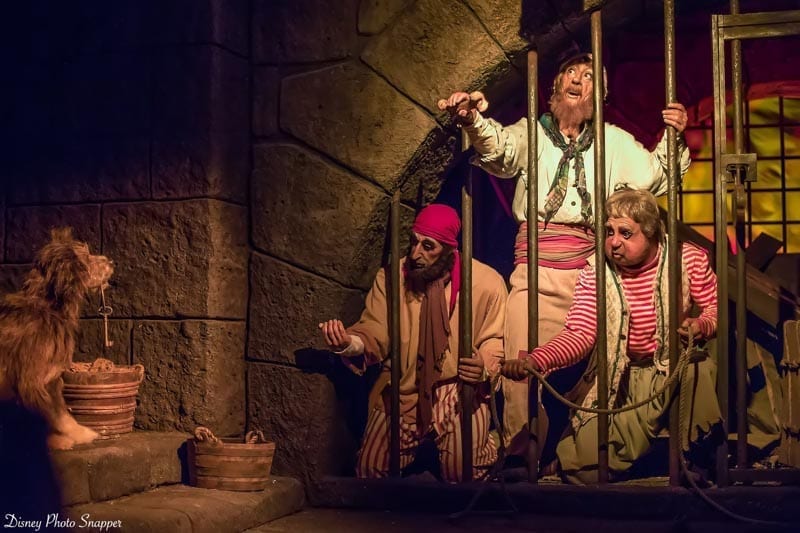 5 – Seven Dwarfs Mine Train, Magic Kingdom
The Seven Dwarfs Mine Train is the perfect next step after the Barnstormer. Your small miner will need to be 38 inches tall to ride this smooth, fun rollercoaster. This ride is ideal for the whole family! You'll join the dwarfs as they go off to work in the mines where you'll see sparkly gemstones. This ride features a first-of-its-kind ride system: swinging cars that add to the already exhilarating turns from traveling through the mountain. In the end, be on the lookout for a familiar face!
4 – Millennium Falcon: Smugglers Run, Hollywood Studios
Millennium Falcon: Smugglers Run is an anchor attraction inside the new Star Wars: Galaxy's Edge at Disney's Hollywood Studios in Florida. It combines immersive storytelling with interactive gameplay to make kids the protagonists of their own Star Wars adventures in a way never before undertaken by Disney Parks. Lovingly described at various times as a "piece of junk" or "bucket of bolts," the Millennium Falcon is the most famous of all Star Wars starships. On Millennium Falcon: Smugglers Run, guests 38 inches or taller climb aboard the Falcon in all her ramshackle glory and settle into the cockpit to operate "the fastest hunk of junk in the galaxy." Whether your child is assigned to be a pilot, gunner, or flight engineer, they'll have a blast while they complete their mission for Hondo, the fan-favorite miscreant from the "Star Wars: The Clone Wars" and "Star Wars Rebels" animated television series. Star Wars fan or not, you're kids will not want to miss this attraction! Catch a glimpse of Millennium Falcon: Smugglers Run below!
3 – Big Thunder Mountain, Magic Kingdom
Designed for the whole family, this ride is the fastest thrill ride in this grouping with some sharp turns and small drops. You'll board a runaway mine train that journeys through a haunted gold-mining town. This classic ride requires a height of 40 inches. It's an awesome ride to conquer before moving on to the "big" rollercoasters such as Space Mountain or Expedition Everest. Your older kid will love the wildest ride in the wilderness!
2 – Slinky Dog Dash, Hollywood Studios
The newest coaster at Disney World also happens to be perfect for kids in this age group! Andy has assembled his roller coaster from his Dash & Dodge Mega Coaster Kit for maximum family fun. But instead of just using the roller coaster vehicle that came with the kit, Andy has put his Slinky Dog on the track. The result is a family-friendly thrill ride around the backyard that includes two launches. To complete his creation, Andy picked everyone's favorite floppy-eared dachshund with a stretching coil body – Slinky Dog – and dropped it onto the coaster track. Slinky Dog bends and twists his coils around curves, over hills, and down drops in the Slinky-est coaster ever. In each 18-passenger coaster train, riders zip around and above Toy Story Land, catching great vistas of all the new land has to offer. In a first for a Disney coaster, Slinky Dog Dash features a second launch at its midpoint as riders experience cool sound effects and spinning lights, darting through a series of rings on their way to the attraction's finale featuring Wheezy, the squeaky penguin from the Toy Story films. It's a perfect addition for kids and their families at Disney World.
1 – Star Wars: Rise of the Resistance
Star Wars: Rise of the Resistance sets a new standard for what a Disney theme park experience can be, as you become heroes of the Resistance in a climactic battle with the First Order. In one of the most immersive, ambitious, and technologically advanced attractions ever created for a Disney park, you'll launch into space aboard a transport shuttle, only to be captured by a Star Destroyer and pursued by Supreme Leader Kylo Ren as you frantically search for a way to escape the clutches of the First Order. Whether they are fans of Star Wars or not, your kids will love it. (Adults also rave about this attraction!) In one of the longest Disney attraction experiences ever, Star Wars: Rise of the Resistance delivers thrilling action driven by cutting-edge technology and innovative design that gives you the feeling of stepping inside a Star Wars film.
Traveling with younger children as well? Be sure to check out our list of tips on surviving a vacation to Disney World with toddlers and our top 8 attractions for children ages 0-4.
For a no obligation, FREE Quote on a Disney vacation package, please contact our travel partner Magical Vacation Planner at 407-442-0227 (407-442-0215 for Spanish). You can also request a FREE quote online by Clicking HERE.