Mickey's Magical Friendship Faire, the stage show at Magic Kingdom in Walt Disney World, on the Cinderella Castle Forecourt Stage is back and better than ever. The twenty-minute show plays multiple times per day. There is lots of dancing, story-telling, and fireworks. Read on to find out more about this fantastic stage show.
The show has a new opening number and you'll see Mickey and the gang in their 50th Anniversary celebration outfits. The song invites guests to "celebrate where the magic feels like home." Mickey and the gang go on to let guests know they've traveled far and wide and the friends they've met are what make "this kingdom really unique."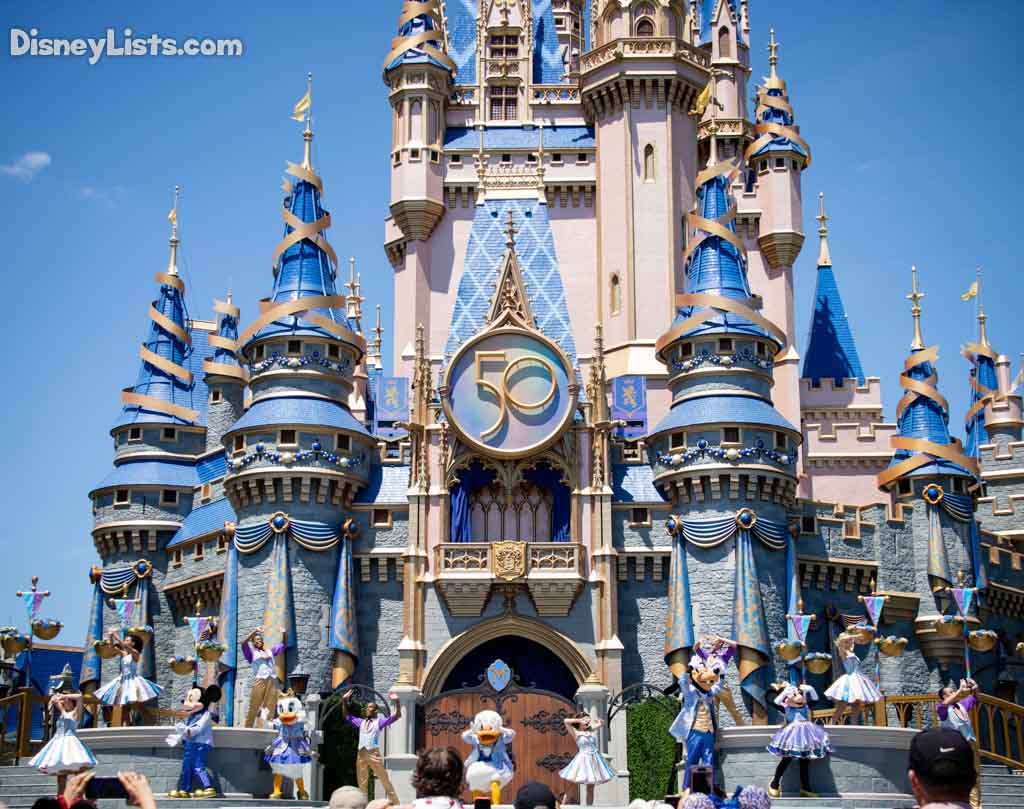 First up, Goofy, Tiana, and friends from the "Land of Bewitching Bayous" to bring a little spice and jazz to the party. At every show I've attended, the crowd went wild for Tiana and Prince Naveen. The jazz dance numbers were great. I heard many in the crowd who were thrilled for Tiana. Her green and white dress would also make Tinkerbell jealous. The segment of the show features songs "Down in New Orleans" and "Dig a Little Deeper" from the movie. Tiana encourages Goofy to be himself and Goofy dances a fun jazz number.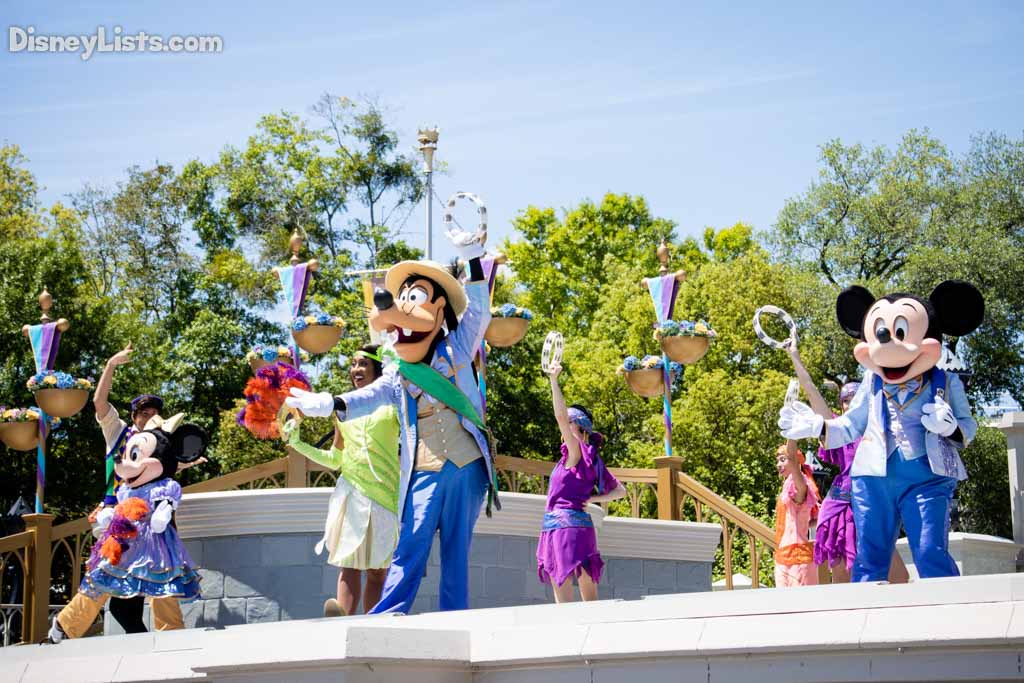 Next, Donald Duck has brought some friends from the "Land of the Enchanted Woodlands" that he met at the Snuggly Duckling, even though Daisy actually invited Rapunzel and Flynn, not the "Ruffians" that Donald brought. The Ruffians and Donald get into a little bit of a tussle until Daisy calms things down. Daisy fears that Donald has ruined everything by bringing them until Rapunzel explains to Daisy that these boys have dreams too. Through a rendition of "I've Got a Dream," Donald shares his dream to be "one of the fellas" and Daisy shares her dream to "try new things and make new friends." Everyone leaves happy as friends.
Just when Minnie thinks she needed to get ready for the Grand Celebration, Mickey announces that he has a surprise for her. Mickey has invited Olaf, Anna and Elsa from the "Land of the Mystic Mountains" to cool things off with a shortened rendition of "Let it Go" from Elsa. Elsa encourages everyone to never lose sight of being their own person.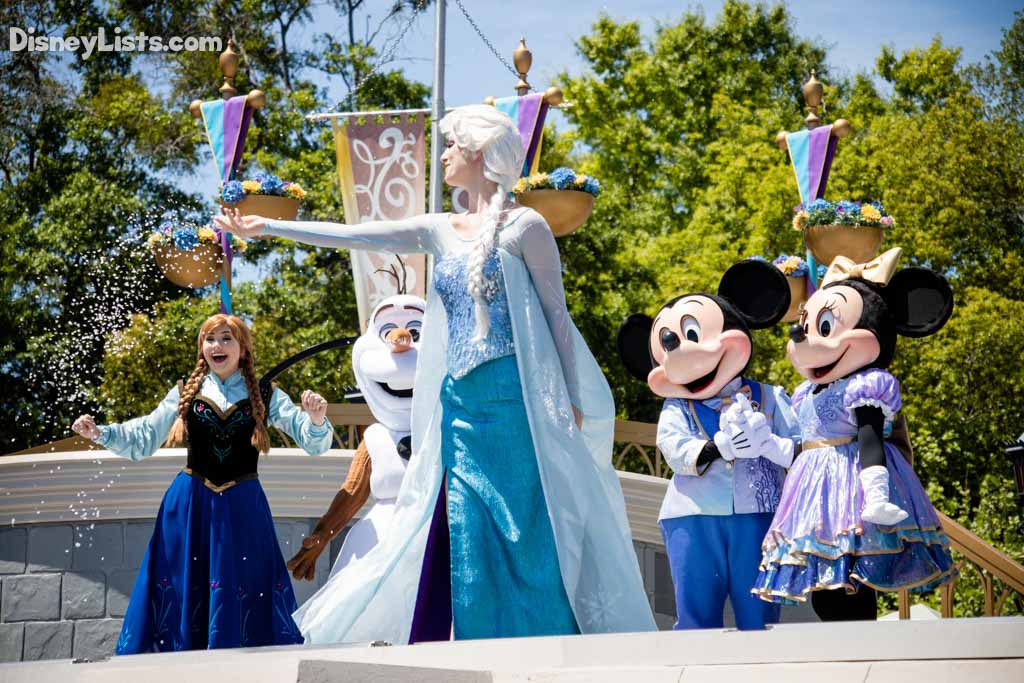 Finally, the faire culminates in a final "Grand Celebration" which brings together all the characters for a final song with dancing and fireworks. Tiana and Prince Naveen, Rapunzel and Flynn, along with the Ruffians, Anna, and Elsa, along with Olaf, each share a short dance. Then the characters mix partners and enjoy another short dance with others. The new song that started off the show is performed again. Mickey then has one last surprise up his sleeve and sets off some fireworks to celebrate the new friendships they had made that day.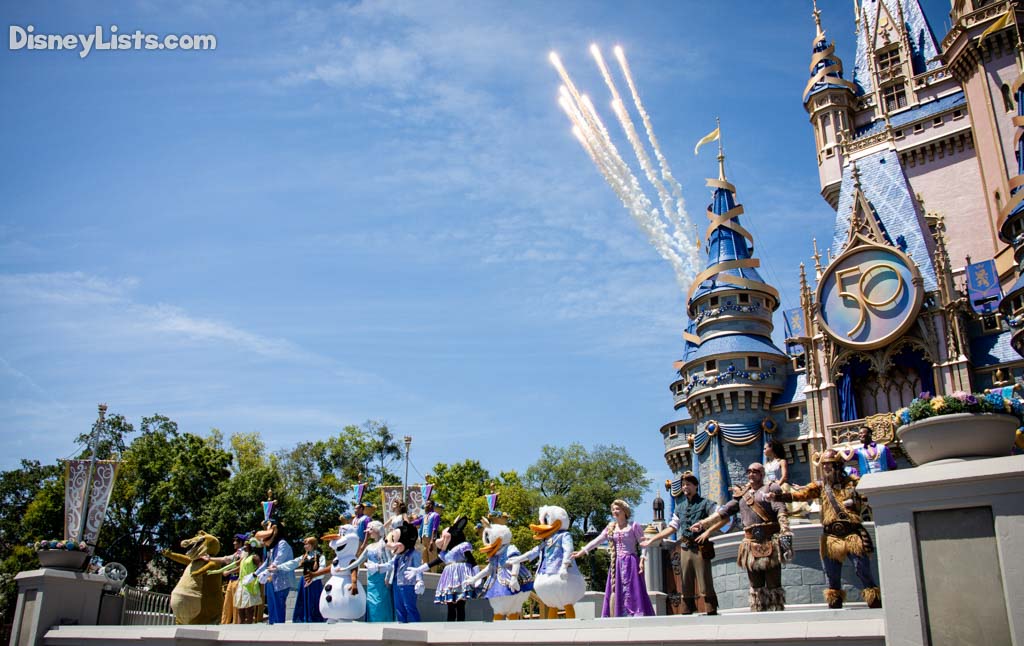 The show is a long one, clocking in around 22 minutes, but it's worth it. Not surprisingly, the Forecourt Stage area is usually packed, especially towards the end of the show as many walking by pressed in as the show went on. If you want an unobstructed view, you'll want to get to the stage area early. The show does a great job of blending the classic characters along with the recent hits from Disney: The Princess and the Frog, Tangled, and Frozen. Currently, there are five shows playing per day. Be sure to check the My Disney Experience app for the most up-to-date showtimes. You don't want to miss this show!
For a no obligation, FREE Quote on a Disney vacation package, please contact our travel partner Magical Vacation Planner at 407-442-0227 (407-442-0215 for Spanish). You can also request a FREE quote online by Clicking HERE.