Dining
Dining at Disney Resorts
Character Breakfast at Topolino's Terrace at Disney's Riviera Resort: Breakfast a la Art with Mickey & Friends – Our Review & What You Need to Know
Character dining is a popular and fantastic way to greet your favorite characters while getting a great meal. For obvious reasons, breakfast options with Mickey and the gang are among the most popular breakfast options. That's why we were so excited to learn that a new character dining experience was coming to Disney's Riviera Resort. The resort, Disney Vacation Club's 15th resort, is offering "Breakfast a la Art with Mickey and Friends." We've now dined here twice and are happy to report that we still think this is one of the best character breakfast dining options on Disney property. Keep reading for our review and what you need to know about Disney's latest character dining experience.
1 – Disney's Riviera Resort
Disney's Riviera Resort, inspired by Europe and imagined by Disney, brings the elegance of a modern European retreat blended with a touch of old-world glamour and Disney charm to Walt Disney World Resort. The 15th Disney Vacation Club resort is the first all-new, stand-alone Disney Vacation Club property at Walt Disney World since 2004. The deluxe resort offers approximately 300 family-friendly vacation homes, including deluxe studios, one- and two-bedroom villas, and grand villas that sleep up to 12 guests each. Disney Vacation Club continues to offer the widest range of accommodations found at Walt Disney World, and adding to these accommodations is an all-new room category — Tower Studios, which sleeps two guests. Each tower studio includes a private balcony with scenic views and seating for two in an intimate, modern setting. It's a beautiful resort, conveniently located between Epcot and Disney's Hollywood Studios, and offers great amenities and dining options. Even if you are not a DVC member, we recommend visiting Disney's Riviera Resort. We love it.
2 – Getting to Disney's Riviera Resort
If you're not staying at Disney's Riviera Resort, the resort is still relatively easy to get to. Disney's Riviera Resort is located on the Disney Skyliner, making it easily accessible from Epcot and the other Skyliner resorts. If you have your own car, feel free to drive to the location. Disney security will likely confirm your breakfast reservation before letting you park on the premises. You'll need to use a Disney bus or Disney Skyliner for those utilizing Disney transportation. For those staying at another resort, Disney buses do not travel from resort to resort, so you'll need to take a bus to a park or Disney Springs and then transfer to one of those locations and take another bus to the Riviera Resort. Disney's Riviera Resort Skyliner Station is only about an eight-minute ride from Epcot and about a 5 to 10-minute ride to Disney's Hollywood Studios. No matter how you plan to arrive, give yourself plenty of time to travel. Plan to arrive at least 15 minutes before your reservation time.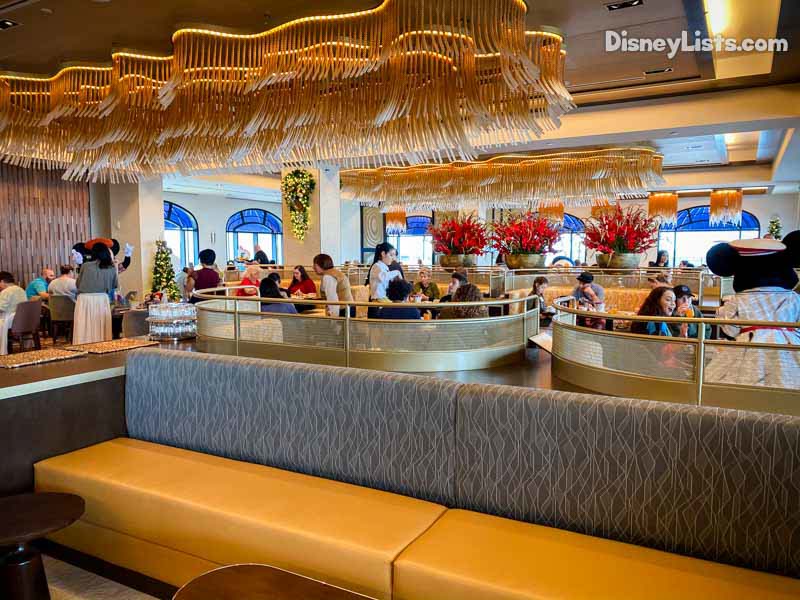 3 – Topolino's Terrace – Flavors of the Riviera
Topolino's Terrace – Flavors of the Riviera is open for both breakfast and dinner. The restaurant's name is taken from the Italian word for Mickey Mouse, "Topolino." Guests can dine indoors and then step out onto the terrace for a grand view of the resort's stunning vistas, where you'll catch glimpses of nearby Epcot, Disney's Hollywood Studios, and the Disney Skyliner. You can see Expedition Everest in the distance at Disney's Animal Kingdom. The dinner menu serves a selection of fresh meats and seafood, handmade pasta, and decadent desserts infused with French and Italian flavors. The wine list is sourced from the Mediterranean coast. Be on the lookout for our dinner review–coming soon!
4 – Breakfast à la Art with Mickey & Friends
Families looking to start their morning off with a fun breakfast experience can visit Topolino's Terrace for Breakfast a la Art with Mickey & Friends – a prix-fixe Disney character dining experience. This breakfast is an excellent addition to the already long list of character dining experiences. We love the fact that Mickey, Minnie, Donald, and Daisy are the characters you can meet during breakfast. It's one of the few places where you can see these four together at a character meal.
You'll find the gang in very unique clothing! In keeping with the spirit of the Riviera, the characters are dressed in artists' attire. Mickey is a painter, Donald is a sculptor, Daisy is a ballerina, and Minnie is a writer. The outfits are all fantastic. If you love getting photos of the characters in unique outfits, you won't want to miss this one!
Click on the images below to enlarge them.
Like all character dining experiences, characters will come to you, in turn, while you dine and greet you from a distance. Note at this time there are no Disney PhotoPass photographers with the characters, so you'll need your own camera for photos. Also, during your meal, the gang will dance to a song, which is a lot of fun.
Our interactions at both breakfasts were a lot of fun. The characters are fully in their artist's persona! Daily does a lot of ballet dancing. Mickey painted (an imaginary) painting for me, and Donald sculpted (an imaginary) sculpture of Daisy! It was great. Both times I felt like we had plenty of time with the characters.
Note that Disney's Riviera Resort sells a unique autograph and coloring book for capturing the autographs while visiting with the characters. Check out the photos below. The book sells for $19.99 and can be purchased at Topolino's or at La Boutique on the resort's second floor. The restaurant also sells Mickey, Minnie, Daisy, and Donald plush. Each plush has the character in their new artist attire. Click on the images below to enlarge.
5 – Prix Fixe Menu
The menu is a prix fixe menu, meaning the cost is the same regardless of your order. Your breakfast includes shared pastries, one entrée, a beverage, and the Riviera blended juice (POG juice—passion fruit, orange, and guava juices). On our second visit, we were told that the pastries had become all you care to enjoy (previously, they were not), so there is plenty of food. The entrees are quite large.  After both dining experiences, I left comfortably full! I thought the amount of food given was just right!
6 – Delicious Food
The shared pastries you'll receive include chocolate-chip muffins, croissants, danish (ours was apple), and epi bread. The epi bread is perfect for the house-made jam (ours was strawberry), honey butter, and chocolate hazelnut mousse. All of these pastries were fresh and delicious.
There are nine different entrees to choose from. Current options include:
Quiche Gruyere (House-made Pancetta, Roasted Potatoes, Field Greens, Lemon Vinaigrette)
Sour Cream Waffles (Roasted Apples, Chantilly, Orange-Maple Syrup, choice of Smoked Bacon, Ham, Sausage, or Plant-based Sausage)
Croissant au Jambon (Ham, Brie, Béchamel, Field Greens, Lemon Vinaigrette)
Smoked Salmon (Everything Bagel, Tomato, Red Onion, Cream Cheese, Capers)
Fruit Plate (Seasonal Fruits, Honey Yogurt, Seed Granola, Toasted Sunflower Butter)
Spiced Sausage Hash (Poached Hen Egg, English Muffin, Potatoes, Pearl Onions, Choron Sauce, Fines Herbes)
Two Eggs-Any Style (Roasted Potatoes, choice of Smoked Bacon, Ham, Sausage, or Plant-based Sausage)
Wild Mushroom Scramble (Spinach, Plant-based Eggs, Plant-based Sausage, Tomatoes)
Wood-fired Butchers Steak (Polenta, Pomodoraccio Tomatoes, Roasted Onions, Wild Mushroom Conserva, Watercress)
Click on the images below to enlarge them.
Kids choose from scrambled eggs, fruit and yogurt, plant-based scrambled eggs, and Mickey Waffle dippers. Note that there is a Vegan option (for both adults and kids) for those looking for a plant-based option.
Perhaps because this restaurant is a signature dining experience in the evening, I felt the food served at breakfast was a step up from the usual offerings at other character dining meals. I enjoyed the sour cream waffles. They melted in my mouth and were filling. They were perfectly cooked—not thin or too crusty. The bacon was thick and tasty. I've had plenty of bacon at Disney World; after one bite, I'm done. Not this bacon. Again, I thought the quality of the food really stood out. My daughter enjoyed the steak immensely.
I again enjoyed the sour cream waffles at the second breakfast, and others enjoyed the other entrees. One in our party wanted Mickey waffles, so asked for an adult-sized portion. They brought out a large plate of Mickey and Minnie waffles! (Note that he was still charged the regular adult rate). A cast member confirmed that Topolino's is only one of two locations on Disney property to have the Minnie waffles. (Cape May Cafe at Beach Club resort is the other location that serves them).
7 – Top-Notch Service
Service at both meals was excellent. The servers explained the menu, never let our drinks get empty, and were very pleasant. At the first breakfast, our server Mark was outstanding. Because I could drink gallons of the POG juice while at Disney, he gave me a to-go cup because he saw how much I enjoyed it—again, without me asking for it. We come to expect excellent service at Walt Disney World, but it's always great to receive service that goes above and beyond.
8 – Roof-top Terrace
After your meal, you'll want to go out on the roof-top terrace, which offers impressive views of Disney's Caribbean Beach Resort, the Disney Skyliner, Disney's Hollywood Studios, and Epcot. In the distance, you'll also see Expedition Everest in Disney's Animal Kingdom. There is a seating area if you want to sit for a while.  The spot is excellent for taking a few photos.
9 – Price Considerations
The cost of this dining experience is in line with other character dining. Adults are $45, and children, ages 3-9, pay $29*. Chef Mickey's also costs $45 for adults and children $29. The food is certainly worth the price, and you'll likely leave full. Mickey and friends are always popular, and this breakfast allows you to meet them in unique outfits.
*Prices are seasonal and subject to change
10 – Final Thoughts & Overall Recommendations
We really enjoyed this character breakfast. Disney's Riviera Resort is conveniently located and easy to get to. The price is in line with other character breakfasts. You get to meet Mickey, Minnie, Daisy, and Donald in one meal in unique outfits. The food is delicious and filling! After your meal, you'll be treated to amazing views of Walt Disney World. This is an excellent addition to character dining, and we'll be adding this to our must-do character meals—very near the top!
Editor's Note: For the second breakfast experience, Disney Parks, Experiences and Products provided us a complimentary breakfast at Topolino's. However, as always, the thoughts and opinions contained in this article are entirely our own.
For a no obligation, FREE Quote on a Disney vacation package, please contact our travel partner Magical Vacation Planner at 407-442-0227 (407-442-0215 for Spanish). You can also request a FREE quote online by Clicking HERE.