This is not an easy list to write, because the Walt Disney World Resorts have so many delicious dining options! Disney has made this list a little bit easier by having food courts as the main choice at the Value Resorts, but that still leaves Moderate and Deluxe. To give you more options, this list has only one restaurant at each resort. It does not include character dining, buffets, or family style restaurants. Restaurants that have not reopened at the time of this writing are not included. Reservations are highly recommended for any of these eateries. Here are seven of the best table service restaurants at the Walt Disney World Resorts. There are many more that could have been on this list.
1 – Olivia's Cafe, Disney's Old Key West Resort
Olivia's Cafe is a bit of a hidden gem. Most Walt Disney World visitors don't bother to venture out to Disney's Old Key West unless they are staying there. That's too bad, because Olivia's Cafe is a relaxing spot with delicious food and a great atmosphere. It's named after restauranteur Olivia Farnsworth. You'll find hearty food such as Banana Bread French Toast and Papa's Hash on the breakfast menu, while lunch and dinner choices include Southernmost Buttermilk Chicken and Cayo Hueso Shrimp Pasta. Save room for dessert, you need to try the Key Lime Tart! What else would you want to eat at the end of a meal in the Florida Keys?
2 – Flying Fish, Disney's BoardWalk
Elegant and easygoing at the same time is the perfect way to describe Flying Fish. The atmosphere is a bit on the whimsical side, without being overdone. The menu is heavy on seafood, but beef, chicken, and at least one plant-based option are also served. After you dine, head outside to watch the street performers, or time your meal so you can see the fireworks portion of Harmonious from the bridge on the way to Disney's Beach Club. Flying Fish only serves dinner, and as a signature restaurant, there is a dress code.
3 – Kona Cafe, Disney's Polynesian Village Resort
Since this list doesn't include family-style restaurants, 'Ohana (and the 'Ohana Bread Pudding) at Disney's Polynesian Village Resort didn't make the cut. Fortunately, Kona Cafe is nearby! This is a must-stop for breakfast for many people because of two words; Tonga Toast. The dish consists of French toast that is stuffed with banana, cooked to perfection, and rolled in cinnamon and sugar. Strawberry Compote is served on the side, along with breakfast meats. Lunch and dinner are also delicious, with Dashi Bowls, short ribs, Asian chicken, sushi, and more. You can start your day at Kona Cafe before heading to the Magic Kingdom, or take the monorail from the park for a lunch or dinner break.
4 – Citricos, Disney's Grand Floridian Resort & Spa
It was a toss-up on which Grand Floridian signature restaurant to include, Citricos or Narcoossee's. Since Flying Fish serves primarily seafood like Narcoossee's, Citricos made the cut. (When Victoria & Albert's reopens it might be time to rethink this decision!) Citricos was recently remodeled, and it now has a subtle "Mary Poppins Returns" theme. The food is listed as "American" on the Walt Disney World website, but don't expect pizza, burgers, and fries! Instead, you'll find Strawberry Soup, Roulade of Chicken, and Truffle Macaroni & Cheese. There is a nice selection of specialty cocktails and an impressive wine list. Enjoy a leisurely meal, then order a dessert wine and watch the fireworks. Citricos has a dress code.
5 – Beaches & Cream Soda Shop, Disney's Beach Club Resort
Not far from the International Gateway entrance to EPCOT you'll find an old-fashioned soda shop! You'll feel like you stepped back in time as soon as you walk through the door. Beaches & Cream is known for its ice cream creations, but don't forget the rest of your meal. The lunch and dinner menu include burgers, sandwiches, and tater tots; just like you'd expect to find in a soda shop of yesteryear. Now onto the ice cream. There are shakes, sodas, and sundaes, but one dessert stands above the rest. It's called The Kitchen Sink, and it's for four people. There are eight scoops of ice cream, pieces of candy, cake, brownies, hot fudge, caramel, whipped cream, and "every topping we have". It's served in a bowl that is shaped like a kitchen sink. The Kitchen Sink is available in more than one variety, including dairy-free.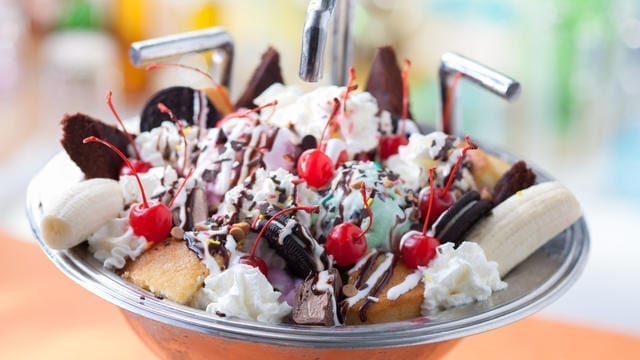 6 – Jiko – The Cooking Place, Disney's Animal Kingdom Lodge
Jiko is one of the most unique signature restaurants at Walt Disney World. The lighting and the atmosphere mimic sunset over a savanna. There are two wood-burning ovens, and since this is fine dining there is a dress code. The food features the tastes of Africa, India, and the Mediterranean. The menu does change from time to time, but could feature dishes such as  Botswanan Seswaa Short Rib, Moroccan Lamb Shank, and Seafood Tagine. Disney's Animal Kingdom Lodge is home to the largest collection of African wines outside of Africa, so you are sure to find the perfect vintage to accompany your meal. If you're worried about the kids, the children's menu has more familiar favorites such as cheese pizza and mac and cheese. Dessert options include Malva Pudding and African Drum 'Beets'. There are loose leaf teas, signature cocktails, and top-shelf liquors. Jiko – The Cooking Place is only open for dinner, and it is not to be missed.
7 – California Grill, Disney's Contemporary Resort
Possibly the most iconic restaurant on this list is California Grill. It is known not only for the food but also for the view. You'll board a private elevator and ride 15 stories up! For the World's Most Magical Celebration California Grill is serving a prix fixe menu. You'll pick one dish from the appetizer list, one entree, and one dessert. The choices include pork, beef, seafood, chicken, and more. Wine is not included in the price, but you'll still want to order something off of the extensive list. There are top-shelf liquors, signature cocktails, and local or West Coast craft beers. Back to the view, there are two observation decks that are perfect for watching Disney Enchantment. If you didn't time your meal near the fireworks, just show your receipt and you'll be allowed back up for the show. There is a dress code because California Grill is what signature dining should be like.
For a no obligation, FREE Quote on a Disney vacation package, please contact our travel partner Magical Vacation Planner at 407-442-0227 (407-442-0215 for Spanish). You can also request a FREE quote online by Clicking HERE.