Meeting your favorite Disney characters is usually a top priority for most guests visiting Disney World. While visiting characters can certainly be done on a whim, for the best experience possible, it's best to have a plan with you at the beginning of the trip. That plan begins with knowing where the characters are located in the parks and restaurants.
Character dining at Disney World is a great way to meet many characters at once and enjoy a delicious meal at the same time. Character dining at resorts is also a great way to meet the characters without going into the parks. You can still enjoy some character magic if your park days are limited. Here are six things you need to know to have a fantastic experience with Character Dining at Disney World.
6 – Know Where The Characters Are
Character Dining offers the advantage of meeting multiple characters in one setting. But the key here is to know what characters you want to check off your list. Here are the restaurants that have character dining in the parks and resorts. Please note that in-park dining requires an admission ticket. Not all character dining experiences have returned. We list the ones not currently available for future planning. We hope they will return this year.
Current Character Dining Experiences Offered
The Garden Grill: Chip 'N' Dale's Harvest Feast (Epcot)
Chip 'N' Dale, Farmer Mickey, and Pluto
Cinderella's Royal Table (Magic Kingdom)
Cinderella, Ariel, Snow White, Belle in peasant attire, Sleeping Beauty, and sometimes Jasmine
Hollywood & Vine: Disney Junior Play 'n Dine (Breakfast)

Fancy Nancy, Doc McStuffins, Vampirina, and Roadster Racer Goofy
Hollywood & Vine: Minnie's Seasonal Dining (Dinner) (Hollywood Studios)

Minnie, Mickey, Donald, Daisy, and Goofy
Tusker House (Animal Kingdom)
Donald Duck, Daisy Duck, Mickey Mouse, and friends
Chef Mickey's at Disney's Contemporary Resort
Mickey Mouse, Minnie Mouse, Pluto, Donald Duck, and Goofy
Breakfast a la Art with Mickey & Friends at Topolino's Terrace at Disney's Riviera Resort
Mickey Mouse, Minnie Mouse, Donald Duck, and Daisy Duck
Story Book Dining at Artists Point at Disney's Wilderness Lodge
Snow White, Dopey, Grumpy, Evil Queen
Best Friends Breakfast featuring Lilo and Stitch at O'hana at Disney's Polynesian Resort
Lilo, Stitch, Pluto, and Mickey Mouse (note: Mickey is not guaranteed)
Minnie's Beach Bash Breakfast at Cape May Cafe at Disney's Yacht Club
Minnie Mouse, Daisy Duck, Goofy, and Donald Duck
The Crystal Palace (Magic Kingdom)
Akershus Royal Banquet Hall (Epcot)
Snow White, Cinderella, Belle, Princess Aurora, Ariel, and Mary Poppins
Note: Character appearances are not guaranteed and are subject to change.
Not Offered at This Time
Here is a list of locations where character dining has not returned. The offerings below are still listed on the Walt Disney World website as "temporarily unavailable." We hope they will return in the future.
Supercalifragislistic Breakfast at 1900 Park Fare at Disney's Grand Floridian Resort
Mary Poppins, Alice and Wonderland, The Mad Hatter, Tigger, and Winnie the Pooh
Cinderella's Happily Ever After Dinner at 1900 Park Fare at Disney's Grand Floridian Resort
Cinderella and Prince Charming
Bon Voyage Adventure Breakfast at Trattoria al Forno at Disney's BoardWalk
Ariel, Prince Eric, Rapunzel, and Flynn Ryder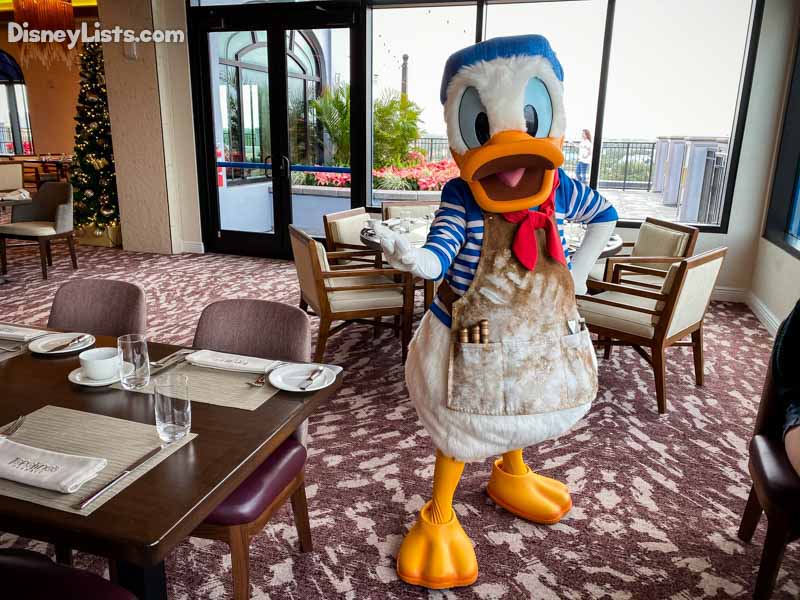 5 – Choose the Right Experience and Time
There are many considerations in choosing the right meal. Here are some questions to consider:
Which characters do you want to meet?
What time of day is the dining offered?
What park do I want to be at that day?
Are there offerings at the park I'm at that day? or close by?
How late will we be up the night before? Should we get up early the next morning?
Overall, you simply need to consider what kind of food you want, what park you want to be at that day, and if considering breakfast, how early you want to wake up. Going to Magic Kingdom for the day makes sense if you want to eat at any Magic Kingdom resort.
When choosing what time to enjoy your meal, remember that most character dining experiences take anywhere from 1.5 – 2 hours, including travel time. So while a 9 am breakfast might be easier because you can sleep in, that means you are not getting to the park until 11 am. That might be perfect for you, but if your goal is to get the most time in the parks, then you may need to get up early for your meal.
For dinner experiences inside the park, keep in mind when the park closes that day. You don't want to lose precious park time by making a 5:00 pm dinner reservation when the park closes at 7:00 pm. By the time you are done with your meal, you'll have to leave. When a park closes early (between 5:00-7:00 pm), schedule your meal closer to closing so that you have more time for rides.
4 – Make Your Reservations Early
More and more, early planning and reservations are needed for dining at Disney World. Advance reservations are essential for character dining, especially Chef Mickey's and Cinderella's Royal Table. You may make reservations up to 60 days before your visit. If you are a Disney Resort guest, you may make reservations 60 days before the day you check in plus ten days after (which gives you an advantage over the general public). On that day, you may make reservations for your entire trip. The easiest way to make reservations is using the online reservation system on the Disney website, or you may call 407-WDW-DINE.
3 – Be Prepared for Your Meet & Greet at Your Table
When the time has come for your meal, you will be seated at your table. Usually, the greeter will let you know when the characters will be making their way over to you. Since most character meals are buffets where you leave your table to get your food, this is essential information to have. You need to be aware of where the characters are when getting your food. Characters follow a set pattern, and you can usually see them making their way around. Sometimes we have been visited by characters immediately, and sometimes we have waited over 20 minutes for them to reach our table. Don't worry; they will come…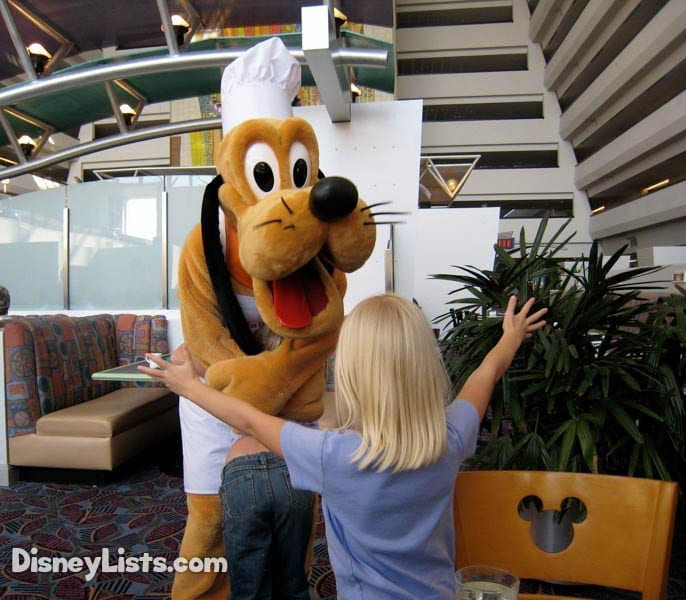 2 – The Characters Will Come to You
Each character follows a set pattern around the room and will come to your table in turn. You will want to assure young children in the party not to worry; the characters will be coming. Have autograph books ready to go, as well as your cameras. Unlike the parks, there are no Disney PhotoPass photographers who follow the characters to the table. So, if you want pictures, you need to have your camera ready. Like the parks, characters will spend an appropriate time with your family. Just be considerate of others waiting.
If, for some reason, a character misses your table, don't be afraid to let a cast member know. One time there was some confusion in our area, and Minnie accidentally missed us. Naturally, we had some sad children. So I just told a cast member, and they assured us that Minnie would come back to greet them. After a while, she did come back, and everyone was happy.
NOTE: Some restaurants feature group pictures before the meal, but not all do.
1 – Enjoy the Food
This may seem obvious, but make sure to take the time to actually eat your food. Once, I was so busy worrying about pictures that I barely ate anything. These meals are hardly inexpensive, so make sure you get the full value of the meal and enjoy the food. The food is usually delicious, especially those Mickey waffles!
For a no obligation, FREE Quote on a Disney vacation package, please contact our travel partner Magical Vacation Planner at 407-442-0227 (407-442-0215 for Spanish). You can also request a FREE quote online by Clicking HERE.