News
Disney World 50th Anniversary Merchandise – What You Need to Know
For 50 years, no trip to the Walt Disney World Resort has been complete without bringing home a treasured souvenir – a special something that told everyone, "I went to Disney World!" In honor of the resort's 50th anniversary, guests will discover new merchandise collections and shopping experiences all across The Most Magical Place on Earth. Learn more below.

1 – 50th Anniversary Merchandise
"The merchandise celebrates the legacy of the past 50 years with a nod to the next 50," said Marianne Sharpe, vice president of merchandise for Walt Disney World Resort. "It includes authentic product replicas, modern fashion trend collections, artist collaborations, and even matching attire for the entire family. The 50th merchandise is truly for the Disney fan in us all."
The collections offer something for everyone, from fun and creative celebration-themed items to an entire line of products inspired by Cinderella Castle. There are also throwback and retro-themed pieces, and even a shimmering collection of fashion and accessories inspired by the EARidescent decor that is a hallmark of the celebration.
2 – Shopping Locations
The new merchandise collections are complemented by enhanced shopping experiences at select locations across Walt Disney World. Each one-of-a-kind display was designed to honor the storied past behind five decades of merchandise and memories at The Most Magical Place on Earth.
With Disney Springs serving as the primary shopping destination for all 50th-anniversary collections, the new merchandise will also be available at all four Walt Disney World theme parks. Certain items will also be available at select Disney Resort hotels and on shopDisney.com.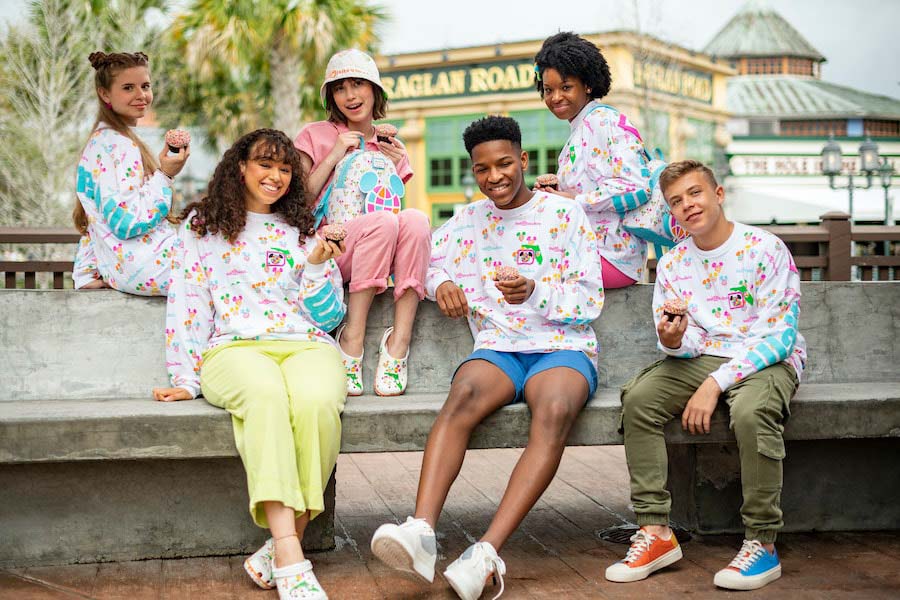 3 – Disney Vault Balloon Collection
Longtime visitors of The Most Magical Place on Earth may recall the colorful balloon-patterned shopping bags used to package souvenirs purchased at Walt Disney World Resort in 1971. The Disney Vault Balloon Collection pays homage to the vintage Mickey Mouse balloon iconography from decades past.
Disney Vault Balloon Collection Spirit Jersey – Featuring a bright, whimsical print and heritage Walt Disney World Resort logos.
Disney Vault Balloon Collection Bucket Hat – A fashion-forward item combining current style trends and 1970s flair, with a transparent green panel and vintage Walt Disney World logo along the brim.
Disney Vault Balloon Collection Loungefly Backpack – Offers a bold geometric design across the exterior pocket, which makes a statement with its electric blue straps and classic balloon print.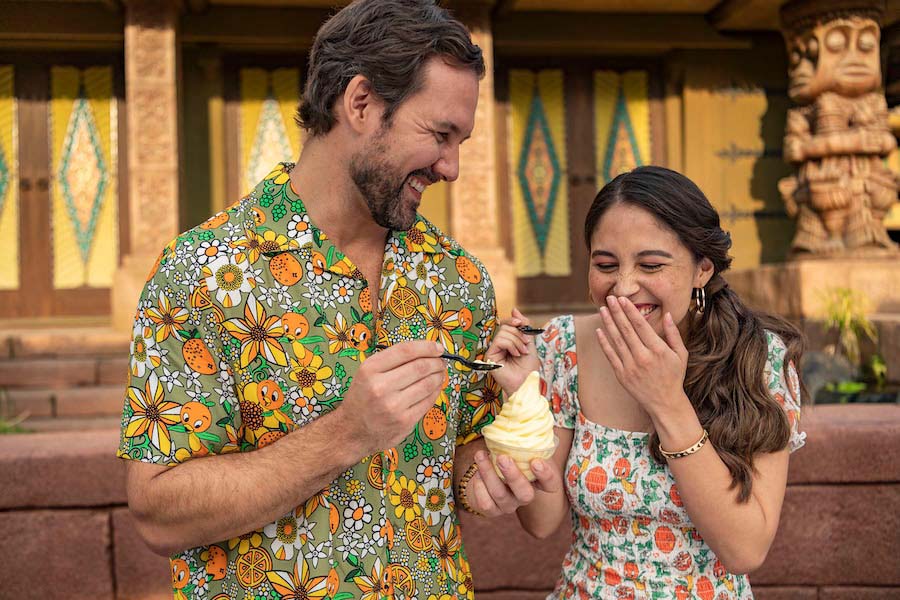 4 – Disney Vault Orange Bird Collection
The Disney Vault Orange Bird Collection pays tribute to Orange Bird, a favorite Disney character who has come to symbolize Florida and its legacy in the citrus industry. Orange Bird's spunky personality shines through a range of groovy new products, inspired by the retro flower-power styles that rose in popularity during the early 1970s.
Disney Vault Orange Bird Crossbody – Adds a touch of cuteness to any look as a three-dimensional replica of Orange Bird.
Disney Vault Orange Bird Camp Shirt – Features a notched collar and muted color palette reminiscent of the 1970s, complemented by a cheerful motif of Orange Bird and various florals.
Disney Vault Orange Bird Denim Jacket – Brings vintage trends to the 21st century with a funky bubble font, stylized Orange Bird artwork, and decorative patches.
5 – EARidescent Shimmer Collection
The EARidescent Shimmer Collection draws inspiration from the iconic gold and blue turrets of Cinderella Castle in Magic Kingdom Park, reflecting the festive décor seen across Walt Disney World Resort as a part of the 50th-anniversary celebration.
EARidescent Shimmer Collection Minnie Mouse Headband – Glistening with bedazzled gold-toned sequins, the perfect accessory for any 50th anniversary celebration-themed outfit.
EARidescent Shimmer Loungefly Backpack – Blending a classic royal color scheme with modern design through a unique swirl pattern that marbles blue and gold hues together.
EARidescent Shimmer Collection Spirit Jersey – A premium pullover Spirit Jersey featuring a ribbed crew neck, cuffed sleeves and gleaming EARidescent embellishments
6 – Celebration Collection
The Celebration Collection includes a wide-ranging assortment of commemorative merchandise for the whole family. Perfect for mixing and matching, the collection features accessories by Dooney and Bourke, festive headwear, coordinating mommy-and-me ensembles, fashionable t-shirts and collectable 50th anniversary character plush.
Celebration Soap Dispenser – The pump-action soap dispenser delivers a perfectly sized dollop of Mickey Mouse-shaped foaming soap.
Celebration EARidescent Jacket by Wes Jenkins – Ideal for styling complementary looks that celebrate the 50th anniversary, the EARidescent Jacket by Wes Jenkins is offered in both adult and youth sizes.
Celebration 50th Anniversary Pandora Charm – This dazzling addition to Pandora Jewelry bracelets captures the essence of the historic Walt Disney World celebration.
7 – Disney Castle Collection
Drawing inspiration from the iconic Cinderella Castle in Magic Kingdom Park, the Disney Castle Collection features everything from collectibles – like ornaments and charms – to castle-inspired attire and a light-up, 50th anniversary-edition Minnie Mouse ear headband. Items in the collection pick up on the castle's royal, EARidescent makeover created just for the celebration.
Disney Castle Dress Shop Dress – The Disney Castle Collection Dress Shop Dress features a whimsical Cinderella Castle-inspired print and a classic silhouette honoring the pale- pink hues of the icon's dreamy exterior.
Disney Castle Minnie Mouse Light-Up Ear Headband – As if they were enchanted by Fairy Godmother's magic wand, the Disney Castle Collection Light Up Ears glow from within to elevate any Disney ensemble.
Disney Castle Camp Shirt – The notched camp collar shirt is timeless and versatile, featuring an illustrated motif of Cinderella Castle and the landscaped gardens of Magic Kingdom against beautiful blue skies.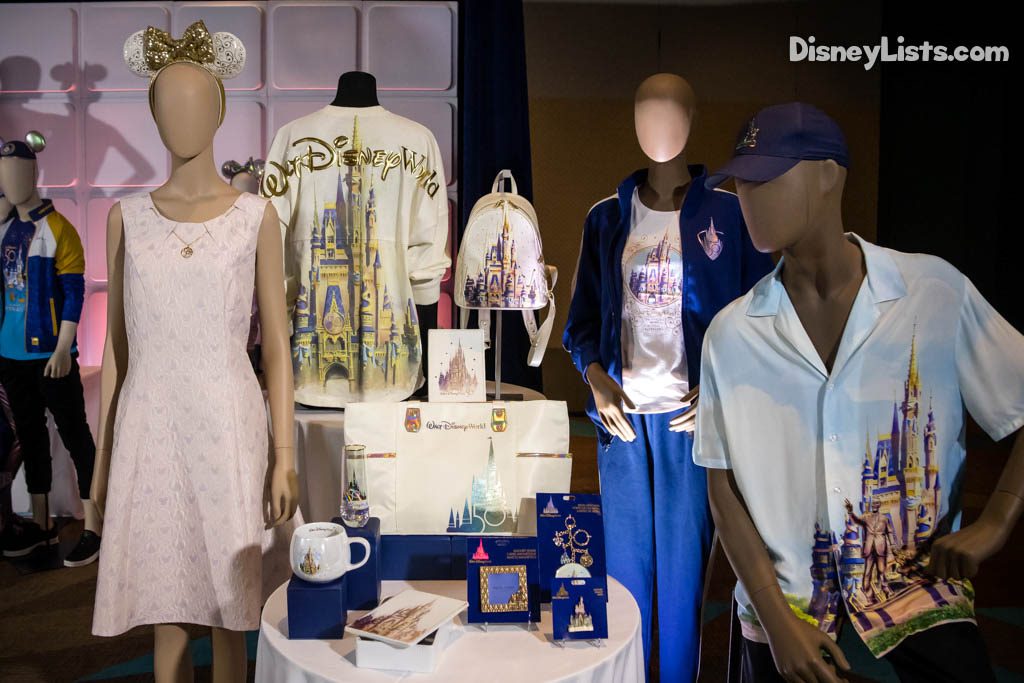 8 – Vault Collection
Disney fans and those who love all things vintage will be eager to unlock the Vault Collection that pays tribute to 50 years of Walt Disney World magic with an assortment of retro-themed designs right out of the Walt Disney Archives. The collection includes classic opening-day favorites such as the original Walt Disney World Mickey Mouse ear hat design, throwback t-shirt styles, and nostalgic accessories. Additional Vault Collection items will be released throughout the celebration.
Vault Replica Ear Hat – Wearing a Mickey Mouse ear hat is a tradition for Walt Disney World guests that began on opening day in 1971. The Vault Replica Ear Hat lets guests own a piece of Disney history by bringing back the vintage hat design.
Vault Replica Loungefly Lunch Box Crossbody – The Vault Replica Loungefly Lunch Box Crossbody pays tribute to the classic character-themed souvenir lunch boxes of decades past and features nostalgic artwork inspired by the cast of The Country Bear Jamboree.
Vault Mickey and Minnie Plush – A true blast from the past, the Vault Mickey and Minnie plush toys pay homage to the style transformation exhibited by Mickey Mouse and Minnie Mouse from the 1970s to now, sporting their famous vintage fashions.
9 – EARidescent Collection
In line with new décor seen across Walt Disney World during the 50th anniversary celebration, the EARidescent Collection features a shimmering array of themed fashions and accessories.
EARidescent Spirit Jersey – This premium pullover EARidescent Spirit Jersey features a ribbed crew neck, cuffed sleeves, gleaming EARidescent embellishments and puff ink "Walt Disney World" lettering on the back.
EARidescent V-Neck T-Shirt – Part of the latest chapter of Disney's color story merchandise collection, the EARdescent V-Neck is a shiny new twist on a popular t-shirt design.
EARidescent Baseball Cap – This sporty baseball cap features EARidescent shimmer and a screen art Mickey Mouse icon as the focal point of the design.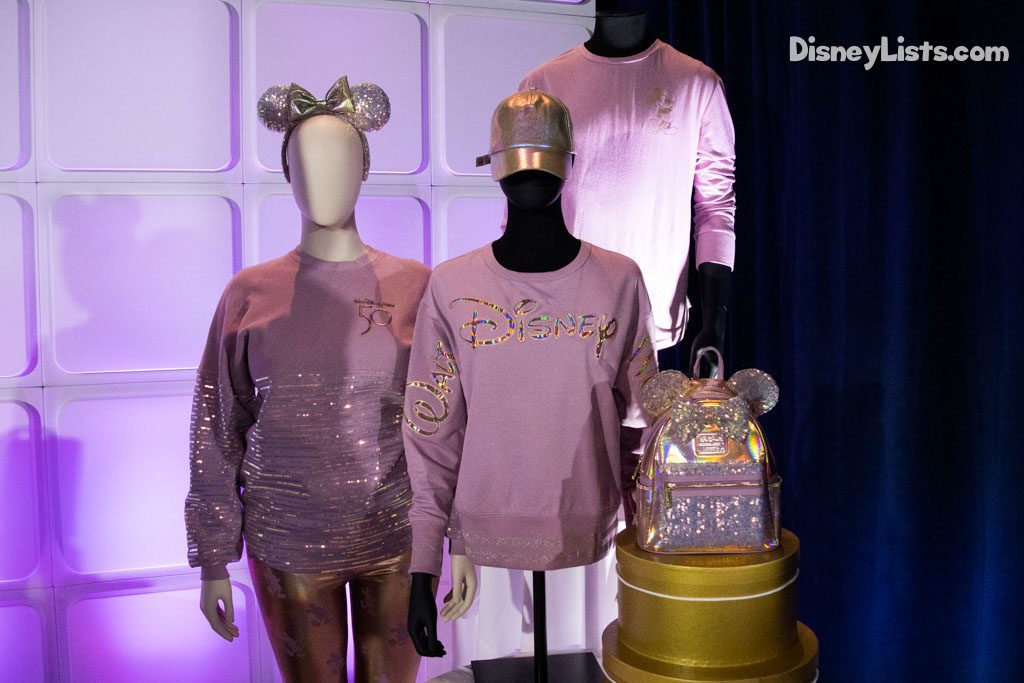 10 – Luxe Logo Collection
As the name implies, the Luxe Logo Collection will offer a range of upscale pieces for the Disney collector.
Luxe Logo Citizen Watch – Featuring exclusive artwork celebrating the 50th anniversary, the Luxe Logo Citizen watch combines luxury and Disney style.
Luxe Logo Jeweled Ear Hat – The Luxe Logo Jeweled Ear Hat is adorned with sparkling gold gemstones from ear to ear and is an elevated take on the classic Mickey ear hat.
Luxe Logo Corduroy Spirit Jersey Hoodie and Luxe Logo Corduroy Spirit Jersey Jogger– The textured corduroy material and gold detailing on these posh items achieve a comfortable, yet polished and sophisticated aesthetic. The Corduroy Spirit Jersey Hoodie and Corduroy Spirit Jersey Jogger are separate pieces that can be worn together for a sleek, coordinated look.
11 – Other Brands Join In with Must-Haves
Disney isn't the only company cranking out 50th-anniversary merchandise. Companies such as Ray-Ban, Lego, Citizen Watch, Pandora Jewelry, and Joffrey's Coffee all offer must-have souvenirs! Learn more at the link below.
Click here for a Souvenir Guide to More Disney World 50th Anniversary Must-Haves.
For a no obligation, FREE Quote on a Disney vacation package, please contact our travel partner Magical Vacation Planner at 407-442-0227 (407-442-0215 for Spanish). You can also request a FREE quote online by Clicking HERE.