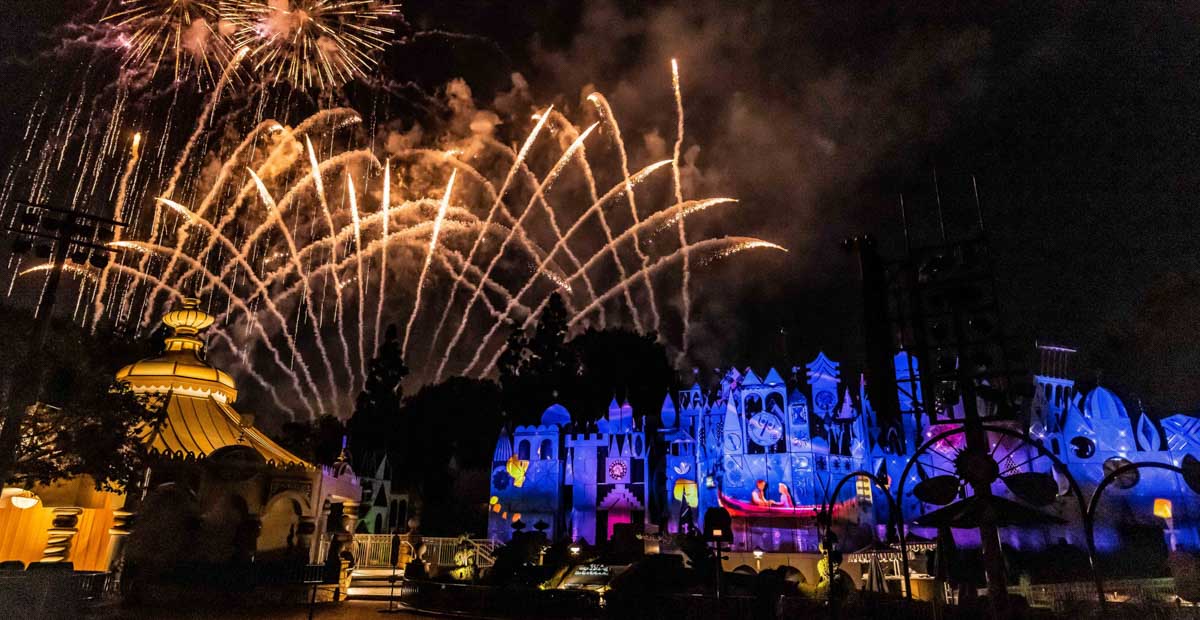 "Disneyland Forever" Fireworks Spectacular is back! Originally debuted in 2015 for the Disneyland Resort 60th Anniversary Diamond Celebration, "Disneyland Forever" fireworks spectacular shows just how magical Walt Disney's original Magic Kingdom can be, in a street-to-sky celebration featuring sparkling pyrotechnics, immersive projections and surprising special effects that envelops guests in an enthralling, breathtaking journey. Learn more about this show below!
Audiences gathered on Main Street, U.S.A., in front of Sleeping Beauty Castle, near "it's a small world," around the Rivers of America and within sight of the Matterhorn will each have a different, exciting and immersive experience of the show, as each location bursts to life with colors, projections and pyrotechnics. The multi-dimensional aspect of the show allows guests to discover new surprises depending on which location they choose.
From April 22 to late spring, "Disneyland Forever" will perform Fridays through Sundays, and the "Mickey's Mix Magic" projections-only show is scheduled Mondays through Thursdays. "Disneyland Forever" fireworks will then run nightly in the summer.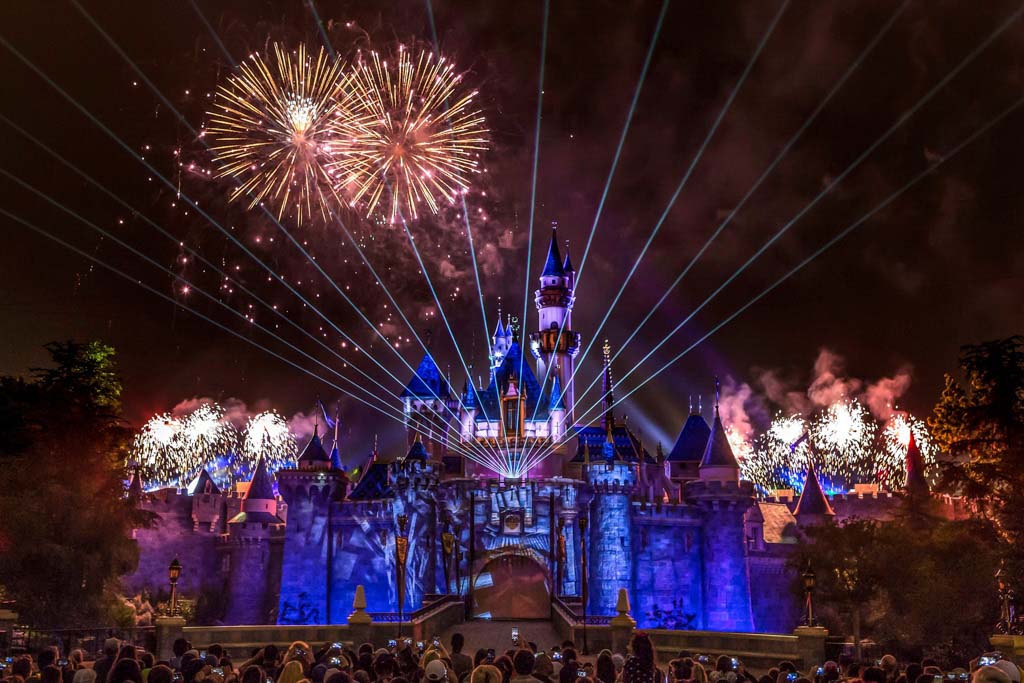 A Street-to-Sky Celebration
"Disneyland Forever" dazzles with seven multi-faceted sequences:
We begin our journey with the inspirational words of Walt Disney himself. Then Peter Pan appears and Tinker Bell sprinkles her pixie dust to awaken the "magic" of the Magic Kingdom.
Next our imagination sweeps us into the clouds, where the worlds of Mary Poppins and Rapunzel ("Tangled") come to life before our eyes.
Playful music and warm-hearted colors reveal the honey-loving enchanted world of Winnie the Pooh. Pooh takes us into his kaleidoscopic dream of Heffalumps and Woozles.
The blazing sun of the African pride lands summons the wild creatures of "The Lion King" and Simba's colorful world. Marching elephants and swinging monkeys lead us into the frenzy of a scene from "The Jungle Book."
Lightning, thunder and undulating waves take us "Under the Sea," where Sebastian and Ariel's world of frolicking fish and singing crustaceans love to entertain. Bubbles float us upward to find Nemo, who is about to embark on a new challenge. "Disneyland Forever" is the first Disney fireworks show to feature a character "swimming" across the skies above Sleeping Beauty Castle.
Nemo swims away as snow falls and ice crackles. Queen Elsa's "Frozen" touch takes over, creating a dazzling ice palace before our eyes!
The icy creations melt away, leaving only the magic of sparkling stars. Tinker Bell returns, enchants the starlight and ignites the power of our imagination to create the finale – a magical brilliance that lights the sky!
Musical Facts
Disney Legend Richard M. Sherman composed the beautiful song, "A Kiss Goodnight," which plays at the conclusion of "Disneyland Forever." The title is a reference to Walt Disney's feeling that nighttime fireworks provided guests with, as Sherman recalls, "a little kiss goodnight" after a day in the park. Along with his late brother, Robert B. Sherman, this beloved composer has created a treasury of classic tunes for Disney attractions – including "It's a Small World" and the Enchanted Tiki Room – feature films and stage musicals. Perhaps their biggest career milestone came in 1964 with the Disney masterpiece "Mary Poppins," for which the Sherman brothers received two of the film's five Oscars® for Best Song ("Chim Chim Cher-ee") and Best Original Score. The Sherman Brothers also wrote the scores for the "Winnie the Pooh" films and "The Jungle Book," both of which are features in "Disneyland Forever."
The show's anthem, "Live the Magic," was created by composers Adam Watts and Andy Dodd. Their collaborative credits include work on Disney's smash "High School Musical," along with songs for other top artists.
The exquisite score was recorded by an orchestra in London, England, at Abbey Road Studios.
Technical & Production Facts
The spectacular features many special effects, including fog, lasers, computerized laser-mapping, inflatables and spotlights.
17 projectors help immerse audiences into imaginative surroundings on Main Street, U.S.A. More than 26 video projectors are used parkwide.
30 inflatable units and multiple moving window actuators help create an immersive environment on Main Street, U.S.A.
For a no obligation, FREE Quote on a Disney vacation package, please contact our travel partner Magical Vacation Planner at 407-442-0227 (407-442-0215 for Spanish). You can also request a FREE quote online by Clicking HERE.