The Parks
Guardians of the Galaxy: Cosmic Rewind – Our Review and What You Need to Know
Guests visiting EPCOT at Walt Disney World Resort can now blast off on an awesome intergalactic chase through time and space in Guardians of the Galaxy: Cosmic Rewind! This new family-thrill coaster matches the fun of the blockbuster "Guardians of the Galaxy" films, featuring those legendary cosmic outlaws – Rocket, Groot, Drax, Gamora, and Star-Lord (a.k.a. Peter Quill). The innovative attraction is another major milestone in the ongoing transformation of EPCOT and is now open. We've ridden the attraction many times and love it. Catch our thoughts and what you need to know below.
1 – Located in World Discovery
Located in the park's newly renamed World Discovery neighborhood, the attraction is housed in the area that was once the Universe of Energy. The story goes the Xandarians traveled from their homeworld in the Andromeda Galaxy to Earth – or Terra, as they call it – to create the Wonders of Xandar pavilion, inviting EPCOT guests to learn more about their people and their advanced technologies. That is … until something goes wrong, and the Xandarians call the Guardians of the Galaxy for help.
2 – The First 'Other-World' Showcase Pavilion
Guardians of the Galaxy: Cosmic Rewind is the first "other-world" showcase pavilion at EPCOT. Star-Lord visited EPCOT as a child and loved the experience so much that he suggested the Disney park as the perfect place for Xandarians to connect with Terrans. The Wonders of Xandar pavilion features three main sections: the Galaxarium, the Xandar Gallery, and Phase Chamber.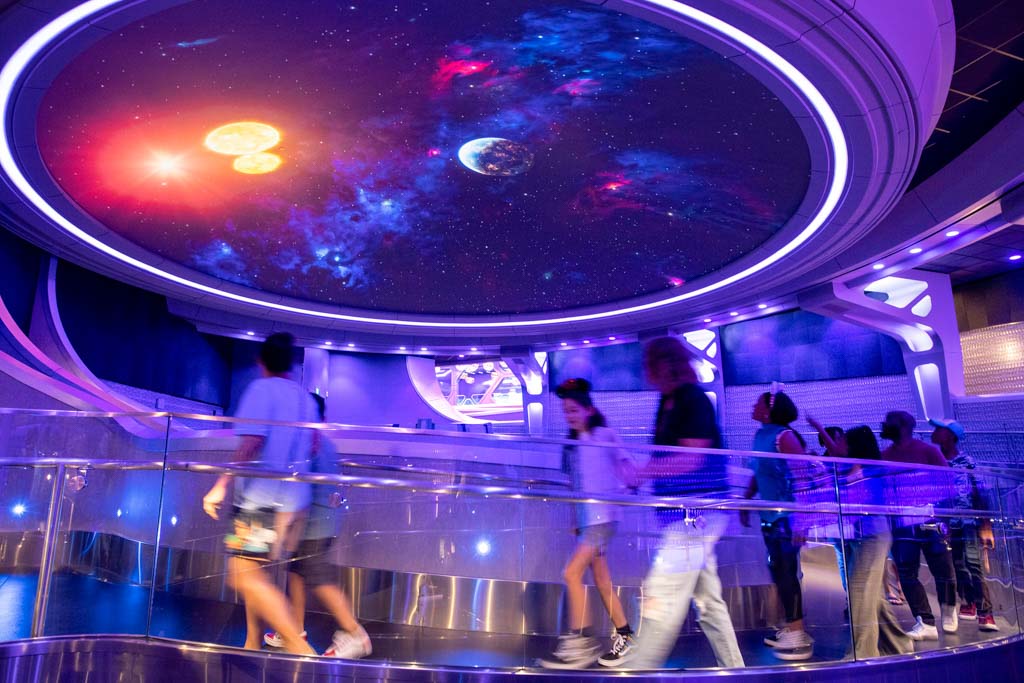 3 – The Galaxarium
The Galaxarium is a sweeping planetarium-style space showcasing planets, stars, and other intergalactic wonders that connect Terra and Xandar – reinforcing the notion that we're all born of the same space dust. The Xandarian supercomputer, Worldmind, provides narration in the Galaxarium and gives context to the stunning visuals.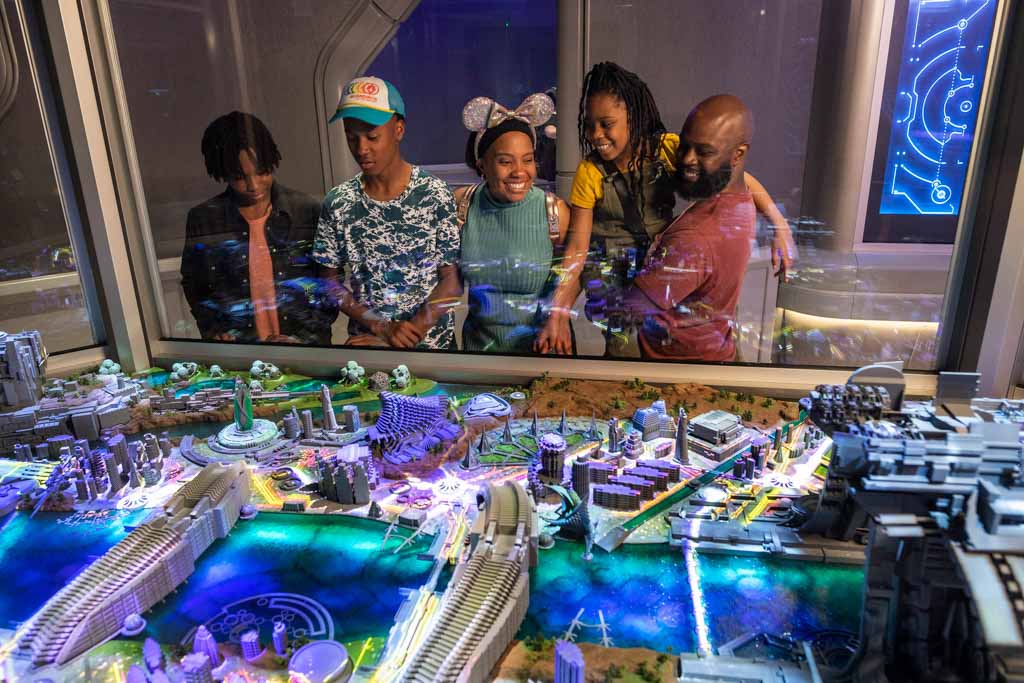 4 – The Xandar Gallery
In the Xandar Gallery, guests learn more about the Xandarian people, culture and history – including the heroes of Xandar – through specially crafted displays including models of starships and a Xandarian city. The gallery also features excerpts from "Good Morning Xandar," where a host interviews the Guardians of the Galaxy about their heroic deeds.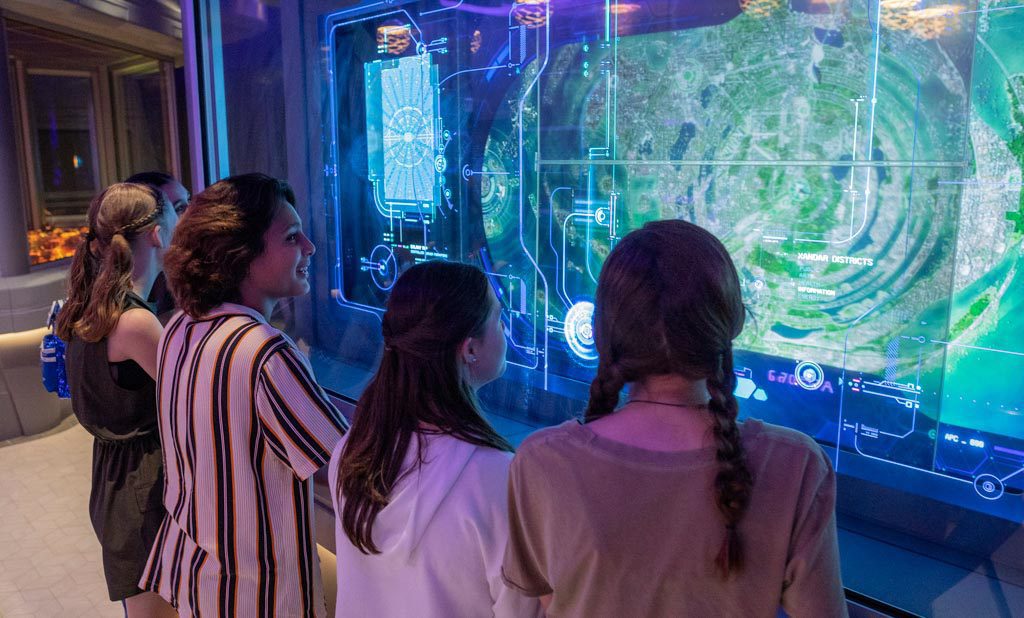 5 – Phase Chamber
The pavilion tour concludes in the Phase Chamber, where guests instantly teleport from EPCOT to a Nova Corps Starcharter cruiser orbiting Earth. Here they learn about the Cosmic Generator, a piece of Xandarian technology that creates jump points – artificial tunnels in space allowing for rapid travel across vast distances.
 6 – An Intergalactic Chase Through Time and Space
Upon reaching the Starcharter, guests quickly realize things are not going according to plan – or even 12 percent of a plan – when a massive being appears outside the ship …
Eson, a Celestial, has been watching Earth for eons and now intends to use the Cosmic Generator to jump back in time and change the course of humanity.
Nova Prime Irani Rael commands her top officer, Centurion Tal Marik, to contact the Guardians of the Galaxy right away and ask for their assistance (again).
The Terrans must evacuate the ship via Starjumper shuttles – small escape pods that launch from the Starcharter cruiser.
When the Guardians arrive on the scene, they reprogram the Starjumpers so guests can help them track down Eson, following the Celestial through a jump point on an intergalactic chase to save the galaxy. As Drax so matter-of-factly points out as guests prepare for their journey … if they can't help stop Eson, "then you are likely doomed."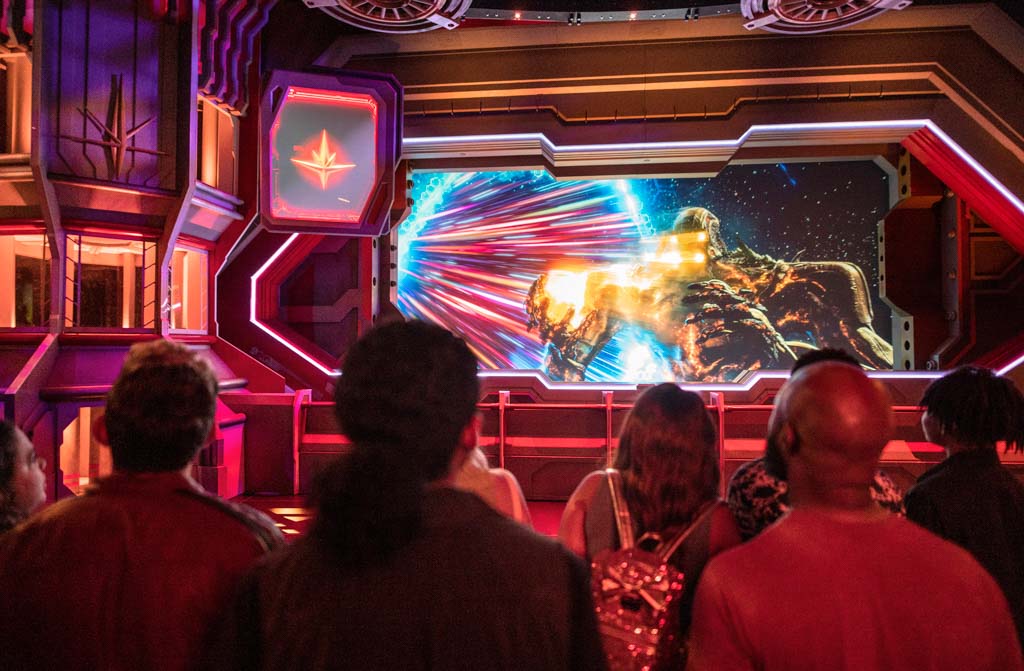 7 – A New Kind of Family Thrill
Guardians of the Galaxy: Cosmic Rewind offers several "firsts," including:
The first coaster attraction at EPCOT.
The first reverse launch for a Disney coaster.
The first Disney Omnicoaster, where vehicles make controlled rotations to always keep guests focused on the action.
The first Walt Disney World attraction to feature the Guardians of the Galaxy. 
8 – An 'Awesome Mix' for an Awesome Coaster
Just like the "Guardians of the Galaxy" films, Guardians of the Galaxy: Cosmic Rewind weaves classic pop music – or "poet sorcery," as Gamora would say – into the fabric of its experience. The attraction's onboard audio cranks hit tunes from the '70s and '80s as guests race through the cosmos.
Disney Imagineers tested more than 100 potential songs for the attraction. Imagineers used a combination of virtual and physical rides to assess which tracks best matched the spirit and movement of the coaster, finally choosing six songs in their original classic versions:
"September"
"Disco Inferno"
"Conga"
"Everybody Wants to Rule the World"
"I Ran"
"One Way or Another"
Guests won't know which song they'll hear each time they ride until they jump into space with the Guardians.
9 – Our Thoughts on the Ride Experience
The pre-show sets the story, and you're invited to help the Guardians save the galaxy! With the 360-degree spin, you'll have to ride the attraction multiple times to see and experience everything that's happening on your journey through space! As mentioned above, there are six different song possibilities for your ride, giving each ride a different experience. There is so much going on during this attraction! There isn't a dull moment! Regarding intensity, Disney Imagineers told us that they feel the roller coaster is great for guests who have graduated from Big Thunder Mountain Railroad but may not be quite ready for Rock 'n' Roller Coaster. Whether or not you're a Marvel fan, this is a fantastic new edition to Epcot!
Ride along with us and get a glimpse at the attraction by watching the video below!
10 – Motion Sickness Warning
Because of the nature of the ride, be warned that those who suffer from motion sickness may have trouble with this attraction. Not only is there a reverse launch, the ride cars spin as well. Another aspect of the ride that may cause an issue is that you look at movement on screens as you move in your attraction vehicle.
Our writer, Shari Dobyns, had this to say about her ride experience:
I'm so glad I was able to experience this ride. It is amazing! Unfortunately, I suffer from motion sickness and cannot ride it again. I can ride Big Thunder and Seven Dwarf's Mine Train, but I can't ride Everest or even Ratatouille. While it's a smooth ride, the 360-degree spin combined with all the movements on the screen was too much for me. After the ride, it took me about two hours before I felt like myself again, but I know everyone reacts differently. I spoke with someone who said she can't ride Rock 'n' Roller Coaster but had no issues with Cosmic Rewind. In fact, she was able to ride it multiple times. I certainly wish I could ride it over and over again!
11 – Ride Requirements, Virtual Queue, and Individual Lightning Lane
First, be aware that this attraction has a height requirement since it's a roller coaster. Guests must be at least 42 inches tall to ride.
Second, there is no standby queue for Cosmic Rewind. Guests need to use the My Disney Experience app to request to join the Virtual Queue and receive a boarding group. The Virtual Queue becomes available at 7:00 am each morning, and you can be anywhere to join in. You'll want to join as soon as possible since, as expected, the queue will fill up quickly at the 7:00 am slot. If you miss out, you'll have another chance to join at 1:00 pm, although, at that time, you'll need to physically be in EPCOT to join the Virtual Queue. This is the same system that was once used for Star Wars: Rise of the Resistance and Remy's Ratatouille Adventure. We expect the Virtual Queue will be used for the first several months the ride is open. Do note Boarding groups for a virtual queue are limited, subject to availability, and are not guaranteed. Not all boarding groups may be called to return, based on the availability of the experience. An evening Virtual Queue will be available as part of the Extended Evening Hours benefit to guests of Deluxe Disney resorts. Deluxe Resort Guests can request to join at 6:00 pm.
Another option for guests is to purchase Individual Lightning Lane access to this attraction. This attraction is NOT included with a Disney Genie+ purchase and must be purchased separately. Lightning Lane selections for the top-tier individual attractions are made on the same day of your visit. Access to purchase Lightning Lane for the individual top-tier attractions is available to all guests at park opening. However, guests staying on Disney World property receive the benefit of early access to top-tier reservations and can make their purchases at 7:00 am on the day of their visit. Access to the Lightning Lane can hit capacity and will sell out, so we highly recommend you purchase access right at 7:00 am if you plan to purchase access. Prices will vary by date, attraction, and park. We've seen prices range anywhere from $7-$25 per person, per attraction. 
12 – Final Thoughts
Overall we love Guardians of the Galaxy: Cosmic Rewind. We think it's a fantastic addition to EPCOT, and we're so excited that the park finally has a coaster for guests to enjoy! As huge Marvel and Guardians of the Galaxy fans, it's so nice to have a Marvel-based attraction here at Walt Disney World. We really think this will help draw more people to the park. The attraction is now open to all guests.
For a no obligation, FREE Quote on a Disney vacation package, please contact our travel partner Magical Vacation Planner at 407-442-0227 (407-442-0215 for Spanish). You can also request a FREE quote online by Clicking HERE.