KA-CHOW! Lightning McQueen's Racing Academy is now open at Disney's Hollywood Studios at Walt Disney World Resort. This new show experience invites guests into the world of Pixar Animation Studios' Cars films as they become rookie racers and learn the rules of the road from Piston Cup Champion Lightning McQueen. Here are the six things you need to know about this fun family attraction.
1 – Located Next to Rock 'n' Roller Coaster
Lightning McQueen's Racing Academy is located next to Rock' n' Roller Coaster Starring Aerosmith. It's located in the Sunset Showcase building that has been renovated for this attraction. Previously the building was a multi-purpose entertainment theater that was used for a variety of experiences, from the short-lived Club Disney, to other Disney special events.
2 – Inside the Building
The building was the perfect home for this attraction since the 17-foot tall wraparound screen was already in place. The screen stretches more than 200 feet from end to end. During the show, every inch of the screen is utilized. The screen wraps around to about half the room—180—not the full 360 Circle-Vision that you experience in 'O Canada and the China Pavilion. There really isn't a bad seat in the house. Be aware that if you sit close to the front, you may need to turn behind you to see parts of the show. The seats are similar to the ones inside the Harambe Theater (The Lion King Show), so expect no back support. The show is fun and short enough that you will barely notice.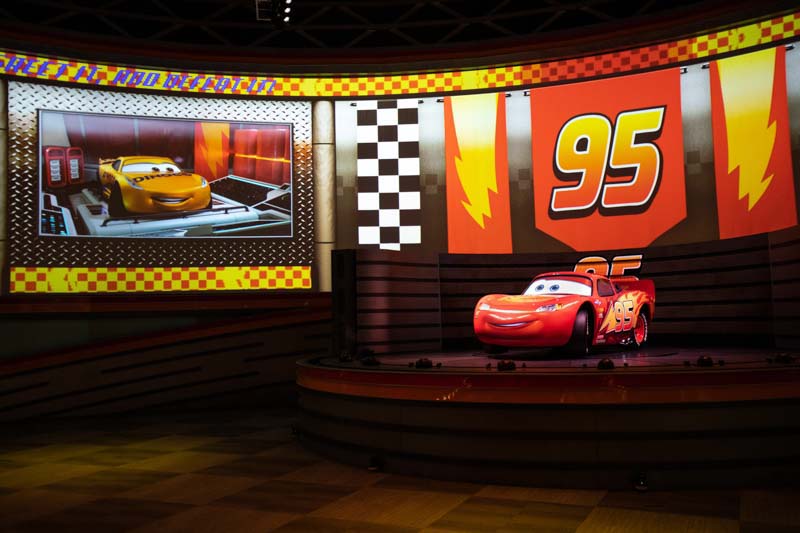 3 – Lightning McQueen is Amazing
When guests cruise inside, they will come face to face with Lightning, who appears live on stage. The animatronic is so realistic that you'll feel you've stepped inside the movie. His eye and car movements are just what you would expect. Getting to see McQueen perform is reason enough to see the show.
4 – Racing Academy
During the 10-minute show, Lightning shares racing knowledge gathered throughout his illustrious career. And if there's one thing he's learned over the years … things don't always go the way they're supposed to. But with the help of Mater, Cruz Ramirez, and other friends from Radiator Springs, Lightning is bound to get back on track. Sometimes you have to turn right to go left! Disney Parks Live Entertainment worked closely with the creative team at Pixar to bring this completely new Cars story to life.
5 – Greet Friends Outside the Show
When the race is over, guests can continue to immerse themselves in the world of Cars in the courtyard outside Lightning McQueen's Racing Academy, where they can meet Cruz and snap a photo with the champion racer or dance with DJ, the ultimate party on wheels. DJ made his way east across Route 66 and will now bring his own music mix to Disney's Hollywood Studios. Also, several times daily, Lightning McQueen's Pit Crew will arrive on the scene for "DJ's Ready! Set! Party Time!" which invites guests to gather around DJ for Cars-inspired dances and games.
6 – Final Thoughts & Recommendations
The show itself is fun, Lightning McQueen steals the show, and a great message of teamwork is taught. This is a great show for guests of any age, but younger children, especially Cars fans, will enjoy it. Lightning McQueen's Racing Academy will run continuously throughout the day, approximately every 10 minutes, at Disney's Hollywood Studios. We enjoyed the show right in the morning, and there were not a lot of people back there. We expect most waits to be 10-20 minutes, perhaps 30 at the most, during hectic times. 
For a no obligation, FREE Quote on a Disney vacation package, please contact our travel partner Magical Vacation Planner at 407-442-0227 (407-442-0215 for Spanish). You can also request a FREE quote online by Clicking HERE.