The Liberty Tree Tavern is a wonderful table service restaurant located in Liberty Square at Magic Kingdom. Next time you can't secure a reservation at Be Our Guest or Crystal Palace, make a reservation at Liberty Tree Tavern. There may not be the opulence of dining in a castle or corny puns, but this comfy tavern has a lot to offer guests. Here are ten reasons why we love Liberty Tree Tavern.
10 – It's Always Been Here
The Liberty Tree Tavern has been a staple at Magic Kingdom since opening day. With all the changes that occur throughout the parks, it's nice to have a cozy and comfortable place to go to that has always been there, and Liberty Tree Tavern is one of those places. For those of you who like the classic and nostalgic parts of Disney, this is the perfect place to head for a meal.
9 – Theming
The first thing on our list has to be the theming. The Liberty Tree Tavern is themed like a cozy colonial-style inn. The restaurant is warm and rustic with faux candlelight chandeliers and rich wood décor. The cast members look right at home in their colonial garb, with the ladies in white aprons and caps, and the men in high white socks and high collared vests. The hostesses, or 'town criers' will call out your family name and where you are visiting from when your table is ready, adding to the whole immersive experience of dining at the tavern.
8 – The Dining Rooms
There are six different dining rooms at Liberty Tree Tavern. Each room is dedicated to a notable historical figure. There is the Benjamin Franklin room, Thomas Jefferson, Paul Revere, John Paul Jones, Betsy Ross, and the George Washington rooms. Each room has items, a picture, and props pertaining to the person whom the room is named for. For example, there is a kite in the Benjamin Franklin room. Next time you're at the restaurant, see if you can find the connections between the items in the rooms and the historical figures.
7 – Hidden Mickeys
Finding Hidden Mickeys is a ton of fun when visiting Disney. It's part of the Disney experience to keep your eyes peeled and find that familiar shape hidden among all the details throughout the parks. If you like to find Hidden Mickeys, there are a few to be found at Liberty Tree Tavern. There is at least one to be found in the décor in the lobby of the restaurant. Look for a decorative wooden rack with fruit painted on it. Look more closely at the blueberries and you should spot three blueberries grouped together to form a Mickey!
6 – Great for Families
Liberty Tree Tavern is an ideal destination for families, especially those with smaller children. The food is New England comfort food, so nothing too adventurous, and at dinner, they serve mac and cheese and mashed potatoes, which is great for those little selective eaters.
5 – Word Play
The menu items carry on with the colonial theme in a fun way. There's the I Cannot Tell a Lie drink. There is also the Declaration Salad, the Patriot's Platter, and the Spirit of '76 Cider Shandy. Even the menu is entitled to the Bill of Fare. This is just another example of Disney's dedication to detail.
4 – All You Care to Enjoy Meal
The Liberty Tree Tavern used to offer a different menu for lunch, but now only offers an all you care to enjoy menu for both lunch and dinner. Offers lunch and dinner, but the menus are vastly different, as is the manner in which they are served. At both times there is a standard meal, which is served family-style. This means the menu is already set, you just have to let them know if you want more turkey or stuffing! A plant-based option is also available.
3 – Ooey Gooey Toffee Cake
This cake is on the lunch menu only and it is worth making a reservation during the lunch service just for this dessert! It's a mix of all kinds of desserts, there's cake, chocolate, and toffee, topped with ice cream and chocolate drizzle. If you find this on the menu, don't stop to think twice, just order it!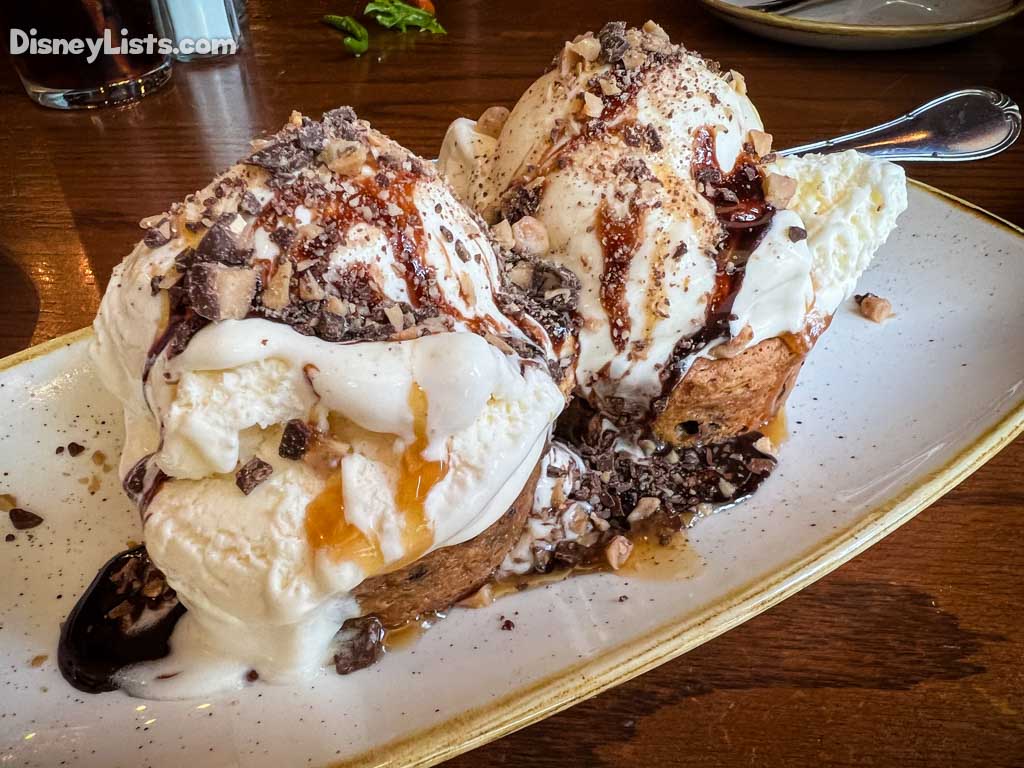 2 -The Food
The food is just downright delicious and satisfying. This is one restaurant that I always make a reservation for during my Disney vacation. The lunch menu has a number of delectable New England-inspired dishes to choose from, and at dinner, you can have all the stuffing you want, or you can skip the vegetables and only eat the creamy mac and cheese. The Liberty Tree Tavern consistently delivers amazing food.
1 – Thanksgiving Dinner All Year
The meal at the Liberty Tree Tavern includes the staples of a traditional Thanksgiving feast, each and every day! This means guests visiting the Liberty Tree Tavern for dinner will dine on Thanksgiving comfort food like carved turkey, mashed potatoes with gravy, and stuffing. It doesn't matter if it's spring, summer, fall, or winter, a holiday feast is always available.
For a no obligation, FREE Quote on a Disney vacation package, please contact our travel partner Magical Vacation Planner at 407-442-0227 (407-442-0215 for Spanish). You can also request a FREE quote online by Clicking HERE.