Who's up for a swim at one of Disney's Water Parks? In the midst of planning your incredible Walt Disney World vacation, don't forget to include one or both of Disney's Water Parks. Transportation is made easy when staying at a Disney Resort, as buses will take you to and from the water parks. But before you channel your inner Nemo and take to the water, here are a few things you'll want to know before you go.
1 – Two Splash-Worthy Parks!
On Walt Disney World property, you'll find not one – but TWO Disney Water Parks, including Blizzard Beach and Typhoon Lagoon. Both water parks have an array of rides, splash zones, and pools to check out. A little attraction research in advance for each park will give you a chance to better understand which water park works for you and/or your family. Blizzard Beach is well known for its Summit Plummet attraction, which is probably the most thrilling and terrifying attraction in all of Disney World property! Typhoon Lagoon is known for its massive Surf Pool and tropical vibe. Both themes are fun – it's a matter of picking which one suits your taste… or just plan to do both! Note that each park will close for a few months for refurbishment so when you visit, only one may be open.
 2 – There's More Than One Ticket Option
Chances are you're already thinking about ticket costs for one or more of Disney World's four theme parks, but don't forget to add the cost of a water park ticket to your budget.
1-Day Water Park Ticket: A 1-day water park ticket without taxes is $69 for ages 10 and up, kids ages 3-9 are $63, and 0-2 are free. A discount or special ticket offer is available for Walt Disney World Annual Passholders.
1-Day Water Park Ticket with Blockout Dates: If you're looking to save a few bucks, you can get a 1-day ticket with blockout dates, including summer and early fall. The blockout tickets cost without tax is $64 (ages 10+) and $58 (ages 3-9).
Park Hopper Plus: Purchasing theme park hopper tickets? You can add the Park Hopper PLUS option, which allows you to "hop" to one of the water parks for an additional fee which varies depending on your theme park tickets.
Water Parks and Sports Option-Annual Pass Ad-On: Finally, the annual pass program allows guests to add the Water Parks and Sports Option to each pass for $99. When you add this to your annual pass, you'll get admission to water parks, golf courses, and ESPN Wide World of Sports with no block-out dates. When you add this option, you'll get admission to:

Disney's Typhoon Lagoon Water Park
Disney's Oak Trail Golf Course
FootGolf at Disney's Oak Trail
Disney's Fantasia Gardens Miniature Golf Course (one round prior to 4:00 PM)
Disney's Winter Summerland Miniature Golf Course (one round prior to 4:00 PM)
Disney's Blizzard Beach Water Park – Currently unavailable due to refurbishment
ESPN Wide World of Sports Complex – Currently Unavailable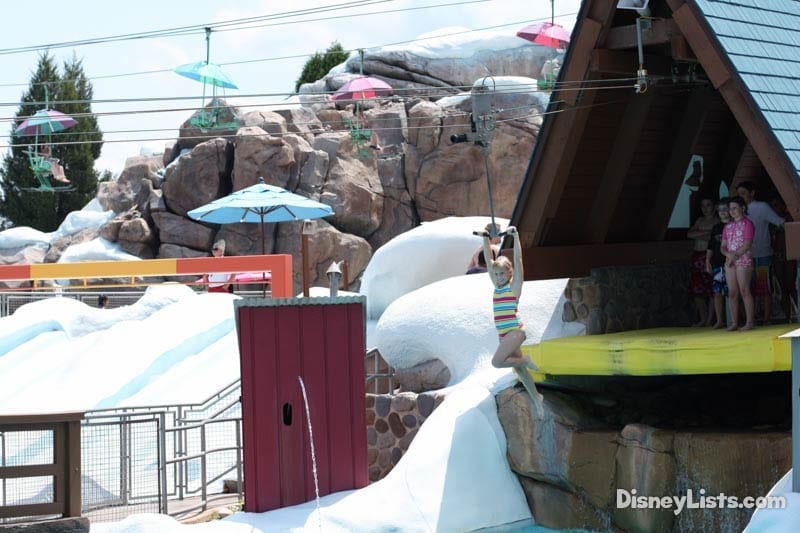 3 – Too Short or Too Tall? Height Restrictions
Before you go, be aware there are a few height restrictions at the two Disney Water Parks. Measure the kids in advance so there will be no spoilers upon arrival. While kids may be too short to ride, adults – there may be certain things you'll be too tall for. Height Restrictions include…
Typhoon Lagoon:

Bay Slides: 60in or shorter
Crush 'n' Gusher: 48in or taller
Humunga Kowabunga: 48in or taller
Ketchakiddee Creek: 48in or shorter
Blizzard Beach:

Chairlift: 32in or taller
Downhill Double Dipper: 48in or taller
Slush Gusher: 48in or taller
Summit Plummet: 48in or taller
Tike's Peak: 48in or shorter
4 – Check the Hours… and Make the Most of Your Water Park Day
You'll notice Disney's Water Parks are not open as long as the theme parks. Typical hours for either of the two water parks are right around 10:00 am to 5:00 pm (and to 7:00 pm in July). The water parks are also closed regularly for refurbishment, meaning it's important to check out the calendar in advance. Since the water parks start off fairly late and close early, take advantage of this time and enjoy a character breakfast before heading into the water park! Sure, your bathing suit will feel a little snugger with a full belly, but it's a great way to use this morning time. You can end the day with a night at Disney Springs or by catching one of the park fireworks off in the distance at select Disney Resorts.
5 – Swim (and GLOW!) at Night
Speaking of the shorter park hours,… looking to experience Disney's Typhoon Lagoon at night? Check out the special ticketed event called "Disney H20 Glow After Hours" during the summer. These special nights are available on select Saturday nights over the summer and run from 8:00 pm to 11:00 pm. Take a swim at night while exploring all the "glow" entertainment offered, including a special DJ, characters, food and beverages, and even an adults-only area. Tickets for this experience start around $75 for the night. We loved our time at the event and highly recommend it!
6 – Keep an Eye on the Weather
There is almost always at least one water park open year-round at Disney World. Yes, it is Florida of course – but trust us, the weather can be tricky and change quickly. If you're planning a visit during late fall, winter, and early spring, there may be a chance the water parks will close unexpectedly due to cold weather. During the summer, a daily thunderstorm is likely to roll through, causing a temporary closing. Before you go, be aware that keeping an eye on the forecast is key when planning your water park day.
7 – What to Pack?
The lighter you pack, the better! Our top recommendation is sunscreen. The Florida sun isn't very forgiving so reapply frequently. Water shoes are nice to have as the pavement can get hot. We'd also recommend for all the ladies to wear a one-piece. We know you want to show off that body you've been working on, but with the amount of water on the move, you'll want your bathing suit to stay put if you get what we mean.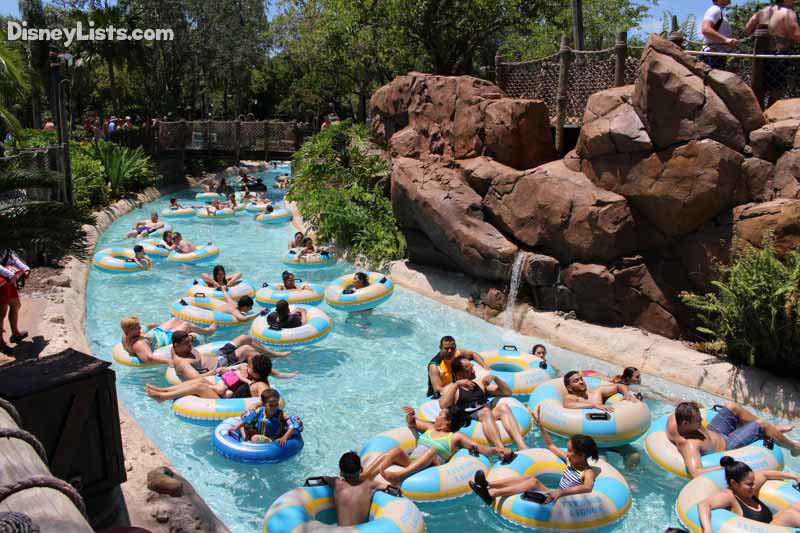 8 – Rentals
You are welcome to bring a towel which we would recommend if possible. Otherwise, you can rent a towel for $2 per. We'd also suggest renting a locker to store your items. Locker rentals cost between $10-$15 per day. You can rent an "Umbrella Package," which includes a beach umbrella, two reserved loungers, two reserved beach chairs, a table, and towels. If you really want to go all out, you can rent a private shaded area for up to 6 guests! This package includes towels, cushioned seating, a locker, refillable drink mugs, and a cooler stocked with bottled water and ice. Plus, attendants are readily available to take food orders and restock beverages as needed.
9 – Get the Sand Pail at Typhoon Lagoon
Disney World is a foodies place to be! This includes experiencing great eats at the water parks. If at Typhoon Lagoon, be sure to stop by Happy Landings Ice Cream to try their "Sand Pail" dessert. This dessert is chocolate, and vanilla soft-serve ice cream, waffle cone pieces, oreo cookie pieces, sprinkles, hot fudge, caramel sauce, whipped cream, and a cherry all layered into an actual Sand Pail which includes a shovel! YUM!
Ready to swim already? Go make a splash!
For a no obligation, FREE Quote on a Disney vacation package, please contact our travel partner Magical Vacation Planner at 407-442-0227 (407-442-0215 for Spanish). You can also request a FREE quote online by Clicking HERE.