Who doesn't love to gather up those awesome character autographs while at Disney World! So when the vacation is over, does the autograph book get tossed in a drawer simply to be forgotten? Not anymore! Here are eight tips and tricks for character autographs that help you get better use of your collection.
1 –  Matted Frame Autograph Collection
Before you're next Disney trip, pick up a matted picture frame – a light-colored mat is best. Leave the picture frame at home, but pack the mat that was inside the frame along with you. You'll also want to pack markers with a variety of different colors if you so choose. As you visit characters, ask them to sign your light-colored mat with a marker of your choice. The more characters you meet, the more autographs you'll have all-around your mat! After you arrive back home, have one of your incredible Disney photos printed to fit the frame you bought before your trip and add the mat back to it. Tada! You have a great memory with your photo and awesome autographs surrounding it!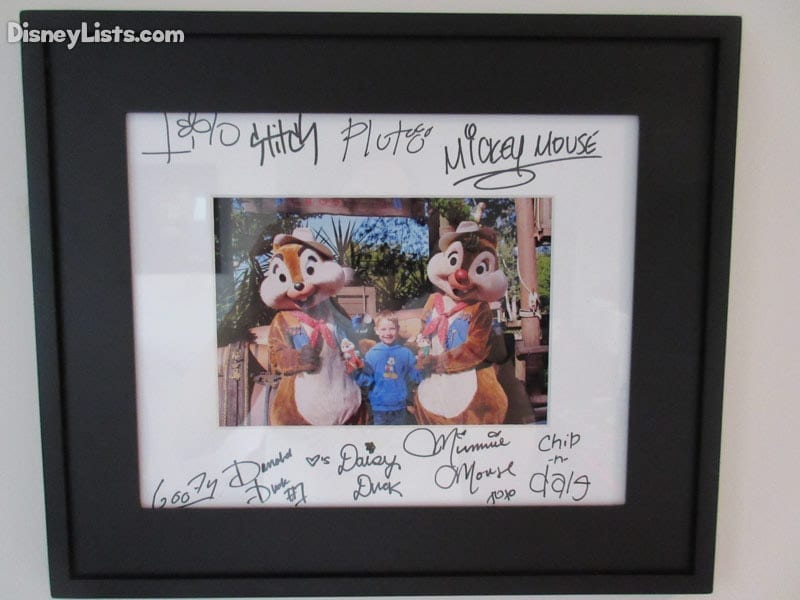 2 – Send an Autograph Home
Whether you prefer cards, postcards, or paper, how fun would it be to have a character sign their autograph for you to share with someone else! You can buy postcards throughout Disney World. Have a character sign it, then send it off with a note to your nieces, nephews, grandchildren, co-workers, or whoever! This is especially fun if a young one's birthday is on the way, and you'd like to surprise them with a birthday card from Mickey Mouse.
3 – Keepsake Shirts
Maybe you have a "First Trip to Disney" shirt, a customized family vacation shirt, or a specific character shirt – what better way to make this keepsake even more special than with character autographs! We have seen someone at a meet and greet with Donald Duck. They presented Donald with a t-shirt for him to sign, and he went crazy with excitement! Donald made sure his signature was nice and big and, of course, added his famous "#1" proudly next to it.
4 – Coloring Pages for the Kids
All right scrapbook fans! Do your kids have what seems like mounds of coloring books with Disney characters in them? Before your next trip to Disney, have them color a few pages of their favorite characters. Bring them along with you to Disney to have them signed by the matching character! For example, have them pick out their favorite coloring page with Queen Elsa on it, color it, then have Elsa sign it. This makes for a great scrapbook keepsake because it not only has your child's beautiful artwork but also Elsa's signature!
5 – Double Frame
Throughout Disney parks, you'll find autograph books that have room for a picture on one side and an autograph page on the other side. This is such a great idea! One problem – the autograph book doesn't stay out on display normally after you return home. We suggest you purchase a double frame, so side by side you will have a picture of you, your kiddos, or your family posing with the character and on the other side the character's autograph. Keep in mind with this one, you'll want to measure the paper you have the characters sign to match the picture frame before you start collecting autographs.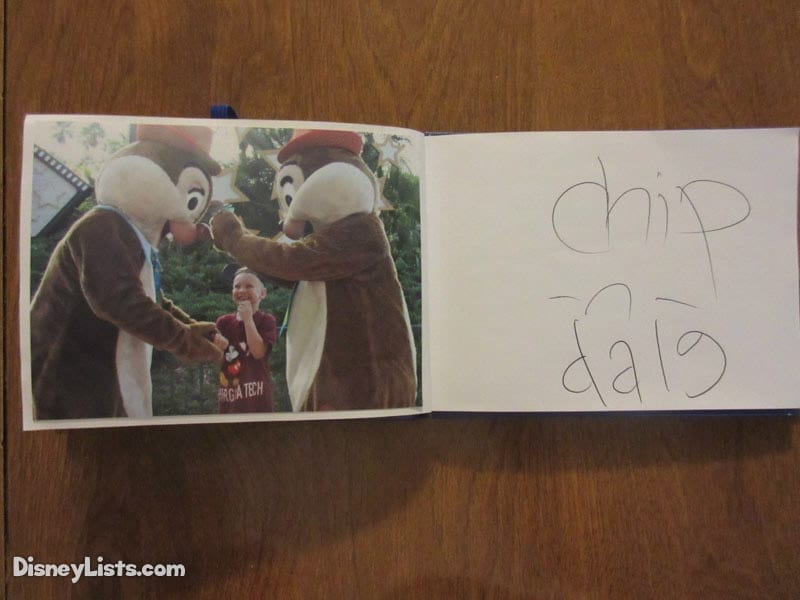 6 – Watch Them Grow
Are you a yearly or regular visitor to Walt Disney World? This one is for you! We love to watch our little ones change from their first picture ever with Mickey Mouse and his pals, to the present day. They grow, and sometimes the characters even change slightly. Create a scrapbook or buy a multiple image frame and include a picture each year of your child posing with a specific character. Of course, add the autographs in the picture frame or scrapbook as you'd like. Have your child sign their name next to the character's autograph and watch the slight variations in the autographs year after year!
7 – Book Signing
If you are like us, you have plenty of Disney storybooks around the house that are among the family favorites. Snag one of these books next time you visit Disney and have the characters in the stories sign the appropriate pages. Now when you sit down to read your Disney storybook with your family, you'll be reminded of that special trip to Disney when you had it autographed. Another neat idea would be to have some of the Villains sign a book such as the Kingdom Keepers collection.
8 – Fabric Signing
Last but not least, on our list of autograph ideas, would be to have characters sign their autographs on something with a fabric pen or permanent marker for long-term keeping. This would work great on items such as hats, pillowcases, blankets, aprons, totes… really any sort of fabric you can put on display and enjoy while at home!
We'd love to hear from you! What are some of your favorite ways to collect those beloved character autographs?
For a no obligation, FREE Quote on a Disney vacation package, please contact our travel partner Magical Vacation Planner at 407-442-0227 (407-442-0215 for Spanish). You can also request a FREE quote online by Clicking HERE.