When I first visited Star Wars: Galaxy's Edge, I thought that the Millennium Falcon Smuggler's Run attraction would have the longest line. In actuality, Oga's Cantina often had the longest line! For those wanting an even more immersive Star Wars experience after piloting the Falcon, Oga's Cantina, a tavern on the planet of Batuu, is superb in theming, detail and drinks. I'm not usually a fan of bars, and I'm pretty new to the Star Wars fandom, but I really enjoyed my time at Oga's and fully appreciated this little slice of the Star Wars universe.
5 – The Theming
Stepping into the Cantina makes you feel like you are entering a secret yet energic saloon in the Black Spire Outpost. The building blends in with the other buildings on Batuu from the outside, but inside is a colorful, lively bar that immediately cuts you off from the heat and brightness of the outside world. DJ R-3X (or Rex) is there spinning tunes, and the bar itself is really interesting. There are themed taps and creatures in cages placed over the bar (including the Worrt and its eggs, which you may find in a few of your drinks). The bar is dimly lit, but there are still enough colored lights to see all the details in the room. 
4 – The Exclusiveness
Oga's Cantina is small, and only a certain number of guests are allowed in at a time. I can see how this can eventually become frustrating for those wanting the full experience, but I have to admit, the exclusivity of the bar does a lot to heighten that sense of being in an authentic, hidden tavern. I highly suggest making a reservation for Oga's, so that you can be guaranteed a spot inside no matter what the wait times are like.
Guests don't have a choice of where to stand or sit; depending on capacity and the number in your party, your server will either place you at the bar, at a high-top, or at a large booth with other guests. Sometimes, visiting the cantina makes you feel you have been granted access to an exclusive VIP club. Also, the Cast Members (or Batuuans) do a good job at not making you feel rushed. You should have enough time to experience everything in the bar fully. We were encouraged to wander and explore after we finished our drinks, as your assigned seat can quickly be filled when you get up. However, it was worth it- who wouldn't want to explore this place?
That said, I can see how this experience might be more fun with a bigger group- you wouldn't have to sit with strangers, and you'd probably be given a booth to yourselves. However, if you're in the mood to make new friends, this is a great place to visit as a solo traveler or as a party of two.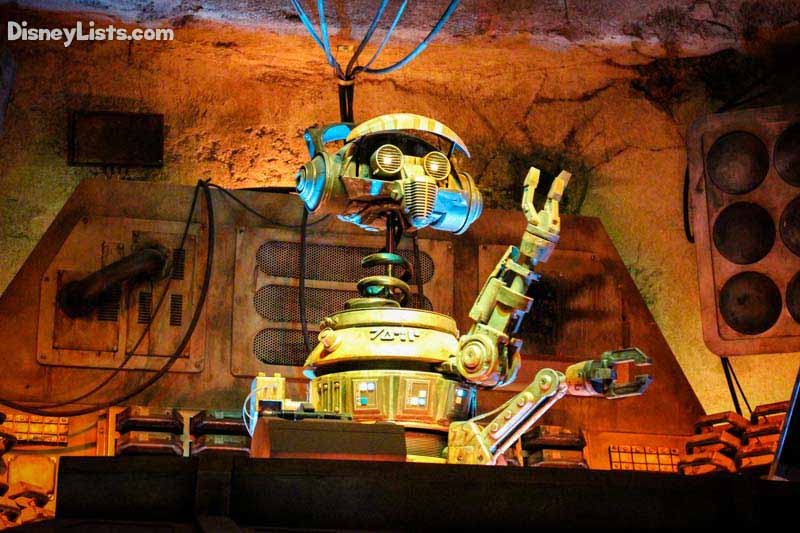 3 – The Entertainment 
DJ Rex is definitely the coolest thing to watch and listen to in the cantina. Guests who rode the original Star Tours will recognize him as the pilot of the Starspeeder 3000 (he even shouts "Lightspeed to Endor!" at various intervals). Here, he has been repurposed as a DJ and entertains bargoers in this corner of the galaxy with lively music and quips. Occasionally, Rex and the bar itself (which is powered by Hyperdrive) will lose power, which I witnessed soon after we entered; the lights will flicker, and Rex will malfunction. Luckily, the whole bar began cheering and clapping for Rex, and Cantina cast members helped to fix things by slamming the bar with a few hammers, and everything quickly rebooted back to life. DJ Rex spins music on a loop all day and into the night, but I didn't hear any repeats during the short time I visited.
2 – The Drinks
I'll be honest, I'm not a big drinker, so I stuck to the non-alcoholic concoctions during this trip (the menu is divided between alcoholic and non-alcoholic concoctions and has a small section for beers and wine). However, everything looked delicious, even if I couldn't sample all of the drinks- it will just mean I'll have to make multiple trips!
One of the non-alcoholic drinks is the Blue Bantha, which is the famous blue milk served with a Bantha-inspired Vanilla-Butter Sugar Cookie. This blue milk is different than the frozen blue milk served at the outdoor booth but is still really sweet and slightly chilled. It's also super photogenic and seemed to be a hit with the young children sharing our booth. We also ordered the Blurrgfire, lemonade, and pomegranate juice, with a kick of habanero-lime, and the Carbon Freeze, which is a mixture of Powerade Lemon Lime and Wild Strawberry with Blueberry and Green Apple Popping Pearls. This is a dry ice-type drink that is a lot of fun to sip, and will definitely draw attention to your table if you order it. The drink fizzes over the top, and the blueberry and green apple boba balls bubble vigorously inside the beverage. It's all served in a tall, thin glass that looks like a champagne flute. Drinking it was definitely an odd sensation, but after a few sips, it simply tasted like a carbonated, sugary Powerade. I enjoyed the Blurrgfire slightly more, which tasted both sweet and slightly tangy.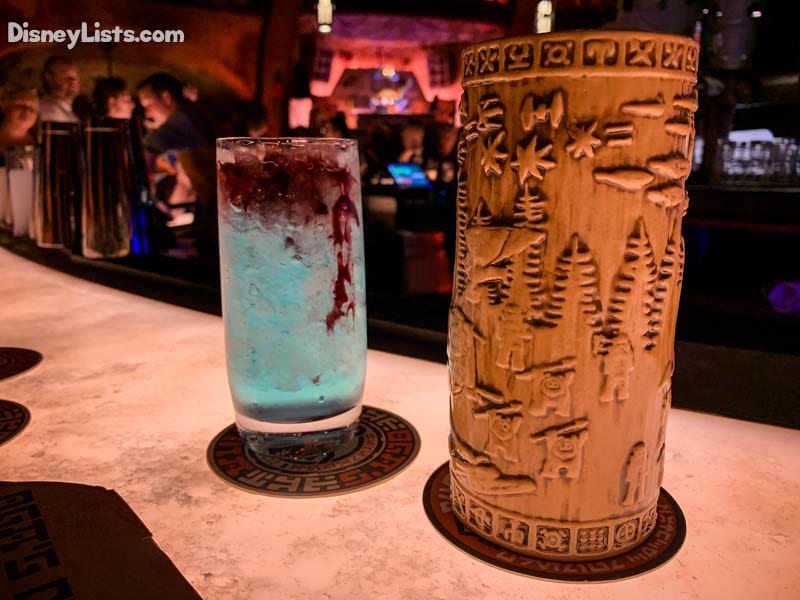 1 – The Storytelling
Oga Garra is the owner of Oga's Cantina, and if it weren't for the modest line out front, I wouldn't even have known where the bar was located. Upon entering, the Cast Members do their best to make you feel like you are entering a haven filled with smugglers, traders, bounty hunters, and travelers. One of the first things I was asked as I sat down was, "You don't have a bounty on your head, do you?" I assured my server that I didn't, but I wonder what would have happened if I had said yes. Either way, it immediately set the scene for me, and I felt pulled in to the Star Wars universe; I knew this was a place where locals and travelers could drink and have fun in peace and that we were all supposed to be taking refuge from the First Order.
It's important to keep in mind that this is not a relaxed lounge- the other guests, the Cast Members, the creatures on the walls, and DJ Rex are all there to enhance your experience. The energy in the room is amazing; everyone I saw was either dancing, exploring the room with a drink, or chatting with a smile on their face. Even if bars aren't naturally your scene, you'll definitely want to visit this one- after all, how often can you grab a drink amongst droids at the edge of the galaxy?
For a no obligation, FREE Quote on a Disney vacation package, please contact our travel partner Magical Vacation Planner at 407-442-0227 (407-442-0215 for Spanish). You can also request a FREE quote online by Clicking HERE.