The Parks
10 Most Popular Character Meet & Greet Spots at Disney World
Characters are a huge part of the whole Disney World experience. We all feel like kids again when we get around our favorite characters and see them really come to life before our eyes. Given all of this, that makes them extremely popular to meet, and there are character meetings all over all four theme parks. Here are ten of the most popular character meet and greet spots at Walt Disney World:
Editor's Note: At this time, up-close character greetings with hugs and autographs have returned in many locations, including dining locations. However, not all characters have returned to their original greeting locations. Be sure to check the My Disney Experience app for current locations and greeting times.
10 – Star Wars Launch Bay – Hollywood Studios
Editor's Note: At this time, character greetings at Star Wars Launch Bay are temporarily suspended. Greetings will return on July 17, 2022. 
The popularity of Star Wars just keeps growing, and not surprisingly, guests love the chance to meet their favorite Star Wars characters. Over at Star Wars Launch Bay, guests can meet fan favorites Chewbacca, Darth Vader, and BB-8! Each character has his own meeting area. Chewbacca's queue features different helmets from the Rebel Alliance. Darth Vader's queue area includes different helmets that are seen on the Empire characters. BB-8 also has his own special meeting area. Wait times for the characters will vary but generally run anywhere from 15-30 minutes.
9 – World Showcase – Epcot
Believe it or not, there are actually a lot of character meet and greets throughout the World Showcase. Each pavilion has a couple of different characters native to that pavilion that come out and meet guests throughout the day. This is a great way to get to explore the World Showcase and keep kids entertained. They can still meet many of their favorites as you stroll from country to country, taking in all of the beautiful surroundings.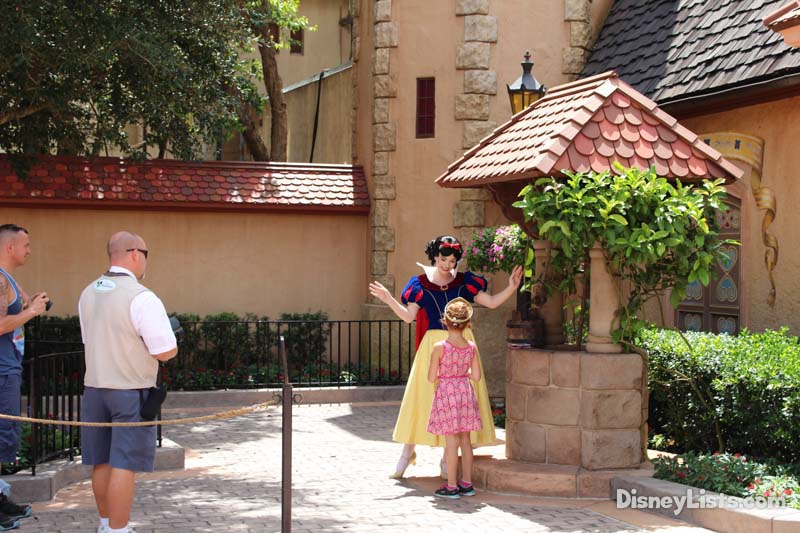 8 – Toy Story Land – Hollywood Studios
Editor's Note: At this time, character greetings in Toy Story Land are not available. However, Disney has confirmed that greetings with the toys will return "in the coming months."
Over at Toy Story Land, you get to meet Woody, Bo Peep, Jessie, and Buzz from Toy Story. Woody is in front of Toy Story Midway Mania, Buzz is in front of Slinky Dog Dash, just as you pass the Sherrif Woody Toy Story Land sign, and Jessie can be found in the land as well. You also have Green Army Men that walk around and interact with guests as they move through the area or wait in line. They are also a lot of fun to take pictures with. Toy Story continues to remain an extremely popular movie with a huge fan following, so expect to wait in line for this one!
7- Princess Fairytale Hall – Magic Kingdom
This is a very popular character spot due to the strong popularity of Disney princesses. Cinderella and Rapunzel are the featured princesses. Currently, Tiana and Elena of Avalar have joined Cinderella and Rapunzel. However, these princesses may rotate since Disney designates them as "Visiting Princesses." Be sure to check your Times Guide for up-to-date information.
6 – Royal Sommerhus – Epcot
Anna and Elsa are in the Norway Pavilion in their own exclusive meet and greet area. The Royal Sommerhus is a cozy cabin retreat where Anna and Elsa meet guests, pose for pictures, and even offer their own warm hugs! Most waits have been from 15-30 minutes for these famous ladies!
5 – Imagination! Pavilion and Pixar Film Festival – Epcot
At this location in Epcot, you'll be able to greet three characters, two of which can only be found at Epcot. First, head to the entrance of the Pixar Film Festival to meet the big cheese himself, Mickey Mouse. The location is off the beaten path so the wait time to meet Mickey here is usually short. Then, head right next door to the exit of the Imagination! Pavilion where you can meet Joy from Inside Out as well as Vanellope from Wreck-It Ralph.
4 – Pete's Silly Sideshow – Magic Kingdom
Editor's Note: At this time, character greetings at Pete's Silly Sideshow are not available. However, Disney has confirmed that Pete's Silly Side Show will return "in the coming months." In the meantime, guests can greet Minnie (with Mickey) at Town Square Theater. Donald, Daisy, and Goofy can be seen during the 50th Celebration cavalcade and the Festival of Fantasy parade. 
This is a newer character spot at the Magic Kingdom, but it is extremely nice because it is inside and air-conditioned. Inside, you get to meet Minnie Mouse, Daisy Duck, Donald Duck, and Goofy as their circus characters in the Big Top. The whole area is themed like a circus, and this carried over perfectly to the sideshow. This is the only place on property where you will meet them in these outfits and backdrops, too!
3 – Mikey and Minnie Starring in Red Carpet Dreams  – Hollywood Studios
We all love the main mouse, but there is just something about meeting him in his sorcerer costume that is extremely cool.  His sorcerer costume is from his appearance in Fantasia with the sorcerer Yensid (Disney spelled backward).  You'll now find Sorcerer Mickey and a very unique Minnie in a permanent meeting place in what used to be the American Idol audition rooms. Minnie appears as a Tinsel Town Starlet is a flowing pink gown. Note that they are in separate rooms and do not appear together. You will wait in one line and will see Minnie first and then Mickey.
2 – Adventurer's Outpost – Animal Kingdom
At Animal Kingdom, you can meet Mickey and Minnie in their explorer/safari outfits. They are just too cute in their safari hats, which is absolutely perfect for Animal Kingdom. This also gives guests an excellent opportunity to cool off for a little bit and get out of the heat. You can get a FastPass+ for this location, too! Note that this location is the only place to meet Mickey and Minnie together at the same time. Red Carpet Dreams (our #4) has you visiting them in separate rooms. If you want to meet Mickey and Minnie together, then don't miss them at Animal Kingdom!

1 – Mickey Mouse (and Minnie Mouse) – Magic Kingdom
Editor's Note: Minnie is now greeting guests along with Mickey at Town Square Theater in their 50th Celebration outfits. There is no word on how long she will be there, including if she will move back to Pete's Silly Sideshow when that returns. As always, be sure to check the My Disney Experience app for up-to-date greeting times and locations. 
No visit to Disney World is complete without stopping for a hug and photo with the mouse that started it all, Mickey! However, a lot of guests miss out on meeting the Big Cheese because they're expecting to spot him walking around the park. Nope. Can you imagine the complete chaos if Mickey strolled down MainStreet USA? Fortunately for guests (and Mickey), Disney World has provided a place to meet Mickey in a calm, orderly, and air-conditioned experience. If you're looking for Mickey, head over to Town Square Theater near the train station. Be sure to bring your autograph book! Thankfully, you can use Genie+ for this meet & greet since Mickey is really popular. Otherwise, keep an eye on the wait times during the day using the My Disney Experience App.
For a no obligation, FREE Quote on a Disney vacation package, please contact our travel partner Magical Vacation Planner at 407-442-0227 (407-442-0215 for Spanish). You can also request a FREE quote online by Clicking HERE.