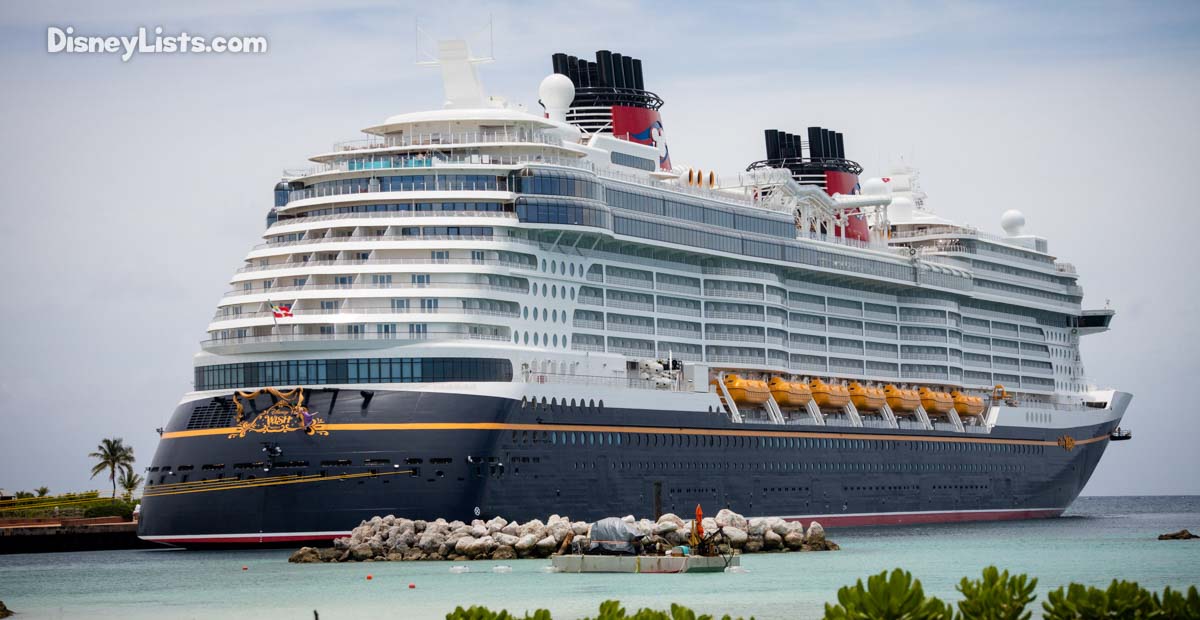 The Disney Wish, Disney Cruise Line's newest ship, features accommodations designed for today's modern families. And while the rooms include some fantastic functionality, the staterooms feel luxurious and are inspired by dreamy Disney stories. Each stateroom features beautiful, custom-made artwork depicting beloved Disney fairytales created especially for the Disney Wish. Learn more about the accommodations on the Disney Wish below.
1 – Classic Disney Cruise Line Staterooms
Those who have cruised on other cruise lines may notice that staterooms on Disney Cruise Line ships are not only different in their functional design, but also include just the right amount of Disney theming to set them apart.
"With our signature attention to detail, Disney Cruise Line staterooms have always set the standard for family cruise travel," said Claire Weiss, creative director, Walt Disney Imagineering. "All of our ships offer spacious, comfortable, and functional rooms that uniquely meet the needs of families. On the Disney Wish, we are elevating this approach with a new level of storytelling and artful design infused with the theme of enchantment that brings to life cherished Disney fairytales."
2 – A New Twist on Bedtime Stories
New for the Disney Wish, Walt Disney Imagineers have imbued every stateroom with the soft, dreamlike worlds and restful imagery of enchanted Disney fairytales through glittering gold-leafed headboard murals and framed pieces commissioned exclusively for the Disney Wish.
In line with the ship's overall design motif of enchantment, stateroom artwork represents classic and contemporary Disney stories showcasing the essence of wish fulfillment and dreams come true, such as Cinderella—whose maxim "a dream is a wish your heart makes when you're fast asleep" is particularly fitting. Our room featured Moana. Other room themes include Cinderella, Rapunzel, and Princess and the Frog.
3 – Perfect Disney Theming
Every detail tells a story on the Disney Wish, from pixie-dusted furnishings to delicate linen embroidery inspired by the fleet's signature golden filigree. This even extends into the corridors, where exquisite decoration serves the greater purpose of wayfinding; richly themed carpeting, softly colored accent walls, magical lighting and distinctive adornments provide guests with intuitive yet artful cues to explore their home away from home.
4 – Dreamy Details and Wish-Upon-a-Star Features
Every stateroom aboard the Disney Wish provides ample room for families, plenty of storage space, and upscale amenities. Most of the ship's 1,254 staterooms offer an ocean view — including 877 (70%) with a spacious verandah — and 451 connecting doors between staterooms to accommodate larger families. Some connecting staterooms have a partition between verandahs that may be opened to create a bigger, shared balcony.
Most staterooms feature Disney Cruise Line's signature split-bathroom concept, with a sink and shower in one room and a sink and toilet in a separate room. All include a bathtub — perfect for giving children a bath.
Enhanced storage options, roomy closets, and elevated bed frames with generous under-bed space provide plenty of places to store suitcases and other bulky items essential to family travel.
Little ones delight in a secret starfield hidden above pull-down beds, with original artwork revealing a constellation of Fairy Godmother overhead.
Other exceptional amenities and highlights include a 43-inch TV, USB and USB-C ports, large vanity, mini- drawer refrigerator, full-length mirror, mini-safe, hair dryer, privacy divider, queen and pull-out sofa beds, deluxe toiletries, plush robes, and lavish bed linens and duvets.
5 – Deluxe Family Oceanview Stateroom with Veranda – Our Review
During our cruise on the Disney Wish, we enjoyed room 10668, which is classified as a Deluxe Family Oceanview Stateroom with Extended Verandah (Category 04E). The room slept four with a queen bed, a single convertible sofa, and an upper berth with a single pull-down bed. Like other Deluxe Family Oceanview Staterooms, our room included a split bathroom with a rectangle tub with a shower. Our room, because it was an aft stateroom had an extended verandah. Take a look at our room in the photos below. Click on any image to enlarge.
We've sailed on a lot of different cruise ships, and have stayed in many different kinds of room types. Comparing our room to other rooms on cruise ships, we really enjoyed this room, especially the balcony. We always appreciate how Disney Cruise Line splits the bathroom spaces so that two people can be using them at once.
The functionality of the room is also fantastic, and well thought out with modern families in mind. There are multiple USB and USB-C plugs, along with plenty of regular outlets. On older cruise ships, these can be hard to find. And since you cannot use power strips on a cruise ship, when the room has what you need to charge many devices at night, it's very appreciated.
The mattress and pillows were also very comfortable. We heard many people comment that they were having fantastic nights of sleep because the mattresses were so comfortable. The convertible sofa bed was a bit stiff, but that is probably because it's brand new. Our daughter is not used to such a firm mattress, so she wished the sofa bed was a bit softer. However, the length of the sofa bed was long enough for an adult. Our 5″7′ tall daughter had enough room without her feet hanging off.
The room has a lot of storage. There was plenty of space for all of our stuff and the raised bed frame allowed us to store our luggage under the bed. Do note that while there is a "refrigerator," in the room, it's more like a cooler drawer. Our refrigerator did a good job of keeping things cold. If you have medical items that need to be kept at a cold temperature and your refrigerator isn't cold enough, be sure to let your room attendant know and they will provide you with a medical refrigerator that will be able to keep medication at a proper temperature.
Finally, what we loved most about room 10668 was the extended balcony. Take a look at the photos below. While we still only had two chairs, it was great to have the extra space. We love aft balconies and this one was fantastic!
6 – Concierge Staterooms, Suites, and Service
The Disney Wish elevates the concierge experience with seventy-six concierge staterooms and suites — more than double the number available on other Disney ships.
Accommodating up to five guests, these rooms feature spacious living areas, king beds, luxurious finishes, and premium amenities. Most include a generous private verandah, and have been designed with the rich color palette and distinctive iconography of Walt Disney Animation Studios' "Tangled."
One-bedroom concierge suites feature a separate living room, walk-in closets, two 43-inch TVs, and two bathrooms (including a master bathroom with rain shower, bathtub, and double vanity).
Seven exclusive ocean view rooms are Disney's first staterooms located above the bridge. These staterooms offer extended living areas with breathtaking views of the ocean through floor-to-ceiling windows overlooking the bow.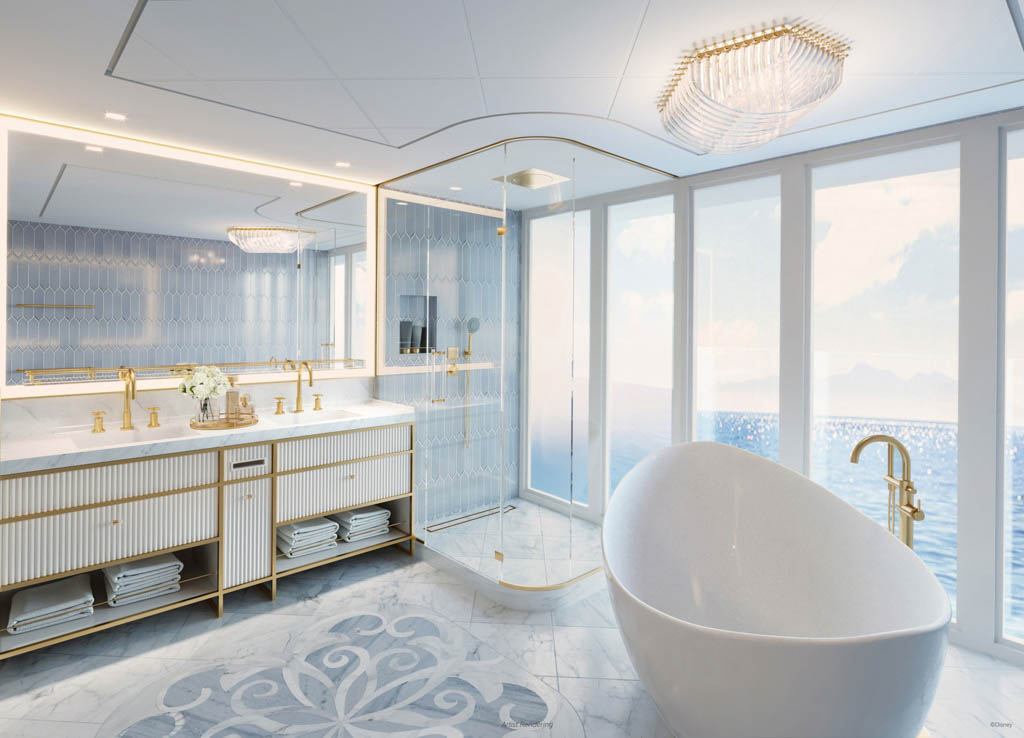 The Disney Wish also debuts four royal suites celebrating the gilded world of Disney Animation's "Sleeping Beauty," with two Princess Aurora Royal Suites and two Briar Rose Royal Suites. Each pair includes a single-floor option and a two-story configuration, the first of their kind for the Disney fleet.
Royal suites feature extravagant details, upscale furnishings, and first-class amenities, including an extensive living area, open dining salon, sizeable pantry, and private hot tub on the oversized verandah.
Every suite has two master bedrooms — each with its own opulent bathroom featuring a double vanity and either a rain shower or bathtub — as well as a double sleeper sofa in the living room and a third bathroom with a shower.
The two-story royal suites boast floor-to-ceiling windows and stunning statement pieces, including an elegant spiral staircase and a spectacular two-deck-high bespoke stained-glass frieze.
All concierge guests receive a premium level of dedicated service and access to exclusive areas and amenities throughout their voyage. The Concierge Lounge is more than triple the size from previous Disney ships, offering a full bar, delicious light bites, special kids' area, and an outdoor terrace with incredible views. From the lounge, concierge guests have access to a private sun deck with two whirlpools, a wading pool, a bar, lush lounge furniture, and the superlative service of a pool deck host.
The Disney Wish is also home to a first-of-its-kind accommodation set high in the forward funnel of the ship, the Wish Tower Suite. This 1,966-square-foot penthouse in the sky accommodates eight guests and features an elegant design inspired by Disney Animation's "Moana," incomparable ocean views, and premium Disney service.
7 – Disney Wish Sailings
The Disney Wish offers sailings of three- and four-night cruises to the Nassau, Bahamas, and Disney's private island, Castaway Cay, from Port Canaveral, Florida. Click here for an overview of the Disney Wish, including a review of our cruise.
Editor's Note: Disney Cruise Line provided us with a complimentary Disney Christening Cruise with special media-specific events and tours during the cruise. However, as always, the thoughts and opinions contained in this article are entirely our own.
For a no obligation, FREE Quote on a Disney vacation package, please contact our travel partner Magical Vacation Planner at 407-442-0227 (407-442-0215 for Spanish). You can also request a FREE quote online by Clicking HERE.