Disney Cruise Line
News
NEWS: Disney Cruise Line Announces Fall 2023 Itineraries – Including Holiday Themed Cruises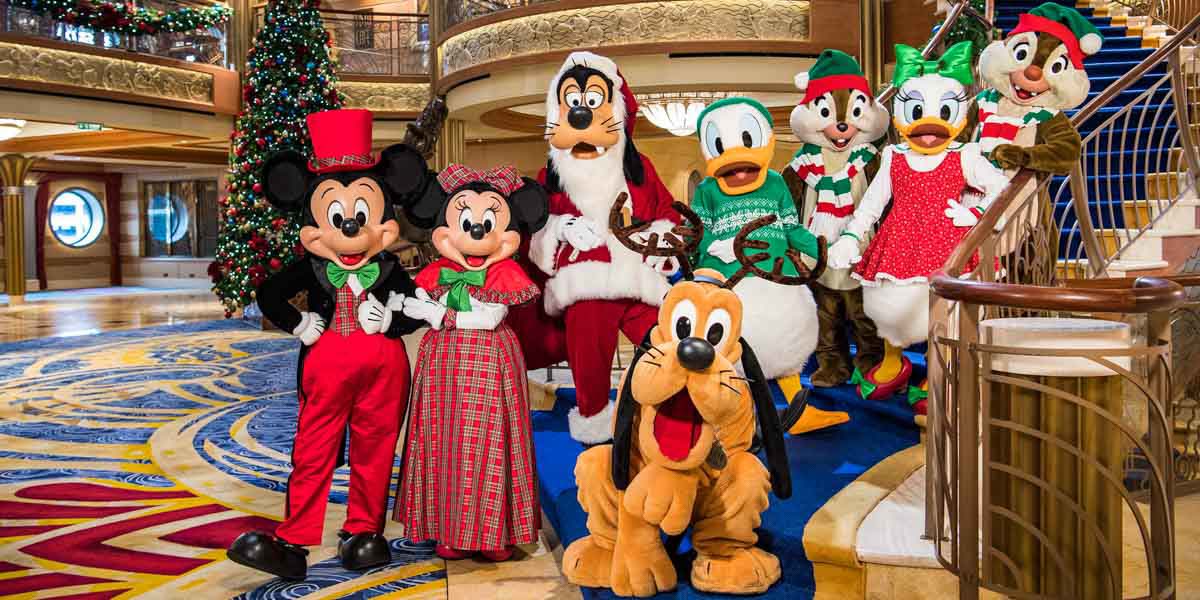 Disney Cruise Line will offer enchanting fall vacations that take families coast-to-coast in 2023, including special sailings with spook-tacular surprises, holiday cheer and the fleet's first-ever departures from Fort Lauderdale, Florida. With cruises from Florida, California and New York, adults and children alike will discover the wonder of the holidays aboard Halloween on the High Seas and Very Merrytime Cruises. Learn more below.
Holiday Fun on Disney Cruise Line
"We are excited to provide families with experiences that create lasting memories," said Sharon Siskie, senior vice president and general manager of Disney Cruise Line. "With offerings for the entire family, specially curated activities for both Halloween and the holidays and a brand-new home port in South Florida, our guests will have more ways than ever to experience the magic of Disney at sea."
Halloween on the High Seas cruises will return from mid-September through October 2023. Aboard these not- so-spooky sailings, guests will eat, drink and be scary with their favorite characters dressed in Halloween costumes, celebrate the season at Mickey's Mouse-querade party, enjoy trick-or-treating at sea and more.
From early November through December, Disney Cruise Line ships will be extra merry and bright during Very Merrytime Cruises that celebrate the spirit of the holiday season. On these sailings, Disney magic will take on a whole new meaning with characters dressed in festive garb from head to (mistle)toe, a special tree-lighting ceremony, holiday décor, and special guests – Santa and Mrs. Claus.
Bookings open to the public on July 28, 2022. More details can be found on disneycruise.com.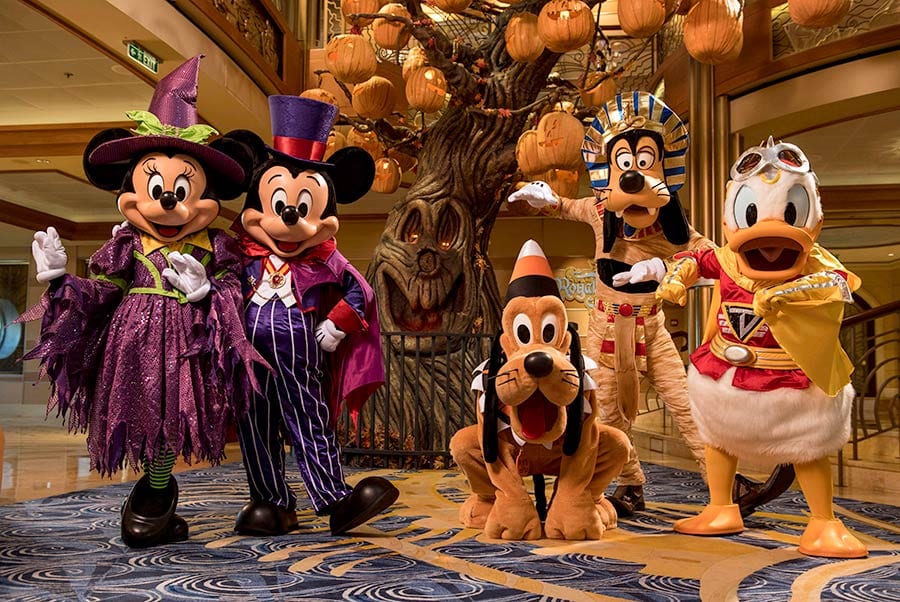 New Adventures Aboard the Disney Dream
The Disney Dream has new destinations on the horizon for the fall of 2023.
Following its inaugural season in Europe, the Disney Dream will set sail from New York City for the first time. Families will enjoy four-, five- and six-night sailings from the Big Apple to Bermuda, where they will explore the island's renowned pink-sand beaches, world-class shopping, aquatic adventures and distinctive blend of British and Caribbean culture. Plus, a special four-night voyage on the Disney Dream will transport guests to the charming Canadian seaport city of Saint John.
Starting Nov. 20, 2023, Disney Cruise Line will find a new South Florida home in Port Everglades, offering four- and five-night cruises aboard the Disney Dream to tropical locales in the western Caribbean and Bahamas. Families will enjoy stops in places like Grand Cayman, Cozumel and Nassau from Disney Cruise Line's second year-round home port, along with visits to Castaway Cay, Disney's private island oasis.
Mexican Riviera Adventures from California
Beginning in mid-October 2023, the Disney Magic will find its home on the West Coast, setting sail from San Diego for voyages ranging from two to seven nights to Baja and the Mexican Riviera. Guests will experience the sparkling waters and beautiful landscapes of Santa Catalina Island, Calif., Cabo San Lucas and Ensenada, Mexico. An exclusive seven-night Mexican Riviera sailing will feature the breathtaking ports of Puerto Vallarta, Mazatlan and Cabo San Lucas, which are perfect for recreational water activities such as snorkeling and scuba diving.
Tropical Vacations from Port Canaveral, Florida
In the fall of 2023, the Disney Wish and Disney Fantasy will continue sailing from Port Canaveral to tropical destinations in the Bahamas and Caribbean.
The Disney Wish will sail three- and four-night cruises to the Bahamas, including visits to Nassau and Castaway Cay.
The Disney Fantasy will offer families even more time to experience Disney Cruise Line's world-class dining, Broadway-style shows and spaces designed for the entire family during seven-night cruises to stunning destinations in the eastern and western Caribbean.
To learn more about Disney Cruise Line or to book a vacation, guests can visit disneycruise.com, call Disney Cruise Line at 888-325-2500 or contact their travel agent.
RELATED ARTICLE: Very Merrytime Cruise – Our Review and What You Need to Know
by Chad and Cindy Nykamp
Unwrap a holiday adventure for the whole family: a cruise aboard the Disney Magic, Disney Wonder, Disney Dream or Disney Fantasy, all decked out with holiday cheer. From early November through December, Disney Cruise Line adds sparkle to each ship during Very Merrytime Cruises. These holiday-themed cruises feature exclusive offerings for the whole family to enjoy. We recently enjoyed a Very Merrytime Cruise on the Disney Dream! Keep reading for what you need to know about these fantastic cruises.
1 – Preparing for Your Very Merrytime Cruise
We had a lot of fun getting ready for our holiday cruise. We packed matching holiday shirts and brought our own stateroom decorations, along with ordering an in-room décor package. Check out our article on packing for a Very Merrytime Cruise by clicking here.
2 – Holiday Decorations Around the Ship
When you step aboard the ship during your Very Merrytime Cruise, you'll find it decorated for the holidays. Decorations include a life-sized gingerbread house that smells amazing, garlands, poinsettias, and lights all around the ship. They really do make the ship even more magical. Finally, you'll find a 24-foot Christmas tree in the atrium.  The tree stays dark until the first evening, during a special tree-lighting ceremony.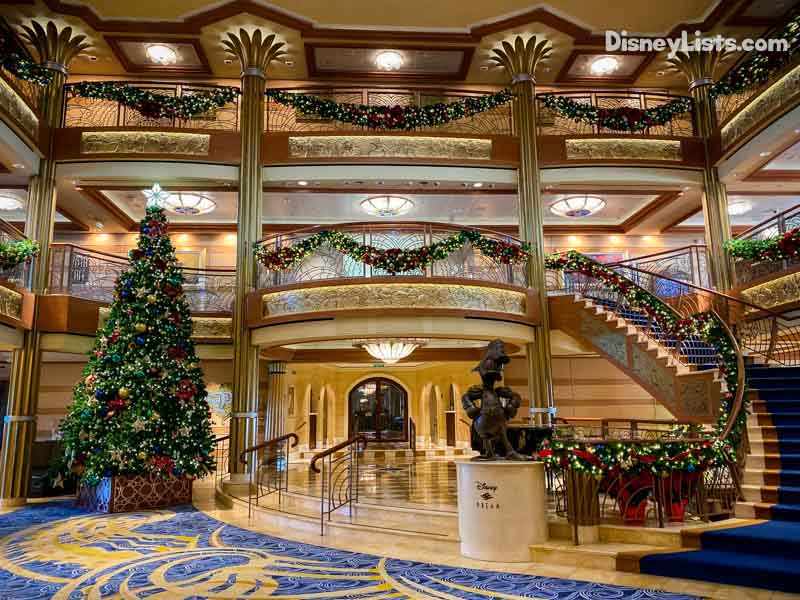 4 – Mickey's Tree-Lighting Magic
On the first night of your cruise, you don't want to miss "Mickey's Tree-Light Magic," a short show in the atrium lobby. During the show, Disney characters lead holiday carols and the lighting of the three-deck-tall tree. It was an entertaining show that set the stage for a great holiday cruise.
Click here to see a short video of the tree lighting ceremony!
5 – Santa's Winter Wonderland Ball
Also on the first night of the cruise, is "Santa's Winter Wonderland Ball" in the atrium lobby. In this short show, cruisers welcome the guests of honor, Santa and Mrs. Claus. The show is a grand celebration featuring Broadway-style entertainment, favorite Disney characters, and classic holiday tunes. This evening is made complete when a particular pair of royal sisters joins the party and causes a flurry of "frozen" fun as a magical snowfall overtakes the atrium.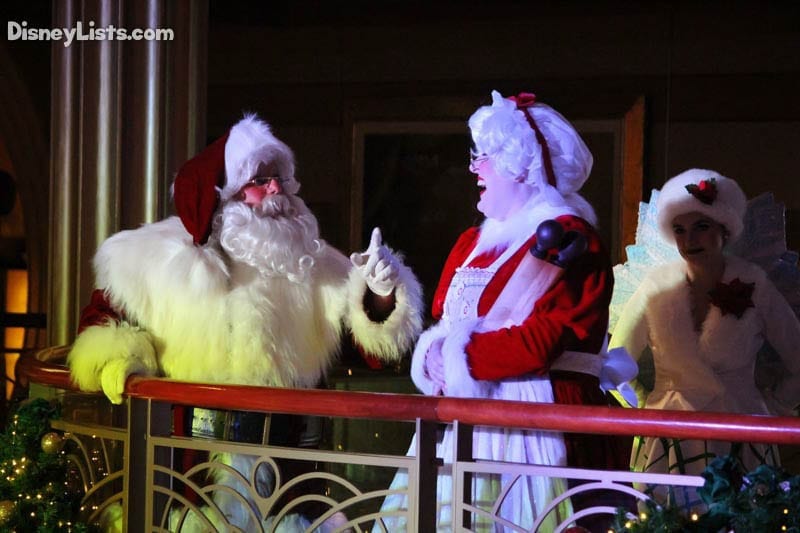 6 – Dickens-Inspired Carolers
Throughout the cruise, be on the lookout for Dickens-inspired carolers. They carry the spirit of the holidays throughout the ship while singing holiday classics, sometimes with the help of favorite Disney friends. At the end of the cruise, children will have the opportunity to join the carolers onstage for a special farewell show.
7 – Family Holiday Activities
During the cruise, there are plenty of holiday activities for the whole family to enjoy. Chad and our daughter had a lot of fun decorating Christmas cookies. Santa Claus is also available in the atrium for holiday photos with guests. Finally, children and teens have holiday-themed activities in the youth clubs such as decorating stockings and gingerbread men cookies, making holiday cards and creating holiday animation cells.
8 – Holiday Fun on Castaway Cay
When the ship stops at Disney's private island in the Bahamas, Castaway Cay, during the holidays, the celebration continues with "snow flurries," a decked-out Christmas tree, Disney character meet-and-greets, and holiday island music. The extras added some extra magic to the island.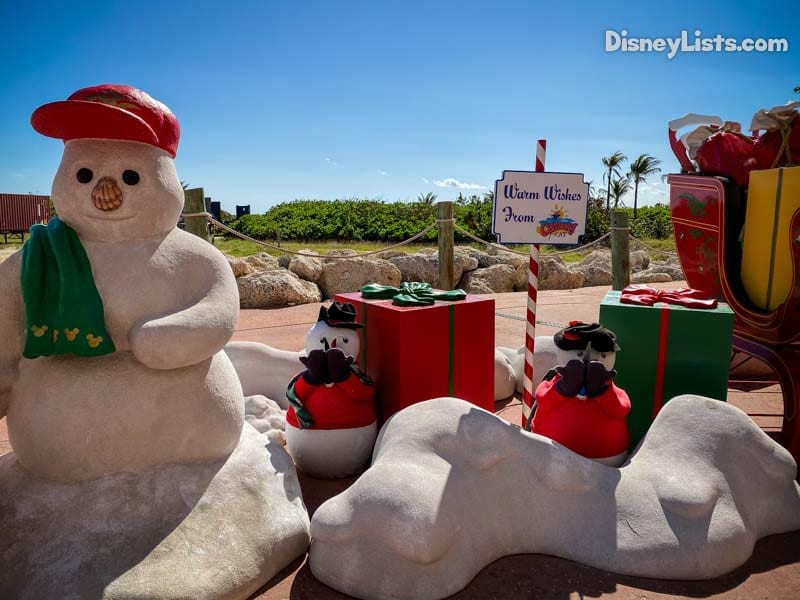 9 – Holiday Greetings with Disney Characters
A highlight for many during a Disney cruise is the opportunity to meet your favorite Disney characters. Throughout the cruise, the characters will appear in different outfits. On embarkation day, you'll usually find Mickey and the gang in their cruising outfits. On Castaway Cay, you'll find them wearing holiday island attire. During a Very Merrytime Cruise, you'll be able to meet them in holiday outfits as well! It was so much fun going around the ship to meet them and get pictures. Their outfits are really unique, so a photo with them an extra special keepsake to take home.
10 – Holiday Merchandise
No Disney vacation is complete without shopping for some merchandise, right? Disney Cruise Line offers a wide variety of items with different themes to guests. During our holiday cruise, I was most looking forward to seeing the Very Merrytime Cruise merchandise items, and I wasn't disappointed. For the holiday season, they created a small holiday shop. Disney Dream's Merchandise Manager told us that this was the first year they had dedicated store for the holiday items. You'll find some items from the parks, but many items are exclusive to the Disney Cruise Line. One difference between shopping on your cruise and shopping at Walt Disney World is that on the ship, they are limited in how much inventory they can store. When something sells out, it will not be restocked during your cruise. So, if you see something you like early in your cruise, best get it then. Disney Cruise Line takes Disney Gift Cards. Disney Vacation Club members receive a 10% discount.
Click here to get a look at the exclusive holiday merchandise on the Very Merrytime Cruises.
11 – Storytime with Mrs. Claus
On the last day of our cruise, we were able to enjoy Storytime with Mrs. Claus. There was a great turnout. Many children were eager to hear from Mrs. Claus, who was sitting in her rocking chair in front of the Christmas tree in the lobby atrium. She read-aloud two stories, "Rudolph the Red-Nosed Reindeer," and "The Night Before Christmas." At the end of the storytime, Mrs. Claus was joined by some surprise guests: Mickey, Minnie, Donald, Daisy, and Goofy! There was a brief time of mixing and mingling with the characters for photos, including Mrs. Claus herself. It's a lovely holiday offering, especially for young children.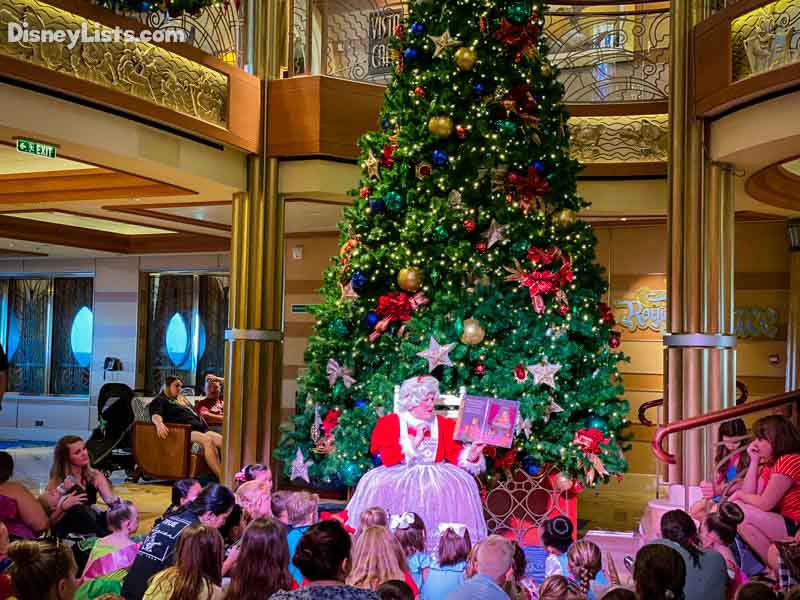 12 – See Ya Real Soon
On the final night of every Disney cruise, you can enjoy a short farewell show, 'See Ya Real Soon,' in the lobby atrium. We enjoyed a special holiday edition of the cheerful farewell celebration with beloved Disney characters and the ship's crew in a musical finale led by Mickey Mouse. The end of a Disney cruise is always so sad, but the final show makes it a bit easier to say goodbye!
13 – Thanksgiving Day Extras
If your cruise includes Thanksgiving Day, you will enjoy a bountiful Thanksgiving Day feast and visits from Mickey Mouse and Minnie Mouse dressed in traditional Thanksgiving attire. Also, during the special Thanksgiving voyages, NFL football games will be broadcast live on the ships' outdoor, jumbo LED screens – Funnel Vision – located near the family pool.
14 – Christmas Day Extras
On Christmas morning at the atrium lobby tree, Santa Claus and his helpers will have a surprise for all the kids, and you'll enjoy an exceptional musical performance from the children. A traditional Christmas dinner is served that night in the dining rooms. Christmas services will be held on Christmas Day with a midnight mass on Christmas Eve. Hanukkah services will be held for eight days, beginning on the 25th day of Kislev.
15 – Overall Thoughts
We really enjoyed our Very Merrytime Cruise. The ship was beautiful, and the holiday-themed extras were fun and added extra magic to our cruise. We always love greeting the characters in unique outfits, and so we were thrilled to get photos with them in unique outfits. We would love to sail over Thanksgiving Day or Christmas Day one year. I can only imagine how magical waking up on the ship on Christmas morning would be. If you're looking for some extra holiday magic on an already fantastic vacation, then a Very Merrytime Cruise is for you!
If you're thinking about booking a holiday Disney Cruise, now is the perfect time to do so! We highly recommend booking with an Authorized Disney Vacation Planner to ensure you are well taken care of and get all the discounts available to you. For more details and help booking your vacation, call (407) 442-0227. You can also get a no-obligation, FREE vacation quote by clicking here. Their services are free to you, and they can answer any questions you may have.
Editor's Note: Walt Disney Parks & Resorts provided us a complimentary Very Merrytime Cruise and special media-specific events during the cruise. However, as always, the thoughts and opinions contained in this article are entirely our own.
For a no obligation, FREE Quote on a Disney vacation package, please contact our travel partner Magical Vacation Planner at 407-442-0227 (407-442-0215 for Spanish). You can also request a FREE quote online by Clicking HERE.