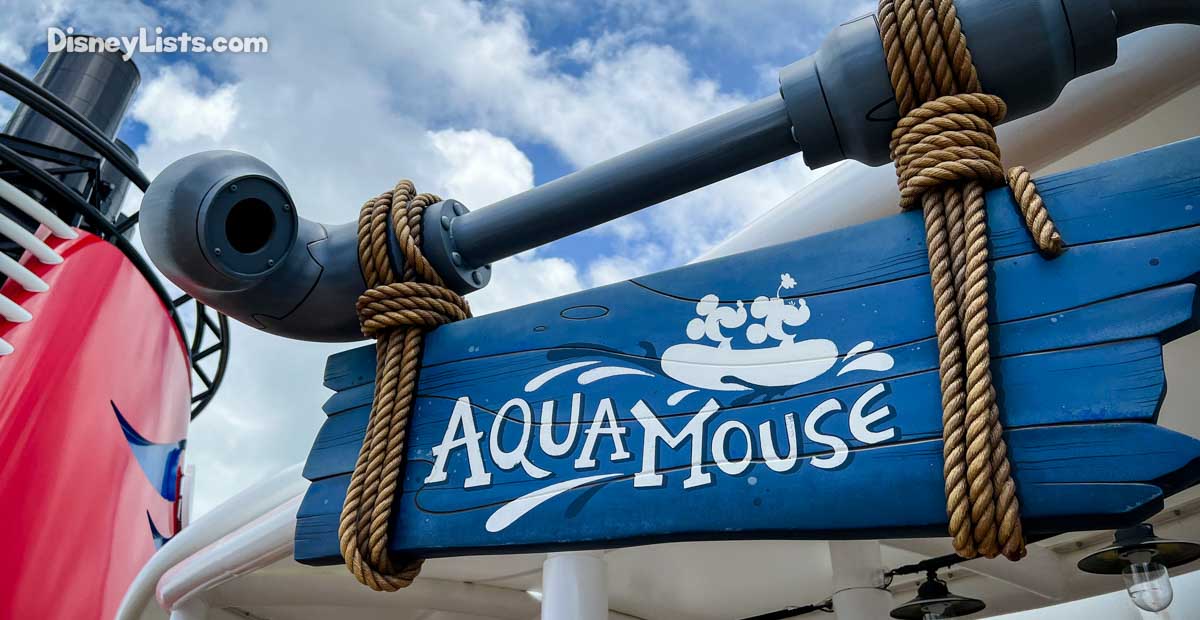 Disney Cruise Line takes fun in the sun to the next level on the Disney Wish with the debut of AquaMouse, a brand-new family water attraction that brings to life the adventures of "The Wonderful World of Mickey Mouse" animated shorts like never before. Additionally, three themed districts offer fun water features, quick and casual dining options, and dedicated space for families, children, and adults to relax and soak up the sun. We've got lots of photos and more details below.
1 – AquaMouse — The First Disney Attraction at Sea
Families are immersed in the world of Mickey Mouse animated shorts aboard AquaMouse, the first Disney attraction at sea. Complete with show scenes, lighting and special effects, and splashtacular surprises, this first-of- its-kind water ride sends guests on a fun family adventure through 760 feet of winding tubes suspended high above the upper decks.
"Disney Cruise Line has pioneered many industry firsts through the years, including the first onboard water coaster and the first and only fireworks at sea," said Danny Handke, senior creative director, Walt Disney Imagineering. "For the Disney Wish, we wanted to continue that tradition of innovation in a big way. With AquaMouse, we're combining theme park thrills, iconic Disney animation and the magic of ocean cruising to create a one-of-a-kind water attraction unlike anything we've done before."
As the story goes, Mickey and Minnie are starting their very own seaside excursion company — aptly named "Port Misadventures" — on board the Disney Wish, and adventuresome cruisers can join them on an undersea excursion to Mermaid Lagoon that inevitably (and hilariously) goes awry.
The journey begins when guests board their two-seater ride vehicles and ascend into a magical tunnel teleporting them into the cartoon world of two new animated short playing out through oversized virtual portholes.
During "Scuba Scramble," they'll encounter curious sea creatures, familiar Disney friends, and more than 60 water effects that bring the subaquatic hijinks to life — all perfectly synched to an original musical score by Emmy-nominated composer Christopher Willis ("The Wonderful World of Mickey Mouse").
"Swiss Meltdown," Mickey and Minnie invite guests on a mountain sledding excursion inspired by one of the Emmy Award-winning "Mickey Mouse" shorts, "Yodelberg." When the sun comes out, and the snow begins to melt, they'll be off on a frantic dash to the mountaintop while trying to avoid obstacles like avalanches, leaky rock walls, and waterfalls.
At the height of the show, guests blast out of the tunnel and embark on a wild water ride around the upper decks. First, they zip into the forward funnel through an enclosed tube surrounded by dazzling lighting effects, followed by a dash through a dark tunnel leading to a breathtaking reveal of an unparalleled ocean view.
They then jet up and down a series of speed blasters as they are propelled toward the grand finale — soaring out over the edge of the ship, with clear views down to the deep blue sea. With that, they splash down for a sendoff message from Mickey and Minnie — another successful tour in the books!
We had so much fun on this attraction at sea. Ride along with us by watching the video below!
2 – Fun in the Sun for the Whole Family
In addition to AquaMouse, families have more pools, more deck space, and more dining than ever before in an expansive pool district themed to Mickey and his friends. Located on decks 11 and 12 midship, this area includes six pools of various sizes and depths, spaciously staggered among tiered decks and surrounded by lounge chairs to provide families with space to stretch out and enjoy the sunshine. The fact that the pools are spread out is one difference that really stands out on the Disney Wish. We love that rather than a large pool with everyone crammed in one spot, the pools are smaller and more spread out.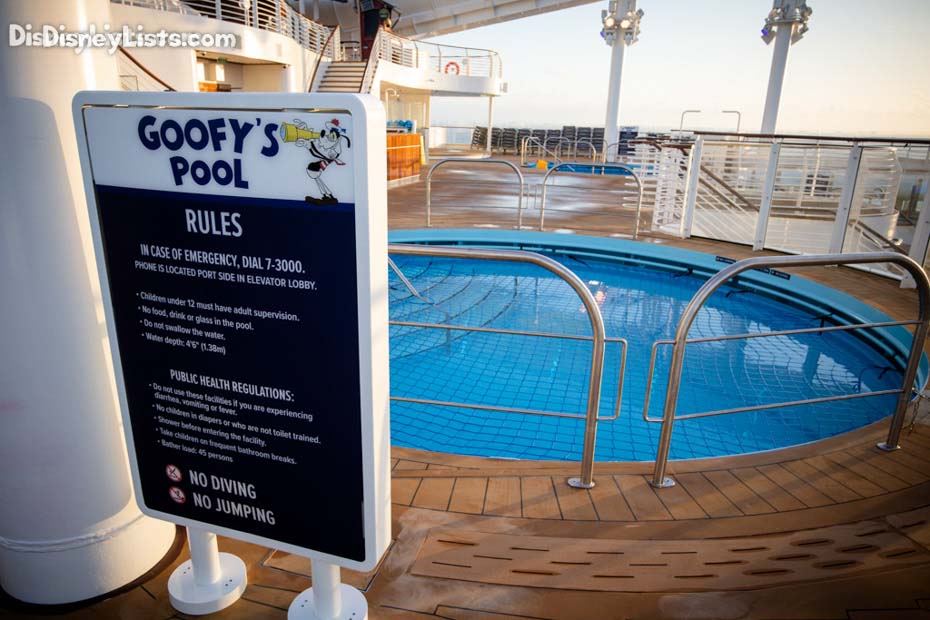 Throughout the day, guests enjoy a variety of poolside entertainment on Funnel Vision, a jumbo LED display showing Disney movies, TV shows, live sporting events, and more.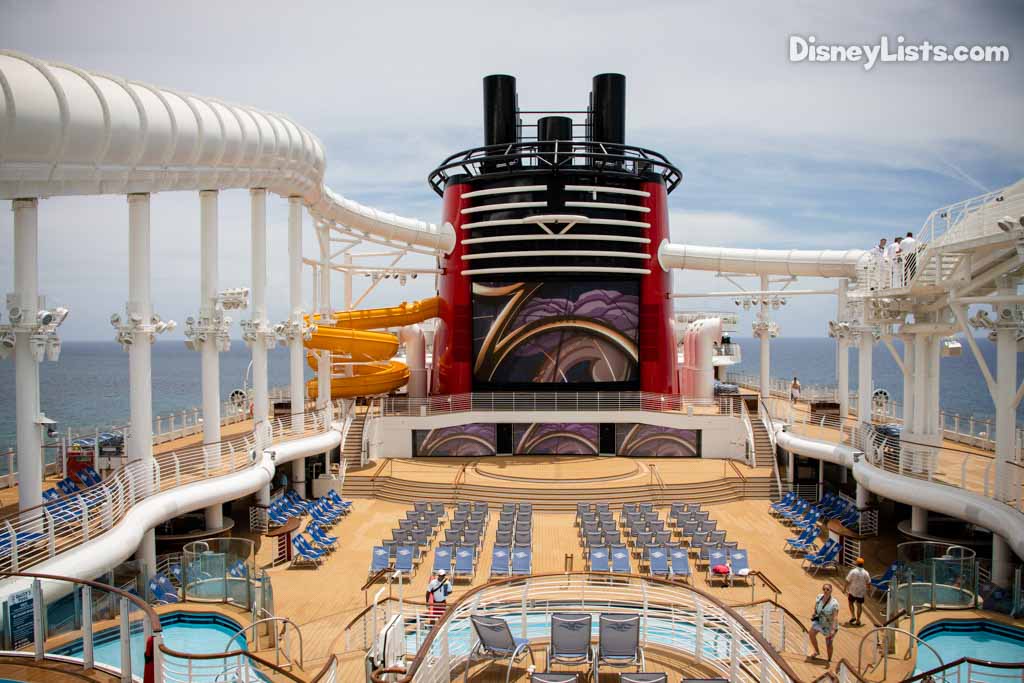 Another family pool, the Chip 'n Dale's Pool, is available on deck 14 forward for guests seeking a laid-back environment.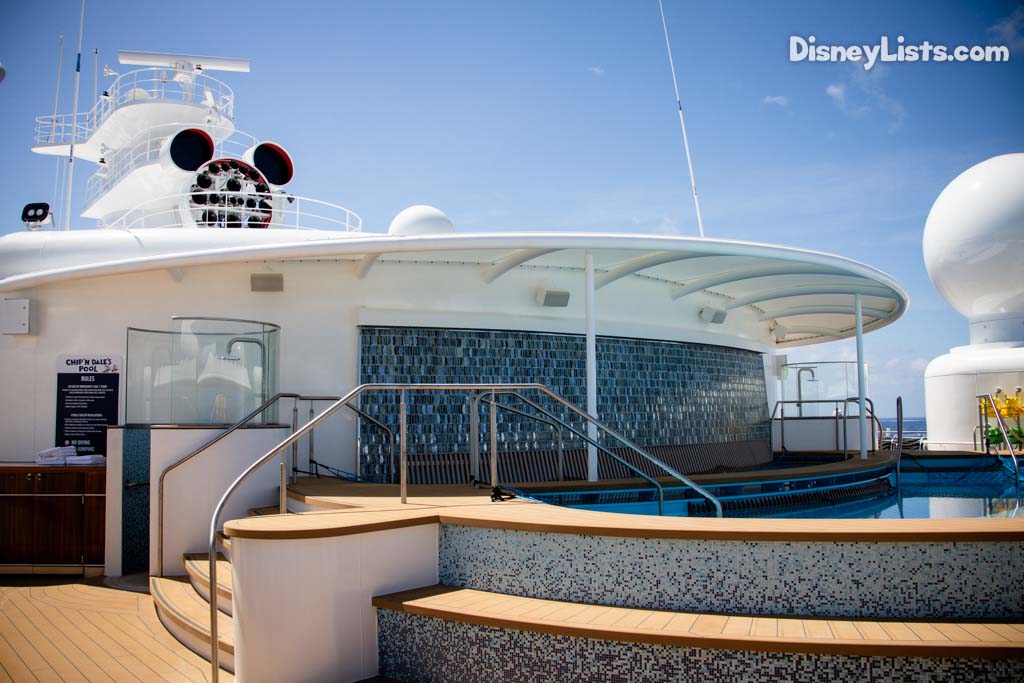 3 – Mickey and Friends Festival of Foods
The Disney Wish also features new food and beverage options on the upper decks, including Mickey and Friends Festival of Foods — the perfect place for families to grab a quick bite for lunch, dinner, or anytime in between. This open-air eatery features five themed food stalls: Mickey's Smokestack Barbecue, Donald's Cantina, Daisy's Pizza Pies, Goofy's Grill, and Sweet Minnie's Ice Cream. The whimsical design is inspired by the seaside boardwalk setting featured in popular "Mickey Mouse" animated shorts, a fitting addition to the Mickey and Friends-themed family district on the upper decks. We'll give more details and our review of the dining when we cover family dining on the Disney Wish.
4 – A Whimsical Water Wonderland for Kids
Little ones can go to "swim"-finity and beyond in a new Toy Story-themed waterplay district designed especially for families with toddlers and young children.
Children can have a tub-full of fun in the Toy Story Splash Zone, a fantastical water playground where Woody, Buzz and friends are adorably reimagined as larger-than-life rubber bath toys, moving and spraying water at kids' whim. Inspired by the Disney and Pixar short "Partysaurus Rex," this bathtub-themed splash zone combines the Old West of Woody's Roundup with the intergalactic world of Buzz Lightyear, featuring two toddler-sized slides and pop jets, geysers and bubblers galore.
To complete the splish-splashing antics, everyone in the family can enjoy a trip down Slide-a-saurus Rex — a double-looping waterslide plunging guests "down the drain" with the rest of the toys when the bathtub overflows.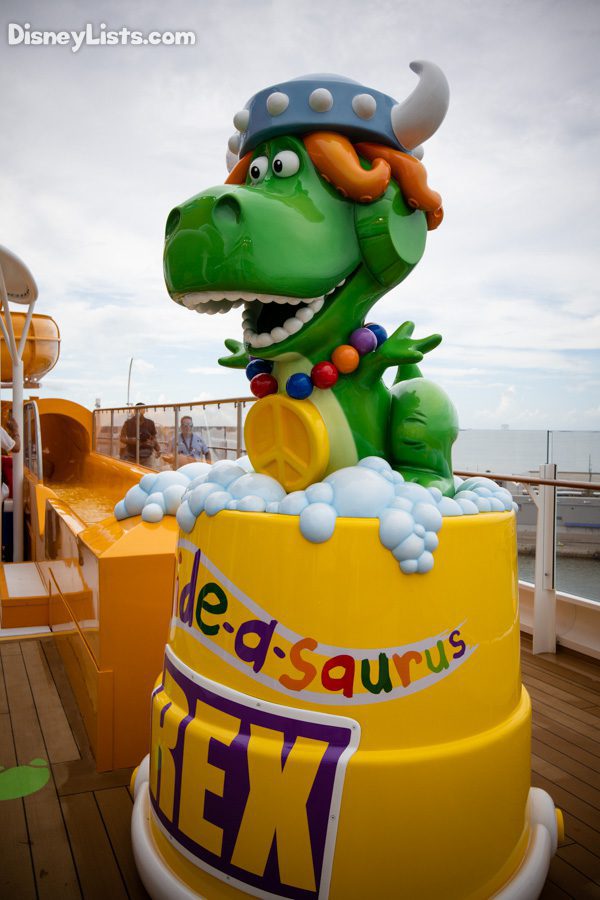 Other features of this playful pool district include Trixie's Falls, a six-inch-deep wading pool with a small fountain and waterfall, and Wheezy's Freezies, a smoothie bar serving refreshing fruit blends for the perfect cool-down treat.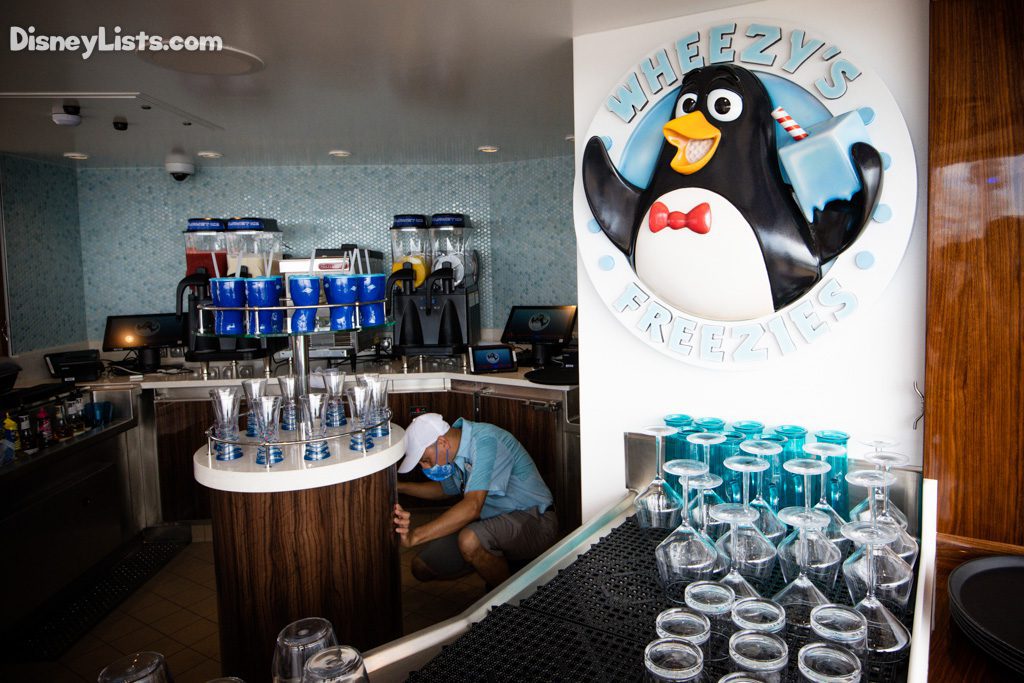 5 – Sun-Drenched Serenity for Adults
At Quiet Cove, guests ages 18 and older find a secluded adults-only district dedicated to lounging, sipping, and soaking. Set away from the bustle of family activities, this relaxing refuge at the back of the ship offers spectacular panoramic views of the ocean from a luxurious infinity pool.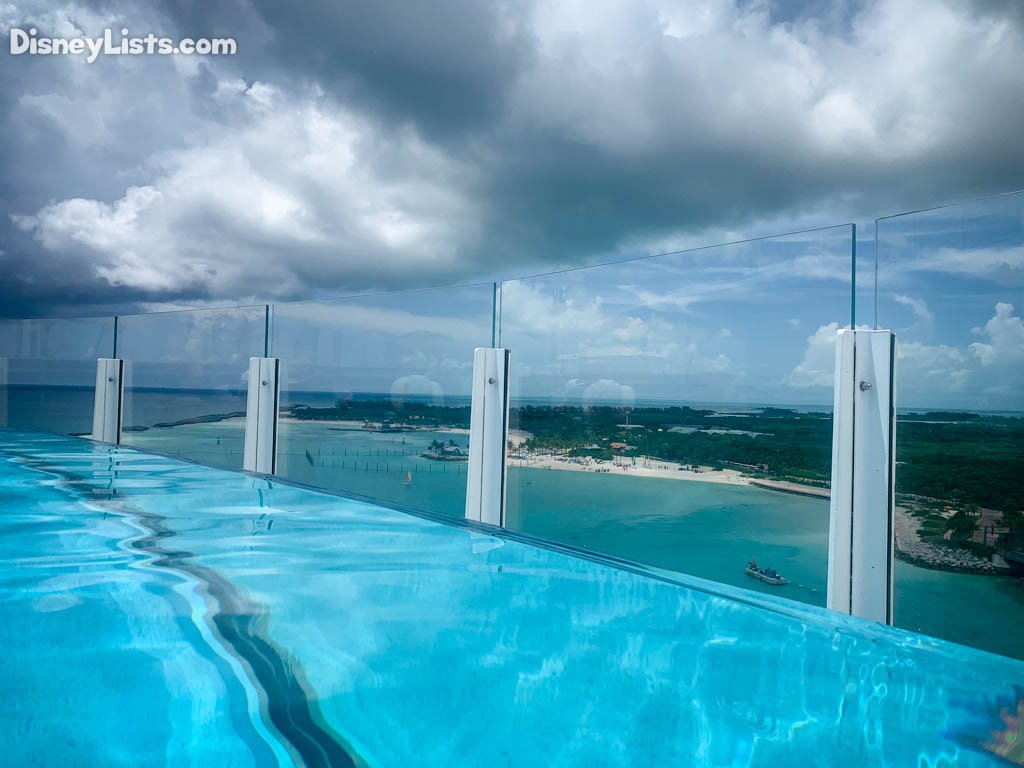 And after a dip, they can unwind in a whirlpool spa, relax in a chaise lounge, and indulge in a cool beverage from Cove Bar – an open-air watering hole offering beer, wine, and cocktails.
A Disney Cruise Line guest favorite, Cove Cafe, is a chic poolside lounge offering gourmet coffees, teas, specialty drinks, and treats throughout the day. For the Disney Wish, the sophisticated yet casual spot has a fresh new look reflecting the Oceania-inspired artistry of Disney's "Moana."
6 – Inaugural Season
The Disney Wish is now sailing a season of three- and four-night cruises to Nassau, Bahamas, and Disney's private island, Castaway Cay, from Port Canaveral, Florida.
Editor's Note: Disney Cruise Line provided us a complimentary Disney Christening Cruise with special media-specific events and tours during the cruise. However, as always, the thoughts and opinions contained in this article are entirely our own.
For a no obligation, FREE Quote on a Disney vacation package, please contact our travel partner Magical Vacation Planner at 407-442-0227 (407-442-0215 for Spanish). You can also request a FREE quote online by Clicking HERE.