Calories don't count at Disney right?!?  Well, you can least justify the extra indulgences from all of the walking that you will definitely be doing while on your vacation.  If you have a sweet tooth, this is definitely the list for you, and all of these desserts are ones that are worth a try on your next visit to the Magic Kingdom.  Here are the top eleven desserts to be found at the Magic Kingdom:
11 – Churros – Frontierland
Everyone loves a good churro, right?  It is a perfect, familiar favorite! You can find them at Pecos Bills or at a cart across from Splash Mountain in Frontierland on the walk toward Adventureland. Churros are tasty!
10 – Tiramisu Cannoli – Tony's Town Square, Main Street USA
Tiramisu Cannoli is a standard Italian dessert and this restaurant does it right.  I just love all of the chocolate shavings on top, too.  Not only that when it is served the plate has an adorable Lady and Tramp sharing their spaghetti etched in chocolate on the plate.  You can't beat the little details combined with a delicious taste.  The location is right at the front of the park so it is extremely easy to get to as well.
9 – Fresh Fruit Waffle Sandwich with Chocolate Hazelnut Spread – Sleepy Hollow, Liberty Square
This is definitely one of my favorites.  Sometimes I even have this one for lunch and call it a health food since it has fresh fruit!  The waffles are made fresh there at the location, and they are delicious.  Then they top the fresh waffle with the Nutella chocolate hazelnut spread and then top that with fresh fruit including bananas, strawberries, and blueberries.  If you haven't had one, you must try it on your next trip!
8 – Cinnamon Rolls – Gaston's Tavern, New Fantasyland
You might be thinking that cinnamon rolls do not sound like a unique dessert item to have at Disney, well I'm here to tell you that these are absolutely amazing!  It is one of the best cinnamon rolls I have ever had. It is served warm and covered with delicious icing.  It is also pretty huge, so you feel like you are getting a true indulgence.  You don't have to wait to have this for dessert either!  It makes a perfectly acceptable breakfast that will definitely get you on a sugar high to start the day!
7 – Kungaloosh! – Skipper Canteen, Adventureland
Skipper Canteen is one of the newer dining locations at the Magic Kingdom.  You definitely have to head over to Adventureland and check it out, but be sure to save room for dessert.  The Kungaloosh is absolutely amazing is my must-have now when we go.  The dessert is a delicious chocolate cake that is covered with caramelized bananas, cashew ice cream, and caramel ice cream.  A coffee dust wafer-type topper on the top of the dessert and that coffee taste perfects the dish.  The dessert is inspired from rich African flavors and everything about it is amazing!  I need one, stat!
6 – The Plaza Ice Cream Sundae – The Plaza Ice Cream Parlor, Main Street USA
Everyone loves ice cream!  The ice cream at this spot is delicious, and it is nostalgic!  You get to cool off and enjoy a classic favorite with views of Cinderella's Castle and the nostalgic Main Street USA.  This makes it all taste even better!  The sundae is served in a fresh waffle bowl.  You get to pick your two scoops of ice cream from the flavors and then it will be topped with hot fudge, whipped cream and a cherry on the very top.  A true classic sundae for a classic Disney experience.  This is perfect to grab and then enjoy while you wait on the sidewalk for the perfect fireworks or parade spot!
5 – Ooey Gooey Toffee Cake – Liberty Tree Tavern, Liberty Square
You have to visit the Liberty Tree Tavern during their lunch service so that you can try this one.  The base of the dessert is a vanilla cake that has the gooey toffee filling.  It has a heaping pile of vanilla ice cream on top and then is topped with warm caramel sauce.  On top of that is chocolate toffee pieces sprinkled all over.  It is decadent and delicious, and one that you definitely want to save room for!
4 – The Grey Stuff – Be Our Guest, New Fantasyland
The Grey Stuff is found in one of the most popular restaurants in all of Walt Disney World, Be Our Guest.  You likely know the story behind The Grey Stuff since it is from a popular song, "Be Our Guest", in the movie, Beauty and the Beast.  You'll need to order the White Chocolate Chip Cup topped with The Grey Stuff and beautiful candy pearls.  You have to try The Grey Stuff!  It's delicious!  Don't believe me?  Ask the dishes!
3 – Dole Whip – Aloha Isle, Adventureland
This is a classic and extremely nostalgic dessert at the Magic Kingdom.  This dessert is a must-try for all Disney fans.  It is a delicious whipped pineapple frozen dessert that can either be served just as a soft-serve dessert or in a float.  Either way, you can't go wrong!  The dessert is vegan, too, so it is friendly for various dietary needs. If you are looking for the location, locate Aladdin's Flying Carpets and then walk around behind them and you will see the Dole Whip calling for you!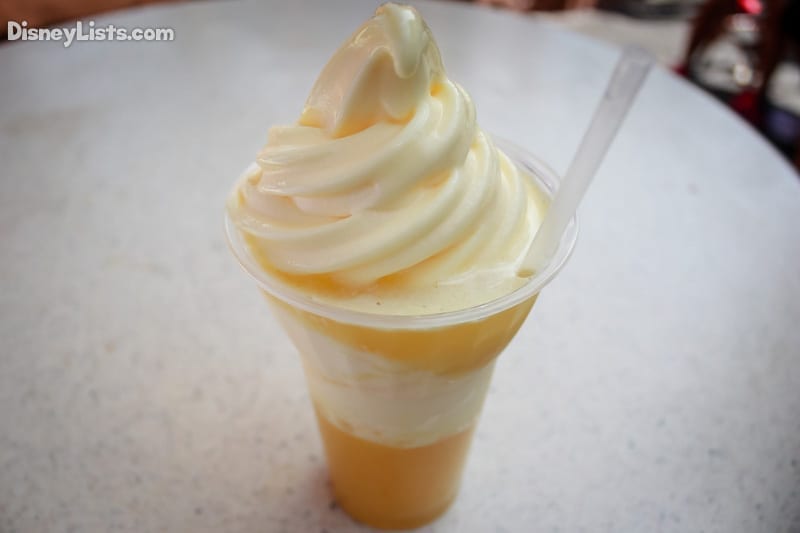 2 – The Clock Strikes Twelve – Cinderella's Royal Table, Cinderella's Castle
This is one of the most beautiful and well-planned desserts.  It is designed to look like the face of a clock.  The numbers are etched onto the place with chocolate.  The base of the dessert is a delicious flourless dark chocolate mousse with a caramel and crunchy praline center. It is a perfect ending to this elegant meal that is all about the Cinderella experience.  Dessert is already included in the cost of your meal, so you don't have to feel bad at all about diving right in!
1 – Magic Kingdom Fireworks Dessert Party – Tomorrowland Terrace, Tomorrowland
I know this isn't a specific dessert, but a complete experience.  The Magic Kingdom Fireworks Dessert Party is an add-on experience that you can purchase a ticket for.  The experience includes an unlimited dessert buffet along with a reserved seat to enjoy your desserts with your family.  Then you get to enjoy amazing views of the fireworks without the crowds and guests pushing all around you.  The desserts really are amazing, too.  You have amazing options like chocolate-dipped strawberries, chocolate mousse, character cupcakes, ice cream treats, cannoli, fruit tarts, crème brulee, crisped rice treats, chocolate, and classic cheesecake, brownies, tiramisu, mini apple pies and so much more! (Menu offerings are subject to change).  Not only that you also get a wide assortment of beverages including hot teas, coffees, water, iced tea, lemonade, milk, and various other choices.  You also get to have a sparkling cider toast for an extra level of elegance at the event.  This is definitely an event that you want to come hungry for since it will be hard to even get to try one of everything before you fill up! Plus, there are all delicious, too!
For a no obligation, FREE Quote on a Disney vacation package, please contact our travel partner Magical Vacation Planner at 407-442-0227 (407-442-0215 for Spanish). You can also request a FREE quote online by Clicking HERE.