Get ready for a relaxing vacation at Disney's Saratoga Springs Resort and Spa! Underrated and often forgotten. But, here are seven reasons why we think you should stay at Saratoga Springs.
1 – We're off to the Races!
Disney's Imagineers work their magic again! Saratoga Spring is inspired by a late 1800s retreat location in New York that drew guests in for horse racing and spa treatments. With this atmosphere replicated at Saratoga Springs, you'll be charmed by the great Victorian-style buildings, lush landscape, and peaceful waterways. Check out the beautiful pictures of Disney horses in the lobby, such a Prince Phillip's horse, Samson, in the movie Sleeping Beauty. This stately resort has all the charisma you could expect but with a casual side. Saratoga Springs is easy to call home and feel comfortable while vacationing at Disney!
2 – Welcome Home
Saratoga Springs is a Disney Vacation Club (DVC) Resort, but non-DVC members are encouraged to stay! We mention this because the room options are slightly larger than you may find at other Disney Resorts. Room types such as Deluxe Studios, 1 or 2 Bedroom Villas, or even Treehouse Villas make for space for several family sizes. The incredible Treehouse Villas allow you to sleep 10 feet off the ground in your own 3-bedroom villa! Saratoga Springs is a very quiet resort, particularly these Villas along the Sassagoula River leave you with nothing but the sounds of nature surrounding you. Interested in becoming a DVC member or just want to learn more about it? You're in luck – one of the DVC main hubs is located at Saratoga Springs. Being DVC members ourselves, we highly recommend you check it out.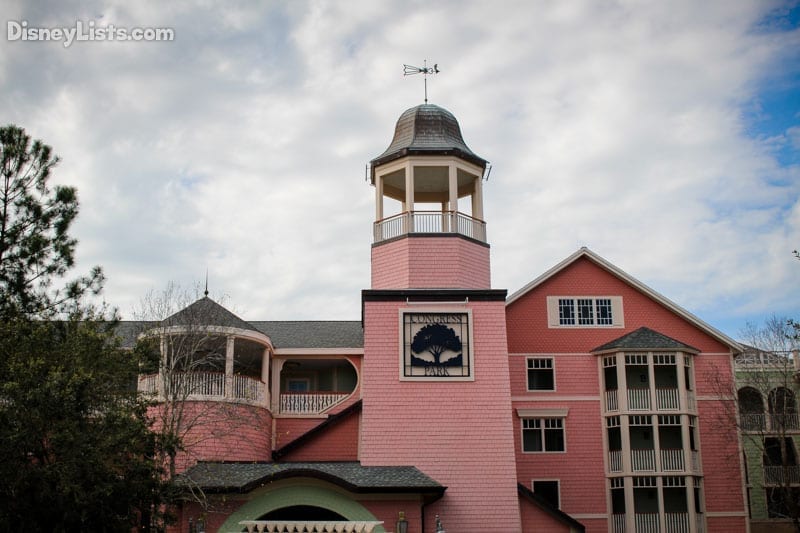 3 – Steps Away from Everything
That's right! One of our favorite parts about staying at Saratoga Springs is the excellent location for Disney Springs. Disney Springs is teeming with endless restaurants, dining, and entertainment – and it's STILL growing! You'll have no shortage of things to do, and with a simple walk, boat ride, or bus option, Disney Springs is a neighbor you'll love having.
4 – Time to Eat
Saratoga Springs has a great variety of dining options! Enjoy the casual dining or the lounge at The Turf Club Bar and Grill while you take in the outside view of the landscape and water. We particularly enjoy the Artist's Palette – a quick-service food option. The Artist Palette has delicious food that's fast and simple plus the decor is spectacular!
5 – Golf, Anyone?
You've come to the right place! The Lake Buena Vista Golf Course surrounds Saratoga Springs. This award-winning course is the perfect way for golf lovers to have a great day of taking in the outdoors while hopefully making par!
6 – Bonus Material
Not so much as a reason to stay at Saratoga Springs, but more like some tips from folks that have stayed there before. First, we highly recommend when you make a reservation, you ask for them to put in the comments you would like a room close to the clubhouse. The number one complaint we hear about Saratoga is the wide resort and the distance it takes to walk to the main area. While asking doesn't guarantee anything, it can't hurt! We also recommend you check out the lobby greeter with his top hat and cane. We've had great experiences with excellent Cast Members at Saratoga. Be sure to look for the Disney horses not only in the lobby but also in your room! Can you name the horses on your throw pillows? Last but not least – Saratoga Springs has an awesome waterslide. This one isn't just for the kids – go ahead, adults, and have a great time!
We hope you have the opportunity to stay at Disney's Saratoga Springs. If you have stayed at Saratoga, what is your favorite reason for staying there? We'd love to hear from you!
For a no obligation, FREE Quote on a Disney vacation package, please contact our travel partner Magical Vacation Planner at 407-442-0227 (407-442-0215 for Spanish). You can also request a FREE quote online by Clicking HERE.