Guten Tag! Festive music and the alluring smell of foods – you've arrived at Epcot's Biergarten Restaurant! Here are six things we think you should know before dining at Biergarten to get the most out of this joyous Oktoberfest.
1 – Making a Reservation
Theme park ticket entry to Epcot is required to dine at Biergarten, so be sure to work this dining experience into Epcot plans! While Biergarten isn't as popular as some other dining destinations, we recommend taking advantage of your advanced dining reservations window. If possible, book the morning your 60-day advanced dining reservation opens (online at 6:00 am or by phone at 7:00 am). The sooner you make your reservation, the better chance you have of getting in for lunch or dinner on the day and time you are seeking. A small tip – ask a Cast Member or check the showtimes for the German Band and reserve your meal time accordingly. You won't want to miss the entertainment!
2 – It's a Biergarten, Alright!
"Biergarten" in Germany is a buffet of foods set inside a nighttime town square, with an energetic band providing the perfect environment for dining, drinking, and dancing. Well, Germany in Epcot nailed this scene perfectly! Cast Members from Germany wear German attire and have such wonderful accents to go with it. A surprisingly large restaurant, Biergarten, has a three-floor stadium-style seating. This is helpful because no matter where you are seated, you are still able to see the stage. Dim lighting, lush décor, bright fabrics, flags throughout, and glowing lamp posts match what you would expect to see at a real German Biergarten. Be sure to check out the large water wheel next to the stage!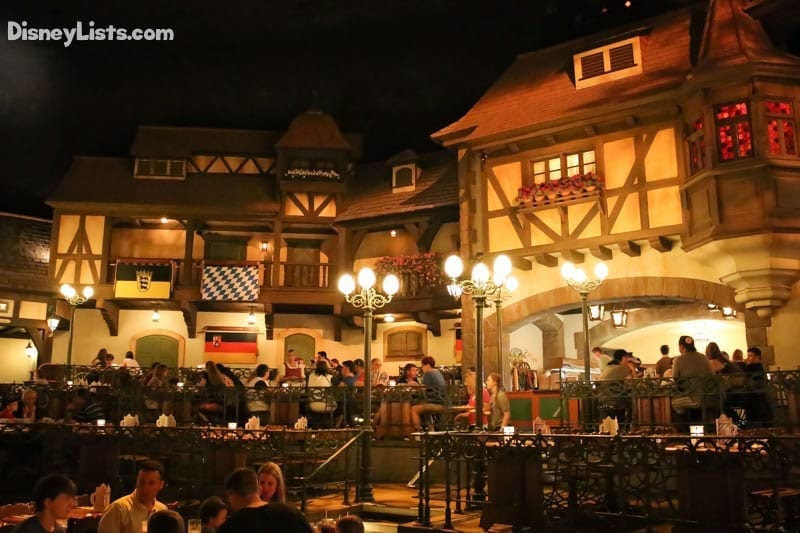 3 – Community Style Seating
We feel it's worth mentioning the seating arrangement at Biergarten so you aren't surprised upon arrival. Each table seats eight people. For smaller parties (4 or fewer), you may be seated at the same table as another party. Unlike most restaurants where your party gets one table to yourselves, Biergarten invites strangers to become friends! This may normally seem uncomfortable, but a sense of fellowship seems to be encouraged among everyone.
4 – Food! 
The buffet has all of the German favorites but enough options for those that want to stick with more traditional food. Take your pick from the well-labeled food selection. Unfortunately, if you aren't familiar with German, you may just have to try things out once you go back for what you decide are your favorites! Seasonal salads, Traditional Sausages, Sauerkraut, Spatzle, Nudel Gratin, and so much more. The adult drink selections that are not included in your buffet cost are beer and wine lovers' dream! The buffet cost includes tea, coke products, water, and kid's drinks. Loosen that belt buckle, and indulge in the dessert section of the buffet. Try the Apple Strudel with cream poured over the top of it – yum!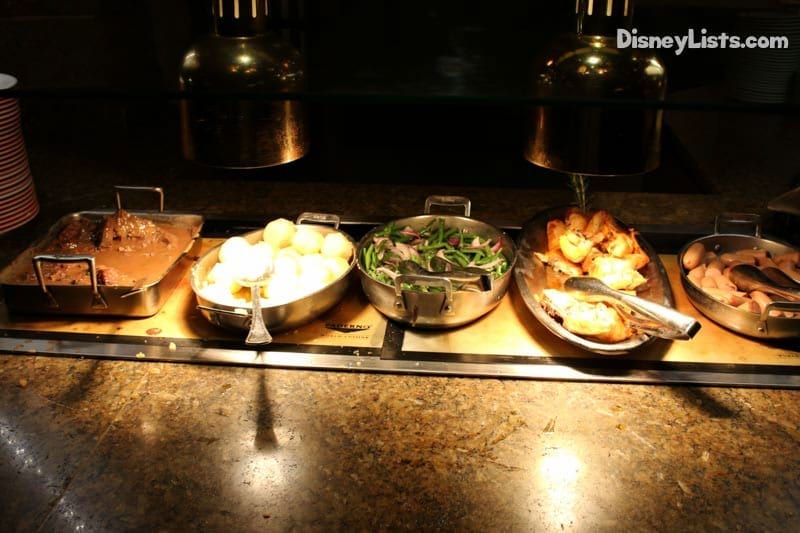 5 – German Band
Enjoy your very own Oktoberfest! Be sure to stick around long enough for the festive German band that performs on stage. Made up of four instrumentalists/vocalists, the band is rather impressive in its ability to play several different instruments. We hope you especially enjoy performances on the alphorn (long German horn) and the bell competition (several different-sized cowbells). Upbeat tunes leave the dance floor beckoning for you to show off your moves! The music is somewhat loud, and it may be difficult to carry on much of a conversation when playing. We enjoy listening to the performance anyway, so the noise level doesn't bother us.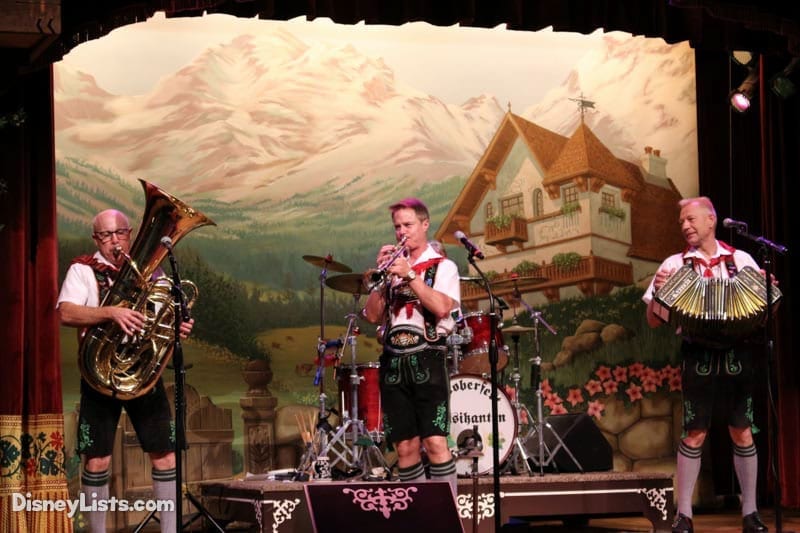 6 – Tips
Don't schedule a big meal before or after you plan to dine at Biergarten. Your belt buckle just might not be able to hold it all in! On another note, when you say you'd like a large-sized beer, you are going to get just that. Their large beer looks like a gallon-sized beer – enjoy! And lastly, for those parents out there, check with the hostess before you dine if you have a sleeping baby. The hostess may just tell you to leave the baby in the stroller, and you can roll it right in. No need to stroller park and wake the baby.
Biergarten Restaurant is overflowing with excellent food, fun entertainment, and superb service. So strap on the lederhosen and let your German side loose!
For a no obligation, FREE Quote on a Disney vacation package, please contact our travel partner Magical Vacation Planner at 407-442-0227 (407-442-0215 for Spanish). You can also request a FREE quote online by Clicking HERE.