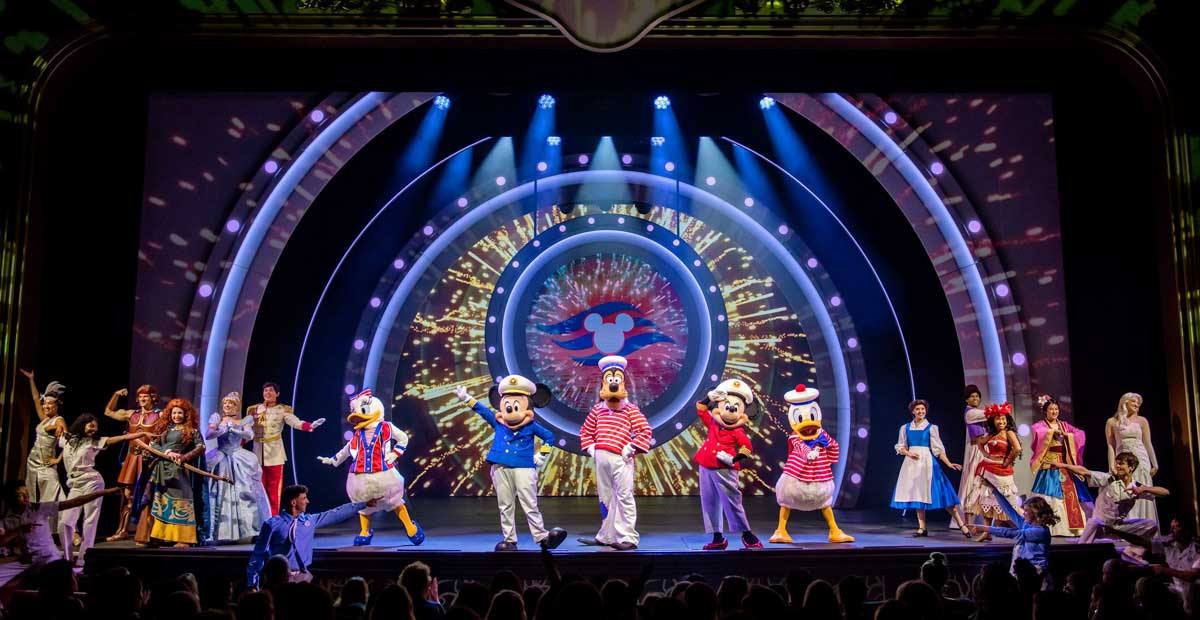 The Disney Wish, like all Disney Cruise Line ships, presents a lineup of world-class entertainment experiences that immerse families in their favorite Disney stories like never before. The combination of innovative new venue concepts and evolutionary storytelling techniques sets the stage for original productions, guest-favorite shows, and brand-new experiences for the entire family to enjoy.
The fifth ship in Disney's fleet debuts two original stage spectaculars in its state-of-the-art Walt Disney Theatre: an innovative, Broadway-style take on Walt Disney Animation Studios' "The Little Mermaid" and an embarkation day celebration helmed by Captain Minnie, Goofy, and an all-star cast of Disney and Pixar characters. Learn more about stage show entertainment on the Disney Wish below.
1 – Stunning Stage Shows at the Walt Disney Theatre
A hallmark of the Disney Cruise Line experience is the unparalleled live entertainment performed in the Walt Disney Theatre. On the Disney Wish, this elegant 1,274-seat show palace evokes an enchanted forest inspired by scenes from Walt Disney Animation Studios' "Fantasia," with orchestra and balcony seating spanning three decks. The theater is equipped with state-of-the-art production equipment, including the most robust projection mapping capabilities of any Disney ship and a Dolby Atmos 3D audio system — a first for the cruise industry — to create a transformative theatrical experience rivaling anything on land or at sea.
2 – An Embarkation Celebration — 'Disney Seas the Adventure'
On their first night aboard this enchanted ship, Disney Wish guests embark on a musical voyage into some of their favorite stories during an original musical spectacular, "Disney Seas the Adventure." When Captain Minnie hands over the helm to her dear friend Goofy, he sets sail into uncharted waters on a journey to discover his own inner captain.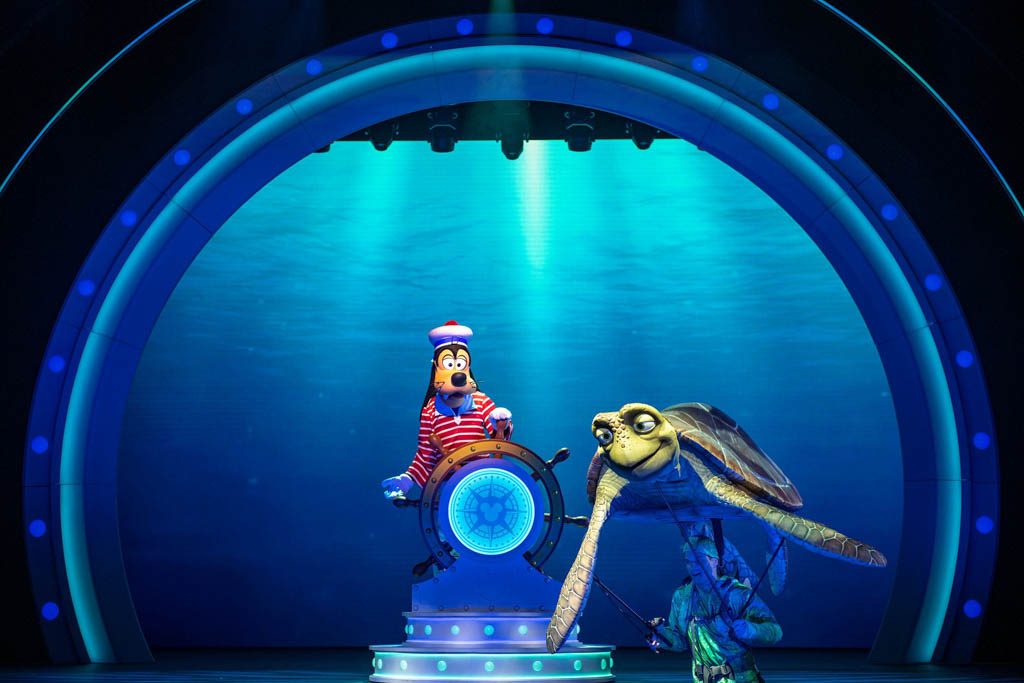 Along the way, Goofy encounters a bevy of bold, brave, brilliant Disney and Pixar friends who encourage him to lead with his heart through rousing renditions of iconic Disney songs.
Tiana teaches Goofy the power of hard work to make a dream come true during a lively performance of "Almost There" from Disney Animation's "The Princess and the Frog."
Goofy navigates the big ocean blue, where Crush and Squirt — the tubular turtles from Pixar's "Finding Nemo" — show him how to "Go with the Flow."
In an original arrangement exclusive to this show, heroines Elsa, Moana and Merida perform a powerful medley of "Into the Unknown," "How Far I'll Go" and "Touch the Sky."
When Goofy loses his way and self-doubt takes hold once again, he gains the courage to "Go the Distance" with the help of Hercules and a host of heroes from a variety of Disney films.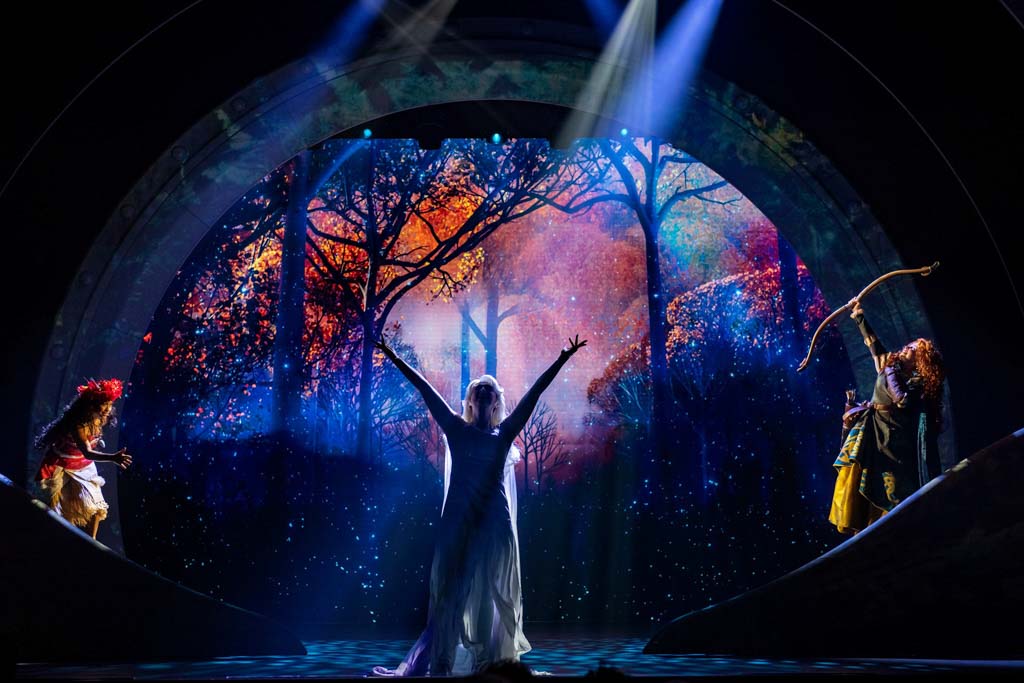 The adventure culminates in a cavalcade of characters joining Captain Minnie and Goofy on stage during a fond farewell before leading guests out of the theater and into the Grand Hall for an unforgettable sendoff experience — the ultimate "kiss goodnight" to close guests' first day on board.
We got a sneak peek at this show during our cruise, and we all loved it. The cast's talent was incredible, and we were all so blown away. I'm always amazed at the level of talent of the cast on Disney Cruise Line. The broadway-style shows are one of my favorite things about cruising on Disney Cruise Line, and on the Disney Wish, Disney does not disappoint. The cast and the inspiring story are a fantastic way to start your cruise. Don't miss this show!
3 – A Treasure Retold — 'Disney The Little Mermaid'
"Disney The Little Mermaid" is an original Broadway-style stage adaptation of the renowned 1989 Disney Animation film, developed exclusively for the Disney Wish. During this one-of-a-kind theatrical production, audiences rediscover the iconic scenes, acclaimed music and indelible characters of "The Little Mermaid" while experiencing the story like never before.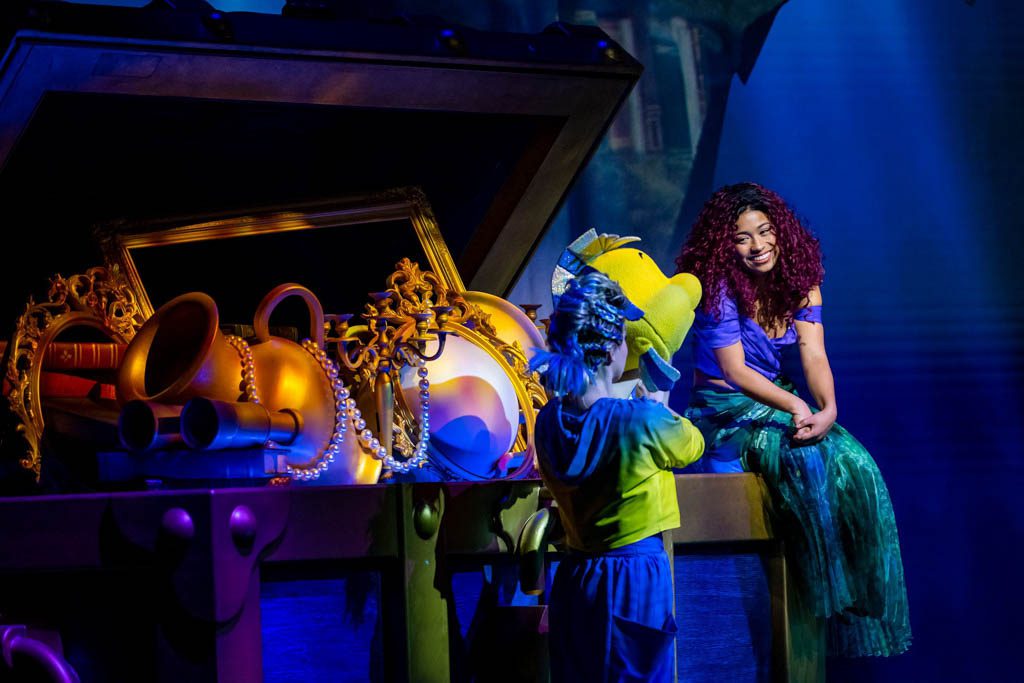 In this modern-day retelling, the curtain rises on an enchanted treasure chest at the moment it is discovered by a group of storytellers, led by a special young woman who has the power to unlock its magic. As they uncover the whozits and whatzits galore hidden within the trunk, the storytellers take on the roles of Ariel, Ursula, Prince Eric, Sebastian, Flounder and more, bringing to life the immersive undersea world right before guests' eyes. These exemplary performers put their own contemporary spin on the timeless story of a young woman's search for independence, love and a place in the world.
The creative minds at Disney Cruise Line joined forces with a team of top Broadway talent to bring this treasured tale to life through an elaborate, whimsical and resonant storytelling experience offering audiences a brand-new way to be part of Ariel's world.
"Disney The Little Mermaid" features innovative theatrical design, dazzling special effects, artistic choreography, and a reimagined script and score full of surprises for guests of all ages.
New orchestrations of favorite songs like "Part of Your World," "Poor Unfortunate Souls," and "Under the Sea" enchant audiences with moving ensemble pieces and production numbers.
Unexpectedly playful scenic designs and state-of-the-art video projections transform the Walt Disney Theatre into a 360-degree undersea environment.
Contemporary, interpretive costuming reflects the show's special blend of modern setting and mystical story.
Cutting-edge puppetry animates fantastical sea creatures and characters such as Sebastian, Flounder, Scuttle, and Flotsam and Jetsam in never-before-seen ways.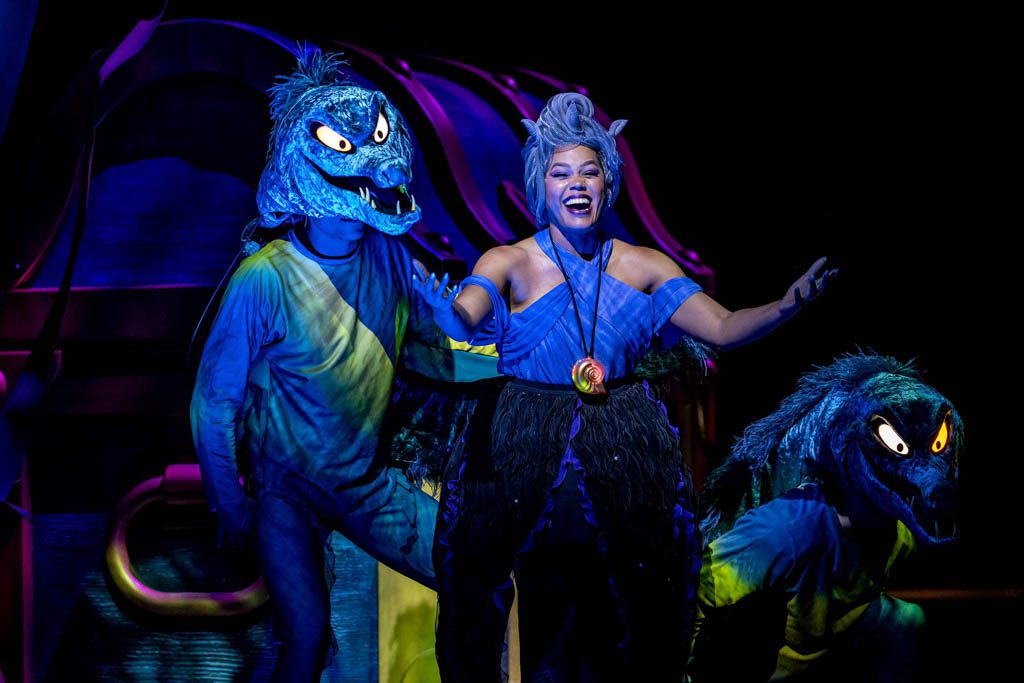 "'The Little Mermaid' is a timeless story, one that transcends generations," said Shelby Jiggetts-Tivony, vice president, creative and advanced development, Disney Live Entertainment. "Our hope is that this new stage adaptation aboard the Disney Wish continues that incredible legacy, not by simply reenacting the elements that make the original film so powerful, but by reinterpreting it in a way that resonates with the audience sitting in the theater each night."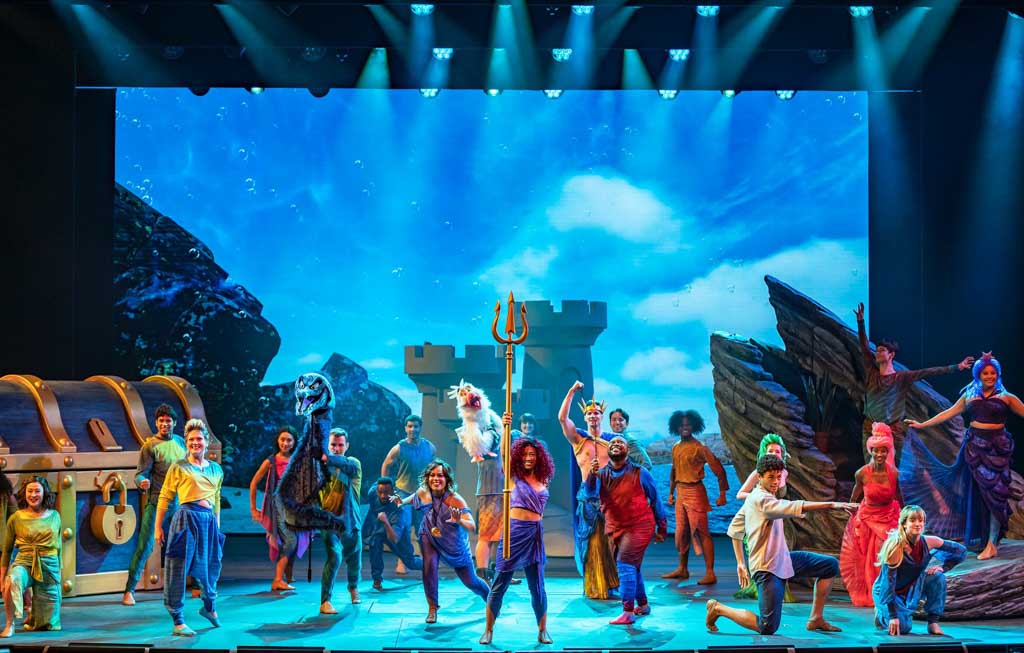 We were also fortunate to get a sneak peek at this show during our cruise and saw a few numbers performed. Once again, we were blown away by the talent. The puppetry is very similar to what you see with "Finding Nemo: The Big Blue… and Beyond" at Disney's Animal Kingdom. The way the puppets and the cast perform really adds to the story. The updated songs are familiar, yet the updated arrangements help make this a new and memorable experience for the audience. While we didn't see the entire show, we were super impressed with what we did see. We hope to see the entire show on another cruise on the Disney Wish!
4 – A Reimagined Favorite: 'Disney's Aladdin – A Musical Spectacular'
The Disney Wish will also feature a reimagined adaptation of "Disney's Aladdin – A Musical Spectacular," a guest- favorite show from across the fleet. This fast-paced musical comedy is based on the classic Disney Animation tale of Aladdin meeting the Genie, battling the evil Jafar and falling in love with Princess Jasmine.
Iconic scenes and songs from the movie are being re-created on stage with brand-new sets and theater-filling projection design developed exclusively for the Disney Wish. Highlights include a lively, Las Vegas-style rendition of "Friend Like Me"; a heartfelt performance of "A Whole New World" atop a flying magic carpet; and a solo performance for Jasmine titled "To Be Free," created for Disney Cruise Line by Grammy Award-winning composer Alan Menken.
5 – Inaugural Season
For its inaugural season through July 2023, the Disney Wish will offer three- and four-night cruises to Nassau, Bahamas, and Disney's private island, Castaway Cay, from Port Canaveral, Florida.
To learn more about Disney Cruise Line or to book a vacation, call our travel partners, Magical Vacation Planners at (407) 442-0227. You can also get a no-obligation, FREE vacation quote by clicking here.  Their services are free to you and can answer any questions you may have.
Editor's Note: Disney Cruise Line provided a complimentary Disney Christening Cruise with special media-specific events and tours during the cruise. However, as always, the thoughts and opinions contained in this article are entirely our own.
For a no obligation, FREE Quote on a Disney vacation package, please contact our travel partner Magical Vacation Planner at 407-442-0227 (407-442-0215 for Spanish). You can also request a FREE quote online by Clicking HERE.