Calling all night, owls! If you thought that there wouldn't be enough to do at Disney to allow you to sleep in and do Disney in the later hours, that would be a mistake. You don't have to be a morning person or totally change your routine (unless there are set things you really want to see/do, and they don't occur in the later hours) to enjoy Disney. You can still have a fantastic experience, and depending on your vacation goals, it may be the best experience! Here are seven reasons why staying up late may actually be the best way to do Disney:
7 – The crowd levels are lower.
Many of the families and groups with smaller children tend to head in a little early and head back to their resorts during the late-night hours. This means that if the parks are open later that you can expect far fewer crowds during the evening hours. This allows you to get on some of the most popular rides without the wait times that you would experience during the busiest part of the day. This can actually save you a lot of time and be a more efficient use of your time than being out and about during the daytime hours.
6 – Closing down, any one of the parks is impressive.
We love to be one of the last out of the parks. You can take amazing pictures in front of the icons or various attractions without the crowds and as many people in the background. Not only that, the walk through the parks without the crowds and congestion from all of the guests is so relaxing and way to really be able to take in the surroundings, notice the little details and really hear the music and audio tracks that are playing. Those are things that are sometimes lost when you are fighting the crowds or continuously on the watch for kamikaze strollers or scooters. The parks at night are absolutely gorgeous and a totally different, yet still very magical, feel than what you experience during the daylight hours. It is just as awe-worthy. If you stay and close down the Magic Kingdom, you also get to witness the "Kiss Goodnight," which many guests don't even know about. This is where the castle erupts with a light show and music as kind of a special farewell to guests. It usually occurs about a half-hour after the park closes.
5 – You'll always see the evening shows.
Some of Disney's best shows and experiences are the fireworks and evening parades and shows. Suppose you are there late at night. If you hit the ground running early in the morning, you may be too tired, or your feet won't stand for you to wait around and see these amazing shows. And let's face it, they are, in fact, AMAZING! Currently, you have Happily Ever After at Magic Kingdom, Fantasmic at Disney's Hollywood Studios, and the EPCOT Forever at Epcot. You definitely don't want to miss these, and you won't feel as tired and worn out for them!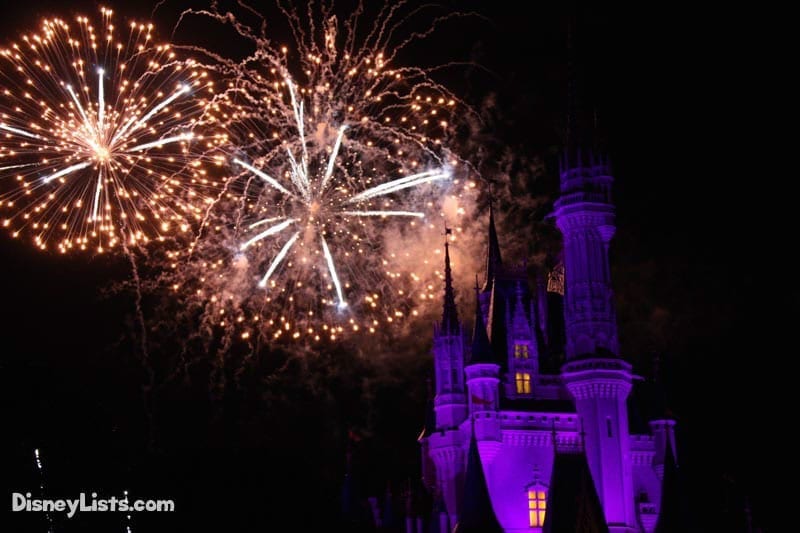 4 – Dining locations are usually less crowded and reservations are easier to get.
The peak eating times are your standard 5-7 PM dinner times. You can typically pick up some great reservations if you are willing to eat around 9 or 10 o'clock. This is especially true at Disney Springs, where restaurants are open much later. Parents usually have to feed their kids before then, leaving many reservations and restaurant availability open for the night crowd. The restaurants seem quieter to us later in the evening, which is a plus, too!
3 – Disney Springs and Disney's Boardwalk both have fantastic nightlife.
If you are a night owl and want to enjoy the nightlife, then Disney Springs or the Boardwalk are the places to be after the parks close! Both locations have restaurants, bars, and entertainment that are open until 12 AM. You can have drinks, dance, mingle with other vacationers, single along to the music and enjoy a stroll around the grounds. There is so much to do, and the locations are fantastic. There is definitely something for everyone. Don't forget about the lounges at the resorts, too. They aren't open as late as Disney Springs, but they are still great hangout spots for drinks and a fun atmosphere.
2 – Start your day in the most relaxing way.
So you stay up late, sleep in the next morning, and then wander out of bed, right? Well, you could easily start your day enjoying your resort pool! While so many other families are in the parks, you can take a dip in the pool with fewer crowds during the middle part of the day. It is a great way to start the day and get refreshed before you hit the parks. Plus, who doesn't love it if you get a less crowded pool?!?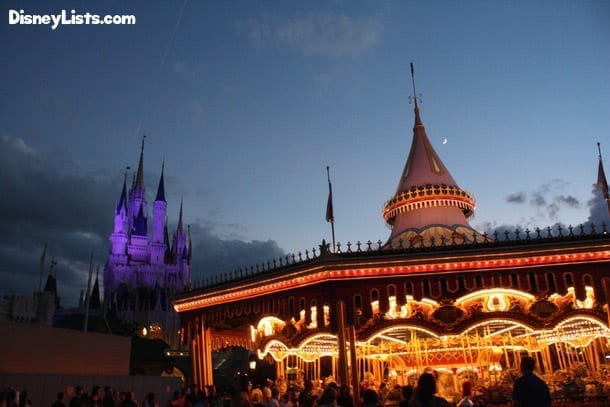 1 – Beat the heat!
This is definitely a selling point for being part of the night crowd. The Florida sun can be brutal. It still feels pretty brutal, even if the temperature isn't overly hot. The sun is just so powerful. If you skip the hottest part of the day around noon and then head out for the evening fun, you get to bypass the sun and enjoy most of your time when the sun is going down or it is dark. This can really make the temperature much more enjoyable and reduce your risk of getting sunburned! This is definitely helpful in the summer when the parks are open pretty late! Don't forget that if you are staying at a Deluxe Disney Resort, they also have Extended Evening Hours for resort guests (Deluxe resorts only) that extend the park hours at select parks on select evenings.
For a no obligation, FREE Quote on a Disney vacation package, please contact our travel partner Magical Vacation Planner at 407-442-0227 (407-442-0215 for Spanish). You can also request a FREE quote online by Clicking HERE.