Frontierland is one of the many lands to explore at Magic Kingdom. Nestled between Adventureland and Liberty Square are the sites and sounds of the gold rush, steam-powered trains, the progress of the past, cowboys, and the great American frontier. Here are nine reasons why we love Frontierland in Magic Kingdom.
9 – Theming
Disney Imagineers have brought the days of the American Wild West to Magic Kingdom, and their attention to detail helps to immerse guests into the American frontier fully. The attractions and décor completely embody the spirit of the American Wild West of the early 1800s. The earthy colors and buildings built from wood to look more like handcrafted buildings and cabins all bring the romance and the hope of the Wild West to Frontierland.
8 – Walt Disney Railroad Station
Taking the train is one of the most enjoyable ways to travel, and you can take the train to and from Frontierland. The train seems like the perfect way to travel when in Frontierland. It fits right in with the theming of the Wild West. Walt Disney was also very passionate about trains, which makes it a great way to remember and feel Walt Disney's influence when visiting Frontierland.
7 – Golden Oak Outpost
The Golden Oak Outpost is a counter-service location that serves drinks, treats, and snacks. It would be effortless to mosey on by this little gem on your way to Splash Mountain, but it is worth stopping here to refuel and enjoy your surroundings. The Specialty Waffle fries are the real attraction here. The toppings tend to change, but they're always delicious, be it something cheesy, or BBQ pork.
6 – Maple Popcorn
It's a scientific fact that Disney World popcorn is the best popcorn in the world. So, how do you improve on a Disney snack classic? Add maple. A new addition to the Magic Kingdom snack lineup is maple-flavored popcorn and the place to get it is Frontierland. We tried it, and we love it. Best of all, maple makes it a totally appropriate breakfast food!
5 – Frontierland Hoedown
About once a day in the late afternoon, cast members and characters gather in front of the Country Bear Jamboree for a good old-fashioned hoedown. Guests can join in, and it's one of the few times that some of the Country Bears can be seen outside of their show. It's a fun show to catch if you're in the right place at the right time.
4 – Pecos Bill Tall Tale Inn and Café
Pecos Bill recently went through a significant change, and they completely overhauled the menu. The Wild West theming stayed the same, which is one thing we definitely love about this quick-service restaurant, with its cozy interior, patio seating, and multiple dining rooms. And while we might miss the BBQ pork sandwich, we love the new menu with its Southwestern influence. Nachos, burgers, burritos, and even Churros are available at Pecos Bill. We also love that Disney keeps the classic short Pecos Bill alive in Frontierland with this great quick-service restaurant.
3 – Tom Sawyer Island
Tom Sawyer Island offers guests a place to stop and take a break in the shade, or go on an adventure and explore the cool caverns, Harper's Mill, and the forts, or run across the barrel bridge. Tom Sawyer Island can be what guests want it to be. A place to run around or a place to take a break and recharge. Either way, you'll feel as if you're in a completely different time and place once you walk off that raft and onto the island.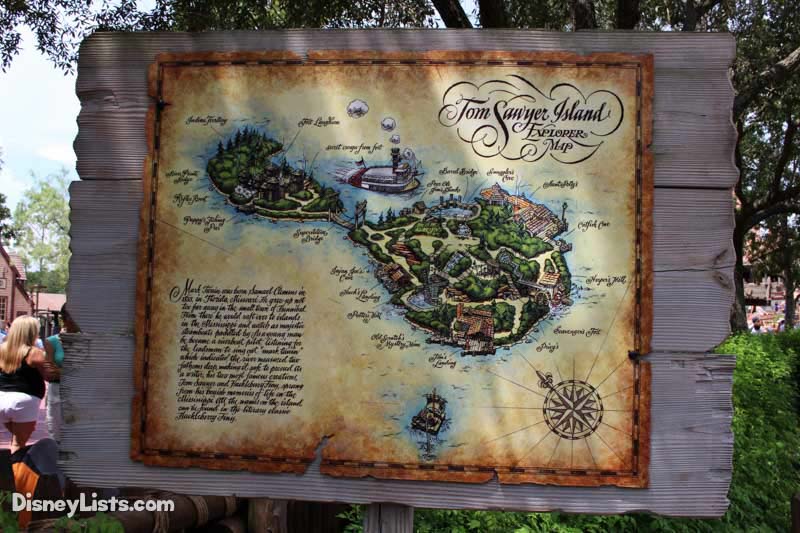 2 – Country Bear Jamboree
The Country Bears have been residents in Frontierland since Magic Kingdom opened its doors in 1971, and they continue to be a favorite among guests. The show features funny and endearing Audio-Animatronic bears singing country songs. What's not to love?
1 – Big Thunder Mountain Railroad
Big Thunder Mountain Railroad is the wildest ride in Frontierland, and we love it that way! Big Thunder delivers fun thrills for the whole family as the train races through the abandoned mine and the town of Tumbleweed. It seems like there is something new to spot every time you board the train. For a slightly different experience, hop aboard at night!
For a no obligation, FREE Quote on a Disney vacation package, please contact our travel partner Magical Vacation Planner at 407-442-0227 (407-442-0215 for Spanish). You can also request a FREE quote online by Clicking HERE.