Dining
7 Things to Know about Rainforest Cafe in Disney World
Are you in the mood for delicious food and a wild experience? Head to Rainforest Café – but first, here are 7 things we think you should know!
1 – Double the Wild
That's right, on Disney property you will find two Rainforest Café locations! Check out the Disney Springs location on the Marketplace side or the location at Animal Kingdom theme park. Whichever location you choose in your plans, you are sure to have a good time! Disney Springs location is great if you are ready for a day of shopping before or after you dine. If you decide to dine at the Animal Kingdom park location, you'll feel like you are dining with the animals in the park! Animal Kingdom Rainforest has a double entrance – one outside the park and one inside the park. No need to obtain a park ticket to dine at this location. The Disney Springs location has an especially awesome lounge called the "Lava Lounge". Enjoy one of the specialty drinks listed below with a great water view.
2 – It's a Jungle Out There
As soon as you see Rainforest Café, you'll understand the immense amount of details that go into these restaurants. Every nook and cranny holds something that pertains to the Rainforest. Lush greenery, fish tanks, animatronic gorillas, elephants, monkeys, and more! Where else can you dine that has a rainstorm every 30 minutes? The lights flash representing lightning, you'll hear thunder, see rain, and the animals will go crazy with excitement!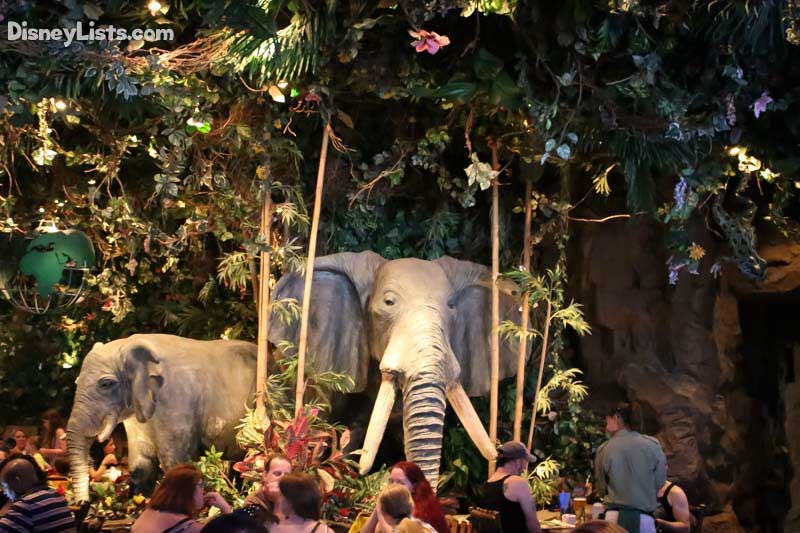 3 – As popular as Zootopia
On one of our first trips to Disney, we made the mistake of wanting to dine at Rainforest Café but didn't think we'd need dining reservations. We were wrong! Rainforest Café had actually stopped taking reservations so we had to find at an alternative dining option. This was a bummer for our kids, especially those who were looking forward to eating there. This isn't always the case, but we can say it is very popular and why chance it when you can make a reservation in advance. Look for that 60-days advanced dining reservation window and go ahead and check this reservation off your list.
4 – VOLCANOOOOO!
Rainforest Café has an excellent American cuisine menu. The many times we've dined at Rainforest, we've enjoyed trying something different but of course, have a few favorites. Among those favorites include the appetizer Beef Lava Nachos for Two, Rainforest Burger, Blue Mountain Chicken Sandwich – and the top of our list – Sparkling Volcano for dessert! This amazing dessert is a huge brownie with ice cream on top which looks much like a volcano. As servers bring this dessert to you, they yell "VOLCANOOOO!" several times. The sparkler in the middle is a cool touch for the kids! Lastly, the kid's menu at Rainforest is fantastic – by far one of our favorites at Disney for excellent variety. Our daughter loves the love the Lava Mud!
5 – Thirsty as an Elephant
Rainforest Café can take care of all your thirst needs! We feel this is a separate category because of the vast options at Rainforest. Kids will go crazy over the option of selecting an animal souvenir cup such as Cha Cha the Frog or Iggy the Iguana. Plus, they can use this cool souvenir at home time and time again! And adults – Rainforest bars are equipped with wines, beer, and specialty drinks. Of the specialty drinks we can say the Cheetah Rita and Tropical Getaway are worth upgrading to a souvenir glass!
6 – Rainforest Gear and More
Get ready to do some shopping! This is one restaurant gift shop that will surely surprise you by its' size and unique selection. Sure, Rainforest t-shirts and gear are available but this gift shop doesn't stop there! Drums, home décor, even jewelry with jungle themes can be purchased from Rainforest Cafe gift shop. If you are an animal lover, or have someone in your family who is, this is a great shop to visit even if you don't eat at Rainforest Café.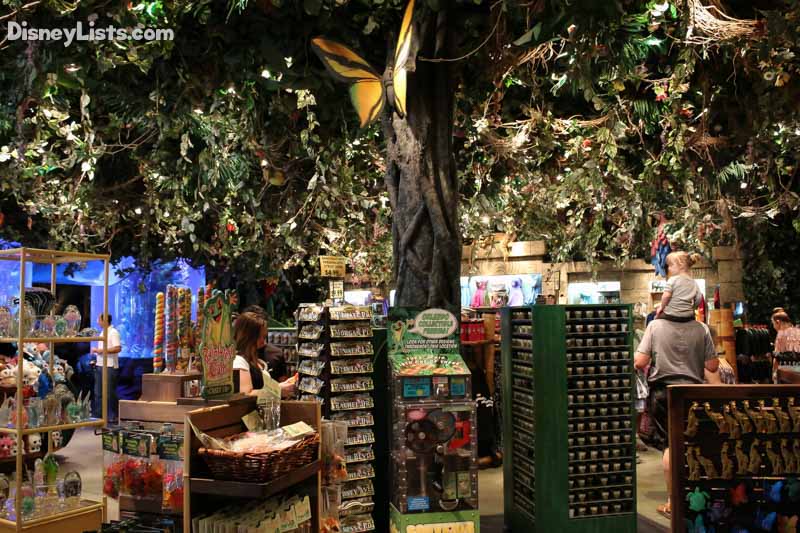 7 – A Noisy Adventure
We feel the need to mention the level of excitement at Rainforest Café. If you are looking for a quiet experience, this isn't the place for you! As mentioned above, the rain storm makes a good deal of noise, although it doesn't last terribly long. Plus, with the amount of people (lots of children!) in the restaurant with close seating, you might find yourself raising your voice to talk across the table. It's a fun and lively dining option which we love sometimes, but if you are tired and trying to avoid crowds and noise, you may want to plan for an alternative dining option.
Have you dined at either of the Disney Rainforest Café restaurants? If so, we'd love to hear about your wild experience!
For a no obligation, FREE Quote on a Disney vacation package, please contact our travel partner Magical Vacation Planner at 407-442-0227 (407-442-0215 for Spanish). You can also request a FREE quote online by Clicking HERE.