Even though temperatures are still in the mid to upper 90s, once the middle of August comes, fall and Halloween are in full swing at Disney World. One of the most popular parties or ticketed events at Disney World plays a big part in creating the Halloween atmosphere: Mickey's Not So Scary Halloween Party. And this party is just what it says, not scary at all, so it's fun for the whole family and is one of the best times to visit Disney World. Here are ten things to know about Mickey's Not So Scary Halloween Party in 2022.
10 – The History of the Paty
This Halloween party has been at Disney World for over 25 years now. Originally, back in 1975, the Halloween celebration was held at what is now Disney Springs. Following that was the Resort Halloween Party at the Contemporary. The very first Mickey's Not-So-Scary Halloween Party debuted in October 1995 and was only held on one night, and the cost of the ticket was only $16.95! Since 1995, the party has grown; Disney has the party on multiple nights. The party has really grown in the last ten years. In 2015 there were 25 parties, and now in 2022, 37 parties were offered.
9 – Go as Early as Possible
If you can, go to Mickey's Not-So-Scary Halloween Party in August or September because it tends to be cheaper and less busy. The closer you get to Halloween, the busier (and more expensive) the party gets.
The dates in 2022 for Mickey's Not-So-Scary Halloween Party are:
August: 12, 16, 19, 23, 26, 30
September: 2, 5, 9 , 11, 13, 16, 18, 20, 23, 25, 27, 29, 30
October: 2, 4, 6, 7, 10, 11, 13, 14, 16, 18, 20, 21, 23, 25, 27, 28, 30, 31
Editor's Note: All party dates have now sold out!
8 – Pumpkins
Pumpkins and Jack-O-Lanterns decorate Magic Kingdom, especially along Main Street U.S.A. Look up at the windows and the balconies lining Main Street, there are 90 hard-carved pumpkins, each with a different theme, so make sure you stop to admire them and maybe snap a picture or two. Disney does an amazing job creating a wonderful party atmosphere, and these pumpkins do the "trick!"
7 – Boo to You Parade 
One of the highlights of the party is Mickey's "Boo-to-You" Halloween Parade. The parade kicks off with a ride by the Headless Horseman himself. He is followed by a collection of frightening floats featuring Disney characters in Halloween costumes. There have been some new additions to the parade in the past few years. The best addition is the Spectral Bride from The Haunted Mansion. She appears in the parade alongside waltzing spirits and those famous Hitchhiking Ghosts. There is also a new collection of Tomorrowland-themed floats with Pixar pals, including The Incredibles and designer extraordinaire Edna Mode, as well as Buzz Lightyear and alien explorers on a planetary playset float inspired by Pixar's Toy Story films. The second parade tends to be less busy, but you'll still want to line up at least 30 minutes before to get a good spot.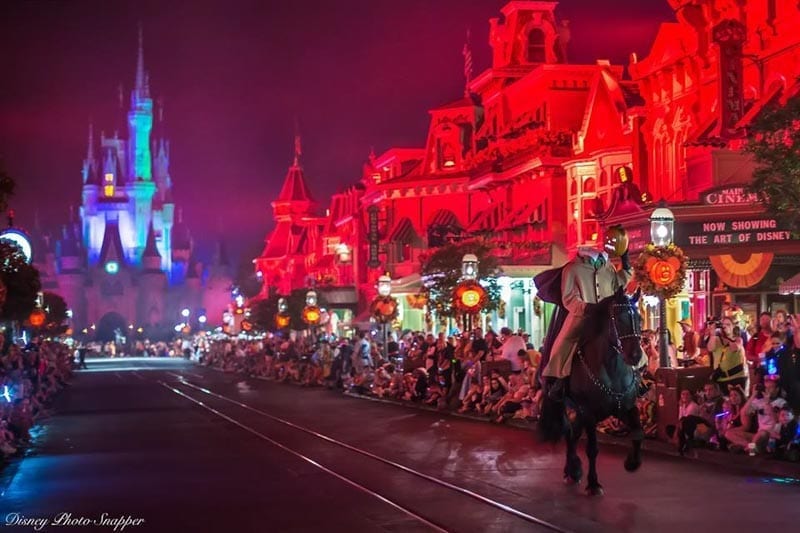 6 – New Additions for the 50th Anniversary Celebration
The 2022 Halloween party also includes some new additions in honor of the 50th Anniversary celebration. First, guests will receive a reusable trick-or-treating tote bag to use. In years past, the bag was a plastic bag. While small, this reusable bag is cute and a nice bag to take home as a souvenir.
Next, be on the lookout for some event-exclusive step-in photo opportunities. We found a Headless Horseman, Mr. Toad's Wild Ride, and a Monster's Inc. photo op. They are a lot of fun!
Finally, when guests leave the party, Cast Members will hand out a Halloween- themed 50thAnniversary celebration commemorative print.
5 – Special Photo Opportunities
One of the many things that make this party so special are the characters you can meet. You can meet the classics but with a Halloween Twist as they are wearing Halloween costumes. Past parties have seen Tarzan and friends, Moana, Captain Jack Sparrow, Jack and Sally from the Nightmare Before Christmas, Cruella DeVil, Lotso, and other classic characters. Make a point of seeing the characters right when the party starts at 7 pm. These lines do get long. Some characters, like Jack and Sally, come out early – as early as 5:30 pm – so line up as soon as you get there.
Photographers are also haunting special spots to capture your "boo-tiful memories." During Mickey's Not-So-Scary Halloween Party, guests can receive special Halloween-themed Magic Shots and Animated Magic Shots. Visit any of the PhotoPass locations in Magic Kingdom park to find out which "bewitching Polter-Guests" will magically materialize in your photos! Check the Party map for the exact locations of the magic shots.
4 – Amazing Fireworks & Projection Display
The "Disney's Not So Spooky Spectacular" lights the night sky during the witching season in a spellbinding display playing across the heavens. As host of the spectacle, Jack Skellington from Tim Burton's "The Nightmare Before Christmas" spins a not-so-scary tale about how anything can happen on Halloween night.
Jack's ghost dog, Zero, brings everyone along on a trick-or-treating adventure where four friends – Mickey Mouse, Minnie Mouse, Goofy, and Donald Duck – find themselves drawn into a haunted house. Encounters with dancing skeletons, waltzing ghosts, and wickedly troublemaking Disney villains make for a hair-raising adventure. It all comes to life with state-of-the-art projection effects, lasers, lighting, and dazzling fireworks. You don't want to miss this one!
3 – Fabulous Stage Show: Hocus Pocus Villain Spectacular
Returning again this year is the "Hocus Pocus Villain Spelltacular" show! Disney villains will create a Hocus Pocus Party Potion that will cast a spell on everyone in Magic Kingdom! Expect to see the Sanderson Sisters (from "Hocus Pocus"), Dr. Faciller, Oogie Boogie, Maleficent, and other Disney villains! Combine them and other great Disney villains with amazing dancers, wild visual projections, and otherworldly special effects to make Hocus Pocus Villain Spelltacular a not-to-be-missed Halloween treat! This show is performed multiple times at the Castle Forecourt Stage multiple times throughout the evening.
2 – Special Treats and Merchandise
Disney never disappoints when it comes to special desserts and snacks during the holidays or special events, and Mickey's Not-So-Scary Halloween Party is no exception. This year Disney has scared up some fantastic treats. Here is a rundown of the treats you can find! Another highlight of the party is stocking up on the limited merchandise. There are plenty of pins and t-shirts to satisfy any guest. In 2022, the merchandise is found only at the Emporium.
1 – Disney Genie+ and Lightning Lanes
A big thing to be aware of is that Disney Genie+ and Individual Lightning Lane attractions are not available for purchase during the party, but it's okay because there tends to be less of a need for them. Genie+ can be used from 4 pm-6 pm, but not after. Most guests tend to participate in special events and experiences around the park, so the wait times for the rides are usually not as long as they are during the day!
Heading out to the party this year? Check out our other Halloween party articles as well!
Click here for our review of the 2022 Mickey's Not So Scary Halloween Party.
Click here for our 13 tips and tricks for Mickey's Not So Scary Halloween Party.
Click here for more about the entertainment during Mickey's Not So Scary Halloween Party.
Click here for our Instagram Story with photos and video from our visit to Mickey's Not So Scary Halloween Party.
For a no obligation, FREE Quote on a Disney vacation package, please contact our travel partner Magical Vacation Planner at 407-442-0227 (407-442-0215 for Spanish). You can also request a FREE quote online by Clicking HERE.