News
NEWS: New Details Revealed for Splash Mountain Replacement, Tiana's Bayou Adventure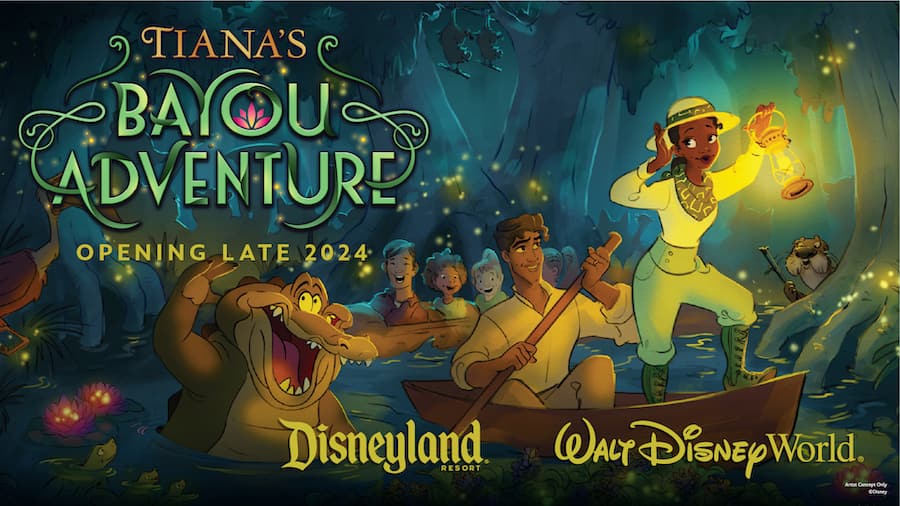 At D23 Expo 2022, Disney Parks, Experiences and Products Chairman Josh D'Amaro shared a look into the future for Disney theme parks and beyond. The presentation revealed new details about Tiana's Bayou Adventure, the attraction replacing Splash Mountain at both Magic Kingdom and Disneyland. Learn more below.

Imagineers joined D'Amaro onstage to discuss new story details for Tiana's Bayou Adventure, coming to Disneyland Resort and Walt Disney World Resort in late 2024. It was revealed that several members of the original film cast will return to lend their voices to the attraction, including Anika Noni Rose as Tiana, Bruno Campos as Naveen, Michael-Leon Wooley as Louis, and Jenifer Lewis as Mama Odie.
Disney Cast Member Kelsey Lynch shares more new details below:
The new attraction's story will pick up right where "The Princess and the Frog" left off. At the end of the film, Princess Tiana realizes her lifelong dream when she opens her restaurant, Tiana's Palace. We pick up the story during Carnival season, when Tiana is hosting a party for the people of New Orleans. She discovers her celebration is missing a key ingredient and needs our help to find it. On Tiana's Bayou Adventure, we'll join Tiana and Louis on a trip to the bayou, where they meet all sorts of unexpected new friends who have a special role to play at the party.
The attraction will get a whole new look and feel. Plus, Imagineers are blending tried-and-true techniques with the latest technology to make this feel like an entirely new attraction.
The attraction is set to open in late 2024.
During the Expo, fans had a chance to view a new model of the attraction along with new artwork that expands upon the next chapter of Tiana's story. Take a look below.
RELATED ARTICLE: NEWS–Splash Mountain Re-Themed Name & Opening Announced
Back in June 2020, Disney announced that Splash Mountain would be rethemed at both Magic Kingdom Park and Disneyland with a Princess and the Frog theme. Few details have been released on the project since then. However, this week Disney announced the new name for the attraction and the opening timeframe for the new ride. Learn more below.
Here are all the details from Carmen Smith, Senior Vice President, Creative Development – Product/Content & Inclusive Strategies:
Tiana's Bayou Adventure Coming to Disney Parks in Late 2024  
Strike up the band because we've saved a seat for you on this musical journey with Tiana and friends! The name of the new attraction evolving from the reimagining of Splash Mountain was announced today during ESSENCE Fest in New Orleans: Tiana's Bayou Adventure. The all-new adventure will bring guests into the world of Walt Disney Animation Studios' film "The Princess and the Frog" like never before is coming to Magic Kingdom in Florida and Disneyland park in California in late 2024.  
Walt Disney Imagineers have been frequent travelers to Louisiana while conducting extensive research to ensure Tiana's Bayou Adventure preserves the heart and soul of the city that inspired Princess Tiana's story. From exploring the French Market and the bayou, to consulting with academics, chefs, musicians and cultural institutions, Imagineers have received inspiration from all over the region and learned from local experts along the way. 
This research was explored in detail today at the French Quarter's historic Preservation Hall during an intimate event held in honor of ESSENCE Fest, happening this weekend in New Orleans. With its own distinct history bringing people together, Preservation Hall was the ideal location to celebrate an attraction where music and community are at the heart of a transformational journey.  
The celebration included a panel moderated by Victoria Uwumarogie, senior lifestyle editor at ESSENCE Magazine. Joining me in this discussion were colleagues and friends Charita Carter, executive producer of relevancy activations at Walt Disney Imagineering, Ted Robledo, executive creative director at Walt Disney Imagineering and Stella Chase, daughter of the late Chef Leah Chase who inspired Tiana's story. Guests were treated to live art demonstrations provided by emerging talent from YAYA Arts Center, an organization we've engaged to commission artwork from alumna Sharika Mahdi. Music from the world-renowned Preservation Hall Jazz Band echoed throughout the hall, along with a performance by the voice of Mama Odie and living legend herself, Jenifer Lewis.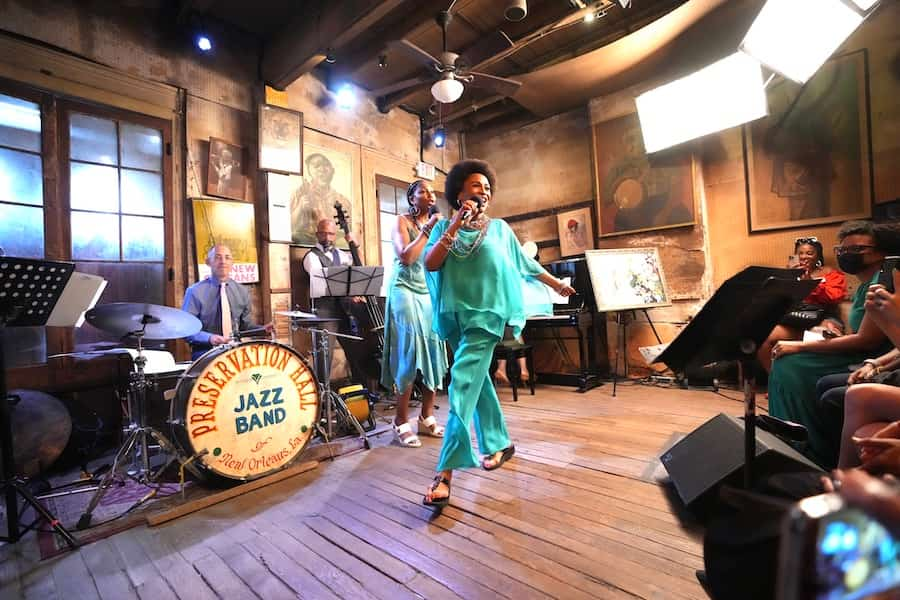 Guests are in for a true treat with local flavor when Tiana's Bayou Adventure opens in late 2024. As Charita Carter shared, "in many ways, Tiana's Bayou Adventure is a love letter to New Orleans. Like the musical city that inspired this attraction, Tiana's second act is about a community working in harmony to achieve something extraordinary. She reminds us of an immutable truth we can all relate to: 'if you do your best each and every day, good things are sure to come your way.' And that's a melody we can all sing along to!"  
To be able to join New Orleans in the celebration of Black joy as we bring Tiana's story to its roots is a full-circle moment I'm so proud to realize. Ted Robledo added that "the joie de vivre that animates this region so brilliantly not only inspired Tiana's journey, but also our team at Walt Disney Imagineering." It's our intention to do that jubilant spirit justice when advancing the storyline of Princess Tiana at our parks. 
First announced in 2020, Tiana's Bayou Adventure will take guests on a musical adventure inspired by the beloved story and characters from the fan-favorite film. Picking up where the film left off, guests will join Princess Tiana, Naveen and jazz-loving alligator Louis on an adventure through the bayou as they prepare to host a one-of-a-kind Mardi Gras celebration where everyone is welcome. Along the way, guests will encounter familiar faces, make new friends and travel through the bayou to original music inspired by songs from the film as they are brought into the next chapter of Tiana's story.
Tiana's Reimagined Look
Later in the day, Costume Designer Ida Muldrow from Disney Live Entertainment joined Ted, Charita and me at the ESSENCE Fest center stage to reveal Tiana's new look for the attraction. In a panel moderated by Yvette Nicole Brown, the team discussed their meticulous approach to cultivating this all-important aspect of Tiana's second act.
From researching prevailing trends of the 1920s – the era in which our story takes place – to looking through family archives, the team ensured Tiana's look was historically accurate and authentic to the character. "Tiana was equally at home in the bayou as she was at a banquet," Muldrow said. "We wanted her look to reflect that, and be a compliment to the story's setting."
Attendees heard about the creative process as well, and the considerations taken in developing a unique hairstyle for Tiana. The team placed emphasis on the versatility of Black women's hair and its significance to our identity across geographies and generations.
There's an important story about the Black community that needs to be told, and to be able to do it at ESSENCE Fest is something special. Ida shared in our intention and enthusiasm for revealing this concept at ESSENCE Fest. "Our efforts are a tribute to the beauty and dignity of all the proud Black women who came before us," Muldrow said. "And to their great-grand daughters joining us on the journey today, we're celebrating with you." Our team has spent a great deal of time to ensure our representation of Tiana is authentic, and giving festival goers a first look at that research proves we're doing something right.
Keep your ears perked and eyes peeled for more updates relating to Tiana's Bayou Adventure. We look forward to bringing you along for the journey as we embark on this exciting endeavor, together.
For a no obligation, FREE Quote on a Disney vacation package, please contact our travel partner Magical Vacation Planner at 407-442-0227 (407-442-0215 for Spanish). You can also request a FREE quote online by Clicking HERE.