We all have a little bit (if not a whole heap a lot!) of the Disney World fever permanently written into our souls! So, let's check out what we've gathered as being the ten most classic Disney World souvenirs that every ultimate Disney World fan just has to have!
10 – Salt and Pepper Shakers
Throughout several of Disney's gift shops, guests can find Disney style Salt and Pepper Shakers. There is a great assortment that leave us wanting to collect them all! We've seen Mickey and Minnie ears, Beauty and the Beast, Mickey and Pluto, Tigger and Pooh, Donald and Daisy, Cinderella and Prince Charming, Lady and the Tramp – and more! If it seems like almost every Disney duo has a Salt and Pepper Shaker created at Disney at some point in time or another. Owning one of these souvenirs makes for a great dinner centerpiece or addition to Disney collectibles!
9 – Mickey Mittens
When the parks first open and guests flood in, have you ever noticed the Disney Cast Members that stand outside of the shops and wave with Mickey Mittens? We've always loved this little special experience. Guess what – you too can own your own pair of Mickey Mittens! The most popular ones are, of course, Mickey's Mitten, but we've also seen Stitch Mittens and an assortment of colorful mittens.
8 – Disney Jewelry/Watch
Ladies and Gentlemen, Boy and Girls – it doesn't matter what category you fall into, it's likely if you're an ultimate Disney fan you have some form of Disney jewelry or watch. Earrings, necklaces, rings, bracelets, watches… the list goes on. We especially love the unique pocket watches found at various locations.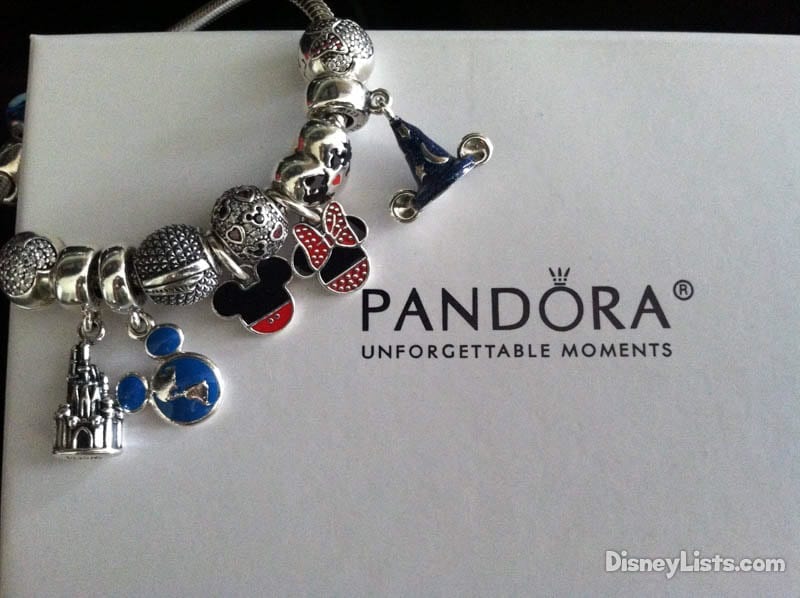 7 – Disney Frame
Capture that ride photo, that magical moment, and your favorite memory from your Disney vacation. What better way to display that photo than with a Disney Frame, of course! We're pretty sure every gift shop we've ever walked into at Disney has some sort of frame available. Fancy, simple, colorful, classic – just about every type of frame you can imagine to match your home or office décor.
6 – Mugs
We need more room in the kitchen because we would easily fill up our cupboards with Disney mugs! Once again, in just about every gift shop, mugs come in all sorts of shapes, colors, and sizes. It seems like every character imaginable is available with either their face on the mug or their color scheme. Plus, mugs are available with names on them, such as Grandpa or Grandma. If you like little sayings on your mugs, Disney has those too, such as a Grumpy mug stating, "Beneath this Grumpy exterior beats the heart of a dashing hero." We especially love the theme park mugs and the little Chip mug from Beauty and the Beast.
5 – Refillable Mugs
The true sign of a regular visitor to Disney World is if they have a bunch of the refillable mugs from their different trips over the years in their cabinets. Changing in design yearly, it's a fun hobby to collect them from each trip. Sure, you can't use them again on your next trip (unless you have them update the chip inside), but you can use them regularly at work or whenever the need arises. Let the memories flood back to you as you take a swig of your drink of choice!
4 – Trading Pins
Pins, Pins, and more Pins! It's not possible to make a trip into the Disney parks or a resort gift shop without spotting a bountiful supply of Trading Pins. Purchase a lanyard or collectible pin book and set out to begin pin trading with Cast Members and/or other Disney guests. It's a fun, social activity! Be one of those out of control – must have all of the trading pins – person, or keep your pins to a simple few. Whatever you fancy, have a good time with it!
3 – Personalized MagicBand
Receive a discounted MagicBand when staying at a Disney Resort or when becoming an Annual Passholder. But, take that one step further and spend a little money on a personalized MagicBand. We especially love the D-Tech shops at Magic Kingdom (Space Mountain gift shop) and Marketplace Co-Op at Disney Springs D-Tech shop. Characters, names, colors –a MagicBand can be an excellent souvenir that can be used on repeat trips time, and time again.
2 – Autograph Book
Young and old alike… there is no shame in wanting to collect as many characters' signatures as your little heart desires! It's fun to look back at the autographs over the years and reminisce about when you visited the different characters and which autographs were maybe the hardest to obtain. So, snag an autograph book from one of Disney's many gift shops and hit up some character meet and greets to get the memories flowing.
1 – Mickey Ear Hats and Headbands
Did you think anything else could be number one except for Mickey Ear Hats and Headbands? Of course not! A rite of passage in our household is to have the original, essential Mickey Ear Hat with the name inscribed on the back. Since we were little, Mickey Ears Hats and Headbands have taken on all new shapes, sizes, and colors! Different characters (Minnie, Pluto, Donald, Goofy, Stitch, etc.), various attractions (Haunted Mansion, Pirates of the Caribbean), Celebrations (Happy Birthday, Newlyweds, etc.), Star Wars, and the newest hats – Glow with the Show. Go ahead and collect them all – we surely won't judge you!
How many of these ultimate Disney World fan souvenirs do you have? Any other souvenirs you would add to the list? We'd love to hear from you!
For a no obligation, FREE Quote on a Disney vacation package, please contact our travel partner Magical Vacation Planner at 407-442-0227 (407-442-0215 for Spanish). You can also request a FREE quote online by Clicking HERE.