Since its opening in April 2015, The Boathouse has been a welcome addition to the newly refurbished Disney Springs area. The Boathouse offers fine dining, multiple bars, a lounge, a retail store, and amphicars! Here's the short review – It's fantastic! These are the top seven tips for planning your outing to The Boathouse.
7 – Reservations
While not always necessary, we recommend getting a reservation at the Boathouse. If you know you definitely want to dine there, start checking 60 days out, right at 6 a.m., as that will give you the best chances of making a reservation. You may also want to set the search to "lunch" or "dinner," rather than a specific time of day. Reservations can be made by calling 407-WDW-DINE or at the Disney website.
6 – You Can Drive on Water
The Boathouse features nine rare amphicars that drive on both land and sea! Tours are available from 10 a.m. – 10 p.m. and are offered hourly. The cost is $125 per car and hold the driver and 2 more people. Walk-up reservations are available.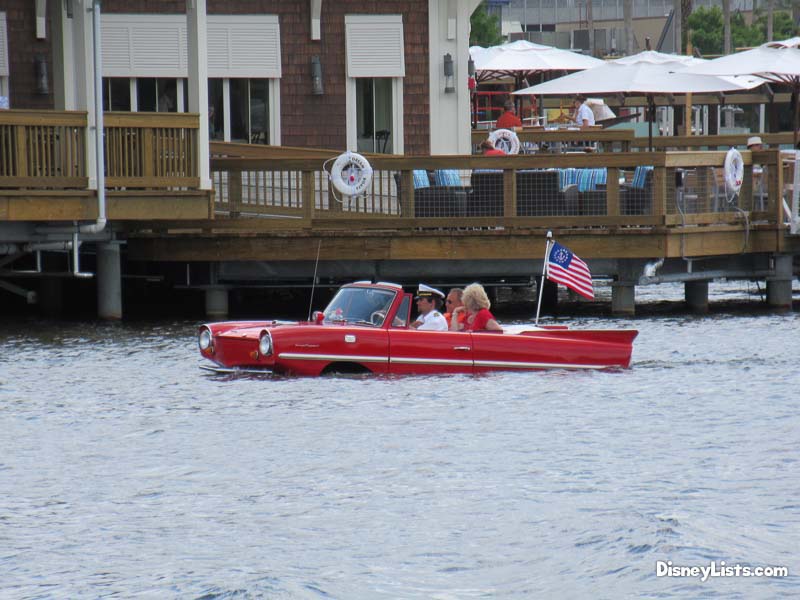 5 – It Doesn't Have to Break the Bank
Editor's Note: At this time, the Disney Dining Plan is temporarily unavailable. However, Disney has confirmed that they will return. 
The Boathouse is a signature restaurant, so the prices reflect that. However, even if you are on a budget, The Boathouse can be within your reach. First, consider coming for lunch. The prices are reduced, but you get the same great food. Also, if you are a Walt Disney World Passholder, you will receive 10% off your meal with photo id and your passholder card. If you are on the Disney Dining Plan or Deluxe Dining Plan, be aware that on the meal will use two credits for either lunch or dinner. The Premium or Platinum Dining Plan uses only one credit for lunch or dinner. Also, see tip #2 because you'll be able to share dishes easily, which will also reduce your overall bill.
4 – Amazing Atmosphere
The Boathouse is expertly decorated. They have taken the nautical theme and went above and beyond. Some tables are even boats! You also can't beat the view. Situated right on the water, you have beautiful views of Saratoga Springs and the lagoon. If you time it right, you'll also get a great view of the sunset.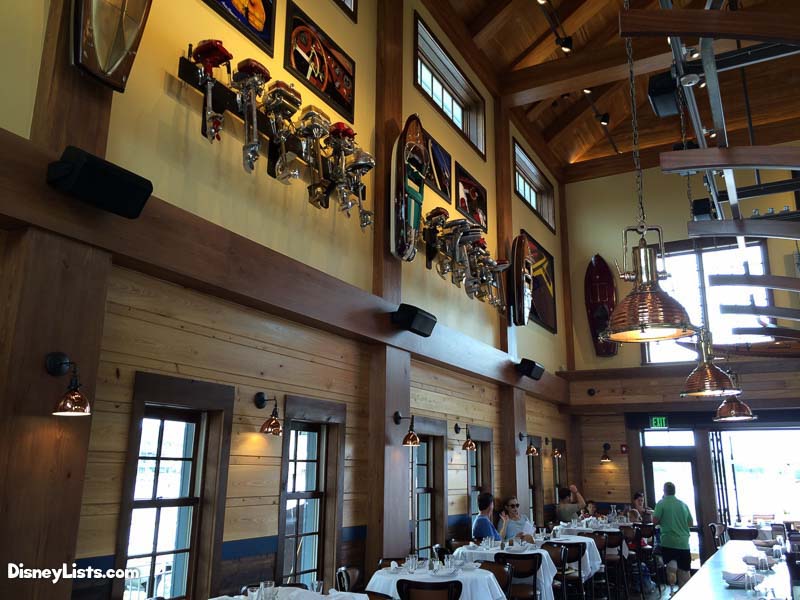 3 – Bring a Jacket
Like most Disney restaurants, the air conditioning is on full blast to spare you from the hot Orlando heat. However, they've found another level and made it more like a meat locker. So, if you tend to get cold, bring a jacket with you.
2 – Bring an Appetite
The portion sizes at The Boathouse are substantial. Dishes could be easily shared if desired. You can also order off the sides menu for a main dish. My daughter, who is our pickiest eater, wanted the mac and cheese. Since she is too old for the kid's menu, she ordered a side of mac and cheese. It turned out to be large enough to be its own meal, and at $12 turned out to be a bargain. Also, when they say the sides are sharable, they mean it! Sides could easily feed 2-3 people.
1 – The Food is Amazing
So, the food is a little more expensive but is it worth it? The resounding answer is yes! The food is delicious, and it's an excellent edition to the Disney Springs lineup. Even the bread at the beginning of the meal was fantastic. We talked more about the bread than anything else! I'm not going to lie to you, it was our favorite part of the meal.
Our steaks were excellent and cooked just right, which is increasing a rare art. Our consensus was that The Boathouse provides one of the best steaks on property (California Grill remains #1). One member of our party had a cheeseburger, which was a solid A-. We've also been back many times to enjoy other menu options and have never been disappointed.
The sides were delicious and, as mentioned before, ridiculously large. They say the sides are made for sharing. They aren't lying. There wasn't anything we tried that missed the mark. Everyone was happy with their meal, and everyone left very full.
For a no obligation, FREE Quote on a Disney vacation package, please contact our travel partner Magical Vacation Planner at 407-442-0227 (407-442-0215 for Spanish). You can also request a FREE quote online by Clicking HERE.