Since Disney introduced pin trading back in October 1999, it has become a fun way to interact with Disney cast members and other guests. Whether you go for pins that randomly capture your fancy or focus in on particular themes or series, pin trading can become a fun, although expensive, activity for your family to experience!
However, as much as we love trading early and trading often, I've found myself buying pins that I didn't ever plan to trade. I wanted unique souvenirs that would serve as visual reminders of what we celebrated and did on a particular trip. Below is my list of pins that I buy during every one of our Disney Vacations to officially record the experience. Our keepsake pin collection has become a diary of sorts for us.
10 – Walt Disney World, Disneyland, or Disney Cruise?
Where are you headed? Walt Disney World? Disneyland? A Disney Cruise? Why not commemorate where you visited with a Disney Pin. For Disney Cruise Line, I've started collecting the pins of the ships we have sailed on (along with a special theme). I also made sure to pick up a Castaway Cay pin. We've also been fortunate to tour the Walt Disney Studios and Walt Disney's office in Burbank. We also can't wait to get back and get more Disneyland pins.
9 – Current Year
Every year Disney releases several different pins that have the current year featured. I always pick one 'year' pin as a really neat reminder of when we travel to Disney. If I travel twice in one year, I get a second-year pin with a different character or design.
8 – Disney Resort
Every Disney resort, including the campground, has its own collection of distinct Disney pins. A Disney resort pin is a great keepsake and a reminder of the resort you stayed at for that trip. If you are visiting over the Christmas Season, Disney also releases special Holiday pins for each resort. We purchased a 'Happy Holidays' Coronado Springs resort pin one year because we stayed there in early December.
7 – Disney Celebration/Theme
Disney loves to celebrate! There is usually a specific theme Disney uses to promote visits to their parks. Magical Gatherings, Happiest Celebration on Earth, 50 Years of Disney Parks, Where Dreams Come True, A Year of a Million Dreams, Celebrate Everyday, and Let the Memories Begin are all past Disney Themes of Celebration. This is another unique pin that will commemorate your current trip.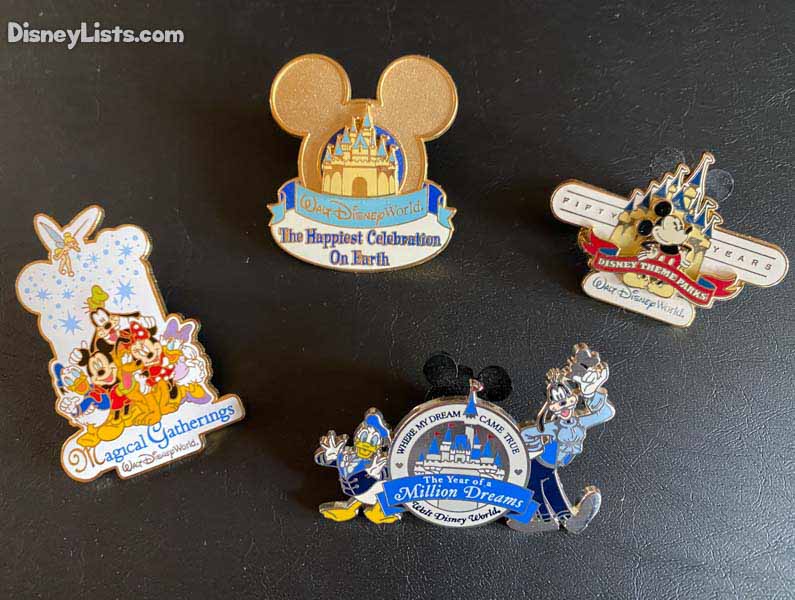 6 – Current Trends—Think Time Capsule
Most people buy pins of the characters and movies that they like. We like to purchase a few pins of what we like at that time as another visual reminder of what's going on in our lives during that trip. For example, we visited once during the height of the Pirates of the Caribbean movie craze, so we bought a few because we loved the movies. One year, we purchased a special Tinkerbell pin for my daughter because she was just in love with her. In 2006, we bought High School Musical pins. You get the idea. The point is that we purchase pins of things we like to remind ourselves what was going on in Popular Culture during that trip.
5 – Favorite Park or Area
We all have our favorite park or Disney area that we go back to. Different trips might take you back to different parks depending on if you have kids, how old they are, what your goals are for your trip, etc. We choose our favorite park as a family. I'll ask the kids what park they most enjoyed. When they were very young, they would say Magic Kingdom. As they got older and could ride more thrill rides, it would change to Hollywood Studios and Animal Kingdom. We chose Epcot one year because we were visiting during the Food & Wine Festival. And once, we chose ESPN's Wide World of Sports because we were participating in a RunDisney event.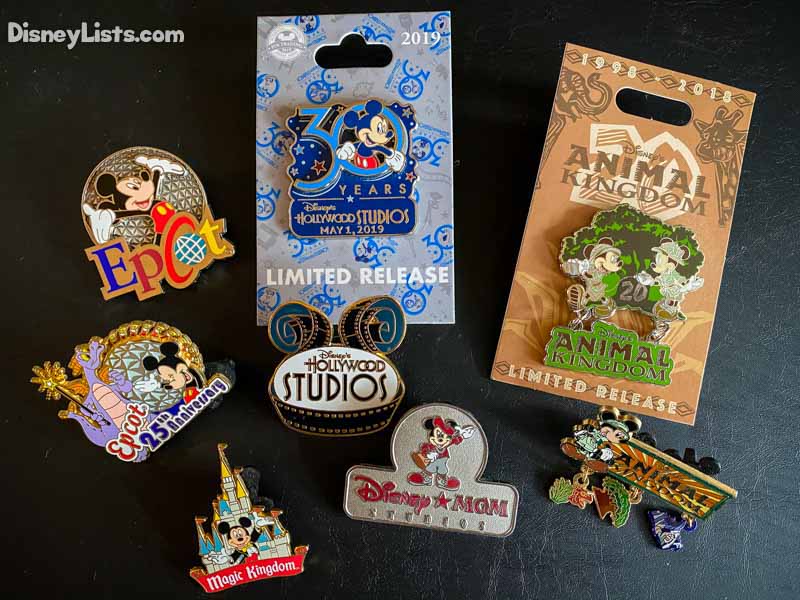 4 – Most Memorable Attraction
Every trip to Walt Disney World brings different ride experiences. To commemorate those experiences, I purchase a pin. For example, my son eagerly awaited when he would be tall enough to ride Test Track. He was so excited when he finally rode it, so we purchased a pin as a reminder. On one trip back in 2007, we bought a Haunted Mansion pin because it was the first time we rode it after a refurbishment, and we loved the changes. Other ideas for Most Memorable Attraction pins could be the first time riding experience or first time seeing a show, the ride we rode the most, the attraction that was the most fun, the ride that we keep talking about, etc. Whatever the measure, buy a pin to commemorate that one attraction that stood out for that trip.
3 – Holidays
With all of the holidays that we celebrate, chances are you'll be visiting during a holiday. The obvious ones are Halloween, Thanksgiving, Christmas, and Easter. But Disney also has pins for Valentine's Day, St. Patricks Day, Mother's Day, Father's Day, and other smaller holidays.
2 – Personal Celebration
We all know that Disney loves to celebrate! If you visit during a personal celebration like graduation, a birthday, a wedding, an anniversary, etc., you can find a pin to commemorate that celebration! Also, don't forget a "My First Visit" pin for your first visit.
1 – Special Event
We tend to visit during special events and always purchase a pin to remember it. Special Events include: Epcot Flower & Garden Festival, Star Wars Weekends, Mickey's Not So Scary Halloween Party, Epcot Food & Wine Festival, Mickey's Not So Scary Halloween Party, Epcot Festival of the Holidays, Mickey's Very Merry Christmas Party, any RunDisney event, etc.
Tip: Disney also releases exclusive special event pins that are only available to Passholders and DVC Members. Be ready to show ID and either your Annual Passholder Discount Card or DVC Member card. These exclusive pins are found only at specific locations. Find pins for Epcot Events at Pin Central in World Celebration. For Magic Kingdom Events go to The Emporium or The Trading Post.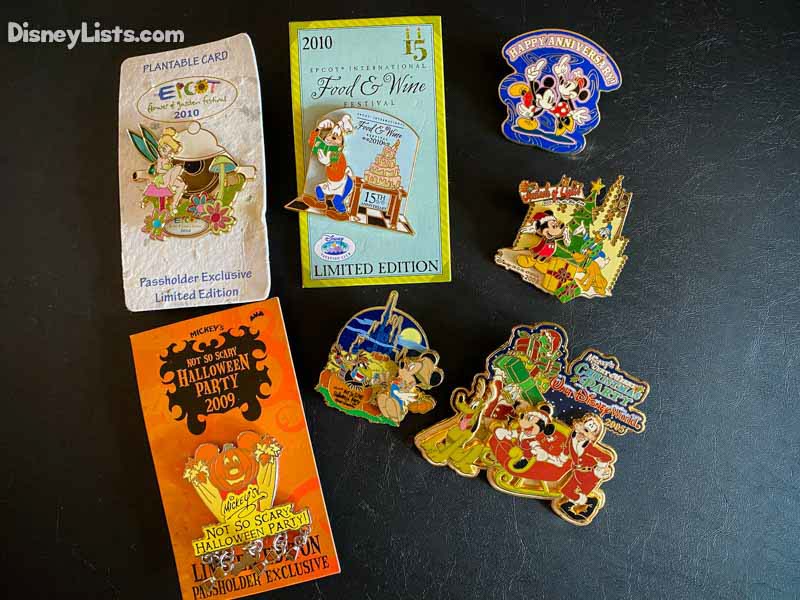 So I have a bunch of pins, now what?
So, after your trip, you may be wondering how you are going to remember why you bought a particular pin. Take a few moments while the memories are fresh to write down why you bought a pin. I have a spreadsheet (don't laugh) that includes the trip date, the pin's name, and the special significance of each pin. I want to remember why I bought it and why we liked it. Some of you more crafty people can suggest some way to display the pins. I have, on many occasions, looked through the pins and was brought back to a magical time and place with wonderful Disney memories!
I'm Home. I Wish I Had Bought a Pin. What do I do?
Sometimes, you need to step away from an experience for it to make an impression. We have come home from trips, and I might experience regret that I didn't purchase a certain pin. All is not lost. You still might be able to purchase the pin you want.
There are two things you can do if you want to buy a pin from home:
Disney now sells certain pins online. You can find the pins at the Shop Disney site.
If you cannot find the pin you want directly from Disney, there are many available on eBay. Buyers beware that there are scams on eBay. Always choose reputable sellers. Always make sure the pins are true Disney pins and not knockoffs. All Disney pins have an "Authentic, Official Pin Trading" stamp on the back of their pins. Be sure to ask the seller if the pins have the official stamp before your place a bid. eBay can be a lifesaver. We went to Mickey's Not So Scary Halloween Party in 2004. That was our first time ever going to a special event, and we didn't even realize they had party pins until we came home. Thankfully, my husband found a party pin on eBay and my collection is complete!
For a no obligation, FREE Quote on a Disney vacation package, please contact our travel partner Magical Vacation Planner at 407-442-0227 (407-442-0215 for Spanish). You can also request a FREE quote online by Clicking HERE.