Disney's Hollywood Studios
Fantasmic! is Back! – 10 Things to Know About the Updated Nighttime Spectacular at Disney's Hollywood Studios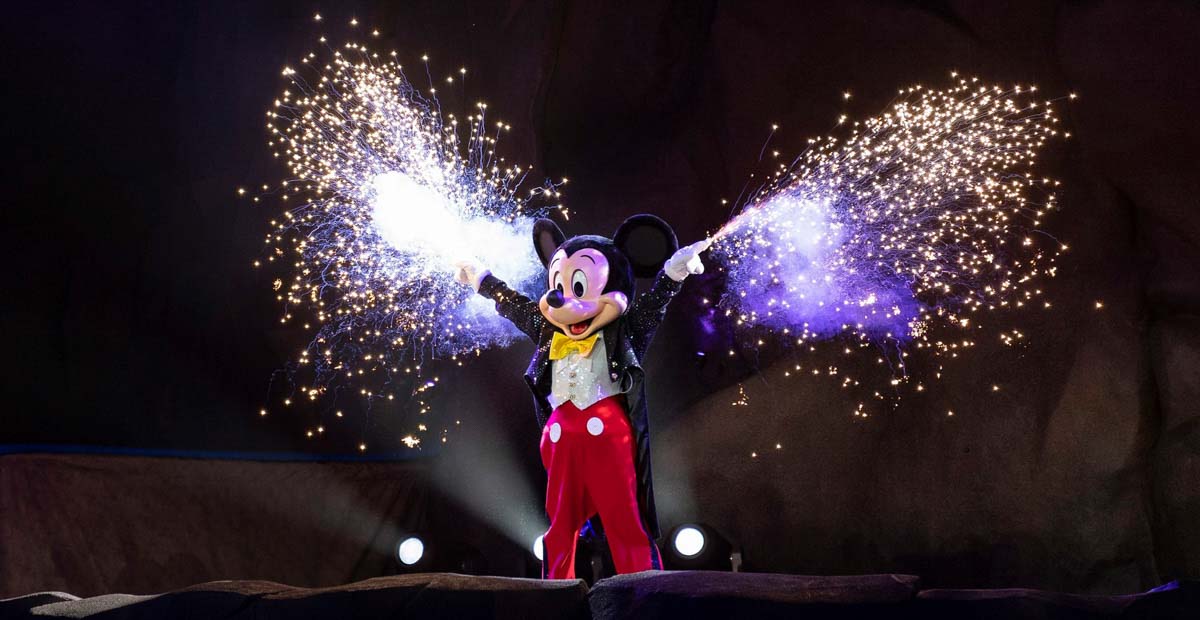 After over a two and a half year break, Fantasmic!, the beloved nighttime spectacular at Disney's Hollywood Studios is back! The legendary nighttime spectacular invites guests into Mickey's imagination for a larger-than-life show painted on a grand canvas of dancing water overflowing with silly and suspenseful surprises. Learn more about this show below.
1 – Fantasmic! is Back!
Forces of good and evil once again battle it out in Mickey's dream as the long-awaited return of Fantasmic! debuted on November 3, 2022, at Disney's Hollywood Studios. The elaborate 29-minute nighttime spectacular takes place nightly, featuring thrilling stunts, dazzling special effects, and a rousing score based on classic Disney animated films.
"Fantasmic! is a show that will take you on a journey to see so many characters, so many villains and heroes," says Melanie Gagne, entertainment proprietor for Disney's Hollywood Studios. "It's one of our biggest shows, and many guests will plan their day or their entire vacation around Fantasmic!
2 – The Story of Fantasmic!
Audiences are transported into a fantastical adventure with Mickey Mouse, where his magic creates dancing waters, shooting comets, animated fountains, swirling stars, balls of fire, and other amazing wonders. When Disney villains intrude on Mickey's fantasy and turn his dreams into nightmares, he uses the powers of good to triumph over evil.
"Bringing back Fantasmic! here at Disney's Hollywood Studios means so much to our guests," says Mena Rick. "It was a task to not only preserve the legacy of the show but also introduce new characters for the next generation."
3 – New Disney Heroes Section
The return of Fantasmic! includes the debut of an all-new sequence that will bring to life heroic moments from Disney stories such as "Moana," "Mulan," "Aladdin," "Pocahontas," and "Frozen 2."
"In bringing Fantasmic! back, we have a brand-new scene that we're calling our Disney Heroes scene," says Matthew Hamel, show director for Disney Live Entertainment. "We get to see some new characters introduced to Fantasmic!, and we get to show their stories in a new, unique way utilizing a combination of projections, lasers and new lighting."
We really enjoyed the new scenes. It was fantastic to see newer characters in the show, and it will connect with younger generations.
4 – Upgraded Technology Provides Stunning Visuals and Sound
The show combines live performers with stunning special effects, colorful pyrotechnic explosions, animation and dancing waters synchronized to the melodies of timeless Disney classics.
"It was extremely exciting to take advantage of technological enhancements that didn't originally exist when the show opened in 1998," says Katrina Mena Rick, broadcast creative producer for Disney Live Entertainment. "So, we [worked] with other disciplines such as special effects, lighting, lasers and music to ensure that our visual content was as exactly seamless and as beautiful as it could be."
We could definitely see and hear a difference in the show. The visuals and sound were amazing and really added to the enjoyment of this classic show.
5 – Nightly Performances of the Show
Fantasmic! is performed nightly at Disney's Hollywood Studios. Showtimes are subject to change. During busier times, there will likely be two shows per evening. However, there are times when only one show will perform. Your best best is to check the My Disney Experience app or website for showtimes during your visit.
6 – Arrive Early to See the Show
Guests can enter the Hollywood Hills Amphitheater up to 90 minutes prior to the show's start. The very large open-air amphitheater can hold up to 6900 seated guests with additional room for about 3000 guests. While the theater is very large, we expect the theater to be filled to capacity in the next few months as guests have waited so long for its return. On opening night, the wait for the first show was over three hours. If you want to see the show, be prepared to get in line early and to wait a long time to see it. Currently, the show is not available with Disney Genie+, though it was included with FastPass in the past. Because of that, we hope to see the show included with Disney Genie+ in the future.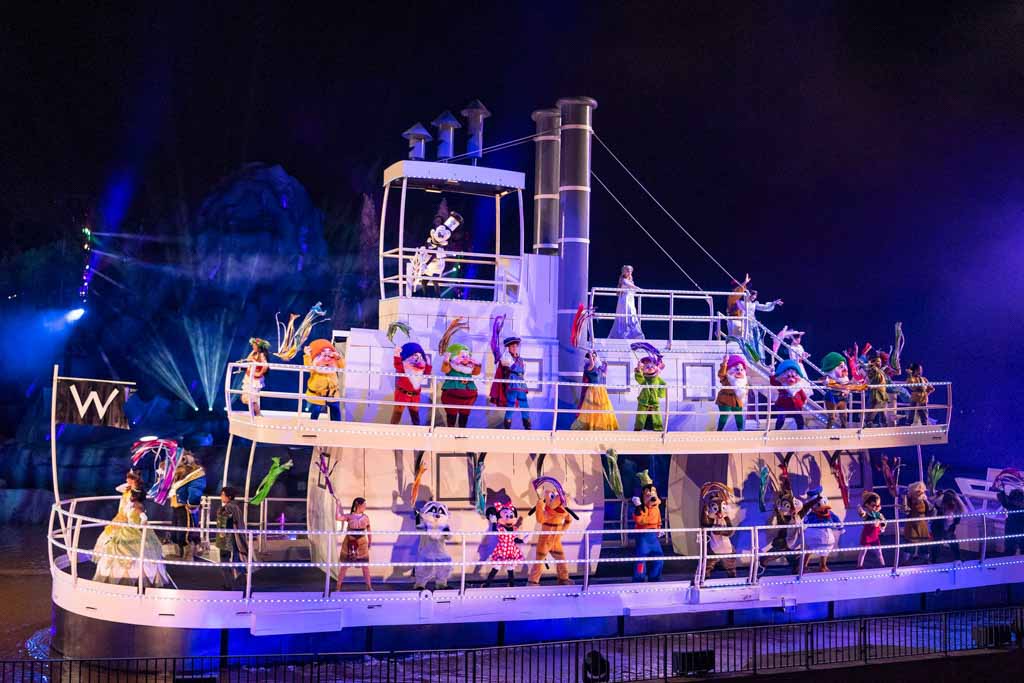 7 – Consider Booking the Dining Package
If you don't want to worry about waiting in a long standby line or finding a seat, you can get reserved seating for the show. Fantasmic! dining packages are available that include an entrée and appetizer or dessert at select full-service restaurants or one (1) full buffet (where applicable), along with a non-alcoholic beverage. Restaurants include 50's Prime Time Cafe, Hollywood & Vine, The Hollywood Brown Derby, and Mama Melrose's Ristorante Italiano. You'll receive a voucher for guaranteed seating in a reserved area. Disney encourages guests to arrive at least twenty-five minutes before showtime to be seated in the reserved section. Since the theater opens up 90 minutes before the show and guests line up even earlier than that, purchasing the dining package may be worth the extra cost if you were planning on enjoying a table service meal at the park anyway. Although, do note that the dining experience will still take place even if the show is cancelled. Dining packages for select restaurants at Disney's Hollywood Studios are available. You can book these packages by clicking here. 
8 – Food and Beverages Are Permitted in the Theater
While the theater offers concession stands, if you are looking for something more than popcorn and soft pretzels, you may want to grab food from Rosie's All American Café or Fairfax Fare across from the entrance of the theater before entering. This may provide an option for a late dinner while you are waiting to catch the show.
9 – Bring Your Stroller With You
If you have a stroller, there is no need to park it outside the theater entrance on Sunset Boulevard. Once you begin heading into the theater, there will be designated stroller parking before you enter the seating area.
10 – Subject to the Weather
Since it is an outdoor venue, the show is subject to cancellation due to inclement weather. In fact, during our preview, the show ended about halfway through due to lightning. Obviously, the safety of the performers and guests are paramount, so don't be surprised if shows are cancelled due to inclement weather.
For a no obligation, FREE Quote on a Disney vacation package, please contact our travel partner Magical Vacation Planner at 407-442-0227 (407-442-0215 for Spanish). You can also request a FREE quote online by Clicking HERE.