The Walt Disney World Marathon Weekend is a huge event drawing tens of thousands of runners to Disney World. The weekend's five events: Walt Disney World Marathon, Walt Disney World Half Marathon, Walt Disney World 10k, and Walt Disney World 5k, are a blast. Along with the Goofy Challenge and the Dopey Challenge, there truly is a race for everyone!
Navigating this huge event is tricky. More than half of the participants are experiencing a runDisney event for the first time. That's a lot of inexperience. Combined, Chad and I (Cindy) have completed 73 runDisney races and 30 runDisney challenges! We look forward to this weekend every year! We've put together a complete survival guide covering all aspects of the race. This six-part series will get you prepared and ready to run!
Part 1 covers the six

 things you need to know before you leave for Marathon Weekend.

Part 2 covers the Health and Fitness Expo

,

something many first-timers totally underestimate and do not properly prepare for.
Here are the 6 Things You Need to Know Before You Leave for Marathon Weekend
6 – Digitally Sign Your Race Waiver Before You Go
Registered runners will now be able to digitally sign their race waivers weeks before the event. If you are registered, you should have received an email informing you that all weekend participants must complete the waiver before arrival. In the past, you could print the form and bring it with you. Now you MUST sign it before the weekend. If you don't have the email, you can find the waiver in your runDisney account under either "Important Reminders" or "Your Registrations" and then "Your Documents."
5 – Read the Event Guide
For detailed race information, be sure to read the official event guide. You'll get the full schedule of events, specific race information, transportation, driving directions, road closures, post-race details, and more. One year, when getting ready for the Wine & Dine Half Marathon Weekend, I heard more than one person complaining that they missed something or didn't understand what was happening. When asked if they had read the event guide, they said no. If you want the best race experience possible, then take the time to read the event guide. It's a necessity, and there is nothing "geeky" about it!
4 – Running Attire: Pack for All Kinds of Crazy Florida Weather
The weather in Central Florida in January is notoriously unpredictable. Over the many years, we've participated in Marathon Weekend, we've experienced very warm temperatures in the 80s and very cold temps in the 20s! The best thing to do is to pack race attire for all kinds of weather: cold, hot, wind, and rain, and preferably in clothing that you have trained in. If you follow the weather forecast, you may notice that the forecast changes often. You best be prepared with the right gear. You can make your final decision on what to wear the night before the race. If you do forget something, there will be plenty of options at the Expo.
Disney encourages runners to dress up in their running attire. While many people don't wear anything special, you'll find yourself out of place if you don't spice things up a bit. You'll see a wide range from simple Mickey ears to elaborate costumes. Just Google Disney running costumes, and you'll see what I mean. You'll find lots of items on Etsy and other specialty shops. Don't feel like you have to go all out. One year I simply wore all black, found a Minnie apron, and wore Minnie Ears. You can spice things up without going crazy and without breaking the bank.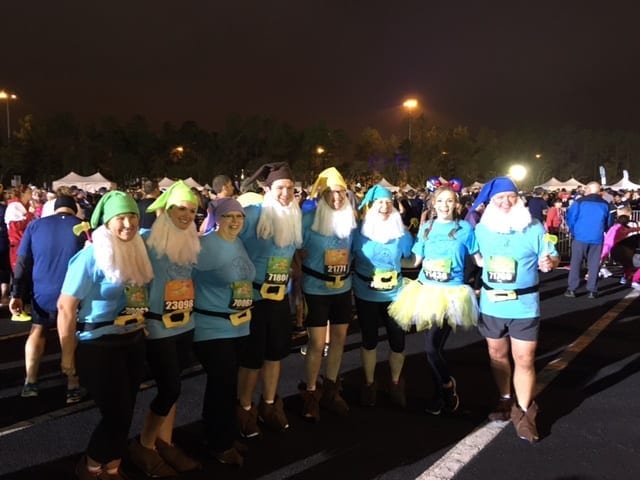 No matter what you plan, keep these guidelines from Disney in mind:
Disney reserves the right to deny admission to or remove any person wearing attire considered inappropriate or that could detract from the experience of other Guests. Watch the Costume Guidelines video below for specific guidelines.
Flag Guidelines
For the safety of all of the spectators and runners, the following items will be prohibited from the start/finish staging areas and the race courses.
Flags of any kind that are larger than 3′ x 5′ regardless of how flag is intended to be carried.
Flag poles cannot be longer than 4 feet or have a diameter of more than 4 inches.
Pole can be made of wood, plastic, and/or PVC. Poles made of metal are not allowed.
Only poles with rounded or flat ends are allowed.
No decorative or sharp ends will be allowed.
Flag harnesses will be permitted if the participant bib is not covered and the harness does not pose a safety hazard.
Runner Tip: Pack a "throw-away" sweatshirt that you can wear before the race. Often temps are in the upper 40s/low 50s before the race starts and even in the 20s/30s during the cold years. That's cold to be standing there and not moving for 1.5 hours before the race starts. But once you get running and that sun rises, you'll be plenty warm. Disney collects all clothing that is thrown off the racecourse and gives it to charity. We usually hit the clearance section at Target, Walmart, or even Goodwill. A $5 sweatshirt will make a huge difference on a cold morning.
3 – Packing List-Running Gear
Besides race day clothes, don't forget to pack your other race items. Here is a list of some items that we find helpful to have.
Other race items:
two pairs of running shoes to alternate if doing either Challenge
compression socks or sleeves (active and/or recovery)
visor or running hat
sunglasses
comfy clothes you may want to change into after the race
running watch and charger
old towel or blanket to sit on pre-race (leave behind)
race bib holder (so you don't have to use the safety pins and ruin your clothes)
hydration system or running belt (see below)
Disney has many aid stations along the courses serving water and Powerade. Food stops include bananas and gels, and bars. If you do not care for these products, you'll want to purchase your own items ahead of time and bring your own fuel for your race. You may also decide you want your own hydration with you. Fuel Belts, Nathan Belts, and Fitletic are popular running belt brands. You will find options at the Expo if you do not own these already. But be warned that it is best not to use anything new on race day. So if you have not trained with a belt or a certain fuel product, don't try it on race day. Stick with what you know. Your body will thank you.
Experienced athletes know a thing or two about chaffing. If you have never experienced chaffing, then consider yourself lucky. For those that do get it, we've found the following items to be lifesavers. With all of those people, port-o-potties run out of toilet paper. Bring some. We put on disposable medical gloves, clean ourselves up, and then put Vaseline or any type of lubrication on any areas where chaffing usually occurs. You get the idea. We carry these items to use just before the race start and then throw them away. If you have the inclination and space to carry items with you, you may want to have these, especially during the marathon, where you may want to lubricate again. Here are the items to pack:
Travel toilet paper and/or Cottonelle wipes.
Travel Vaseline or any sports lubricant in a ziplock bag with disposable gloves
Travel-size hand sanitizer (for obvious reasons)
For men–don't forget some kind of protection for your nipples. We see bloody nipples every year. Very painful and very avoidable!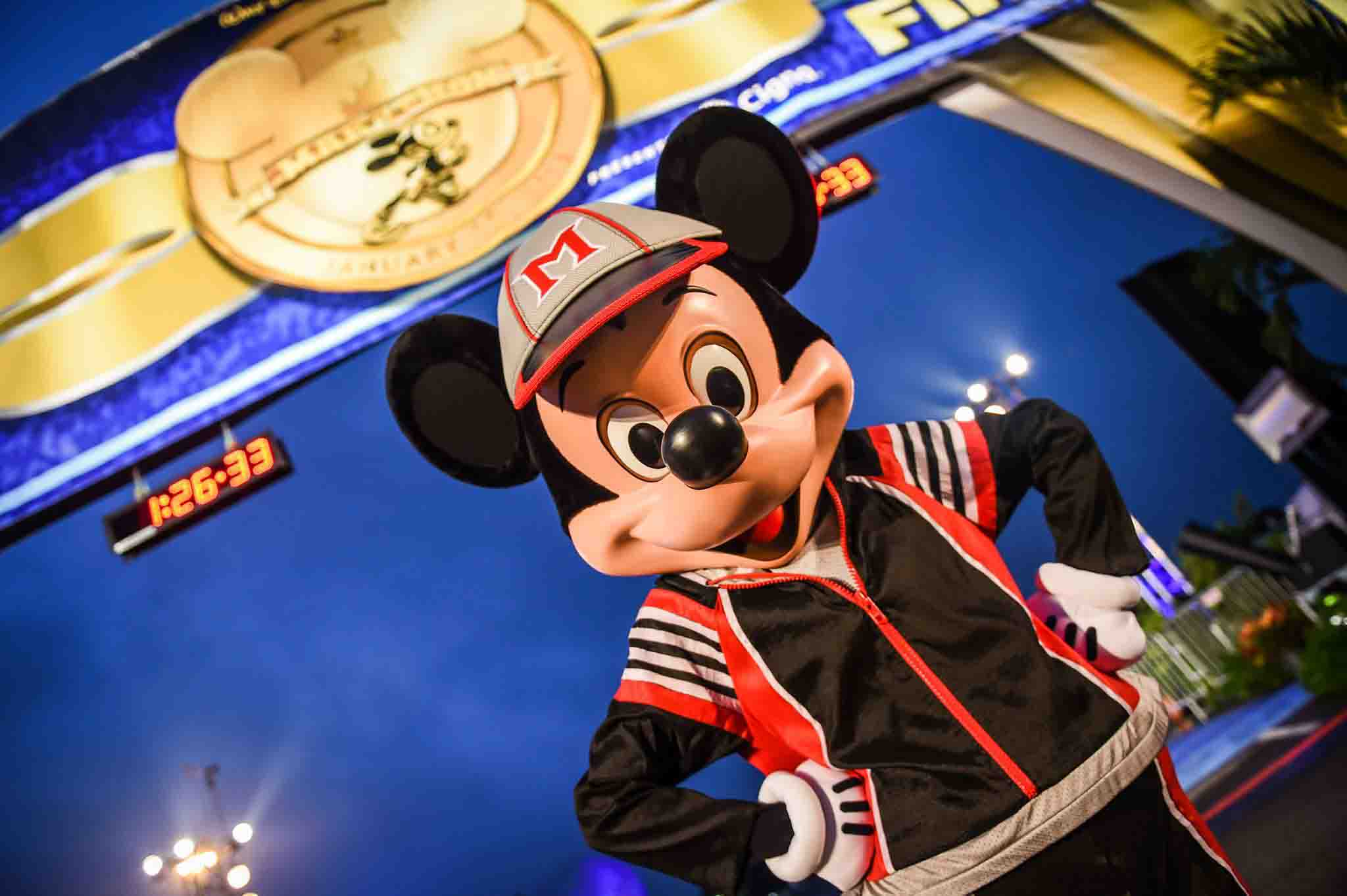 2 – Put Your Race Gear in Your Carry On Bag if Arriving by Plane
If you've flown more than once, then odds are you know the dangers of your airline losing your luggage. When we travel to races by air, we always put our race gear essentials in a carry-on bag, so we don't risk losing these important items. You don't want to have to run in clothes that have never been tested and shoes that are not broken in. Get peace of mind by taking your race items with you!
1 – Make Your Dining Reservations Now
If you haven't done so, make any dining reservations before you go! Go online or call 407-WDW-DINE. Keep in mind what kind of food is best for runners before a race. Pasta is not the only option for you! Know your body and what works for you as far as fueling goes. Stay away from high protein, high fats meals in the days leading up to your race. Save the sweats for after your race. When choosing your meals, the day before a race, you might prefer to have a larger lunch and a small-sized dinner. That gives your body plenty of time to digest the larger meal before race morning the next day! Also, keep in mind that you'll want to be in bed early the night before your race, so choose an early dinner reservation time for that night.
Popular restaurants for runners include:
Blazed Fired Pizza

, Disney Springs (amazing pizza)
Morimoto Asia, Disney Springs
Mama Melrose Ristorante Italiano, Hollywood Studios
Nine Dragons, Epcot

Satu'ti Canteen

, Animal Kingdom (excellent noodle bowls)
Tony's Town Square Restaurant, Magic Kingdom
Tutto Italia Ristorante, Epcot
Via Napoli Ristorante e Pizzeria, Epcot
Yak & Yeti Restaurant, Animal Kingdom
Yak & Yeti Local Food Cafes, Animal Kingdom (quick service; rice bowls)
One of our favorite traditions is having a celebratory meal after the race. For us, that means Sunday night. Choose a family favorite restaurant, wear your medals, and celebrate your amazing accomplishment!
For a no obligation, FREE Quote on a Disney vacation package, please contact our travel partner Magical Vacation Planner at 407-442-0227 (407-442-0215 for Spanish). You can also request a FREE quote online by Clicking HERE.