Nestled deep within the France Pavilion at Epcot's World Showcase, Les Halles Boulangerie-Patisserie opens its doors every day to share a bit of French cuisine with the world. This quick-service restaurant has been in business since 2013, following the closing of the old Boulangerie and Patisserie, which once occupied the current L'Artisan des Glaces. Disney Imagineers expanded and rebranded the restaurant in its new location. Here are eight things you should know about Les Halles Boulangerie-Patisserie before dining there.
1 – Meaning of Les Halles
The foreign title of this shop may confuse some English-speaking guests about what exactly Les Halles serves. A French boulangerie is a bakery that sells bread, while a patisserie is one that specializes in pastries and sweets. Both come together in the breads, croissants, sandwiches, pastries, and desserts featured at Les Halles. French for "The Halls," Les Halles's namesake was the famous fresh food market that resided in the heart of Paris until its demolition in 1971. Of course, vendors would have sold bread and pastries at the original Les Halles.
2 – Hidden Away
This quick-service restaurant doesn't appear on the promenade, nor is it easily visible as you stroll through the France Pavilion. In fact, the Parisian-style café resides in the back of the Souvenirs de France gift shop, located at the exits of Impressions de France. Though hidden from view, Les Halles nevertheless remains busy, serving those exiting the theatre or those searching for a quick taste of France without having to sit down for a full-course dinner at Les Chefs de France or Monsieur Paul.
3 – Speak a Little French
If you've learned any amount of French, then this is the time to practice speaking it without receiving judgment. A lot of beginning students have been taught the conversational phrases and sentences that enable them to order food. Don't be afraid to try speaking the language. Contrary to popular belief, the French won't shun you for linguistic mistakes if you're inexperienced…at least cast members at Les Halles won't. They'll be excited that you even tried and may offer you tips. No matter how the encounter goes, you'll create a positive memory that will stay with you for years to come.
4 – Disney Dining Snack
Editor's Note: At this time, the Disney Dining Plan is temporarily suspended, however, Disney has confirmed that it will return.
Visitors with the Disney Dining Plan will love the selection of menu items at Les Halles that use a snack credit. The entrees follow counter-service rules, but most items are considered snacks. Snack credits easily build up when members of your family or group forget to use them between rides and shows. Rather than letting them go to waste, why not save these credits for Les Halles? The restaurant's a la carte menu allows you to create many food and drink combinations without worrying about using up counter-service credits.
5 – Finding a Seat
Park guests may find it difficult to grab a seat at Les Halles, especially during peak season. Because it is a quick-service restaurant, seating is first-come, first-serve. Try reviewing the menu ahead of time on the My Disney Experience app and having one or more of your party grab a table while the others stand in line and order for them. If you're only ordering a pastry and a glass of wine, then one of the standing tables may better suit you. Otherwise, visit Les Halles during non-traditional meal times to avoid most of the crowds.
6 – Pairing with Wine
The best thing about eating French cuisine is pairing it with wine. Nobody requires you to follow a set of sophisticated wine rules at Les Halles, so be free to order according to your own tastes. If you want to follow traditional rules, you can pair red wine with meat, white wine with seafood and poultry, and champagne with anything, especially dessert. Don't care much for wine? Les Halles serves Kronenbourg 1664, a pale lager from Strasbourg, France. The restaurant also provides a variety of non-alcoholic beverages for non-drinkers. Perrier, anyone?
7– Don't Forget Dessert
No matter what you eat or drink at Les Halles, don't forget dessert. This restaurant serves delectable sweets and pastries that dazzle the taste buds while satisfying your hunger. Les Halles offers iconic French desserts like éclairs, parfaits, macarons, mousses, and crème brûlée with fresh ingredients and a perfect blend of flavors and textures. The pastries include delicious variations that use chocolate, strawberries, cherries and vanilla, caramel and lemon cream. Warning: just looking at the desserts at Les Halles may cause you to put on a few pounds. Don't fret about it, because soon you'll be walking off those calories as you chase your family and friends all over Epcot.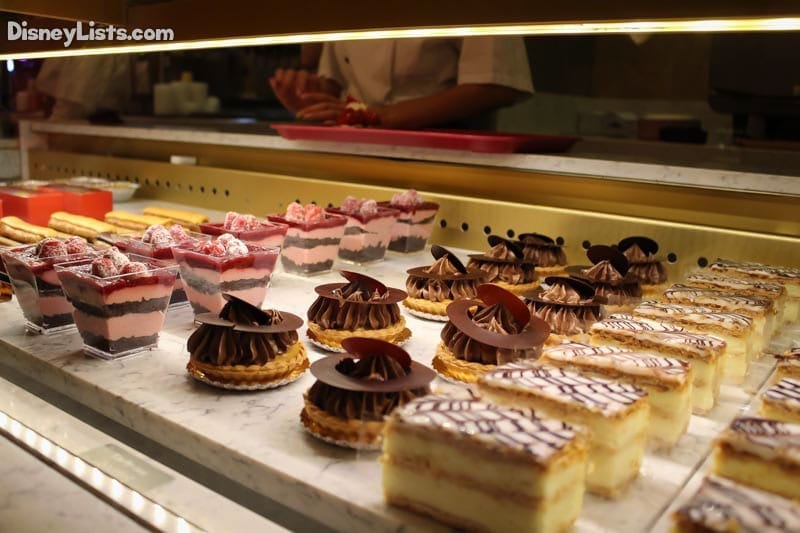 8 – Try the Napoleon
The pièce de résistance at Les Halles Boulangerie-Patisserie is none other than the Napoleon. Naturally, everyone holds a particular dessert or pastry in high regard, but according to the staff, the Napoleon continues to be the most requested. Why else would it be named Napoleon if not after the world-famous, 19th-century emperor of France? Well, the French actually call it mille-feuille, which means "a thousand leaves." It features alternating layers of leaf-thin puff pastry and rich cream, and the chefs top it off with sweet icing. Order the Napoleon at Les Halles Boulangerie-Patisserie, and you will not be disappointed.
For a no obligation, FREE Quote on a Disney vacation package, please contact our travel partner Magical Vacation Planner at 407-442-0227 (407-442-0215 for Spanish). You can also request a FREE quote online by Clicking HERE.