Mickey's Very Merry Christmas Party is back at Magic Kingdom after a three-year absence! The party features favorite Disney characters in their yuletide finest, a shimmering Cinderella Castle, festive sweets and treats, and enchanting holiday entertainment – there's even snowfall on Main Street, USA! Here is everything you need to know about this year's Mickey's Very Merry Christmas Party.
1 – Basics
Mickey's Very Merry Christmas Party is a separately ticketed event, complete with snow flurries and complimentary holiday treats, amazing Disney entertainment, and holiday magic. The party begins at 7 pm, after regular park hours.
Tickets for Mickey's Very Merry Christmas Party are limited and can be purchased on the Walt Disney World website with prices ranging from $149 – $199 per person. Event dates are:
November: 8, 10, 11, 14, 15, 17, 18, 20, 22, 27, 29
December: 1, 2, 4, 6, 8, 9, 11, 13, 15, 16, 18, 20, 22
Note: All 2022 party dates have sold out!
Like Mickey's Not So Scary Halloween Party, it's an opportunity to enjoy holiday-themed entertainment and activities in Magic Kingdom Park.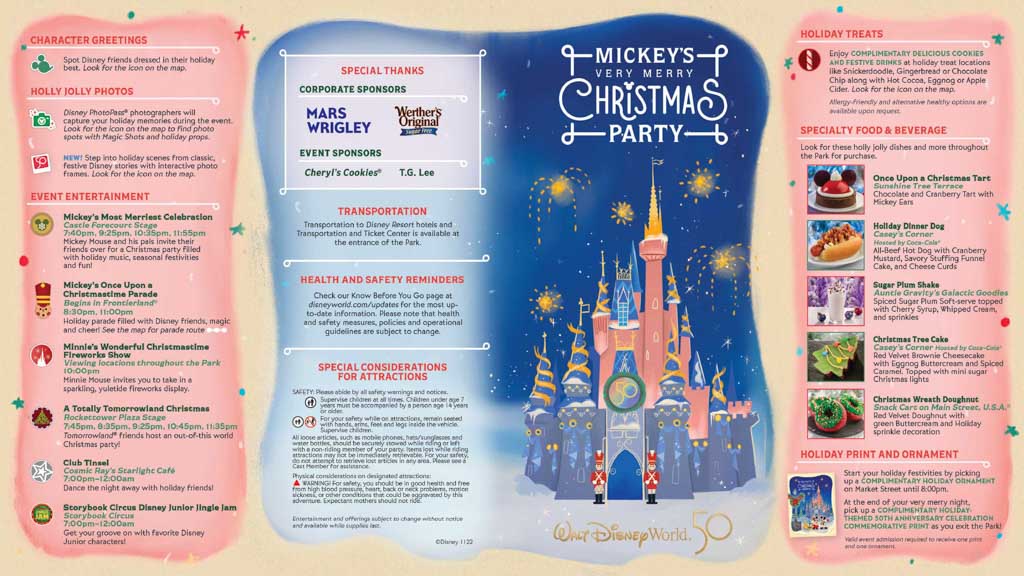 2 – Come Early
While the party does not officially begin until 7:00 pm, you may enter with your party ticket at 4:00 pm. We highly recommend you do this for several reasons. First, you'll have time to enjoy the decorations and Main Street USA with some daylight. It will get dark shortly before 6:00 pm. Second, there is a lot to do at the party. We recommend getting there early, eating dinner, and even getting a few rides in before the party begins. That way, you'll be ready to enjoy the exclusive party offerings when the party officially starts.
3 – Enjoy Complimentary Treats
We hope you come hungry and ready for sweets and treats because this party has got a lot of them. Here are the complimentary Holiday Treat Locations you can visit throughout the evening. All locations, except for Market Street, are open until 12:00 am.
The complimentary treats are a nice bonus to the party. At most locations, you'll receive hot chocolate or egg nog. Cookie treats vary by location, including buttercream-frosted gingerbread cookies, chocolate chip cookies, and buttercream-frosted green sprinkle cookies. The cookies are individually wrapped, so you can take them home with you later if you desire.
4 – Minnie's Wonderful Christmastime Fireworks
Minnie Mouse orchestrates a sparkling nighttime spectacular with dazzling fireworks, castle projections, and seasonal songs in "Minnie's Wonderful Christmastime Fireworks." Hosted by Minnie Mouse, the holiday extravaganza invites guests to come together in a celebration of heartfelt moments and the magic of Christmas.
The show is presented during Mickey's Very Merry Christmas Party, although the fireworks are also presented nightly from December 23-29. The show was fantastic, and I really enjoyed it. While there are castle projections, they are not as essential to the story of the fireworks show. So, you really can enjoy the show throughout the park since the main focus is the fireworks! It was great to see so many fireworks in the sky over Cinderella Castle. We highly recommend you watch these and not skip them!
5 – Mickey's Most Merriest Celebration and Once Upon a Christmastime Parade
The entertainment during the Christmas Party is top-notch. Mickey Mouse and his pals appear on Cinderella Castle stage for a Christmas extravaganza – "Mickey's Most Merriest Celebration." The show features singers, dancers and surprises all choreographed to nostalgic and modern medleys of holiday music.   
If you're up for staying up late, we suggest watching the 11:55 pm show of 'Mickey's Most Merriest Celebration!,' which also frees up more party time. Of course, you don't want to miss Mickey's Once Upon a Christmastime Parade. We recommend the second parade as it usually isn't as crowded as the first.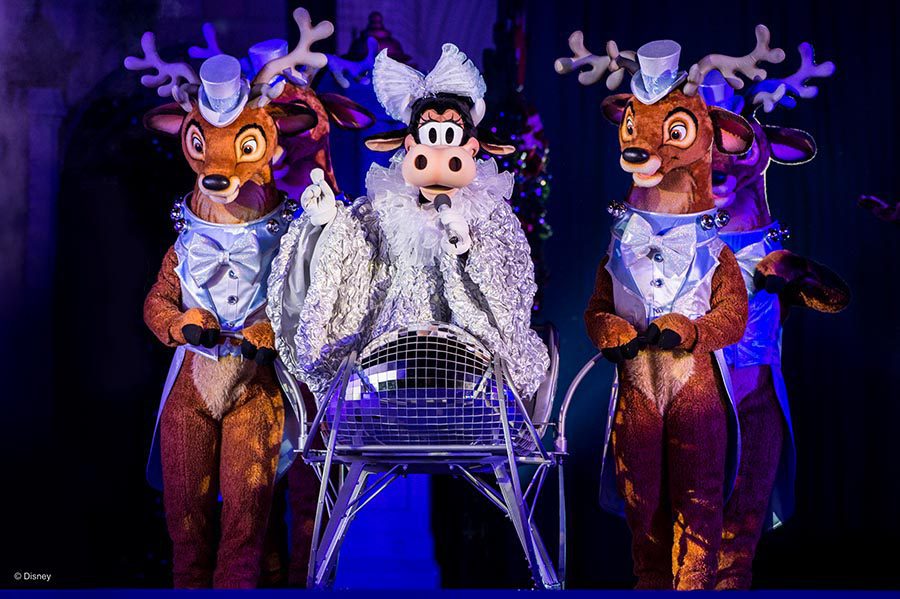 6 – Don't Miss the Other Entertainment
There are other entertainment options that you don't want to miss. Other entertainment options include:
Club Tinsel – a dance party at Cosmic Ray's Starlight Café
Storybook Circus Disney Junior Jingle Jam – a dance party for the little ones with their favorite Disney Junior characters.
Guests can join Buzz Lightyear, Mike Wazowski, and Stitch for the out-of-this-world holiday stage show, "A Totally Tomorrowland Christmas," on the Rockettower Plaza Stage.
7 – Enjoy Attractions with a Holiday Twist
Select Magic Kingdom attractions get a jolly holiday overlay with Jungle Cruise transforming into Jingle Cruise, and special holiday makeovers of Space Mountain, Tomorrowland Speedway, Monsters Inc. Laugh Floor, and Mad Tea Party.
During the party, you'll want to experience select attractions that have been given a "Holiday Twist" during Mickey's Very Merry Christmas Party. Attractions include Tomorrowland Speedway, Space Mountain, and Mad Tea Party. The Space Mountain overlay was fantastic. I might like the Christmas version more than the Halloween version, and I didn't think that could be topped. If you're a Space Mountain fan, you don't want to miss this!
Another attraction with a fantastic holiday twist is the Jingle Cruise in Adventureland. However, the Jingle Cruise is offered all day long during the holiday season. So we suggest you enjoy this attraction during the 4 pm – 7 pm hours or another day, so you can save your party hours for exclusive offerings you can't get any other time.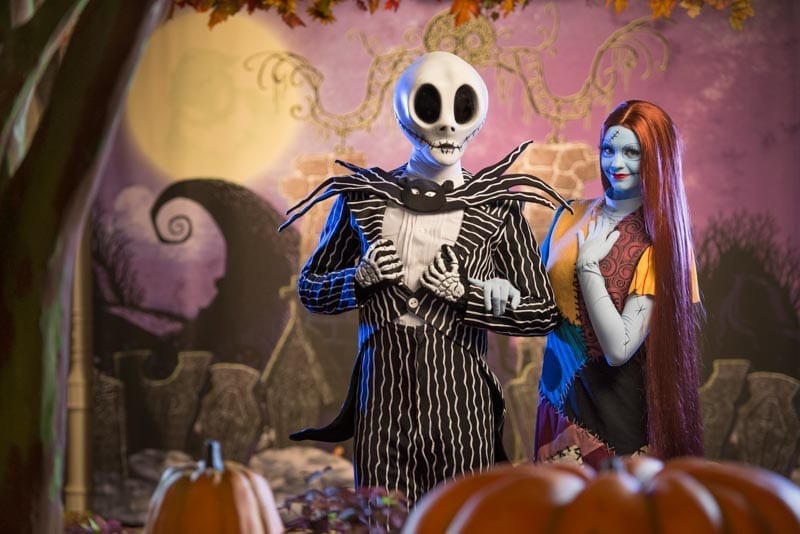 8 – Rare Disney Character Meet & Greets
One of the biggest highlights of the Christmas Party is the chance to meet rare characters or characters in holiday costumes. Check the My Disney Experience app for characters and greeting locations.
9 – Specialty Foods
In addition to the complimentary holiday treats, there are other special holiday treats available for purchase.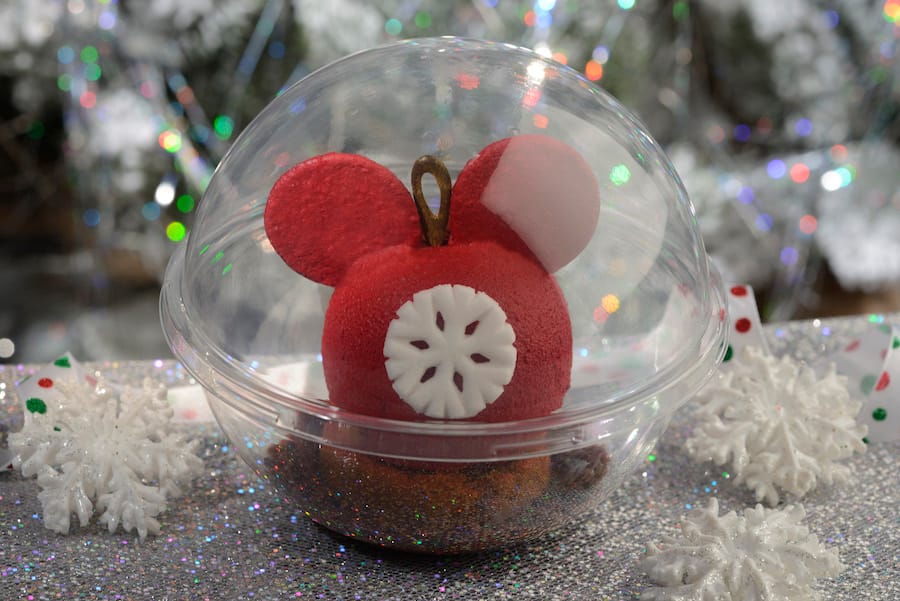 10 – Get Some Magic Shots
Disney PhotoPass Photographers will be making merry photo opportunities during the Christmas Party. In addition to the six onboard attraction photo capture opportunities and character greetings, there are "holly-jolly props," Magic shots, Animated Magic Shots, and scenic photo spots adorned in holiday décor. The locations are all over the park. Simply ask each photographer you visit which Magic Shots are available at that location.
11 – 50th Anniversary Additions
New to this year's party, attendees have three jolly new Disney PhotoPass opportunities, and they will receive a special 50th Anniversary commemorative ornament keepsake themed to the holidays.
12 – Stay Late
We recommend staying late and enjoying everything the party has to offer. So, enjoy the magical holiday atmosphere and stay as late as you can. The party will go on right through 12:00 am. As long as you are in line for an attraction by 11:59 pm, you'll be able to ride that attraction.
Finally, don't be afraid to stick around Main Street USA for photos after midnight. We've left the party as late as 12:30 pm, and it was still very busy, with many lines for PhotoPass photographers more than 10 minutes long. The cast members will gently move you along when it's time to go, but you can enjoy the atmosphere and get photos taken through 1 am. Just be respectful of cast members and security directing you to leave.
13 – Have a Plan in Mind
We have good news and bad news about the party. The good news is that there is so much to do at Mickey's Very Merry Christmas Party. Between amazing entertainment options, enjoying Magic Kingdom attractions, snacking on complimentary treats, and meeting your favorite Disney characters in unique outfits. The bad news is that there is so much to do that you will not be able to enjoy everything the party has to offer. You simply can't. Before arriving at the party, talk with your family about what everyone wants to do most and go from there. If this is your only time at Magic Kingdom, then you might want to focus on the attractions. If you've been to the party before and have seen the parade, then perhaps you'll skip that for some character greetings. If you're not into meeting the characters or don't mind skipping attractions, then perhaps you want to camp out on Main Street USA or the Hub for the stage show, the fireworks, and the parade. There are lots of ways to experience the party. Having a plan in mind beforehand will hopefully set the stage for a perfect evening!
14 – Overall Thoughts
Overall, we really enjoyed the party. Magic Kingdom is a very special place to celebrate Christmas. The entertainment and decorations are top-notch. If you'll be visiting Disney World during the holiday season, attending Mickey's Very Merry Christmas Party is an excellent choice!
For a no obligation, FREE Quote on a Disney vacation package, please contact our travel partner Magical Vacation Planner at 407-442-0227 (407-442-0215 for Spanish). You can also request a FREE quote online by Clicking HERE.