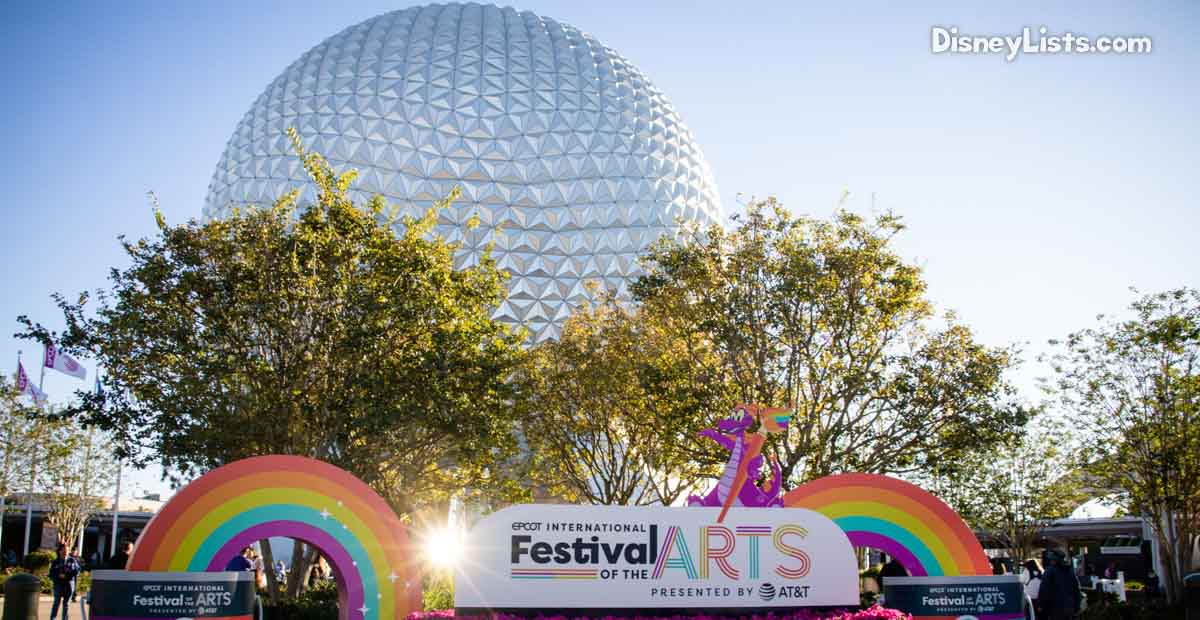 The EPCOT International Festival of the Arts is now open and runs through February 20, 2023. This thirty-nine-day festival celebrates extraordinary artwork, culinary creations inspired by art movements, and Broadway stars singing beloved Disney songs. The celebration of the arts is sure to delight festivalgoers with magic that only Disney can create. The festival is just one of the many exciting events occurring during the Walt Disney World Resort 50th Anniversary celebration, happening now through March 31, 2023. We enjoy this festival year after year. Learn the ten reasons you don't want to miss it below.
1 – Performing Arts: Take Center Stage
While the other festivals showcase local and national musical acts, we love that this festival highlights some of Broadway's brightest stars. During the festival, you can enjoy show-stopping performances by Disney Broadway stars as they share songs from beloved Disney musicals in the DISNEY ON BROADWAY Concert Series. Shows take place three times daily throughout the festival at America Gardens Theatre.
Want guaranteed seating? Dining packages for lunch and dinner are available at seven EPCOT locations, with guaranteed seating at the DISNEY ON BROADWAY Concert Series. Visit ArtfulEPCOT.com for the lineup of concert performances and dining package availability.
Guests will also delight in other musical acts, performing multiple times daily in Showcase Plaza. Beyond music, festivalgoers can thrill to feats of acrobatic strength and agility by Art Defying Gravity and be mesmerized by artists who paint beloved Disney characters in high-energy shows that combine performance and fine arts.
2 – Culinary Arts: Unique Offerings to Discover
Think the Food and Wine Festival is the only chance to enjoy fantastic foods at an EPCOT festival? Think again! With more than fifteen unique Food Studios located throughout the park, you'll find delectable bites and sips crafted with a creative twist, including many new food and drink items. The offerings are really unique, and we've found this year, there are so many things we want to try. Here are some of the food items we've enjoyed so far this year; we still have to go back for more!
3 – Moderne – New!
New in 2023, Moderne invites guests to explore an avante-garde menu that promises to inspire and delight. Selections include Angry Crab, a whole, crispy soft-shell crab served with green papaya salad, mango- Sriracha fluid gel and coconut-lime foam with pomegranate and mango crush pearls – perfect for pairing with a J. Lohr Riesling – in addition to other tempting treats.
4 – Artist's Table – New!
The Artist's Table in the American Adventure pavilion also boasts a new menu of artistically elevated comfort foods, including Duck and Dumplings with smoked duck breast, ricotta dumplings, petite vegetables and duck jus, with other delicious items to savor as well.
5 – Figment's Inspiration Station – New!
You'll definitely want to visit Figment's Inspiration Station at the Odyssey. There you'll find vibrant and playful food and beverage items, art displays, festival merchandise, and more. This is also where you'll pick up your Figment Popcorn Bucket! See below some of the offerings from Figment's Inspiration Station!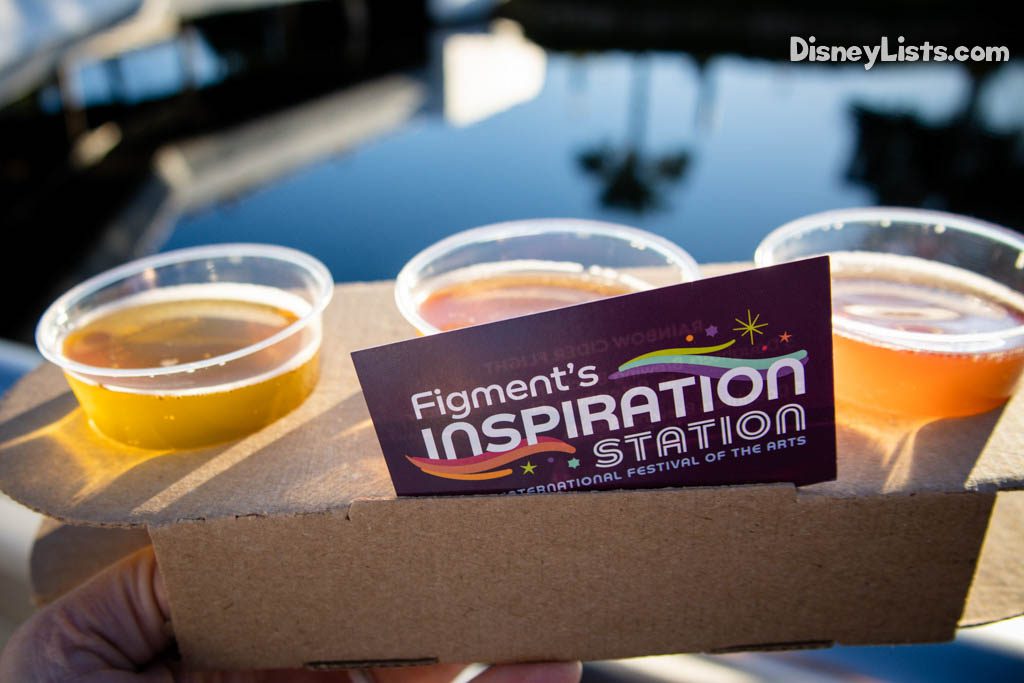 Learn more about ordering your Figment Popcorn bucket below:
6 – The Wonderful Walk of Colorful Cuisine
In addition to providing a roadmap to navigate the bounty of culinary sensations, the Festival Passport also guides guests through The Wonderful Walk of Colorful Cuisine, a fun food stroll highlighting seven tantalizing sweet and savory offerings. A complimentary Artist Palette Cookie is available for those who collect five stamps from locations listed in the Festival Passport.
7 – Visual Arts: Merchandise
New Figment-inspired festival merchandise features an expressive and colorful collection perfect for the whole family. The new festival Spirit Jersey, Figment Chalkboard Framed Mug, Figment Munchlings, and Figment CORKCICLE Tumbler embody the festival's full array of vivid colors and creativity.
8 – Artwork!
More than 100 Disney and visiting artists will participate in the festival, immersing guests in colorful and expressive artwork at every turn:
The lineup features many new faces, including husband and wife photography team Kahran and Regis Bethencourt as well as returning favorites such as Dylan Bonner, Fenway Fan, Jerrod Maruyama, Ashley Taylor and more.
Guests can catch a glimpse of artists at work with a peek inside the Disney Artist Gallery or the WonderGround Gallery.
From Figment to Jiminy Cricket, Chalk Full of Characters features charming chalk drawings in tucked-away corners throughout EPCOT.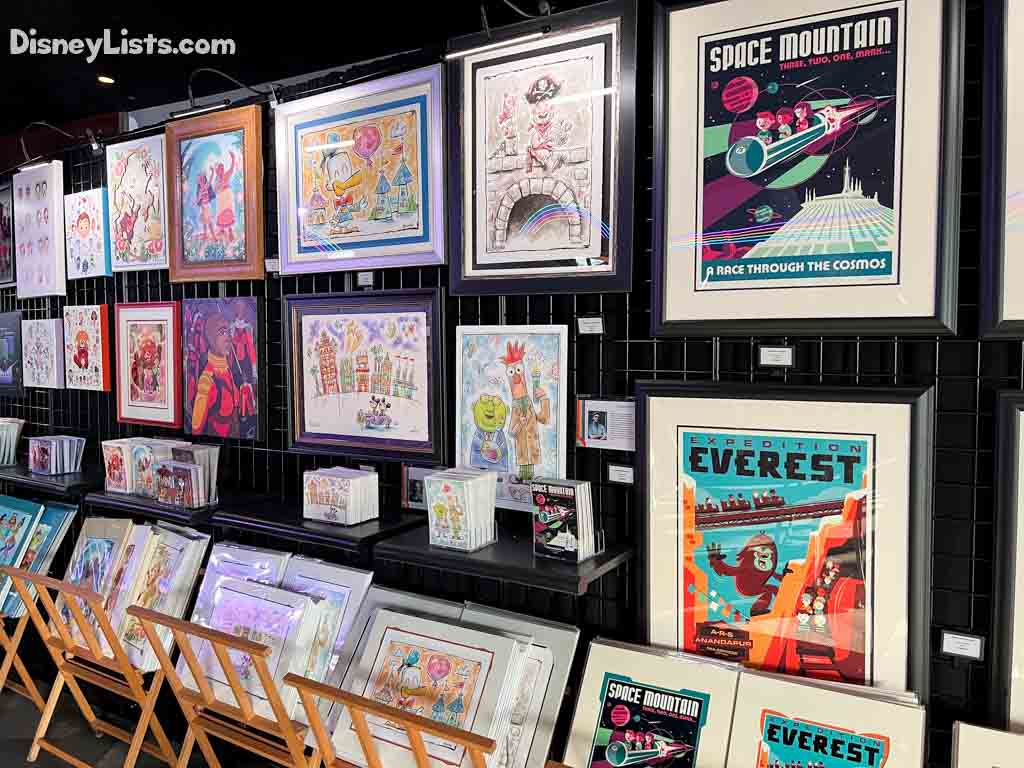 9 – Activities for the Whole Family
There is so much to do when visiting the Festival of the Arts beyond eating, drinking, and shopping. Here are additional festival offerings guests can enjoy.
Kids can create their own chalk art masterpieces at Kid's Chalk Art, while families can leave their creative mark on a larger-than-life mural at Expression Section: A Paint by Numbers Mural. Guests learn from an animation artist how to draw a Disney character at Animation Academy.
An outdoor art wall features stories and characters that reflect EPCOT's imaginative and innovative spirit at Drawing on Inspiration: Celebrating EPCOT.
Across World Showcase, guests can step into some of the most iconic artwork from around the world at unique Artful Photo Ops.
Figment's Brush with the Masters takes guests on a scavenger hunt around World Showcase to spot the lovable purple dragon as he hides in famous works of art. Redeem your completed map of Figment sightings to receive a small artful keepsake.
10 – Enjoy the new Offerings at EPCOT!
In addition to enjoying the festival, guests can explore the endless possibilities that EPCOT has to offer. Guests can help save the galaxy on Guardians of the Galaxy: Cosmic Rewind, shrink to the size of Remy on Remy's Ratatouille Adventure, dine among the stars at Space 220, and so much more.
The EPCOT International Festival of the Arts is included with valid theme park admission and a park reservation for the same date.
For a no obligation, FREE Quote on a Disney vacation package, please contact our travel partner Magical Vacation Planner at 407-442-0227 (407-442-0215 for Spanish). You can also request a FREE quote online by Clicking HERE.