News
BREAKING NEWS: Disney Announces TRON Lightcycle / Run Opening Date, Teases Passholder/DVC Previews
After what seems an eternity of waiting, Disney World has finally announced an opening date for the newest major attraction at the Magic Kingdom, TRON Lightcycle / Run. Disney World also teased upcoming previews for Disney World Annual Passholders and Disney Vacation Club Members. No dates for previews have been announced yet.
From Disney Destinations:
TRON Lightcycle / Run presented by Enterprise officially opens April 4 at Magic Kingdom Park!
The story of TRON Lightcycle / Run picks up after "TRON: Legacy" where Kevin's son, Sam Flynn, has opened a second gateway into a digital world called the Grid. The first portal was built at Shanghai Disneyland with the original TRON Lightcycle Power Run.
When guests enter the queue at Magic Kingdom, they'll feel as if they've been digitized and transported to the Grid for a special Lightcycle race. It's your Team Blue against the Grid's menacing Programs, Team Orange. Your goal is to be the first to race through eight Energy Gates and secure victory. The attraction will be one of the fastest coasters at any Disney theme park in the world.
Before the attraction officially opens, cast members will be the first to enter the Grid during special previews. And we heard preview opportunities are coming for guests too, including Annual Passholders and eligible Disney Vacation Club Members.
See you in the Grid.
RELATED ARTICLE: Top 9 Tips for The Perfect Day at Disney's Magic Kingdom Park
By Katy
When guests think of Walt Disney World, they often conjure up images of the Magic Kingdom. The park opened in 1971 with the Walt Disney World Resort and features lands of fantasy and make-believe, which transport guests to different places in time and imagination. Guests who spend time in the Magic Kingdom can enjoy thrilling and classic attractions, amazing entertainment, dining, and shopping. With so many great experiences waiting in the park, guests want to make the most of their time there and have a wonderful day. Here are the top tips for having the perfect day at the Magic Kingdom in Walt Disney World!
1 – Early Opening
The best way to kick off a perfect day in the Magic Kingdom is to arrive at the park for an early opening. Magic Kingdom opens its gates one hour before park opening. Guests are allowed to stroll up Main Street U.S.A and up to the Hub. This allows guests to get pictures, get some shopping done, and eat breakfast in the park without losing time otherwise spent on riding attractions. Arriving early is the only way to see the opening show, "Let the Magic Begin," which opens the park 5 minutes before the posted opening time. A Royal Herald invites you to join Mickey and friends as they open the park in a magical way. This stage show takes place at the Castle Forecourt Stage. The show still sets the tone for a special day at Magic Kingdom.
2 – Adventureland First
Once inside the park, many guests automatically head for either Fantasyland or Tomorrowland to enjoy the Seven Dwarfs Mine Train or Space Mountain. Guests who want to make the most of their time in the Magic Kingdom should instead opt to head towards Adventureland. Since most of the crowds are heading in the opposite direction, guests who explore Adventureland can enjoy attractions like Pirates of the Caribbean and the Jungle Cruise with little to no wait times.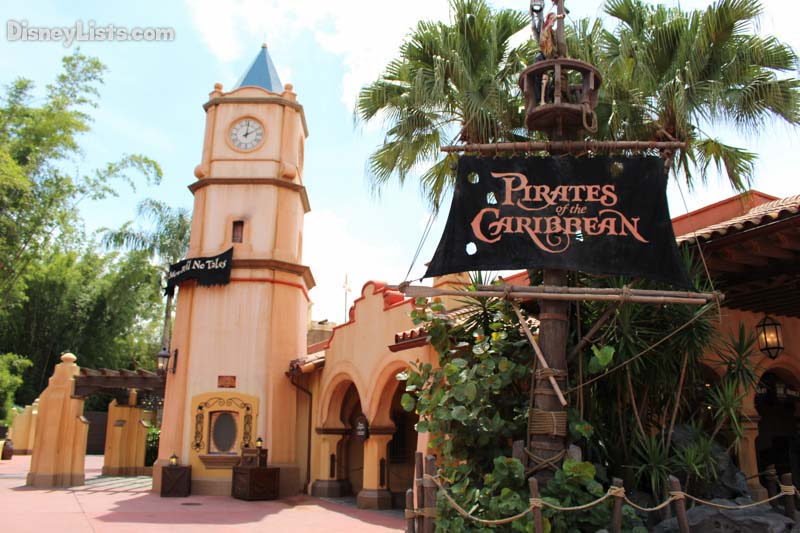 3 – Fantasyland During the Parade
One of the most popular areas of the Magic Kingdom is Fantasyland, where kids and kids at heart can enjoy wonderful attractions that bring them to words of make-believe and imagination. Since the area is so popular, the attractions found there tend to generally be crowded and have long wait times. A great way to enjoy the attractions of Fantasyland without losing lots of time spent waiting in line is by visiting during the afternoon parade. At that point, many guests have headed to Main Street to enjoy the parade making Fantasyland less crowded.
4 – FastPass The Seven Dwarfs Mine Train
One of the most popular attractions in the Magic Kingdom is the Seven Dwarfs Mine Train in Fantasyland. The attraction brings guests into the mines where the dwarfs work while gently swaying side to side in authentic mine carts. Since the attraction is so popular with guests, it tends to easily have wait times exceeding two hours on busy days in the parks. Guests who want to enjoy a ride on the Seven Dwarfs Mine Train without the long wait should book a FastPass for the attraction.
5 – FastPass Space Mountain
A thrilling attraction that guests love to experience in the Magic Kingdom can be found in the heart of Tomorrowland. Space Mountain brings guests into Starport 75, where a rocket awaits to blast them into the galaxy in an out of this world adventure. Space Mountain is beloved by many guests and usually has long wait times thanks to its popularity. Guests who want to enjoy Space Mountain should definitely opt to do so using a FastPass.
6 – FastPass Peter Pan's Flight
Another very popular attraction in the Magic Kingdom is considered a classic in Fantasyland. Peter Pan's Flight sprinkles guests with pixie dust and lets them soar high over London and Neverland with Peter Pan and the Darling children. Since Peter Pan's Flight is considered a classic and is a favorite of many guests, it tends to usually have a long wait time on days in the Magic Kingdom. Guests who want to enjoy the attraction should opt to book a FastPass to not lose lots of time spent waiting in the standby line.
7 – Don't Skip the Classics
The Magic Kingdom is home to plenty of popular and thrilling attractions like Splash Mountain, Big Thunder Mountain Railroad, Pirates of the Caribbean, and the Haunted Mansion. Still, it is also home to many attractions, which are considered to be underrated. These classic and underrated attractions are each fantastic in their own right and should not be missed by guests who spend time in the park. Some of the classic attractions to enjoy in the Magic Kingdom are the Walt Disney World Railroad, Walt Disney's Enchanted Tiki Room, the Country Bear Jamboree, the Hall of Presidents, the Tomorrowland Transit Authority PeopleMover, and Walt Disney's Carousel of Progress.
8 – Line Up Early in front of Cinderella Castle for Happily Ever After
"Happily Ever After," Magic Kingdom's nighttime spectacular, is an entirely new kind of Disney storytelling, one that takes you on a journey filled with heart, humor, and emotion. Guests become part of the journey themselves as they follow favorite Disney characters on an adventure to seek out their destiny, face adversity and ultimately fulfill their dreams on the road to their happily ever after. In addition to fireworks, the new show features more lasers, lights, and projections than any previous show at the Magic Kingdom. The 18-minute spectacle features characters and scenes from numerous Disney and Pixar films, with an emphasis on the newer films from the last 10-15 years. These moments are featured through state-of-the-art projections, enhanced by more than 50 choreographed spotlights and brilliant lasers. This show is fantastic. You don't want to miss it! Read all you need to know about Happily Ever After here.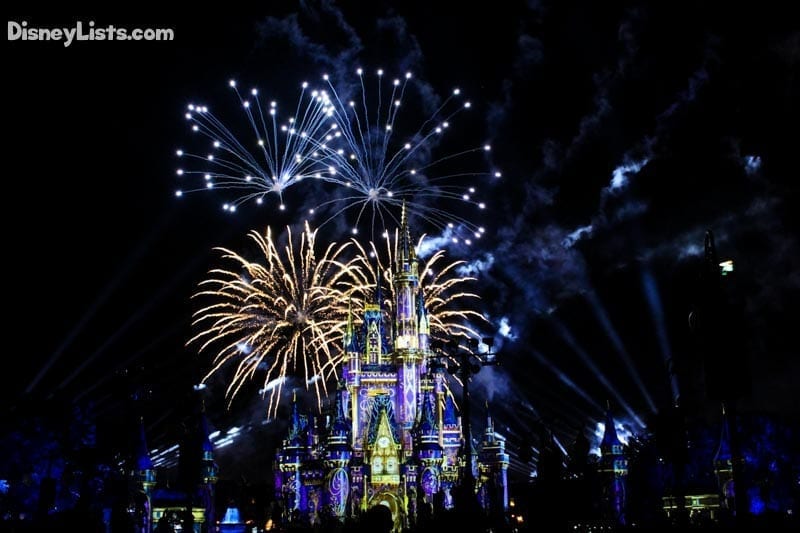 9 – Kiss Goodnight
After the Magic Kingdom officially closes each night, there is still one last show to be enjoyed. Roughly a half-hour after closing each night, Cinderella Castle is beautifully lit to accompany a speech thanking guests for spending their time in the park. The Kiss Goodnight is a wonderful presentation and a magical way to end a perfect day in the Magic Kingdom.
For a no obligation, FREE Quote on a Disney vacation package, please contact our travel partner Magical Vacation Planner at 407-442-0227 (407-442-0215 for Spanish). You can also request a FREE quote online by Clicking HERE.