Disneyland
News
NEWS: Tiana's Palace Coming to Disneyland Later This Year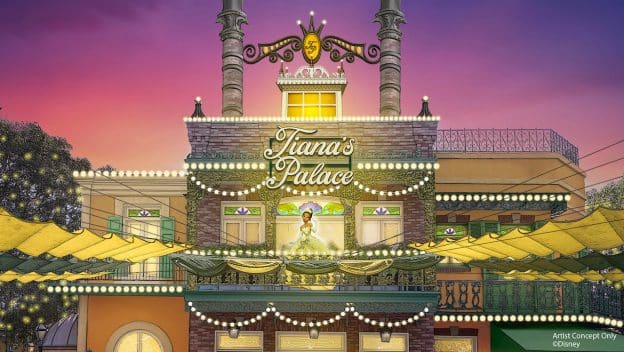 Tiana fans will be pleased to learn that an all-new restaurant, Tina's Palace, is coming to Disneyland later this year. Learn more about this exciting new restaurant below.
Here are all the details from Disney Cast Member Kelsey Lynch:
Just as Tiana transformed an old sugar mill into her dream restaurant in the Walt Disney Animation Studios film, "The Princess and the Frog," soon the French Market Restaurant in New Orleans Square at Disneyland park will be reimagined into Tiana's Palace!
As we initially shared at D23 Expo, we are excited for the opportunity to tell even more Tiana stories in New Orleans Square. We recently opened Eudora's Chic Boutique Featuring Tiana's Gourmet Secrets, a new retail shop that Tiana opened with her mother, Eudora. Up next will be Tiana's Palace later this year, followed by Tiana's Bayou Adventure, the thrilling attraction that will open in Disneyland park in 2024.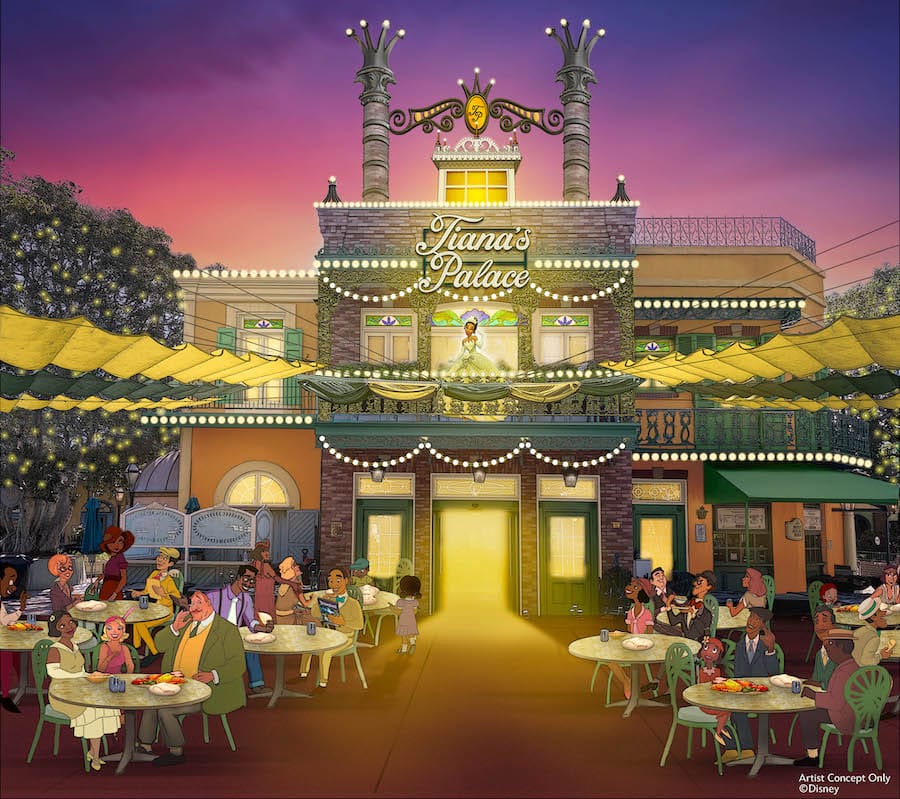 Tiana's Palace will be the newest restaurant on Orleans Street. Within its peach-colored walls and fancy green wrought-iron balconies, you'll find elegant fixtures and appointments reminiscent of Tiana's life and friendships. The new Tiana's Palace will have much of the same pinch of pizzazz and flair as the restaurant from the film, offering authentic New Orleans flavors inspired by Tiana's friends and adventures in this quick-service style restaurant. While Tiana's Palace is not a character dining location, guests may find Tiana in New Orleans Square.
The menu at Tiana's Palace will expand on many of the current favorites served in the location, explore seasonal flavors and, of course, offer some New Orleans classics. Tiana's Palace is sure to be a gathering place for friends and family to enjoy great food and celebrate together, just like Tiana and her father James dreamed of.
Disney Imagineers are partnering with Disney Animation artists from the original film to bring this story to life at Disneyland park. In fact, the film designers took inspiration from the exterior of the original French Market Restaurant in New Orleans Square when designing Tiana's Palace for the movie, so this is a long-dreamt homecoming.
To begin this work, French Market Restaurant (and Mint Julep Bar) will be closed beginning February 17, 2023, and will reopen as Tiana's Palace (alongside Mint Julep Bar with its famous mint juleps and Mickey beignets) later in the year.
We look forward to sharing additional details about this exciting new restaurant!
RELATED ARTICLE: A New Scene and New Critters Are Introduced for Tiana's Bayou Adventure; Splash Mountain Closure Date
Some time ago, Walt Disney World announced that a re-theming of Splash Mountain was in development without revealing a closure date for the existing version of the attraction. Following the re-theming, Splash Mountain will reopen as Tiana's Bayou Adventure and feature a Princess & the Frog theme. Disney has finally announced a closure date for Splash Mountain.
Splash Mountain will close on January 23, 2023, to begin the process of refurbishment and re-theming. Here are all the details from Disney Cast Member Carmen Smith:
We're getting closer to going down the bayou with Tiana and friends as progress continues on Tiana's Bayou Adventure. Since the attraction was announced in 2020, Imagineers have been hard at work designing an immersive experience inspired by the Walt Disney Animation Studios film "The Princess and the Frog" and the heart and culture of New Orleans. We've shared additional details and some sneak peeks since then at events such as ESSENCE Fest and D23 Expo 2022, demonstrating how our research brought us to New Orleans in an effort to remain authentic to the story's setting.
Today, I'm excited to give you a first look at a new scene and some of the brand-new characters we're creating specifically for this attraction. In Tiana's Bayou Adventure, you'll join Princess Tiana and jazz-loving alligator Louis during Mardi Gras season as they prepare to host a one-of-a-kind celebration for the people of New Orleans. This new scene is the thrilling moment you first drop into the bayou and encounter some friends both new and familiar.
As you can see here, fireflies will light up the night and invite you deeper into the bayou … almost like they're waving you forward. What you can't tell from this rendering – so you'll just have to trust me on this one – is that beautiful zydeco music will fill the air. Zydeco is a special blend of rhythm and blues that was born in Louisiana, and when you hear it, you'll feel like you've truly stepped into Tiana's world.
Here you'll find Louis, who explains where this amazing music is coming from. Tiana made some new friends out here – a band full of adorable critters, including an otter, a rabbit, a racoon, a beaver, a turtle and others. The band members sing and play instruments made of natural materials they found in the bayou. It feels like they may have a bigger role to play in this story … but we'll just have to wait and see on that one.
Like so many musical genres, zydeco brings together the sounds and styles of many cultures. We wanted that spirit reflected in this scene (and throughout the attraction) so that all our guests feel welcome to join in the celebration. It's emblematic of what we're always striving for with our attractions – bringing people of different backgrounds together through timeless Disney stories. This new musical adventure provides us with a song sheet to write that concept into reality.
Tiana's Bayou Adventure will take you on a journey inspired by the story and characters from the hit film, picking up where that story left off. In preparation for this new experience and the many exciting updates ahead, Splash Mountain at Walt Disney World Resort will be closed starting Jan. 23, 2023, so we can begin the next phase of this attraction's development. Additional information about Splash Mountain at Disneyland Resort will be shared at a later date.
We will continue to provide updates on the new attraction as they become available.
For a no obligation, FREE Quote on a Disney vacation package, please contact our travel partner Magical Vacation Planner at 407-442-0227 (407-442-0215 for Spanish). You can also request a FREE quote online by Clicking HERE.