One of the things that makes Walt Disney World such a special place is the fantastic level of detail found throughout the four theme parks, two water parks, Disney Resorts, and Disney Springs. No matter where a guest spends their time, they are sure to feel transported to different places in location and time thanks to immersive and beautiful details. Found amongst the details throughout Walt Disney World are Hidden Mickeys, which are images that come together to form Mickey Mouse or another familiar Disney character like Minnie, Donald, or Goofy. Hidden Mickeys can be found in everything ranging from artwork and décor to strategically placed props and greenery. With so many Hidden Mickeys to find, guests love to spend time on their Disney vacations, trying to spot them all. Of the four theme parks, Epcot is home to some fantastic Hidden Mickeys, which range from easy to spot to extremely difficult. Here are the top ten Hidden Mickeys to find in Epcot on a Walt Disney World vacation.

1 – Paint Rings
One of the most recognizable attractions in Epcot is Spaceship Earth, which is housed inside the massive geodesic dome found just inside the entrance to the park. Guests who enjoy a ride on the attraction travel from the beginning of time to modern-day to celebrate the history of communication. Throughout the attraction, guests can enjoy many audio-animatronics reenacting essential moments in history, like the invention of the printing press and man landing on the moon. When moving through the Renaissance scene, guests should look to the left-hand side of their Time Machines just before passing by the sculptor to spot a Hidden Mickey formed by three paint rings on a table.
2 – Onion Rings
An attraction in Epcot, which is sure to have guests tapping into the power of their imaginations, is Journey Into Imagination with Figment. The attraction brings guests into the Imagination Institute, where Dr. Nigel Channing is hosting a tour of the facilities' sensory laboratories. Figment, the lovable dragon, soon interrupts and demonstrates how imagination works best when set free. At one point during the attraction, Figment brings guests to his own house that has been turned upside down. Guests looking closely can spot a classic Hidden Mickey formed by three onion rings in Figment's kitchen.
3 – Canadian Totem Poles
The Canada Pavilion in World Showcase is home to shopping, dining, and experiences, which help guests embrace the spirit and diversity of the country. Just after climbing up the large set of stairs in the front of the pavilion, guests can spot a cluster of totem poles with intricate carvings on them. The totem pole on the left-hand side features a Hidden Mickey found near the very top.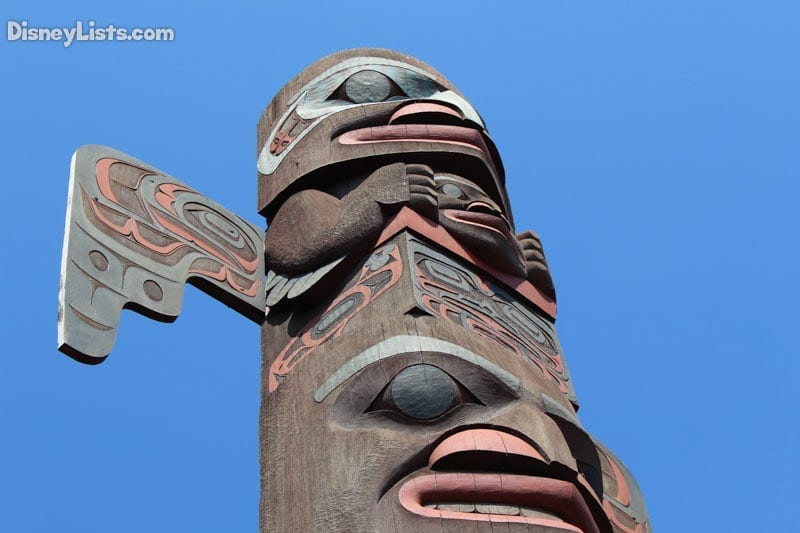 4 – Whiteboard
Journey Into Imagination with Figment is home to several other Hidden Mickeys, including one that can be found in the laboratory dedicated to visual effects and imagination. Guests can spot many different illusions and props that demonstrate how eyes can play tricks at times as well as a classic Hidden Mickey drawn on the whiteboard found to the right-hand side of the scene.
5 – Shrimp Tube
The Land Pavilion is home to an attraction showcasing the land's determination and importance. Living with the Land brings guests on a boat tour that first demonstrates how the land can thrive in all sorts of different environments. Guests then move through a series of greenhouses and habitats showcasing many different plants and vegetation types. At one point during Living with the Land, guests move past a series of tubes that are home to shrimp and a Hidden Mickey made out of circles of wire paneling.
6 – Lettuce
In another area of the greenhouses in Living with the Land, guests glide between two massive tables that grow different types of lettuce. Depending on how grown the lettuce is, guests can spot designs on the tables like the Epcot logo and a massive Hidden Mickey!
7 – Lush Mural
Also found in The Land Pavilion is a restaurant that serves up fresh foods often grown inside the greenhouses of Living with the Land. The Garden Grill Restaurant is open for breakfast, lunch, and dinner and serves up a family-style meal while guests meet Mickey, Pluto, Chip, and Dale. The restaurant is also unique in that it slowly rotates throughout each meal so that guests can enjoy different views for each course. One view at The Garden Grill Restaurant features a massive mural depicting all kinds of beautiful plants and vegetation. Guests who look very closely at the mural can spot a Hidden Mickey peeking out from behind some horizontal ferns.
8 – American Paintings
The American Adventure is a wonderful attraction that can be found in the America Pavilion in World Showcase. The attraction combines artwork, audio-animatronics, and a narration by Mark Twain and Benjamin Franklin to share the story of the American people. Before entering the theater to enjoy the attraction, guests can explore a lobby with plenty of historical artifacts and artwork. One painting depicts a man delivering a speech to a large crowd, and guests can look to the bottom of the painting to spot a classic Hidden Mickey formed by three roses on a woman's hat.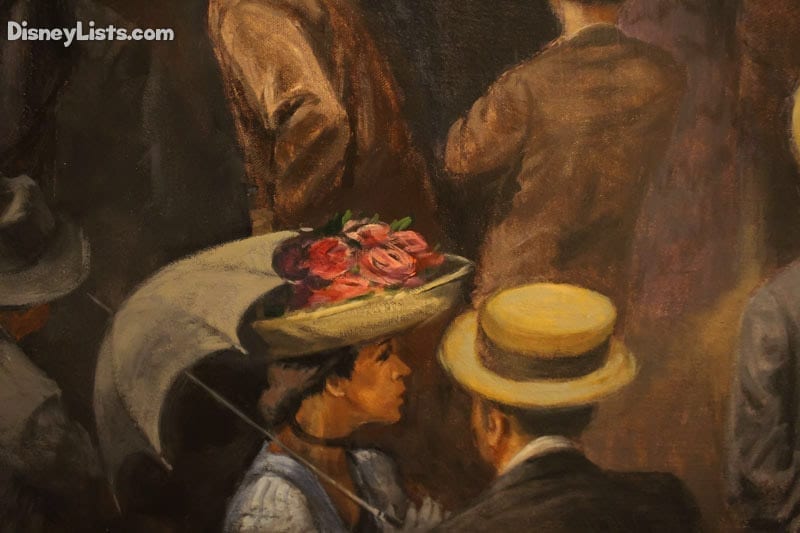 9 – German Vines
Guests who visit the Germany Pavilion in World Showcase can spend time enjoying the classic architecture, shopping, dining, and culture that will trick them into thinking they are really in Germany. A great place to stop and enjoy while in the pavilion is the Karamell Kuche shop, which sells all kinds of delicious caramels and candy. Just inside one of the shop's doorways, guests can spot a Hidden Mickey growing out of a decorative vine on a shelf.
10 – Mexican Drums
The Mexico Pavilion is home to an attraction that brings guests on a scenic tour of the country with some familiar faces. The Gran Fiesta Tour Starring, the Three Caballeros, is a boat ride that brings guests on a journey across Mexico with Panchito and Jose to find Donald in time for their concert. In the attraction's final scene, guests can spot a boat on their left-hand side with a banner that reads, "Viva Donald!" A Hidden Mickey can be located on the front right-hand side of that boat formed by three drums.
For a no obligation, FREE Quote on a Disney vacation package, please contact our travel partner Magical Vacation Planner at 407-442-0227 (407-442-0215 for Spanish). You can also request a FREE quote online by Clicking HERE.