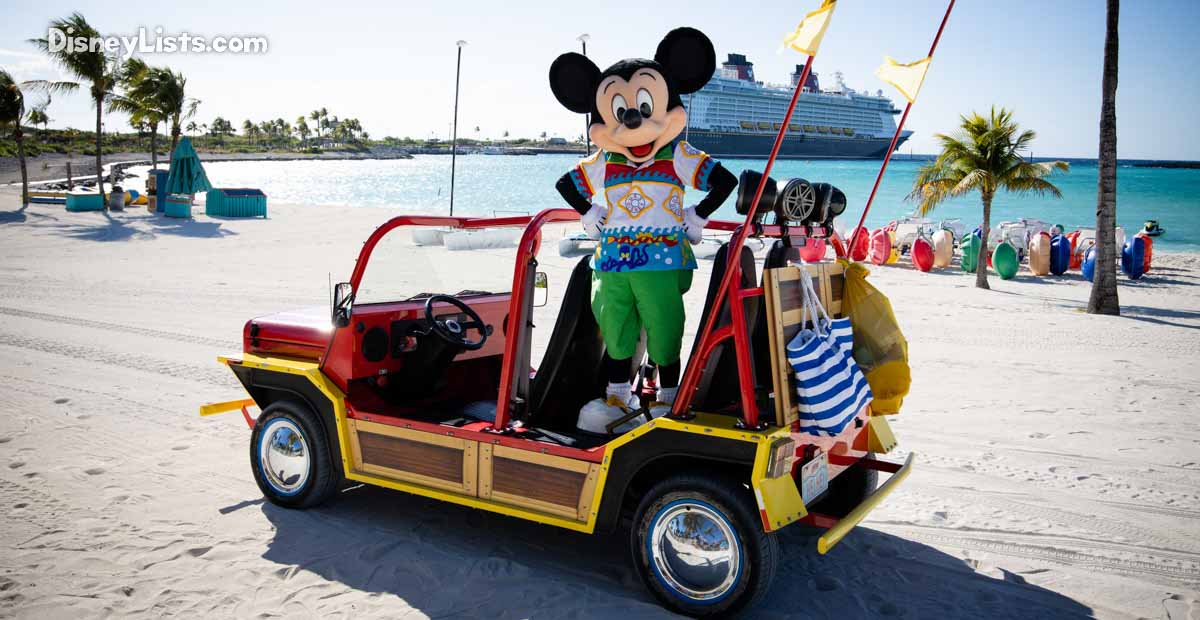 On our final full day of our Pixar Day at Sea cruise on the Disney Fantasy, we spent most of the day on Castaway Cay, Disney's private island. I was eager to show my sisters the island, and we enjoyed our time there. In the evening, we enjoyed our final Broadway-style production, "Disney's Believe," and then said goodbye to the characters during the "See You Real Soon" farewell show. Since there is so much to cover, we're splitting this into two parts. Part 1 covers our time on Castaway Cay. Learn more below.
1 – Castaway Cay
There is so much to do on Castaway Cay that singles, families, adults, and children certainly won't be bored! You can be as active or lazy as you want! We've written about Castaway Cay in the past, and you can find links to those articles below.
Castaway Cay – What You Need to Know About Disney Cruise Line's Private Island
12 Tips & Tricks for Enjoying Disney's Castaway Cay with Young Kids
2 – Castaway Cay 5k
In years past, the Castaway Cay 5k was an organized event where guests received bibs, and there was an official start. Chad and I had done this organized race in 2019. However, the race is no longer organized, and guests can walk or run the 5k at any point in the day. The course is marked, and when finished, guests can go to the Bike Barn to get their medals. It's entirely on the honor system, and Cast Members will give medals to anyone who has said they completed the 5k. My sisters completed the 5k while I visited with characters. They enjoyed seeing the island but thought the course could have been marked better. The loop section has to be done twice, and while Cast Members said that when we asked about the process, it was unclear which section needed to be done twice on the course. Because of that, they walked over miles instead of 3.1 miles. Other than that, they enjoyed their time. The 2023 medals feature Mickey Mouse, and they were happy to add them to their collection!
3 – Greeting Characters on Castaway Cay
Just like on the ship, you'll be able to greet characters on Castaway Cay. They wear their beach gear and can be found at different locations but primarily closer to the ship. For example, Donald and Daisy were greeting guests at the Post Office (before the tram stop), Jack Sparrow was not far from the Post Office, Chip n Dale were found on the path to Scuttles Cove, and finally, Mickey, Minnie, Pluto, and Goofy greeted near Mount Rustmore, just beyond the first tram stop. Location and greeting times are published in the app, although Chip n Dale were not listed, and I was happy to see them at their pop-up location.
While we always encourage guests to get to the island first thing in the morning, if greeting characters is important to you, you'll want to check and see when the characters will be greeting at the Post Office, which is right near the ship. I left the ship at 8:30 am, so there were no characters when we passed it. Daisy started greeting at 9:00 am, and then Donald took her place at 9:30 am. It would have been better if I had timed it so I could greet Daisy and then Donald before heading into the main sections of the island.
As I mentioned above, Mickey, Minnie, Pluto, and Goofy were rotating at two locations near Mount Rustmore and Scuttles Cove. They also only greet in the morning; at least, that is how it was when we visited. There were no more character greetings beyond 11:00 am when we visited. So if you want to meet the characters, plan on doing that in the morning.
4 – Castaway Cay Getaway Package
There are a variety of extras guests can purchase before visiting the island and then when on the island. One activity we love is the Castaway Cay Getaway Package, which is $26 per guest ages 4-9 and $46 for guests ages 10+. The package is a discounted 3-in-1 rental that includes snorkel equipment, a float or inner-tube rental for the day, and a one-hour bicycle rental. Giving you plenty of extra activity options for your time on the island.
The snorkel lagoon is located at Family Beach. It's a 20-acre area where you can take two different trails: beginner or discover. These trails let guests explore the marine habitat with underwater surprises. Disney Cruise Line has done a nice job of creating artificial reef environments that a plethora of colorful and exotic fish call home. There's plenty to discover underwater, including a statue of Minnie, a Mickey shipwreck, an old 20,000 League Under the Sea ride vehicle, and more. Don't worry about finding them. Look for the white and orange buoys that mark the major items. Booked alone, an adult set costs $34, and a child set costs $18.
The package also includes your choice of an inflatable float of inner tube so you can relax on the water. You can purchase a rental of these floats for $13 on the day of your visit if you don't want to buy the package.
Finally, the package includes a one-hour bike rental, which is a great way to see the island. There is a dedicated bike path for guests to explore the mangroves and get around the island quickly. Note that while it says one hour, the Cast Member who talked with us said that they use "Bahamian Time," which means they are not looking too closely at how long you are gone. Feel free to enjoy your bike ride at a leisurely pace and bring them back when you are done. You will not be charged extra if you go over an hour. Bike rentals alone cost $13 per hour.
5 – Dining on Castaway Cay
A great thing about Castaway Cay is that you don't have to go back to the ship to eat lunch. There are three dining areas available to guests: Cookies, Cookies II, and Serenity Bay BBQ for adults only. Cookies feature typical backyard barbequed fare such as ribs, hamburgers, hot dogs, and chicken sandwiches, etc. The food choices are the same at each location, so head to the one closest. Each Cookies location also has self-serve ice cream machines, drink machines, and a fruit stand.
Adults spending their time at Serenity Bay don't need to the seclusion of the adults-only area to eat lunch or grab a drink. A smaller lunch buffet, Bahamian specialty drinks, beer, and mixed drinks are served at the nearby Castaway Air Bar. As an added bonus at the adults-only lunch location, ribeye steaks grilled to order are available.
This was my fourth time visiting Castaway Cay, and I was disappointed with the food this time. Usually, it's great, so I wonder if it was just an off day. Unfortunately, the food from Cookies was either cold when it was supposed to be hot or so overcooked that it was not edible. Some items were fine, but overall, the food was not up to the standard on the day we visited.
There are also lounges and places to get frozen treats on the island. There are a variety of novelty items you can purchase with the drinks. There are also water bottle refill stations at most of the water fountains.
6 – Adult Time at Castaway Cay
Since we had no kids with us, we spent some time on Serenity Bay, the adult-only area of the island. This area is relaxing but can be a bit windy. The area includes a lounge, lunch area, hammocks, and lounge chairs on the beach. While it was quieter, it was also very crowded, so we headed back to the Family Beach for some swimming and relaxation. It also offers a chance to watch the snorkelers searching for treasure.
7 – Shopping on Castaway Cay
A trip to the island wouldn't be complete without shopping! You'll want to visit a few stores during your time on the island. First, 'She Sells Sea Shells…and Everything Else' is the larger store with a great offering of Castaway Cay exclusive merchandise and other sundries. Further in on the island is 'Buy the Seashore," which has a smaller collection of exclusive merchandise. It also is a great place to purchase sand toys for the kids.
When we visited, charging items to the room was the only form of payment they accepted. Disney Gift Cards, cash, and credit cards are not accepted on the island. However, you can apply gift cards to your account at Guest Services on the ship to "pay" for any charges on the island.
Also, be aware that the stores will close about 45 minutes before the last call ashore. We had to return to the ship by 4:45 pm, so the stores closed at 4:00 pm on the day we visited. We suggest you visit the stores early in the day, so you have plenty of time to look around. Most of the items are island exclusive, and you won't find them on the ship! So, if you see something you think you'd like to purchase, you'll want to go ahead and buy it then.
Tip: If you do not want any item purchased on Castaway Cay, you can return those items on the ship. You won't be able to exchange sizes, but at least you know you can return them if you change your mind. You don't have to return the item on the island.
Learn more about Pixar Day at Sea on the Disney Fantasy
Read about our voyage to hear more about the experience, learn tips and tricks for cruising, and read our reviews of all the unique offerings.
Articles with Cruising Tips and Tricks 
Learn more about the Disney Cruise line and our Pixar Day at Sea Cruise on the Disney Fantasy!
TRAVEL LOG: Getting Ready to Sail on Our Pixar Day at Sea Cruise on the Disney Fantasy!
TRAVEL LOG: Day 1 of Our Pixar Day at Sea Cruise on the Disney Fantasy – Arrival Day
TRAVEL LOG: Day 2 Our Pixar Day at Sea Cruise on the Disney Fantasy – Sea Day
Click here for a full review of the Hey Howdy Breakfast with Woody and Friends to learn more and get tips and tricks for the best dining experience.
TRAVEL LOG: Day 3-Part 1 of Our Pixar Day at Sea Cruise on the Disney Fantasy – Pixar Day at Sea
TRAVEL LOG: Day 3-Part 2 Our Pixar Day at Sea Cruise on the Disney Fantasy – Pixar Day at Sea
TRAVEL LOG: Day 4 of Our Pixar Day at Sea Cruise on the Disney Fantasy – Tortola, BVI and Pirate Night
TRAVEL LOG: Day 5 of Our Pixar Day at Sea Cruise on the Disney Fantasy – San Juan, Puerto Rico
TRAVEL LOG: Day 6 of Our Pixar Day at Sea Cruise on the Disney Fantasy – Sea Day
Days 7-8 are coming soon!
Instagram Story with Photos and Video of our Cruise
Day 1 – Instagram Story Highlight – Arrival Day
Day 2 – Instagram Story Highlight – Sea Day
Day 3 – Instagram Story Highlight – Pixar Day at Sea
Day 4 – Instagram Story Highlight – Tortola, British Virgin Islands, and Pirate Night
Day 5 – Instagram Story Highlight – San Juan, Puerto Rico
Day 6 – Instagram Story Highlight – Sea Day
Day 7 – Instagram Story Highlight – Castaway Cay
For a no obligation, FREE Quote on a Disney vacation package, please contact our travel partner Magical Vacation Planner at 407-442-0227 (407-442-0215 for Spanish). You can also request a FREE quote online by Clicking HERE.
Editor's Note: Disney Cruise Line provided a complimentary Pixar Day at Sea Cruise with special media-specific events and tours during the cruise. However, as always, the thoughts and opinions about Disney Cruise Line in this article are entirely our own.