Kali River Rapids is a fun, water attraction in the heart of Asia at Disney's Animal Kingdom.  The attraction perfectly transports you to Asia and immerses you into the culture and all of the surroundings, while also providing you with a big splash and a chance to cool off!  There is so much to learn about the Asian culture, and so much you can learn about this attraction.  Here are ten of my favorite facts and secrets about Kali River Rapids:
10 – Basic ride facts.
The attraction opened in March 1999.
The full-ride length is around 4.5 minutes
There are 20 rafts in operation and each seat 12 people
You must be at least 38" tall to ride, but there is special care required for smaller riders.
If you are in a wheelchair, you must transfer in order to ride.
9 – Store your items in lockers
There used to be a storage compartment within the rafts to keep your items from getting wet. Disney has recently removed those storage areas, so be prepared for anything you carry with you to possibly get wet. However, Disney has storage lockers to the left of the entrance of the rapids. The first eighty minutes are free, so unless the wait time is extremely long, you'll get to store your items for free.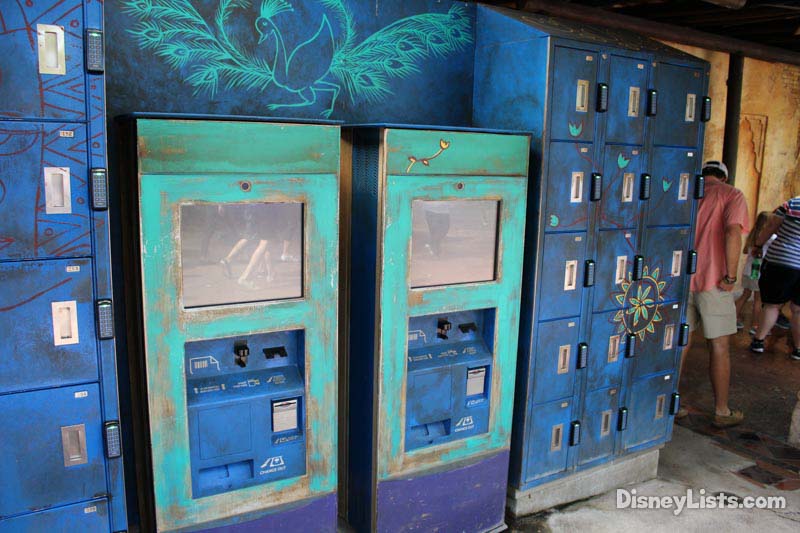 8 – The fire was put out.
There used to be a fire effect that went off on certain sections of the ride. This hasn't been in operation for a few years and we aren't sure what happened to the fire.  We aren't sure if they will ever be back in operation to create that effect on the attraction again.  I don't think we miss the fire on super-hot days, but it was a pretty cool effect and would be nice to see it back in effect eventually.
7 – The drop is how long?
The big drop on the attraction is only around 25ish feet.  This sounds small compared to other attractions and compared to the fact that you start the attraction by climbing around 90 feet, but it is a pretty thrilling and fun drop for the attraction.  The drop isn't the only thrilling part of the attraction, so prepare for lots of fun!
6 – The ride almost had a different name.
When the ride was in the earlier stages and the imagineers where doing all of their research, the ride was being crafted under the name of Tiger Rapids Run.  As the ride and theming progressed, the ride was renamed to Kali River Rapids as we know it today.
5 – There are scents intentionally pumped into the ride.
I was floored to learn this.  I don't remember noticing this before, but apparently as you are going up the ramp at the very beginning of the attraction you will get the scents of jasmine and ginger.  The scents are infused in the mist so that you pick up on these native Asian scents as you begin the attraction.  You also smell smoke during the loggers section so that you get a feel for the real logging environment.  I will definitely be paying extra attention to this next time I ride the attraction!
4 – Guests on the bridge will get you wet!
Ever notice that the elephants can shoot water at you while you wait to exit the ride? You have other Disney guests to thank! Located on the bridge overlooking the ride are two different spots where guests can push a green button that will send water spraying on the guests below. Pretty sneaky!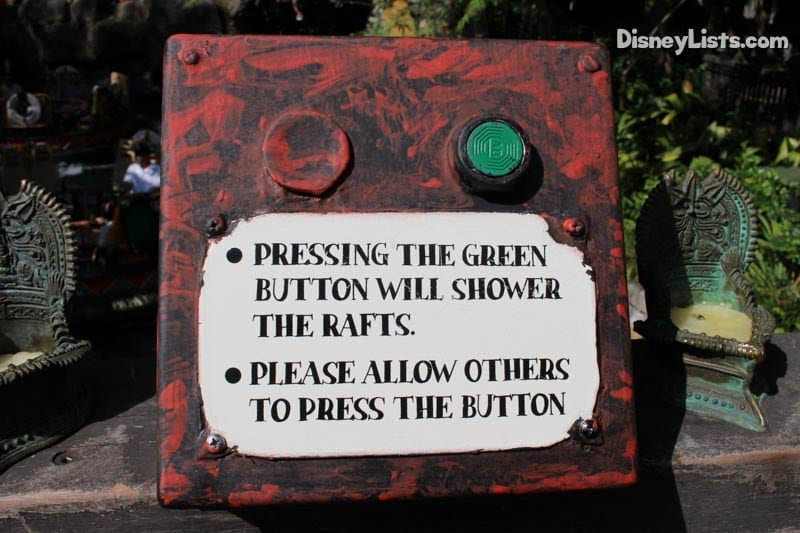 3 – Amazing Asian details.
Disney always puts everything into the details.  Every single aspect of the attraction is intentional and perfectly planned to be an amazing Asian experience and transform you to another area.  You will find things like ruins, prayer shrines, statues, native flags, feline statues, hand-painted murals and so much more.  You will even notice sandals lined up outside of the palace, since it is considered customary to remove your shoes before you enter a temple or a place of prayer.  The Asian culture is definitely present in every detail and design for the attraction and it is an extremely immersive experience.
2 – Each raft has a different name.
Each of the twenty rafts on the attraction are named.  The names are super fun names like, "Himalayan Hummer" "Sherpa Surfer", "Manaslu Slammer", "Kathmandoozy", "Banyan Bay" or the "Kali Bumper Car".  We always appreciate the little details and it can be a lot of fun to keep track of how many different rafts you and your family have ridden in.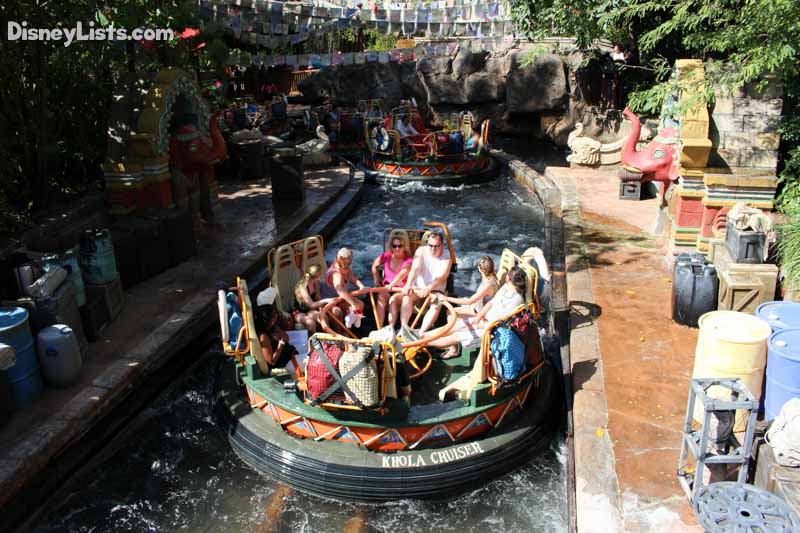 1 – You will get wet!
That is the understatement of the year.  Let's face it, you are very likely to get SOAKED.  There are dips, drops, waterfalls, splashes, etc.  With each and every water effect, the likelihood of getting wet increases.  I don't think I have ever ridden the attraction and not gotten pretty wet, and several times have been completely soaked.  It is so much fun though, and a great way to cool off on a hot day.  If you are concerned about getting wet, you can do what some do and wear a poncho while you are on the ride, or you can just embrace and enjoy the water!  Just don't go in thinking you may escape getting wet, because it sure isn't very likely!
For a no obligation, FREE Quote on a Disney vacation package, please contact our travel partner Magical Vacation Planner at 407-442-0227 (407-442-0215 for Spanish). You can also request a FREE quote online by Clicking HERE.