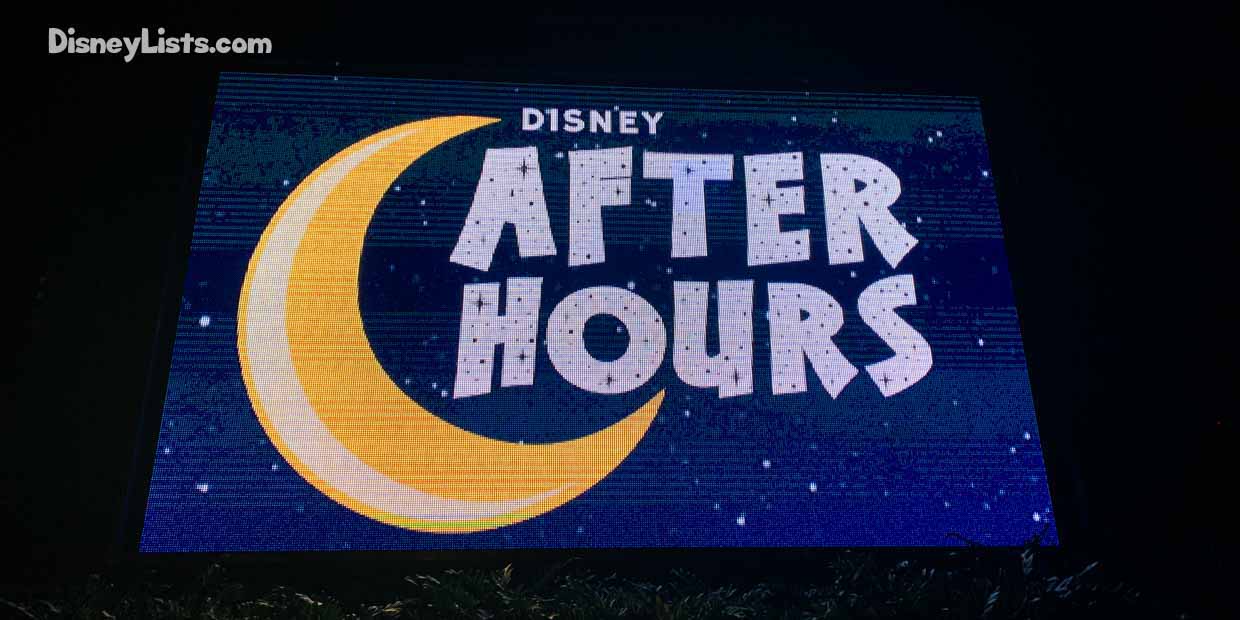 High ticket prices, Disney Genie+, and Individual Lightning Lane purchases make visiting Walt Disney World more expensive than ever. So you might be wondering why we recommend spending even more money for an after-hours special ticketed event. There are several reasons why and we do believe a night at Disney After Hours at Disney's Hollywood Studios is a great value overall because you can get so much done. Learn the reasons why we feel this event is totally worth it below.
7 – Disney After Hours is a Separate Event with Limited Ticket Sales
Disney After Hours is a separate ticket event that first appeared at Magic Kingdom in 2016. Over the years, it's been offered at other parks (except for EPCOT, but that will change in summer 2023), including Disney's Hollywood Studios. However, the event there was not offered once Star Wars: Galaxy's Edge opened in 2019. Over at Magic Kingdom, the event got a Disney Villains theme in early 2020 before the parks shut down in March 2020 because of the pandemic.
In January 2023, Disney After Hours events returned to Disney's Hollywood Studios and Magic Kingdom. The popularity of these events is due to the fact that while the event is only three hours long, very low crowds offer guests the opportunity to get a lot done because wait times are much lower than during regular operating hours. They can promise low crowds (and deliver on that promise) because the amount of tickets sold is limited. Disney does not reveal just how many tickets are sold, but on the night we visited, it was sold out, and during our time at the event, Star Wars: Rise of the Resistance was a walk-on. Yep, you read that right. One of the most popular rides at Walt Disney World that regularly has 2-3 hour waits on a normal day had a five-minute wait. And that's just because walking in the queue takes that long! (Read #3 for more on wait times and what you can get done in a night).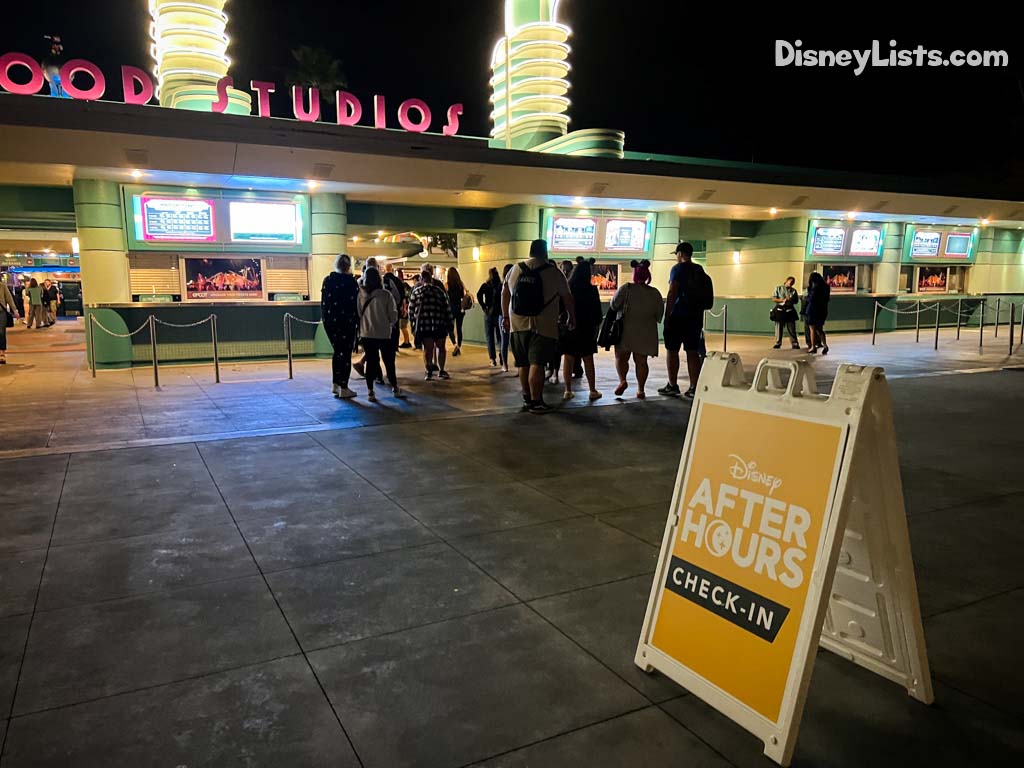 6 – The Event is Three Hours, but you Can Enter Early for a Total of Five and a Half Hours
During the spring of 2023, the event at Disney's Hollywood Studios runs from 9:30 pm – 12:30 am. In May and June, it runs from 10:00 pm – 1:00 am. However, you can enter the park as early as 7:00 pm on the night of the event. This gives you an extra two and a half hours in the park before the event. You can use that time to ride something that is not open during the event because not all attractions operate. You could catch Fantasmic! or just get extra ride time in. While the park will be busy, it is bonus time that is nice to have.
The park closes at 9:00 pm, and while the event doesn't officially begin until 9:30 pm, only those with wristbands can enter the queue once the park is closed. That buffer time allows regular-day guests who entered the line before closing a chance to ride and clear out. Expect lines to be the longest in the 9:00-10:00 pm hour.
5 – Complimentary Beverages, Ice Cream Treats, and Popcorn
Another perk included with admission is you'll be able to enjoy ice cream novelties such as Mickey Bars and Mickey Ice Cream Sandwiches throughout the evening. A non-dairy Strawberry Fruit Bar is also an option. Drinks such as Coke, Diet Coke, Sprite, and Dasani water are also included. Finally, popcorn is also included. Most stations have boxes of popcorn ready to go, although, in the center of the park, you can get fresh popcorn at the popcorn stand. You can have as many of these treats as you want throughout the evening.
The only limit you'll find is that many stands end up running out of certain drinks and treats in the last hour of the evening. In the last half hour especially, only one or two drink options and one or two ice cream options were available. We highly recommend getting what you want earlier in the evening and not waiting until the last minute.
We certainly ate and drank more than we normally would if we had to pay for these items. However, being able to get multiple snacks and drinks throughout the evening is a great bonus to offset the ticket price. Bottled water costs $3.75, sodas cost $4.69, ice cream treats cost $5.99, and finally, popcorn costs $5.50. If you come hungry and thirsty, you can expect to receive anywhere from $25-$40 worth of food and beverage items during your visit. Again, while you wouldn't pay to come to this event to save $30 on snacks, we love that these items and included, and it does offset the cost of the event.
4 – The Attraction Lineup is Impressive, with Some of Walt Disney World's Most Popular Attractions
People go to Disney's Hollywood Studios to ride Walt Disney World's most popular attractions. While there are plenty of favorites at other parks, Disney's Hollywood Studio really packs a punch with its offerings. It's one of the reasons why the park is so popular, and most of its attractions have very long wait times most of the day. The attraction lineup is impressive and offers the park's most popular attractions.
Here is a list of attractions open during Disney After Hours:
Mickey and Minnie's Runaway Railway
Star Tours – The Adventure Continues
Millennium Falson: Smuggler's Run
Star Wars: Rise of the Resistance
Alien Swirling Saucers
Slinky Dog Dash
Toy Story Mania!
Rock 'n' Roller Coaster
The Twilight Zone Tower of Terror
The event brochure mentioned to be on the lookout for Disney characters. We only saw the Green Army Men in Toy Story Land. We never saw any other characters during the evening.
3 – Low Wait Times and Riding Everything You Want
Why would you pay extra to come to a three-hour event? Because you'll get to ride so many attractions. More than you would even during a full day at the park on a normal day. Why? Because of the limited amount of tickets sold, even with a sold-out night, the wait times are low enough, and you can ride all of the top Dinsey's Hollywood Studios attractions. You may be able to do some twice.
We got there a little after 8:15 pm. The park closed at 9:00, and the event officially began at 9:30 pm. In that time, while never rushing, we rode Rock 'n' Roller Coaster twice, Toy Story Mania, Slinky Dog Dash, Star Wars: Rise of the Resistance, Mickey and Minnie's Runaway Railway, and Tower of Terror. And that was with about twenty-five minutes lost on Rock 'n' Roller Coaster because the ride kept going down because people were throwing up after riding. Had that not happened, we know we could have ridden another attraction.
Let's look at wait times on a typical afternoon in the park. The screenshots below are from 2:01 pm and then 3:38 pm on January 25, the day of our event. This would be the height of a busy day at the park.
Now let's compare those regular wait times to what we actually waited during the event. Here are the wait times for the attractions we rode: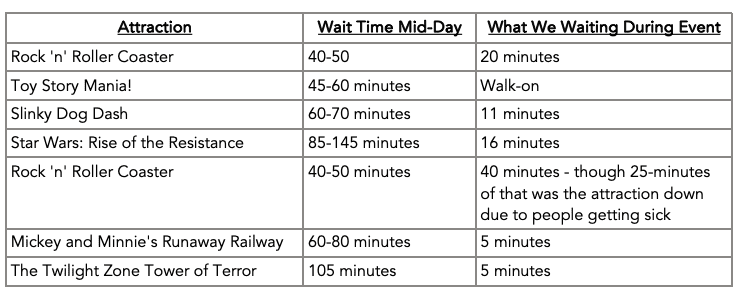 Here are the wait time for the attractions we didn't ride:

So if we had to wait in line for each of the attractions we rode during the event, based on the wait times above, we would have waited in line for 10 hours. And realistically, we wouldn't have been able to actually ride all of those because once you factor in the time needed to ride the attraction, eat meals, etc. There isn't enough time in the day to wait for these attractions and ride them all. Even with the help of Genie+ and a Lightning Lane for Rise, it would be challenging to ride all the ones we did.
The wait times got even better as the night progressed, and towards the end of the night, Star Wars: Rise of the Resistance had a five-minute wait. Take a look at the wait times posted throughout the evening (time in the upper left corner):
As you can see, wait times during the event are very low, especially when compared to what they are during the day. And they can be even better than what is posted. More often than not, the wait times are lower than what is posted during the event. For example, when I got in line for Tower of Terror, the wait time posted was 35 minutes. I only waited five minutes. Don't be put off by wait times during the event. And even if I had to wait 35 minutes during the event, that is much better than 105 minutes during the day.
2 – Once You Factor In Disney Genie+ and Lightning Lane Purchases, The Price is Not Unreasonable
Knowing how many attractions you should be able to experience during the event, let's talk about the cost. Prices for the event range from $139-$149, depending on the night you attend. Passholders and Disney Vacation Club Members receive a $30 discount on their ticket. However, we will focus on what a regular guest would pay.
We enjoyed the event on Wednesday, January 25. The prices we discuss below are specific to prices for that specific date. Prices on other days may vary. For our example, we're going to assume that a guest will go to the After Hours event at Disney's Hollywood Studios instead of visiting during the day. Since we know they will likely get even more done than if they went during the day, how much extra would this person be paying?
In order to ride everything they wanted, a day guest would need to purchase Disney Genie+ and also an Individual Lightning Lane for Star Wars: Rise of the Resistance. On January 25, the price of Disney Genie+ was $18, and to purchase an Individual Lightning Lane for Rise was also $18. That's an additional $36 to have a better chance of riding the top attractions. And while you would be guaranteed to be able to ride Rise of the Resistance, most guests can only expect to ride two or three Genie+ attractions. Meaning that while you will get some of the top attractions done, you'll need to wait hours for the others.
If a guest wanted to visit Disney's Hollywood Studios during regular hours on January 25, a one-day ticket would cost $159. That would be a no-brainer. You'd be much better off purchasing an After Hours ticket at $149 than a full-day ticket at $159 plus the $36 for Genie+ and an Individual Lightning Lane (a total of $195). You'd actually get to ride more during the After Hours event and save money doing it that way.
However, most people coming to Walt Disney World do not purchase one-day tickets. So I looked at the cost of a 6-day and 7-day ticket with the idea that someone on a one-week vacation could spend six days in the parks, and their 7th day would be for Disney After Hours. The price difference between a six and seven-day ticket is actually only $21 because you get a great discount the more days you spend in the parks. So if you purchased a six-day ticket (instead of the seven-day), you'd be looking at this pricing:
$21 savings for a 6-day ticket instead of a 7-day ticket
$18 saving for Disney Genie+
$18 saving for Individual Lightning Lane

$30 approximately in snacks and beverages

$87 – saved
The price for Disney After Hours on January 25 was $145. That means you're paying about $58 to attend the event after you factor in your savings. While $60 is nothing to sneeze at and certainly a hefty additional expense, we feel that $60 is totally worth it to really be able to experience all of the amazing attractions at the park.
1 – It's Totally Worth It
Here are more reasons why we feel spending extra on Disney After Hours at Disney's Hollywood Studios is totally worth it:
Less stress about whether or not you'll be able to ride your favorite attractions.
If you choose, you can ride Star Wars: Rise of the Resistance multiple times one evening.
You have the flexibility to ride exactly what you want without letting hour-long wait times dictate your day.
You get to enjoy the park in the evening with cooler temperatures.
The included food and beverage items are a nice bonus that won't leave you hungry.
The fact that it means you have a free day during your vacation to relax and enjoy your resort or Disney Springs, but it still gets you into the park in the evening.
You can grumble that visiting Walt Disney World is terribly expensive. You can say that paying to play is the new normal, and it sucks. We totally agree. But if you're looking for a fantastic experience in a park where you can get a ton done with low wait times, great weather, and included snacks, then Disney After Hours at Disney's Hollywood Studios is worth every penny. The cost for the event is not as much as you think when you factor in other saved costs, and is totally worth it.
Editor's Note: Our visit to Disney After Hours at Disney's Hollywood Studios was not sponsored in any way. We purchased our tickets at the annual passholder rate. As always, our thoughts and recommendations are completely our own.
For a no obligation, FREE Quote on a Disney vacation package, please contact our travel partner Magical Vacation Planner at 407-442-0227 (407-442-0215 for Spanish). You can also request a FREE quote online by Clicking HERE.