News
NEWS: Disney Reveals New Storyline for Tiana's Bayou Adventure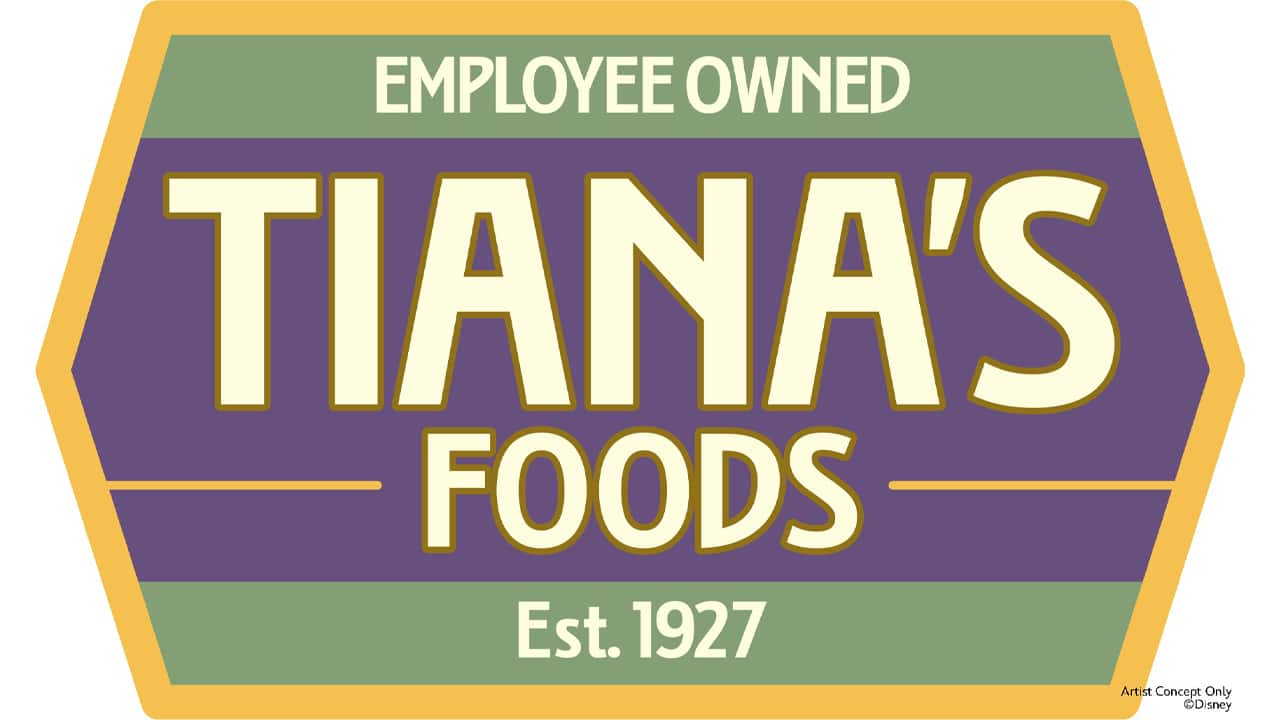 Splash Mountain has closed at Magic Kingdom, and work is underway to transform the attraction into Tiana's Bayou Adventure. Disney has revealed new storyline details for the upcoming attraction that is set to open in late 2024. Learn more below.
Here are all the details from Disney Cast Member Kevin Rafferty Jr.:
At a young age, Tiana developed a deep passion for cooking, and began to dream of one day owning her own business. Her father, James, taught her that good food brings folks together. One of the most exciting parts of Tiana's Bayou Adventure is that we're going to see where Tiana's life has taken her following the success of Tiana's Palace, a restaurant she had dreamed of owning and worked so hard to make come true.
Walt Disney Imagineering is creating an original, next chapter story for Tiana. Within the attraction queue, guests will discover that she continues to grow her business with Tiana's Foods – an employee-owned cooperative. Combining her talents with those of the local community, Tiana has transformed an aging salt mine and built a beloved brand.
The endeavor began when Tiana purchased the salt mine and the area surrounding the large salt dome it operated from. With the help of her mother Eudora, Naveen, Louis and fellow owners of the cooperative, Tiana revived the old salt mine and the surrounding land, growing a wide array of vegetables, herbs and spices for her recipes.
This multi-faceted enterprise has turned the aging salt mine into a space that has come alive. Complete with a boutique farm and both a working and teaching kitchen, Tiana's Foods is where Tiana and her colleagues create all sorts of new products that they are bringing to the world, including a line of original hot sauces.
Tiana wants to give a big thanks to her family and friends and the entire community for all the support they've given her by throwing an amazing party during Mardi Gras season. When it turns out there's been a bit of a mixup with the party preparations, Tiana invites us to meet her at Tiana's Foods to help with the missing ingredient for the party.
When we arrive, we may see that Tiana spruced up the company's facilities with vibrant art from local artists. Food for the party is being prepared and beignets are being loaded into crates for the celebration. All kinds of preparations are underway for the journey into the bayou with Tiana, along with new and familiar friends from the animated film.
Picking up where that story left off, Tiana continues bringing people together with Tiana's Foods, another treasured meeting place to spend time together and celebrate a diverse community. Tiana is also working with cooperative members to teach gardening and cooking to children of all ages, and inspiring other women to run successful businesses as the brand grows nationwide.
Continue following along for updates relating to Tiana's Bayou Adventure, as it makes its way to Walt Disney World Resort and Disneyland Resort in 2024.
RELATED ARTICLE: Headliners: The 9 Best Attractions at Disney's Magic Kingdom Park
by Katy
Of the four theme parks in Walt Disney World, many guests love to spend the majority of their vacation time in the Magic Kingdom. The park is home to several different lands filled with attractions, entertainment, dining, and shopping for guests to enjoy. While all of the other experiences are amazing, the Magic Kingdom's attractions keep guests coming back time and time again. With attractions spanning everything from classic to thrilling, guests are sure to love visiting them all on a day in the park. Here are the top nine best attractions to enjoy while spending time in the Magic Kingdom.
1 – Space Mountain
Tomorrowland is home to one of the Magic Kingdom's most thrilling attractions, which takes guests into space. Space Mountain brings guests into Starport 75, where they can blast off into outer space in rockets for a thrilling adventure. The attraction takes place in near darkness, so guests are constantly thrilled by the sudden twists, turns, and drops. With galactic stars shooting by and a fun soundtrack, Space Mountain is a must-do attraction in the Magic Kingdom.
2 – Big Thunder Mountain Railroad
Found right next door to Splash Mountain in Frontierland is the wildest ride in the wilderness. Big Thunder Mountain Railroad invites guests to board a runaway mine train for a thrilling journey through caverns and around the mountain. Guests can take in beautiful views of the nearby Rivers of America and Tom Sawyer Island and enjoy plenty of twists and turns while riding Big Thunder Mountain Railroad.
3 – Haunted Mansion
Perhaps the most beloved attraction in the Magic Kingdom is the Haunted Mansion in Liberty Square. The attraction invites guests to enter into the manor house, where they can encounter nine hundred and ninety-nine happy haunts that cause all sorts of eerie happenings and strange occurrences. While moving through the Haunted Mansion in their Doom Buggies, guests can spot favorite characters like Madame Leota, the hitchhiking ghosts, and Constance, the murderous bride.
4 – Pirates of the Caribbean
Another classic attraction in the Magic Kingdom that can't be missed can be found in the heart of Adventureland. Pirates of the Caribbean invites guests to set sail with swashbuckling pirates and move through eerie caves filled with skeletons and a burning seaside village. Featuring plenty of iconic scenes and the favorite song, "Yo Ho (A Pirate's Life For Me)," Pirates of the Caribbean is a favorite attraction of many guests.
5 – Seven Dwarfs Mine Train
One of the most popular attractions in the Magic Kingdom can be found in the New Fantasyland portion of Fantasyland. The Seven Dwarfs Mine Train invites guests to board gently swaying mine carts and head into the mines, where the dwarfs dig up precious gems all day long. With beautiful views of the surrounding Fantasyland and Storybook Circus and glimpses of the dwarfs and Snow White, the Seven Dwarfs Mine Train is a must-do in the park.
6 – "it's a small world"
Perhaps the attraction that is considered the most classic in the Magic Kingdom is "it's a small world." The attraction has guests board boats to set sail on the happiest cruise there ever was. Each room of "it's a small world" features dozens of singing dolls representing the different countries of the world. With beautiful scenery and the classic song of the same title, "it's a small world" is a beloved attraction.
7 – Peter Pan's Flight
Also found in Fantasyland is an attraction that brings guests directly into one of the most beloved Disney animated classic films. Peter Pan's Flight first brings guests through the Darling's house and nursery, where they are sprinkled with pixie dust. They can then take to the skies and soar over London and Neverland with Peter Pan and the Darling children to relive memorable moments from the film while riding in pirate ships.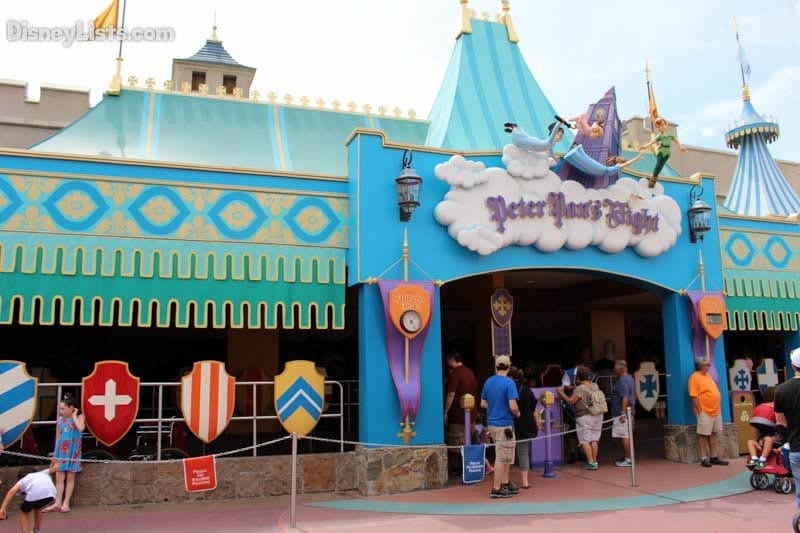 8 – Dumbo The Flying Elephant
One attraction in the Magic Kingdom is often considered a rite of passage for guests who are visiting for the first time. Dumbo the Flying Elephant can be found in Storybook Circus and allows guests to magically take to the sky with the lovable elephant for a whimsical flight. Dumbo the Flying Elephant features two different spinners, each with a beautiful fountain at their base. In the middle of it all is a circus tent which is home to a play area for children and adults to enjoy while waiting to board. Dumbo the Flying Elephant offers beautiful views of the surrounding areas and is definitely a headliner attraction in the Magic Kingdom.
9 – Buzz Lightyear's Space Ranger Spin
The final attraction that guests simply can't miss in the Magic Kingdom can be found in Tomorrowland. Buzz Lightyear's Space Ranger Spin brings guests into Star Command, where they can help defeat the Evil Emperor Zurg by taking aim at targets in several different rooms. Guests can accrue points and compete to see who can score the highest and become a galactic hero. Buzz Lightyear's Space Ranger Spin allows guests to tap into their competitive sides and become part of Buzz's world while spending time in the Magic Kingdom.
For a no obligation, FREE Quote on a Disney vacation package, please contact our travel partner Magical Vacation Planner at 407-442-0227 (407-442-0215 for Spanish). You can also request a FREE quote online by Clicking HERE.