Resorts
Our 8 Favorite Resort Pools at Disney World
After spending a hot day at the theme parks, there's nothing better than coming back to your resort at night and going for a refreshing swim. All the resort pools at Walt Disney World are cute and refreshing, but some stand out thanks to their impeccable theming and amenities. Unique pools are just one of the many things that set Disney World resorts apart from any other hotel in the world, and it would be a shame not to take advantage of them during your vacation!
8 – Uzima Pool- Disney's Animal Kingdom Lodge Resort
There are many activities competing for your attention during your stay or visit to the Animal Kingdom Lodge! You can check out one of the excellent restaurants or walk the animal trails. However, the pool is just too enticing (especially on warm days) to ignore. Looking like a true, glorious oasis, Uzima Pool is one of Disney's largest pools and sits just a few feet away from some fantastic animal viewing areas. The pool offers a zero-entry point and a 67-foot-waterslide, but it also provides some calming features. For example, tucked under lush foliage is the pool bar and the hot tubs. Who wouldn't want to play in a pool where you can visit flamingos in between dips and drops on the waterslide?
7 – Doubloon Lagoon- Disney's Port Orleans French Quarter Resort
When I look back on my family vacations to Disney, I always remember days spent at the Port Orleans French Quarter pool. I remember being amazed that you could slide down the mouth of a giant half-serpent, half-snake, and I loved running amongst the figures of the gators playing music. This pool has such a fun atmosphere, and the best part is that you're never too far away from a hot tub, or a visit to the food court for a snack of warm beignets!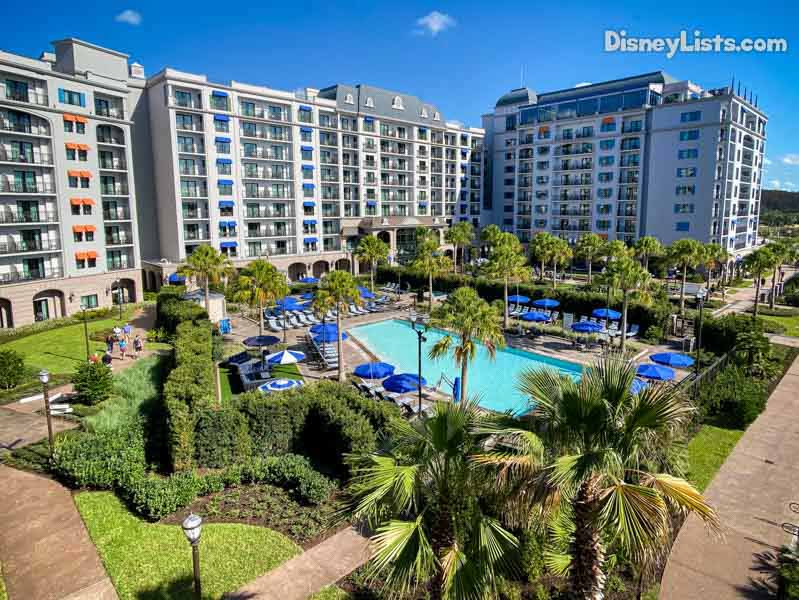 6 – The Riviera Pool- Disney's Riviera Resort
Word hasn't really gotten around yet about the Riviera Pool at Disney's Riviera Resort, but it really is a beautiful place to swim! You can splash amongst elegant architecture and décor and slide down a waterslide that winds around a column tower. Additional small slides can be found at S'il Vous Play, a water play area modeled after the fountains of Europe. Beau Soleil, a more quiet pool, can be found close to the main Riviera pool. Feel free to grab a creamy gelato from a cart near the pool entrance and eat on one of the lounge chairs either before or after your swim!
5 – The Lost City of Cibola Pool- Disney's Coronado Springs Resort
Coronado Springs is a huge resort, and it can feel like quite the journey to reach the Dig Site where the pool is located. However, the trek is well worth it! Settled amongst Mayan ruins, this pool features a 50-foot pyramid complete with a waterfall and a 123-foot Jaguar waterslide. You can also find the largest hot tub at Disney World here- it holds up to 22 people! If you don't feel like getting wet, you can visit the nearby play area, which is themed after a dig site, or visit the arcade, sand volleyball court, and Siesta Pool Bar. This pool is equally beautiful at night and offers a great way to relax after a day at the parks.
4 – The Lava Pool- Disney's Polynesian Village Resort
If pools had an award for the best view, the pool at Disney's Polynesian Village Resort would win. Nestled in front of the Seven Seas Lagoon across from the Magic Kingdom, you may be able to catch a glimpse of the Happily Ever After fireworks or the Electrical Water Pageant if you swim at night. However, the 142-foot waterslide at the top of a volcano may impede your view! If kids aren't interested in laying back on one of the lounge chairs and enjoying the tropical atmosphere, they can visit the Kiki Tiki's Splash Area, while adults can check out the infinity-edge hot tub.
3 – Fuentes del Morro Pool- Disney's Caribbean Beach Resort
Another pool that wins in the theming department is the Fuentes del Morro Pool located at the Caribbean Beach Resort! You can swim in the middle of what feels like a Spanish fortress, where cannons and staircases surround you. Here you can also find two water slides, a shipwreck play area, two hot tubs, and a pool bar. Swimming here is sure to work up your appetite, but luckily, the Old Port Royal food court is just a few steps away. This pool is great, whether or not you want to bask in a lounge chair or channel your inner Captain Jack Sparrow on the slide.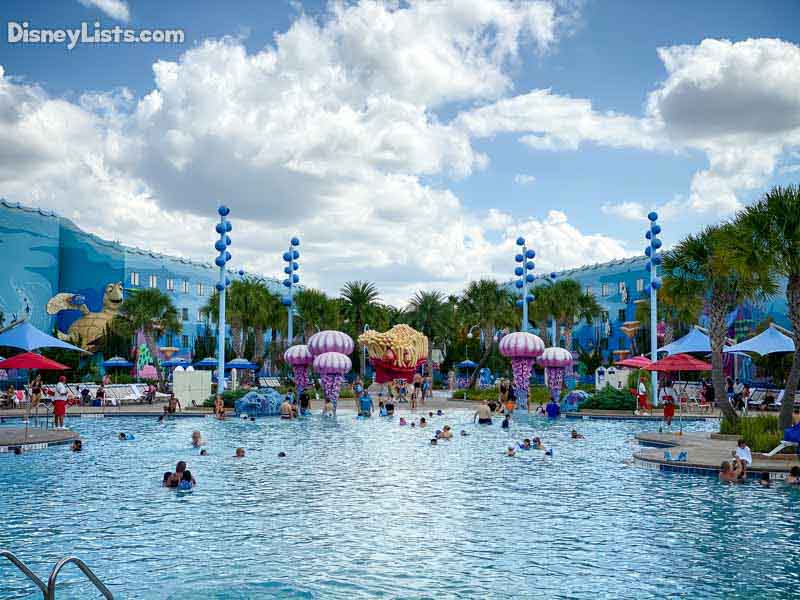 2 – The Big Blue Pool- Disney's Art of Animation Resort
Who says the best pools can't be at the value resorts? The largest pool at Disney World can be found at the Art of Animation resort. Themed after Finding Nemo, the Big Blue Pool has 308,527 gallons of water and features oversized figures of Nemo, Crush, Dory, Jellyfish, and all kinds of other characters! The pool comes equipped with a zero-entry point and two kid's areas: Schoolyard Sprayground and Squirt's Righteous Reef. My favorite spot, however, is the pool bar called The Drop Off- it's the perfect place to snack, sip on cool drinks, and admire the colorful scenery!
1 – Stormalong Bay- Disney's Yacht and Beach Club Resorts
Stormalong Bay has long been hailed as the best pool on Disney property, and it's not hard to see why- this pool is more like a water park! Spanning three acres and shared by both the Yacht and Beach Club resorts, these areas feature a zero-entry point and a sand-bottomed pool. The centerpiece is a 230-foot waterslide built into a shipwreck- the longest waterslide at Disney World. As if that wasn't impressive enough, you can visit a pool for water volleyball, float on a lazy river, or visit one of the three hot tubs. I can definitely see spending a whole day here; there really is no other hotel pool quite like this one!
For a no obligation, FREE Quote on a Disney vacation package, please contact our travel partner Magical Vacation Planner at 407-442-0227 (407-442-0215 for Spanish). You can also request a FREE quote online by Clicking HERE.