It's time to do a little Disney Resort hopping! Even better, let's hop to the Disney Resort LOUNGES. With over sixty lounges on Walt Disney World property, narrowing down a top ten list is a challenge that we happily accept. The best part about these resort lounges is that no park ticket is required. Plus, each resort lounge is accessible via Disney's complimentary transportation, which makes for an ideal designated driver, as safety should always be a priority. Here are our picks for the top ten lounges at Walt Disney World Resorts:
10 – Banana Cabana @ Disney's Caribbean Beach Resort
When was the last time you were at Disney's Caribbean Beach Resort? This resort has undergone several changes in the past couple of years, including a significant overhaul to the Banana Cabana lounge. While it used to be known more like a pool bar, Banana Cabana has stepped it up into an excellent lounge option! You can still grab a seat when taking a break from the pool, but Banana Cabana is also an excellent option for an evening of relaxation. Bright colors, modern seating, and an open-air concept allow for the waterfront lagoon breeze to flow in. They have fun Caribbean-inspired drinks and food such as the Caribbean Smuggler and the Jerk Chicken Wings. There is even a handful of entrées for those looking for more than a small plate. True relaxation!
9 – Enchanted Rose
We couldn't leave Disney's Grand Floridian Resort off the list. Mizner's Lounge closed last year to make way for a new, Beauty and the Beast-inspired lounge. The new lounge features four unique spaces including (1) a signature bar with a gold chandelier inspired by Belle's gown, (2) a library theme for Belle and Beast's love for books, (3) the garden room inspired by the enchanted forest around Beast's castle, and (4) a romantic outdoor terrace like Beasts' garden terrace in the film.  The drinks are trendy, and it's a gorgeous space!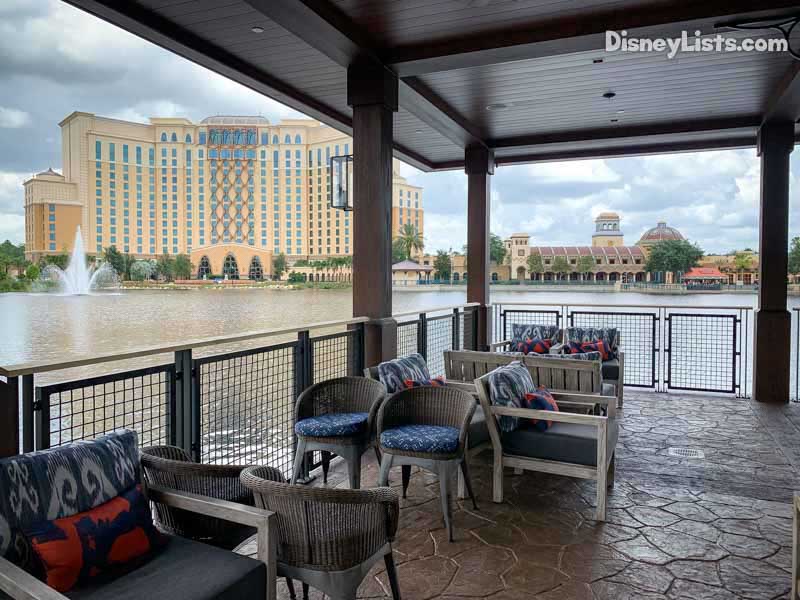 8 – Three Bridges Bar & Grill @ Disney's Coronado Springs Resort
Caribbean Beach Resort isn't the only resort that has changed! Disney's Coronado Springs is now the moderate resort to stay at with the new Grand Destino Tower. Before we talk about the Tower, however, we first must include a restaurant/lounge situated as if it's an island in the middle of the large Coronado Springs lagoon. Three bridges connect to a building called Villa del Lago, where Three Bridges Bar & Grill is located. While we're kind of cheating because this is also a restaurant, the lounge/bar portion of Three Bridges is outstanding! A stunning bar that centers the restaurant and is truly the focal point. No reservations are required here, which makes it perfect for walk-ins. Water views are available around every corner, comfortable modern seating, a water mist that is meant to look like a fire pit, and so much more! The space is beautiful, PLUS the food and beverages are just right. Haven't made it here yet? Put it on your Disney to-do list!
7 – Trader Sam's Grog Grotto @ Disney's Polynesian Village Resort
Let's head on over to Disney's Polynesian Village Resort. If you're looking for a unique experience – Trader Sam's is something to check out! This tropical tiki bar is located indoors with a nearly hidden entrance. It's super small inside, which makes for wait times, especially on weekends, so try to arrive as early as opening as possible. Once inside, you'll find a dark room with a couple of feature windows that do interesting things as specialty beverages are ordered. The servers are in on the fun! Order a drink, and you never know what types of lights, sound effects, and actions may take place. Polynesian-style small plates such as Thai Chicken Flatbread and Kahuna Tuna Sushi Roll are available that partner well with the exotic specialty cocktails. A fun hideaway!
5 – Geyser Point Bar & Grill @ Disney's Wilderness Lodge Resort
Three Bridges Bar & Grill mentioned above is very similar to Geyser Point Bar & Grill located at Disney's Wilderness Lodge. Geyser Point has the same modern look with comfortable seating and a focal point bar. No reservations are required, but you can get full-service here with great entrees to partner with your full-service bar selection. The space looks like a modern picnic shelter with stunning woodwork and stone. What gives Geyser Point the lead against Three Bridges? Visit Geyser Point at night to catch the Electrical Water Pageant slowly cruise by. Whether you're with the family or taking a solo trip, this is a great lounge to relax and enjoy a drink or two.
4 – Jellyrolls @ Disney's BoardWalk Inn
Need some adult time? Jellyrolls, a lounge for ages 21 and up, is the lounge for you! Head on over to Disney's Boardwalk, where the drinks are flowing at Jellyrolls from lively bars while two dueling pianos make for an extremely entertaining night. Request songs, sing along, and laugh along! Keep in mind the only food at Jellyrolls is some free popcorn, so you'll want to eat something hearty before a night here if you plan on drinking. The guys on the keys are AMAZINGLY talented. Get ready to have a good time sipping and singing along!
3 – California Grill Lounge @ Disney's Contemporary Resort
It is extremely difficult to get a reservation at the California Grill Restaurant located at the top of Disney's Contemporary Resort. There is one way to experience California Grill, however, without a reservation! Head to California Grill Lounge where seating is first-come, first-serve. Here you'll be able to see the stunning views offered at California Grill, sip on top-shelf cocktails, beers, and wines, taste the lite bites, and watch Magic Kingdom fireworks. Keep in mind that this lounge fills fast, so you'll want to arrive early. Truly a romantic setting for that perfect couples' lounge.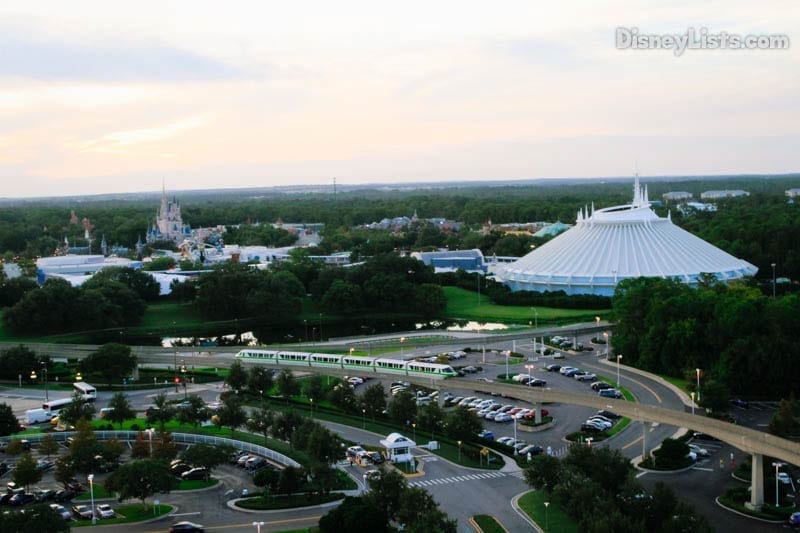 2 – Top of the World Lounge – A Villains Lair @ Disney's Bay Lake Tower Resort
This is THE exclusive lounge. To visit Top of the World, you'll need to be a Disney Vacation Club Member or be good friends with one that will go with you! Top of the World Lounge is located at what feels like the "top of the world", on Bay Lake Tower Resort next to Disney's Contemporary Resort. Keep in mind that the lounge does fill to capacity, especially at night, for the stunning Magic Kingdom fireworks view. Small plates, specialty cocktails, and the Disney Villains theme are unmatched. A VIP experience awaits!
1 – Dahlia Lounge @ Disney's Coronado Springs Resort
Drum roll, please…our number one resort lounge goes to Dahlia Lounge at its rooftop location at the Gran Destino Tower in Disney's Coronado Springs Resort! This lounge is an incredible piece of art, from the beautiful tile floors to the detailed ceilings and dandelion chandeliers. You'll spot photos of Walt Disney with Salvador Dali – the creators of the short Disney film called Destino, which shares the story of a mortal woman named Dahlia who wins the heart of a Greek god. Behind the bar are interesting curvy framed mirrors, which add to the overall setting of romance and elegance. Above the atmosphere, the delicious tapas, vast list of specialty cocktails, and great service…are the VIEWS! Step outside, where you can see Disney's Hollywood Studios, Epcot, and beyond! At some of the lounges mentioned above, you can see one set of fireworks. Well, here at Dahlia Lounge, you can see the Hollywood Studios and the Epcot fireworks! Simply put – Dahlia Lounge is THE place to be.
For a no obligation, FREE Quote on a Disney vacation package, please contact our travel partner Magical Vacation Planner at 407-442-0227 (407-442-0215 for Spanish). You can also request a FREE quote online by Clicking HERE.