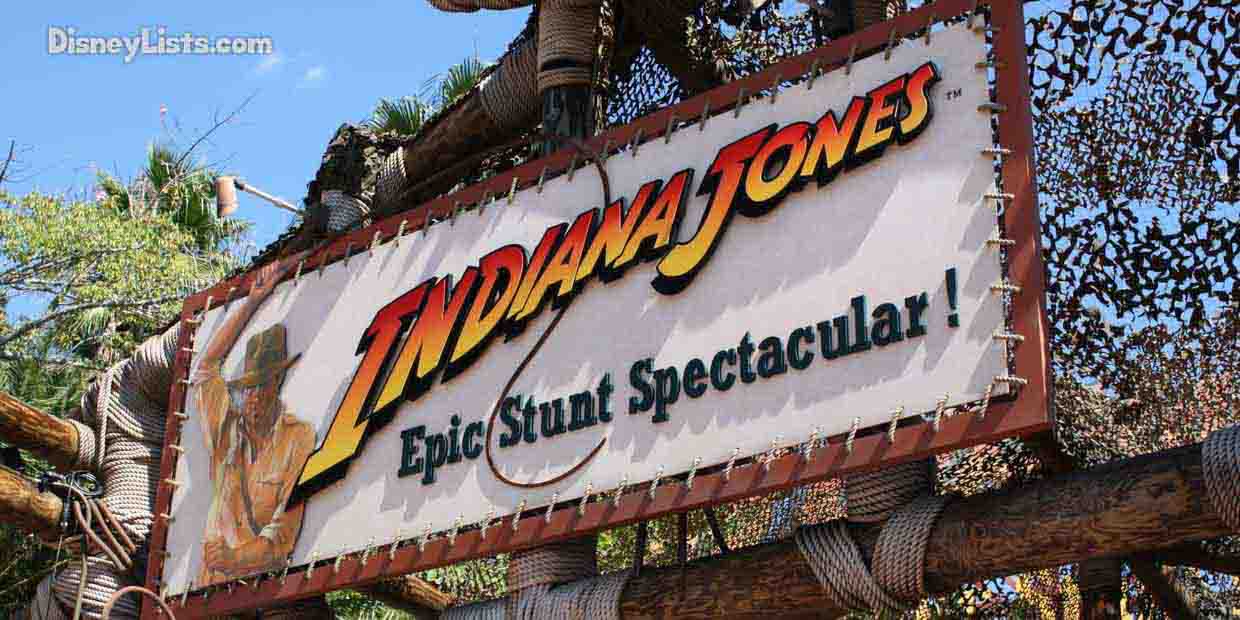 Indiana Jones Epic Stunt Spectacular is a stunt show attraction that is performed daily at Disney's Hollywood Studios close to Echo Lake. The show is a big hit for Indiana Jones fans young and old. Despite consistent rumors of its closings, we get to continue to enjoy the stunt show. Here are several great facts and secrets about the show that you will definitely want to read:
8 – That's a large amphitheater.
The show is shown in an amphitheater where the different scenes and stunts are completed in an outside stunt area.  The theater where the guests sit is actually quite large.  It holds around 2,000 guests.  The show is performed several times each day at Disney's Hollywood Studios, so that is a lot of guests that are funneled through to enjoy the show each and every day at the park.
7 – Largest moving sets in history.
The sets that make up the stunt experience are quite impressive.  The sets weight around 100 tons each, and they are moved around and put into place for each section of the show that is being performed.  The giant rolling ball is 12 feet in diameter on its own.  It weighs around 440 pounds, and that is only one piece of the set that is moved about.  The sets are very detailed and meant to be replicas of scenes from famous Indiana Jones movies, so it is no wonder that they are so heavy! Also impressive, the attraction is one of the attractions on Walt Disney World property with the most special effects and mechanical parts.  So there really is a lot that goes into these attractions.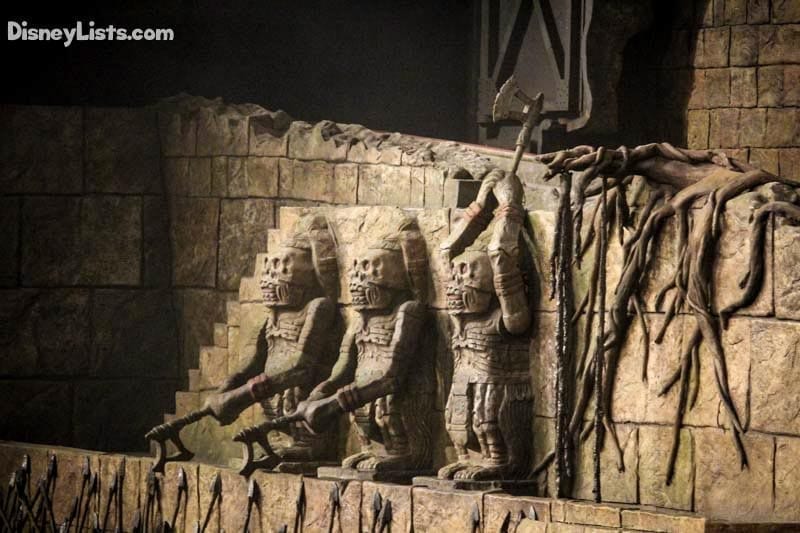 6 – The show has remained mostly unchanged.
Since the show opened in 1989, the show hasn't had any real refurbishments to the actual show itself. The show closed in 2000 to update the queue. During this refurbishment, the sets were also updated and refurbished to hide their age and look as good as new. The show itself has remained mostly unchanged with no changes to the show and the events within the show. That is a lot of years showing the same show, and the theater seems to remain filled day after day.
5 – Was supposed to be an opening day attraction.
When Disney-MGM Studios first opened (now Disney's Hollywood Studios), the Indiana Jones Epic Stunt Spectacular was supposed to be one of the opening day attractions for the park. When May 1, 1989, rolled around, George Lucas and Michael Eisner didn't feel that the attraction was ready to be part of the opening day lineup. They decided that the show would let guests view the show in a dress rehearsal format rather than the actual show as planned. They did this until the show was ready to open in August of 1989. So it only opened a few months after the park opened, and a few months after it was initially planned.
4 – "Warning: Do Not Pull Rope"
If you look around outside of the show area, you will find a well. There is a sign on it that reads "Warning: Do Not Pull Rope." Well, definitely go head and pull the rope. Once you do, you will hear the sounds of a man that is stuck in the bottom of a well. This is just another one of the neat tricks in plain sight for guests to enjoy.
3 – The golden idol is an exact replica.
Are there any Raiders of the Lost Ark fans out there? You will be excited to know that the golden idol that Indy is working so hard to steal in the very first scene of the stunt show is an exact replica of the idol that this scene is created from in Raiders of the Lost Ark. It is made to look just like the original in every detail, so fans would love to get their hands on this one!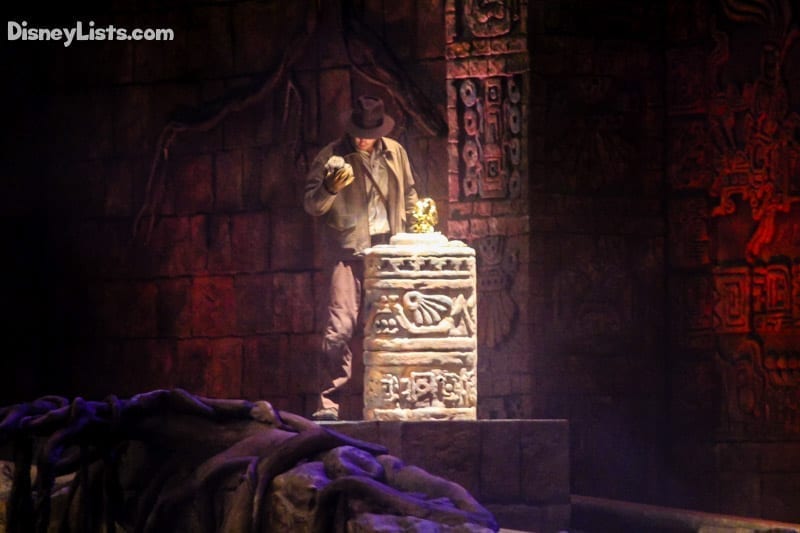 2 – Important Disney folks were in attendance for the first official show.
Anytime a new attraction or experience opens within one of Disney's parks, it is always a big deal. It isn't uncommon for many important people in the company to show up for these types of openings. Well, for Indiana Jones Epic Stunt Spectacular, this was definitely true. When the show finally opened in August of 1989, Michael Eisner and George Lucas were both in attendance for the very first debut show. They stayed after to take press and publicity photos after the show ended as well.
1 – The show doesn't have a perfect record.
Sadly, accidents do happen when it comes to performing stunts. There was a stunt performer named Anislav Varbanov, who sustained a traumatic head injury while rehearsing an acrobatic tumble that is performed in the show. He was rushed to the hospital and then later pronounced dead. This occurred on August 17, 2009, and the poor stunt performer was 30 years old. This is another important reminder to us all that these stunts are dangerous and should only be performed by professionals. The severity of the dangers should not be taken lightly.
For a no obligation, FREE Quote on a Disney vacation package, please contact our travel partner Magical Vacation Planner at 407-442-0227 (407-442-0215 for Spanish). You can also request a FREE quote online by Clicking HERE.