California Grill is one of the nicest restaurants on property, with some of the most amazing culinary experiences. This is definitely a Disney bucket list experience that you have to try out at least once during your Disney vacations.  Here are eight things that you must know about California Grill before you go:
8 – There is a brunch option on Sundays.
Editor's Note: At this time, brunch is currently not being offered.
On Sunday mornings there is a brunch option that includes sushi and tons of delicious items that are sure to curb your hunger.  The food at the restaurant is delicious and brunch is no exception.  Not only do you have the delicious food items, but you also have a Bloody Mary bar, craft beers and some of the finest wines at Walt Disney World.  It is the perfect start to a Sunday morning and a magical day of enjoying Walt Disney World Resort.
7 – There is a dress code.
Editor's Note: At this time, Dining Plans are unavailable, but will return.
The restaurant is considered one of Disney's Signature Dining restaurants.  This means that the restaurant is on the more expensive side.  If you are on the Disney Dining Plan, it would require 2 entitlements for a meal at the location.  As with all Signature Dining restaurants, there is a dress code that is enforced.  The dress code isn't super formal, but does encourage men to wear a polo or button-up shirt and for women to wear a business casual type of outfit.  It adds to the amazing atmosphere of the restaurant and makes it feel more upscale.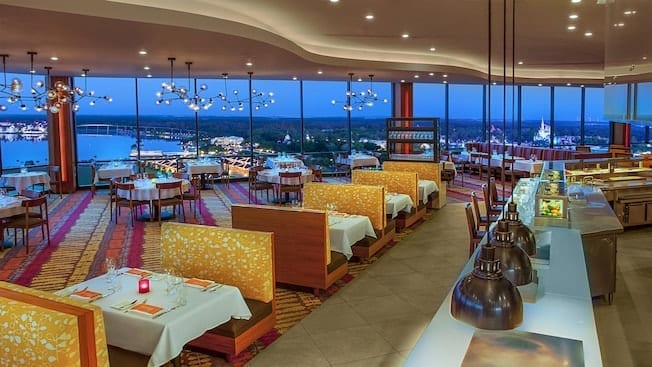 6 – There are amazing views of Magic Kingdom fireworks.
The restaurant is located at the top of Disney's Contemporary Resort, which is located right next to the Magic Kingdom.  From the resort, you get an up-close view overlooking the entire park, which means that you have one of the best views of Disney Enchantment fireworks at the Magic Kingdom. Not only that, the music is piped into the restaurant and the balcony of the restaurant so that you can enjoy the show with the music, too.
5 – The restaurant is a perfect location to celebrate special events.
The restaurant has a more upscale atmosphere with fine wines and fantastic culinary experiences.  With all of that, it makes it a perfect location to celebrate any of the special events that you have planned.  It is amazing for birthdays, anniversaries, engagements, honeymoons, reunions, etc.  Anything you want to celebrate would be extra special at this venue.  There are even special events you can purchase tickets to on certain holidays like New Year's Eve.  The tickets are pricey, but they are well worth it.
4 – The food is absolutely delicious.
It is seriously some of the best food on property with an amazing menu.  You have a wide selection of sushi, soups and appetizers and a selection of entrees that include a Florida Black Grouper, Wild Alaskan Halibut, Oak-fired Filet of Beef, and so much more. The selections are amazing and it will be difficult to make a selection once you start reading the menu.  Be sure to save room for dessert since the Lavender Sugar Doughnuts is insanely delicious.  I can't wait to book my next reservation!
3 – 50th Anniversary Celebration Menu
Editor's Note: Now through March 31, 2023, California Grill offers a special menu in honor of the Walt Disney World 50th Anniversary celebration. Beginning April 1, 2023, California Grill will offer a 3-course selection menu featuring contemporary, market-inspired cuisine.
During the 50th anniversary celebration of Walt Disney World, California Grill is offering a special, limited-time menu in honor of the celebration. The restaurant offers a 3-course tasting experience with a set price of $89 per adult and $39 per child. Guests can choose one appetizer, one entree, and one dessert.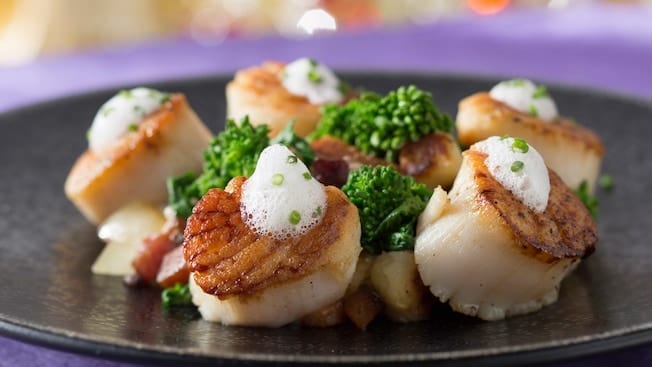 2 – The service is impeccable.
Just as you would expect at a high-end restaurant, the service is outstanding.  The wait staff is knowledgeable on the menu and wine list.  They do everything they can to make the meal an amazing experience and make pairing recommendations.  We have always had an amazing experience and always look forward to our next visit.
1 – There is a lounge area to enjoy, too.
Editor's Note: there have been some conflicting reports online that the lounge is no longer available to guests. We recently called to confirm with Walt Disney World and were told that the lounge is indeed available and open for guests.
The restaurant has a lounge area that accepts guests on a first-come, first-serve basis.  You get to experience many of the delicious foods and drinks that the restaurant offers, along with the amazing views of the Magic Kingdom and fireworks.  If you are shorter on time or can't get a reservation, this is a great place to hang out and enjoy a more casual meal rather than a full table service meal.