There is truly something magical when you arrive at a Walt Disney World park. Epcot, the second oldest theme park at Disney World, is no different. Epcot holds a special place in many Disney fans' hearts for its look at the future, innovation, and different cultures. But, with so much to do, deciding where to start can be overwhelming. To make sure your arrival is a magical memory you can treasure and not a hectic, frantic moment you'll remember or won't want to, we suggest you consider the following.
1 – Expect Construction, Walls, and Closures
Epcot is finishing the biggest transformation of any Disney theme park in history. The park has already opened two groundbreaking attractions, magnificent new landscapes, and entertainment spectaculars with just a bit more coming in late 2023. Construction walls are now a part of visiting Epcot. You'll notice this right away as you'll find construction walls up in the center of the park. The good news is that Disney is working hard to make these disruptions minimal. There are more attractions and experiences open today than there were a few years ago and a lot of new offerings are now open. The construction will give us an exciting new Epcot, and we can't wait to see it!
Click here to learn about the new Epcot and what is coming!
2 – Take a Photo in Front of Spaceship Earth
Once inside the park, one of the first things you'll want to do is snap that iconic photo in front of Spaceship Earth. The construction in front of the iconic attraction is now finished and the walls are down! Disney PhotoPass photographers are there to take pictures. Be sure to also admire the new fountain in front of Spaceship Earth. It's gorgeous and is a great addition to the area!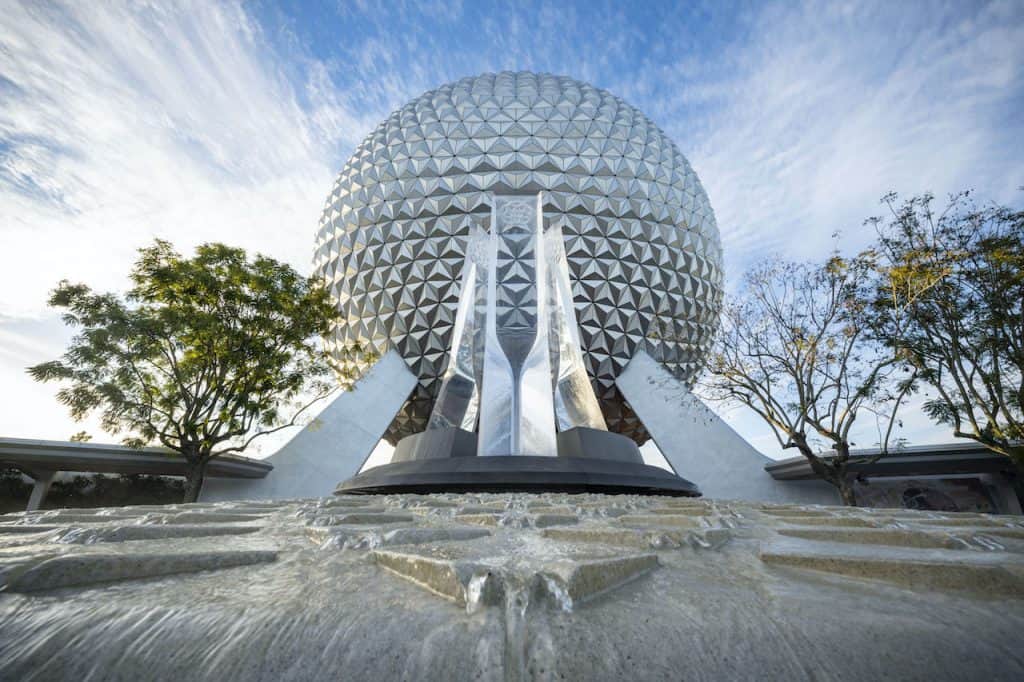 3 – Head to the France Pavilion
Remy's Ratatouille Adventure is the newest family attraction in the France pavilion. We recommend you head to the attraction first thing in the morning. The line will only get longer as the day goes on, so typically, first thing in the morning is the best time to wait in the standby line, especially if you want to not pay for Genie+ to access the Lightning Lane for this attraction.
4 – Enjoy a Starbucks Drink While You Review Your Day
Starbucks has a new location in Connections Cafe & Eatery. This convenient new spot is a great place to pick up a coffee or light breakfast as you are gearing up for a full day at Epcot. It's air-conditioned, and there is a huge seating area. This is also a great time to review the park map and the plans for the rest of your day.
5 – Have a Pastry at Les Halles Boulangerie-Patisserie
If you're looking for a tasty breakfast spot, then you'll want to head over to the France pavilion for breakfast at Les Halles Boulangerie-Patisserie. This quick-service location serves delicious French treats. You'll also get to enjoy walking through the Canada and United Kingdom pavilions with fewer crowds.
6 – Be on the Lookout for Characters!
At EPCOT, guests can find their favorite characters near Spaceship Earth, the Imagination Pavilion!, and scattered throughout World Showcase!
7 – Take a Ride on Test Track
Another attraction we encourage you to ride during the early morning is Test Track. This fun-filled thrilling attraction generally has the second-longest standby wait times in Epcot, making it a great attraction to visit early in the morning at Epcot.
We hope you have a fantastic time at Epcot!
For a no obligation, FREE Quote on a Disney vacation package, please contact our travel partner Magical Vacation Planner at 407-442-0227 (407-442-0215 for Spanish). You can also request a FREE quote online by Clicking HERE.