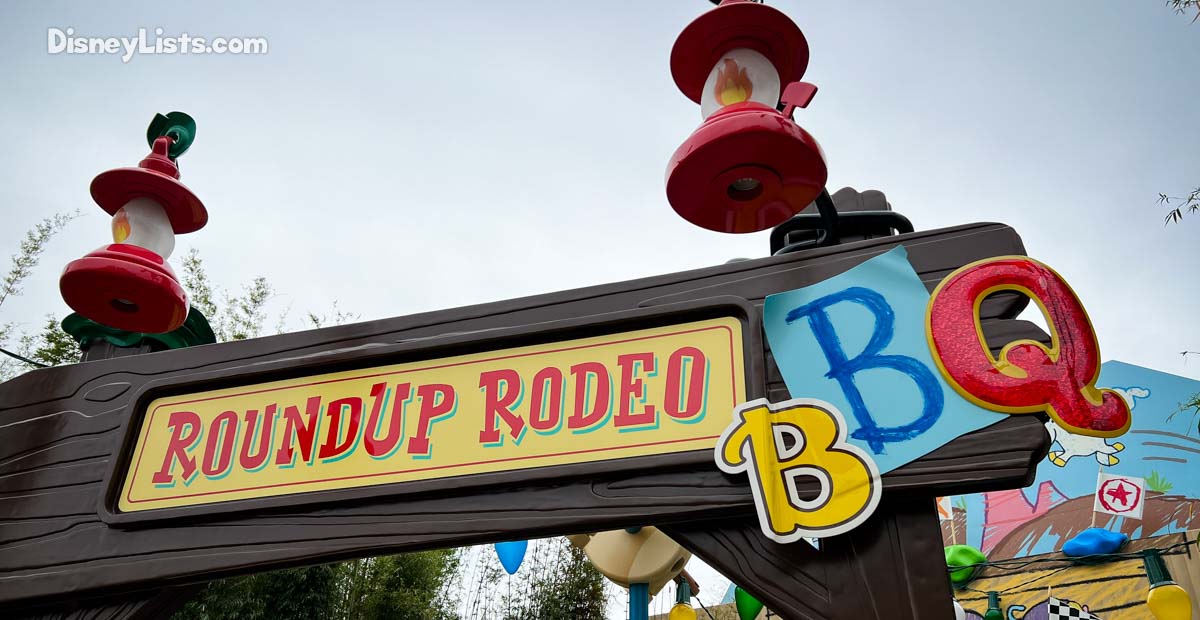 The toys in Andy's backyard just got a bit happier. Roundup Rodeo BBQ is now open in Toy Story Land at Disney's Hollywood Studios. This one-of-a-kind dining experience is the world's first "Toy Story" table service restaurant. It's a unique collaboration between Walt Disney Imagineering, Disney Pixar Animation Studios, and Walt Disney World Food & Beverage. We finally got a chance to enjoy the restaurant. Learn more about this new table service restaurant below.
1 – Much Needed Table-Service Restaurant in Toy Story Land
Like all of Toy Story Land, Roundup Rodeo brings the stories and characters from the award-winning Disney Pixar "Toy Story" films to life. It is a place where guests shrink to the size of a toy and feel like they have stepped into a clever, whimsical world filled with beloved toys. Since the land opened in 2018, one thing has been missing: a table-service restaurant. This new restaurant is a welcome addition allowing guests to enjoy Andy's backyard even more while enjoying a hearty meal.
2 – Inside Andy's Imagination – The Story Behind Roundup Rodeo BBQ
Andy has created a new rodeo arena for all of his favorite toys, featuring game pieces and iconic "Toy Story" characters, stickers, and more. Imagineers worked closely with Disney Pixar Animation Studios to bring the space to life, developing unique designs and artwork that can only be found in the restaurant.
"We are thrilled to work with our partners at Disney Pixar Animation Studios to create this unforgettable dining experience that blends great food, storytelling and whimsy," said Ben van Beusekom, senior artisan specialist, Walt Disney Imagineering. "A visit to this special place is a must for Toy Story fans who have come to love Andy and his toys as much as we do."
When guests step into Roundup Rodeo BBQ, they become Andy's honorary toys. Arriving in the dining room, they enter a scene depicting a toy rodeo in full swing and come face-to-face with life-size figures. Jessie and Trixie take the reins in the first dining space, while Bo Peep and her sheep command center stage in the second.
Guests are fully immersed in Andy's imagination – and the world he has created. Take a look inside the restaurant below:
3 – Barbecue-Inspired Fare
Supper's on! Offering the same menu at both lunch and dinner, Roundup Rodeo BBQ serves barbecue-inspired fare in a family-style setting.
Begin your feast with tender, scratch-made cheddar biscuits and sweet pepper jelly. A variety of crisp salads, such as a refreshing tomato, cucumber, and pickled red onion salad dressed in white balsamic vinaigrette, set the scene for the main course.
Guests can enjoy house-smoked meats, including pork ribs, brisket, chicken, and more. A plant-based menu is also available, ensuring a meal for the whole family to enjoy.
And what's a picnic without sides? Choose from traditional favorites such as potato salad, baked beans, or classic slaw, or opt for more adventurous selections like grilled corn-on-the-cob seasoned with a chili lime spice blend and topped with cotija cheese or fried pickles.
For a sweet ending, dig into dreamy desserts inspired by everyone's favorite picnic treat: pie!  An assortment of craft cocktails and non-alcoholic beverages pay homage to classic backyard picnic beverages and the flavors of childhood, complementing every meal.
4 – Our Thoughts on the Food
When the restaurant opened in late March, reviews on the food were mostly positive. Chad and I finally got a chance to dine at the restaurant, and we were disappointed with the food. Our meat was barely warm, and some pieces were cold. The brisket didn't have much flavor at all. The chicken was dry, and the ribs were just okay. The cheddar biscuits were the best part of the meal and were delicious. We asked for more. The sides were fine – not great, but not bad. Chad enjoyed the pickles, and I enjoyed the mac n cheese. The desserts were also fine. We tried the cheesecake, and the lemon portion was very tart, too much to really enjoy it. The chocolate pudding was good, but it was very rich and had more of a dark chocolate flavor to it. It was very disappointing. We had heard good things about the food, so we were expecting a better-tasting meal. We're not sure if we just experienced an off night with the kitchen or if this was normal. And while we enjoyed the atmosphere, we feel there are better dining options at Hollywood Studios.
5 – Meal Times & Cost Considerations
Roundup Rodeo BBQ is open for both lunch and dinner. The restaurant is generally open from 10:45 am – 9:30 pm, but do check the My Disney Experience app for up-to-date hours, as the operating hours may change. The menu and cost are the same for both lunch and dinner. Currently, a meal at the restaurant costs $45 per adult, plus tax and gratuity, and $25 per child (ages 3-9) plus tax and gratuity. The meal is all you care to enjoy, so while expensive, you can certainly eat your fill and be full for hours. Do note that at this time, the restaurant is not accepting any discounts since it is so new. We expect the restaurant will accept discounts in the future.
A comparable meal and experience would be Whispering Canyon Cafe at Wilderness Lodge. Their All-You-Care-to-Enjoy Signature Skillets are $38 for adults and $17 for children. Like Roundup Rodeo BBQ, Whispering Canyon also serves sides and dessert with its skillets, although there are fewer options than Roundup Rodeo. Roundup Rodeo BBQ's theming is far superior, as you'll really feel like you've stepped into Andy's imagination and Woody's Roundup. We also give it an edge for it being another table-service option at Disney's Hollywood Studios. You can't beat the convenience of having another great option to eat at while in the parks. However, we've had better experiences with the food at Whispering Canyon Cafe and feel that restaurant's food is much better.
6 – Reservations and More
Dining reservations are required to experience Roundup Rodeo BBQ and can be made through the MyDisneyExperience app. It's becoming increasingly difficult to get dining reservations at the popular restaurants at Walt Disney World. Reservations can be made 60 days in advance. However, Walt Disney Resort guests can book up to 10 days of reservations 60 days prior to the first day of their vacation. This gives resort guests an advantage on the hard-to-get reservations, such as Roundup Rodeo BBQ, later in their stay. Bookings open at 6 am Eastern Standard Time for online bookings and 7 am for phone reservations, which means an early morning for anyone on the east coast and a really early morning for those on the west coast. Be sure to set alarms. We expect it will be difficult to get reservations here for some time. If you don't find availability right away, check back often. Chad and I were able to get a same-day reservation for a decent 5:20 pm dinner time. 
Finally, guests need both valid park admission and park reservations for Disney's Hollywood Studios on the same date to dine. Be sure to book that park reservation as soon as you've made your dining reservation!
For a no obligation, FREE Quote on a Disney vacation package, please contact our travel partner Magical Vacation Planner at 407-442-0227 (407-442-0215 for Spanish). You can also request a FREE quote online by Clicking HERE.