Even with the opening of Star Wars: Galaxy's Edge, Disney has an attraction that celebrates the Star Wars movie franchise. Star Wars fans will want to make sure they stop here to see some really cool items from the Star Wars universe and take advantage of some great photo opportunities. Here are six things you need to know about the Star Wars Launch Bay in Hollywood Studios.
1 – Queue Area is Out of This World
Upon arrival, you'll be directed into a queue area for the film that is full of artwork showing various scenes and characters from the Star Wars universe as well as a variety of movie promotional posters from the first six episodes of the saga. The colorful, backlit artwork is part of an overall film reel that wraps around the walls. You'll have plenty to look at while you wait to enter the Launch Bay Theater and some selfie opportunities in front of your favorite scenes and characters.
Note: You do not need to stand in line to enter the Launch Bay. The queue is for the short film. If you do not want to see the movie, you can stay right and enter through a door that bypasses the theater and will get you straight to the exhibit gallery area (#3).
2 – Launch Bay Theater
This 10-minute film includes commentary from key Star Wars producers, directors, writers, crew, and storytellers responsible for bringing the Star Wars galaxy to life. You'll hear personal stories about how the Star Wars films impacted their desire to work in the film industry. You'll also be updated with the many current Star Wars projects. We enjoyed this film. Hardcore fans will probably want to view it at least once, if not more. For most guests, after one viewing, you probably don't need to see the film again.
3 – Celebration Gallery and Preview Gallery
After exiting the theater, you'll enter the Celebration Gallery, an exhibit area full of replica props, models, costumes, and artifacts from the Star Wars films. Highlighted are the Rebel Alliance and the Galactic Empire. You'll find interesting information about the items you see in the films. The props are not just limited to this one room. As you move through the different areas, you'll find other items scattered around the Launch Bay. The Preview Gallery, located just outside of Launch Bay Cargo (#7), features items from Star Wars: The Force Awakens, including a model of the Millennium Falcon.
4 – Meet Chewbacca,  Darth Vader, and BB-8
Get your cameras ready! You won't want to miss the opportunity to meet fan favorites Chewbacca, Darth Vader, and BB-8, our favorite droid! Each character has his own meeting area. Chewbacca's queue features different helmets from the Rebel Alliance. Darth Vader's queue area includes different helmets that are seen on the Empire characters. BB-8 also has his own special meeting area. Wait times for the characters will vary.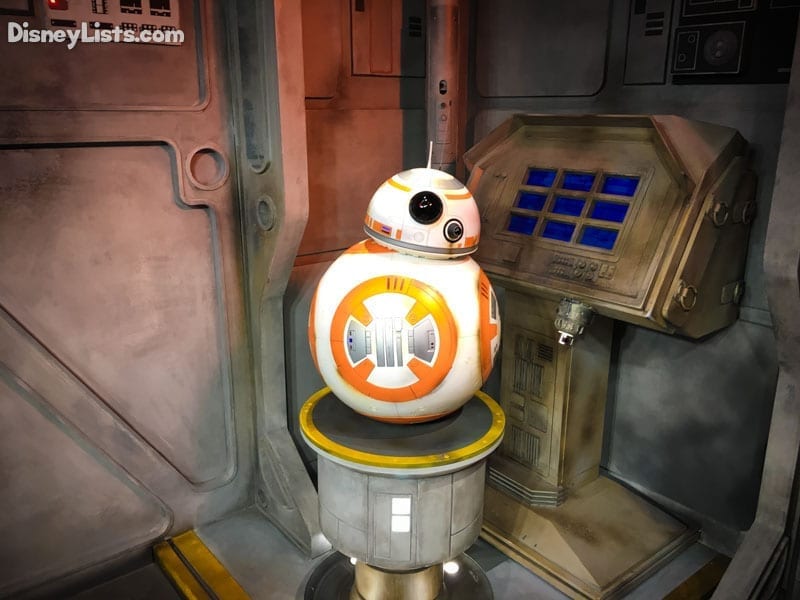 5 – Cantina
Be sure to visit the area reminiscent of the famous Mos Eisley Cantina! The stage is set so you can pretend to be an alien scoundrel and play holographic chess. Sit at a Sabacc table or stand at the bar and clutch your favorite-a glass of blue bantha milk! This fun area is full of photo opportunities.
6 – Launch Bay Cargo
Finally, you'll find the Launch Bay Cargo. There is a wide selection of Star Wars merchandise, including original artwork. The most fantastic merchandise is probably the replica costumes! There are also plenty of options that are a little more down to earth. You'll also find Star Wars Magic Bands (customization is available) and a wide variety of phone cases. This store is considerably smaller than Watto's Grotto and Tatooine Traders but has some different choices.
Star Wars Launch Bay was a pleasant surprise. When we first learned of the addition, we didn't expect much. However, we found a well-produced and built-out experience that is definitely worth a visit.
For a no obligation, FREE Quote on a Disney vacation package, please contact our travel partner Magical Vacation Planner at 407-442-0227 (407-442-0215 for Spanish). You can also request a FREE quote online by Clicking HERE.