While vacationing with children ages 0-4 may have some challenges, there is so much for kids of this age to see and do at Walt Disney World. Just because these folks are vertically challenged doesn't mean they cannot board many attractions and have fun just like the rest of us. Many rides at Walt Disney World allow children to ride on an adult's lap. Others allow them to run around and just be a kid. Here are the top eight attractions for children ages 0-4.
8 – Affection Section at Rafiki's Planet Watch, Animal Kingdom
All aboard! After riding on the Wildlife Express Train, children will love a chance to meet and greet friendly animals at the only petting zoo in Disney's Animal Kingdom park. Children can pet, brush, and feed domesticated creatures in this outdoor space. Animals include goats, sheep, donkeys, cows, and pigs. There are hand washing stations guests are encouraged to use before and after making contact with the animals.
7 – Dumbo the Flying Elephant
This classic ride is a must for children four and under. Children will love flying high in the air with the help of a magic feather. Older kids will enjoy controlling Dumbo to either fly high or low. Younger children will love sitting on an adult's lap to enjoy the ride. Don't forget to get a picture with your little one while sitting in Dumbo. Another great feature of this attraction is a circus-themed play area that lets little ones play and have fun before taking flight. Before arriving you'll receive a pager that "virtually" holds your place in line. Kids can play in the big-top tent and enjoy an air-conditioned playground with slides, a climbing net, and a toddler section. This is a great attraction for this age group!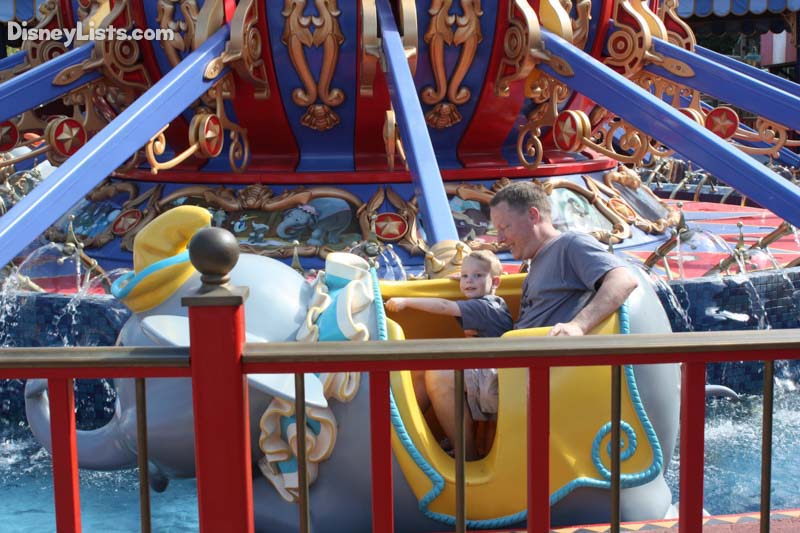 6 – "it's a small world," Magic Kingdom
Another classic Disney attraction that kids will love is "it's a small world." This 10-minute journey on a comfortable boat will delight children with its catchy song (yes, you've got it in your head now–you're welcome). Vibrant colors and a cast of almost 300 traditionally dressed children from all around the world delight the senses. You'll travel all seven continents to see that it is a small world after all.
5 – The Seas with Nemo & Friends and Coral Reefs, Epcot
Even though children under the age of four might not have seen the movie, The Seas with Nemo & Friends is a playful environment where children can see real fish in their habitat. First, you'll board a "clamobile" and enter the water to the "Big Blue World" where Nemo and his friends move through the brightly colored coral reefs and sea anemones. You'll also be able to explore a Caribbean coral reef teeming with sea creatures including sharks! Children will enjoy spending time finding Nemo and his friends!
4 – The Many Adventures of Winnie the Pooh, Magic Kingdom
Preschoolers love Winnie the Pooh. What better way to see the familiar scenes of the movie, The Many Adventures of Winnie the Pooh, than by riding in a honey pot! Children will be thrilled to see this lovable character and his friends on display. The line queue for this attraction has been updated to be an interactive experience that includes four Hundred-Acre-Wood themed spots. Children can play hide and seek games, draw shapes, knock on doors, and crawl through Eeyore's leaning home.
3 – The Boneyard, Animal Kingdom
Letting kids stretch their legs and run about is a fantastic way to let them get out energy! (Tip #3 in our Disney with Young Children Survival Guide) The Boneyard is an open-air play space where children can explore a dinosaur dig site. Older children will enjoy climbing atop rocks, crossing rope bridges, and exploring a giant, multilevel maze with covered slides. All children will especially love the archeological dig site where kids can excavate fossils from a Triceratops and Tyrannosaurus Rex! What kid doesn't enjoy playing in the dirt with tiny rocks! Bonus points parents who dive right in and dig with their kids!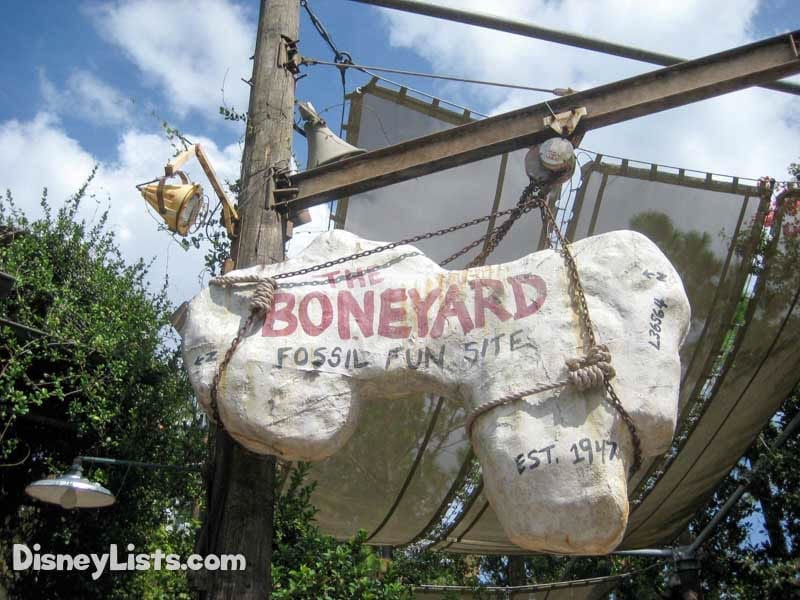 2 – Mickey and Minnie's Runaway Railway 
Mickey & Minnie's Runaway Railway invites families to begin their adventure together at the heart of Disney's Hollywood Studios. In this bold and innovative new family adventure, guests go through the movie screen inside the park's re-creation of the Chinese Theatre and into the whimsical world of Disney Television Animation's Emmy Award-winning "Mickey Mouse" cartoon shorts. There they discover why "mouse rules apply" and anything can – and does – happen! With an original "Mickey Mouse" story by Walt Disney Imagineering featuring the new song "Nothing Can Stop Us Now," Mickey & Minnie's Runaway Railway is a celebration of Disney heritage and a showcase for state-of-the-art storytelling and attraction design. The entire family will love it, especially young children.
1 – Meeting the Characters, All Parks, and Character Dining
What trip to Disney World isn't complete without meeting some of the characters? Most characters are out and about or have designated buildings where children can meet and greet their favorites! That way, there will be no disappointments later on. If you have a shy child, you'll find that the Disney Cast members are amazing and usually do all they can to put the child at ease. For an awesome keepsake for your child (and you) to remember the experience, think about getting an autograph book. If you do, make sure to bring a sharpie for characters to use. You can also greet your favorite characters at special Character Dining meals.
A visit to Disney World with a toddler is a magical experience. Take the opportunity to live vicariously through their innocent acceptance that the magic is real and yes, that actually is Mickey Mouse. To make the most of your trip, check out our list of tips on surviving a vacation to Disney World with toddlers.
For a no obligation, FREE Quote on a Disney vacation package, please contact our travel partner Magical Vacation Planner at 407-442-0227 (407-442-0215 for Spanish). You can also request a FREE quote online by Clicking HERE.